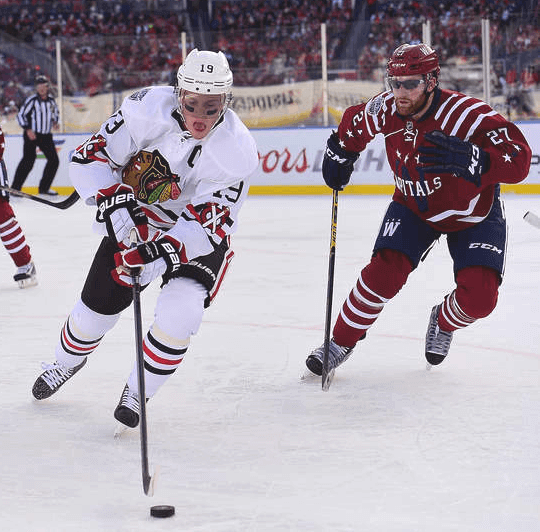 Yesterday I showed a photo of Caps defenseman Karl Alzner practicing in sunglasses. He followed up on that in yesterday's Winter Classic by becoming the first NHL player in memory — or maybe ever? — to wear shades in a game. Interesting that he went with the specs instead of a tinted visor (makes it easier to switch back and forth if the conditions change, I guess), and also interesting that the NHL allowed this. As you may recall from several years ago, the NBA has taken a different stance on tinted eyewear.
Other notes from the Winter Classic:
• While Alzner wore sunglasses, most folks on the ice opted for eye black. That included zebras and goalies.
• Sunglasses and eye black notwithstanding, at least one player — Chicago defenseman Niklas Hjalmarsson — thought the sun-glare conditions were "dangerous."
• Caps goaltender Braden Holtby went with the retro-style brown gear, albeit with some modern trim. His Chicago counterpart, Corey Crawford, didn't even bother trying.
• Looks like Blackhawks backup goalie Antti Raanta had some bare skin just above his skates, sort of like a speed skater. Is that a standard thing with him? Love how his pads mimic the team's sock striping.
• A Caps fan expanded the ugly sweater concept into an ugly suit.
• Washington Nationals GM Mike Rizzo works for a DC-based team but grew up rooting for the Blackhawks, so he risked the ire of local fans by showing up in a Blackhawks jersey.
• No. 42 can't be worn at Nats Park under normal circumstances, because it's been retired for Jackie Robinson. But it was worn yesterday, by Joel Ward of the Caps. No photo, sorry.
• There was a pee-wee game on one of the auxiliary rinks, featuring kids wearing Caps and 'Hawks jerseys.
(My thanks to all contributors, including John Childers, Mark Coale, David Epstein, and of course Phil.)
• • • • •
Crazy scene in Pasadena on Wednesday, as a dust devil (not a tornado, as the video's title inaccurately states) popped up outside the Rose Bowl and wreaked havoc with the FanFest area. Four people were reportedly injured. Further details here.
As for on-field action, here's a roundup of uni-related notes from yesterday's bowl games:
• Starting with the Oregon/Florida State game, an Oregon player had some helmet decal problems. Ditto for an FSU player. And another FSU player!
• Interestingly, one Oregon player had a "Riddell" nose bumper, while the rest had the duck head. I'm told it has something to do with that one guy wearing a Revolution 360, which for some reason has a bumper that's harder to modify.
• Florida State linebacker DeMarcus Walker, who normally wears No. 44, had his jersey badly torn in the first half, so he switched to an NNOB No. 46 jersey for the second half.
• Two Oregon fans got married while wearing Oregon jerseys prior to the game.
• At the Ohio State/Alabama game, Ohio State sideline personnel wore a "53" patch for Kosta Karageorge.
• Several readers asked me how OSU quarterback Cardale Jones could have so many merit decals after having had so little playing time this season. Anyone..?
• Two inconsistencies in how the four playoff teams wore the CFP logo decal: Only Alabama's was off-center, and only FSU's was white.
• The first down markers in the Minnesota/Missouri game carried the logo of the game's corporate sponsor. Douchebags
• In the Auburn/Wisconsin game, Auburn's Chad Slade a crazy-looking base layer. It's apparently this.
Auburn also added a "31" memorial decal for fallen teammate Jakell Mitchell.
• At that same game, Auburn coach Gus Malzahn's sweater vest had the bowl's logo on the back but Wisconsin coach Barry Alvarez's vest did not.
• Also from that game: The alumni tailgating tents were numbered with famous alumni jersey signs — Madison native Pat Richter for Wisconsin and Chet Bulge for Auburn. A nice touch.
• And at the Baylor/Michigan State game, Baylor alum Robert Griffin III was on the Bears' sideline yesterday, creating a corporate mismatch between the team's Nike gear and Griffin's Adidas gear.
(My thanks to all contributors, including Luke Beauchaine, Chris Brueckner, Douglas Ford, Mark Heggen, Jerry Kulig, Chad Lehman, Gene Sanny, Dustin Semore, and of course Phil.)
• • • • •
Membership update: We often see a bump in membership enrollments in early January, because people make New Year's resolutions to finally sign up already. Come on, you know you've been meaning to do it — just sign up so you can get your own custom-designed membership card (like Jeremy Peach's Nashville Predators-themed card, shown at right).
As always, you can sign up here, you can see all the cards we've designed so far here, and you can see how we produce the cards here.
• • • • •

'Skins Watch: A bill that's been introduced in the California State Assembly would force the state's four remaining high schools that call their teams the Redskins to phase out that name by 2017 (from Matt Larsen). … According to dictionary.com, "redskin" was one of the "trending words" of the past year (thanks, Phil).

Baseball News: An early concept rendering of Dodger Stadium showed the exterior covered in confetti, much like what was eventually used for Shea Stadium (from Shannon Shark). "¦ The "s" in the Mets' script has varied a lot over the years. "¦ Oooh, look at the extreme vertical arching on this old jersey — sweet. "¦ Oh baby, dig this sensational label design! It's from this vintage jersey.

College and High School Football News: MLB OF Shane Victorino is an Oregon Ducks fan (from Jonathan Daniel). "¦ Tennessee will be wearing a new decal today commemorating the Vols' 50th bowl appearance. Given that practically any non-awful team can qualify for a bowl game these days, that not much of an accomplishment. "¦ Some T-shirts for Florida's bowl game showed the Gators facing the wrong opponent (thanks, Phil). "¦ Colorado high schools are upgrading their football helmets. … TCU is outfitted by Nike, so people freaked out on Twitter during the school's bowl game when someone on the Horned Frogs' sideline was spotted wearing an Adidas cap. … Tuesday night's Stanford/Maryland bowl game had an NFL-branded first down marker (from Raymie Humbert). "¦ Pitt is going with a paw print-plastered helmet for today's bowl game. "¦ Phantom Jersey: If Alabama had won yesterday, Oregon would have been the road team for the CFB title game and would supposedly have worn this jersey.

Hockey News: Reprinted from Wednesday's comments: Here's a jersey paying tribute to great No. 7s in Blues history — Berenson, Unger, Mullen, and Tkachuk. … The Stars have new green-accented boards. I like! (From Steve Wojtowicz.) … Star Wars jerseys on tap tomorrow for the Topeka RoadRunners and Wenatchee Wildcats (from @hachmeister137). "¦ Autism-awareness jerseys tomorrow night for RPI (from Adam Northernscold). "¦ UM-Dearborn will have new retro uniforms for tomorrow's outdoor game against Oakland (thanks, Phil).

College Hoops News: A couple in the front row at Wednesday's Temple/UConn game had some seriously loud sweaters (from Brian Jud). "¦ Creighton debuted a new set of blue uniforms two nights ago (thanks, Phil). … Memphis F Calvin Godfrey, who's from Milwaukee, has a Brewers ball-in-glove logo tattoo (big thanks to @ptakers). … Penn's jerseys don't have Nike logo creep. But during Tuesday night's game against LaSalle, the LaSalle equipment manager noticed that one Penn player did have the logo creep. Can't sneak anything past an equipment guy!

Soccer News: Adidas people and Puma people are trying to get along and focus on their common enemy, Nike (from Kyle Hanks). "¦ New 20th-anniversary patch for the Japanese team Vissel Kobe. "It's not clear where it will be worn, since big embroidered patches are rarely used on soccer shirts," says Thomas Fiers. "But since the owner, the Crimson Group, also owns the baseball team Rakuten Eagles, maybe they'll go the baseball route and put the patch on the shirts." … New score bug for NBCSN's EPL coverage(from Tanner Welch).

Grab Bag: Here's an artist who documents past corporate logos and even takes a stab at what they might look like in the future (from Jeremy Baker). "¦ Oh baby, look at this awesome speed skating outfit from the early 1900s (big thanks to Will Scheibler). "¦ If you've been dying to vote on which school in the D3 Central Connecticut Conference has the coolest logo, here's your chance. "¦ Former New York Gov. Mario Cuomo, who passed away yesterday, played baseball in high school, college, and the Pirates' minor league system. A very decent man — RIP.