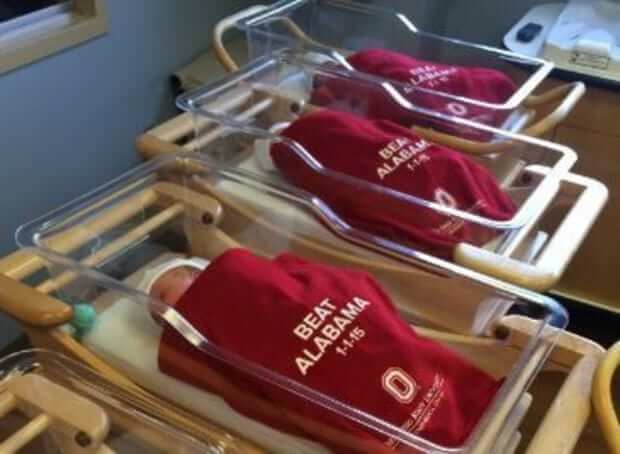 With Ohio State set to face off against Alabama today in one of the college football playoff games, Ohio State's Wexner Medical Center is using OSU-branded "Beat Alabama" blankets for New Year's newborns — awwwww. Further info here.
I know at least one longtime Uni Wach reader, hockey fan Mike Engle, was born on New Year's Day. You think he got an NHL blanket at the hospital? Anyone else celebrating a birthday today?
•  •  •  •  •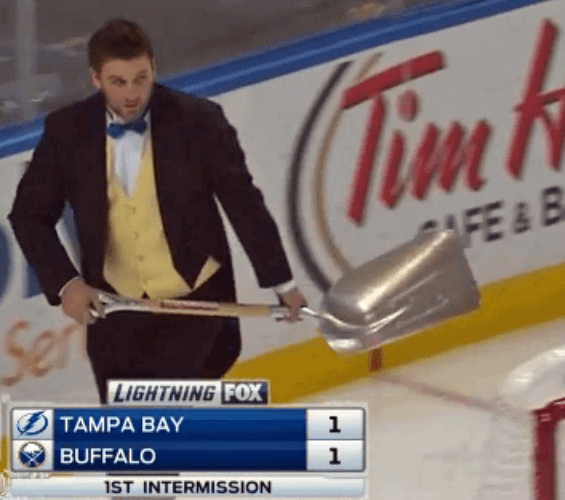 Take that, Flyers Ice Girls: The Sabres got into the New Year's Eve spirit yesterday by dressing their ice-cleaning crew in formal attire. No word on whether they sipped champagne in between shifts.
(My thanks to Matt Larsen for the screen shot.)
• • • • •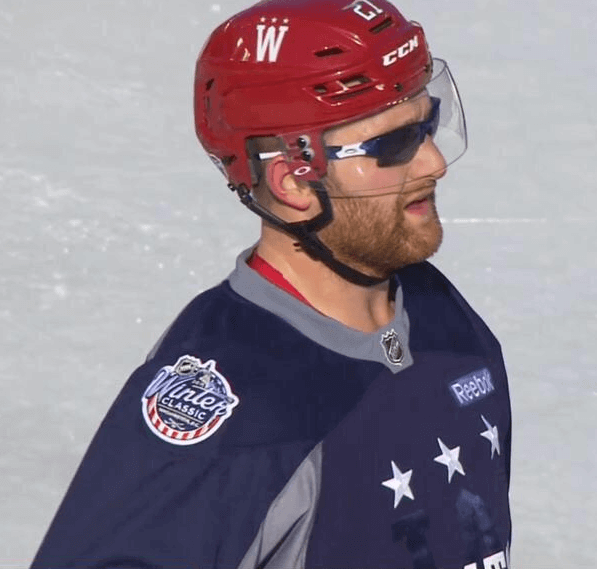 Made in the shades: Unusual sight yesterday at Nats Park, as Capitals defenseman Karl Alzner wore sunglasses while practicing for today's Winter Classic. The game's start time may actually end up being pushed back due to sun concerns.
The game will feature several tributes to Blackhawks assistant equipment manager Clint Reif, who passed away on Dec. 21. Both teams will be wearing "CR" memorial decals, and the Blackhawks set up a locker in his honor.
Meanwhile, the Ace of Cakes guy will be bringing a zamboni-shaped cake to the game. But not just any zamboni — a camouflage zamboni, "to honor military service." So 2015 isn't even one day old yet and we already have the sports world's first gratuitous G.I. Joe move of the year. Sigh.
(My thanks to Phil for his contributions to this section.)
•  •  •  •  •
Why, I oughta"¦: Finally, there's this: While on my way to meet my friend Carrie for a movie yesterday afternoon, I was walking through a subway station and spotted this health insurance ad that takes a cheap potshot at a certain Olympic sport of which I am quite fond. Double-sigh.
• • • • •
My best wishes to everyone for a great 2015. Enjoy the football and/or the Winter Classic, and I'll see you back here with full content tomorrow. "" Paul