Click to enlarge
What is Georgia Tech A-back Deon Hill (shown above at yesterday's Media Day for the school's upcoming bowl game) so happy about? For one thing, he's wearing the team's blue jersey, which Tech will be wearing tomorrow night against Mississippi State. The Yellow Jackets are among the very few college teams that wear white at home (LSU is another prominent example), and of course they also end up wearing white on the road, so tomorrow's game will be two years to the day since the last time they wore a colored jersey, which was in the 2012 Sun Bowl.
According to this article, the players are eager to wear something other than white. Here are some quotes:
• From safety Isaiah Johnson: "Every game, home and away, we wear white. So we wanted to switch it up. We could have worn gold and that would have been fine. "¦I'm glad I get to wear it for my last game."
• From linebacker Quayshawn Nealy: "A lot of guys have been wanting to play in the blue for the longest and we're finally playing in them."
This raises an interesting point: In most ways, college football's uniform culture is much more freewheeling than the NFL's. Teams change unis every year, there's no limit on how many alternate jerseys you can have, no limit on helmets, and so on. But the NFL lets the home team choose whether to be white or color, which allows for a certain degree of flexibility, while the NCAA generally sticks to the "color at home, white on the road" format (except for teams that have requested and been granted a waiver, like Georgia Tech, and occasional "special circumstance" games). So this is one way in which the college scene is more rigid than the NFL.
All of which leads to a question: Should the NCAA adopt the "home team's choice" protocol? Or are college uniforms crazy enough as it is?
•  •  •  •  •
Shirsey T-Shirt Club update: Thanks for all the feedback yesterday on the upcoming launch of the Uni Watch T-Shirt Club. That's what we're gonna call it — T-shirt = yes, Shirsey = no. (If you missed all of this yesterday, look here.)
As I mentioned yesterday, Teespring and I were working on a new sleeve patch design for the project. It's now finished, and I don't mind saying I think it looks awesome: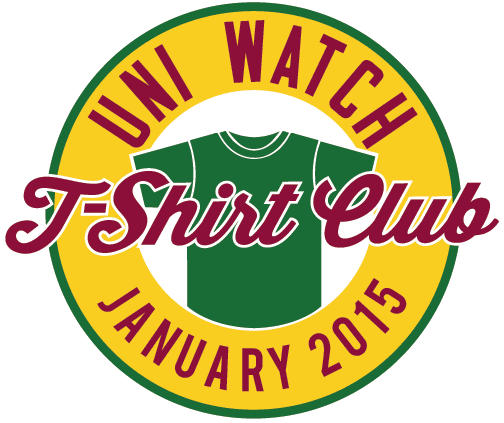 Obviously, the month at the bottom will be changed with each shirt in the sequence. It's possible that we may make other small adjustments to the patch from time to time, reflecting a given month's design. Or we might not. Either way, I'm really happy with this design. Hope you are too.
The first shirt in the series will be the white "Home" design (the patch will be updated), which will be available for sale starting next Tuesday, Jan. 6. Like all of the shirts in the year-long series, it will only be available for one week, whoop-whoop. We are considering one tweak to its design, which I hope to be able to show you tomorrow.
Update: OK, here's the change we're considering — instead of doing the front uni number in green (to match the script), we're thinking of changing it to maroon outlined in gold (click to enlarge):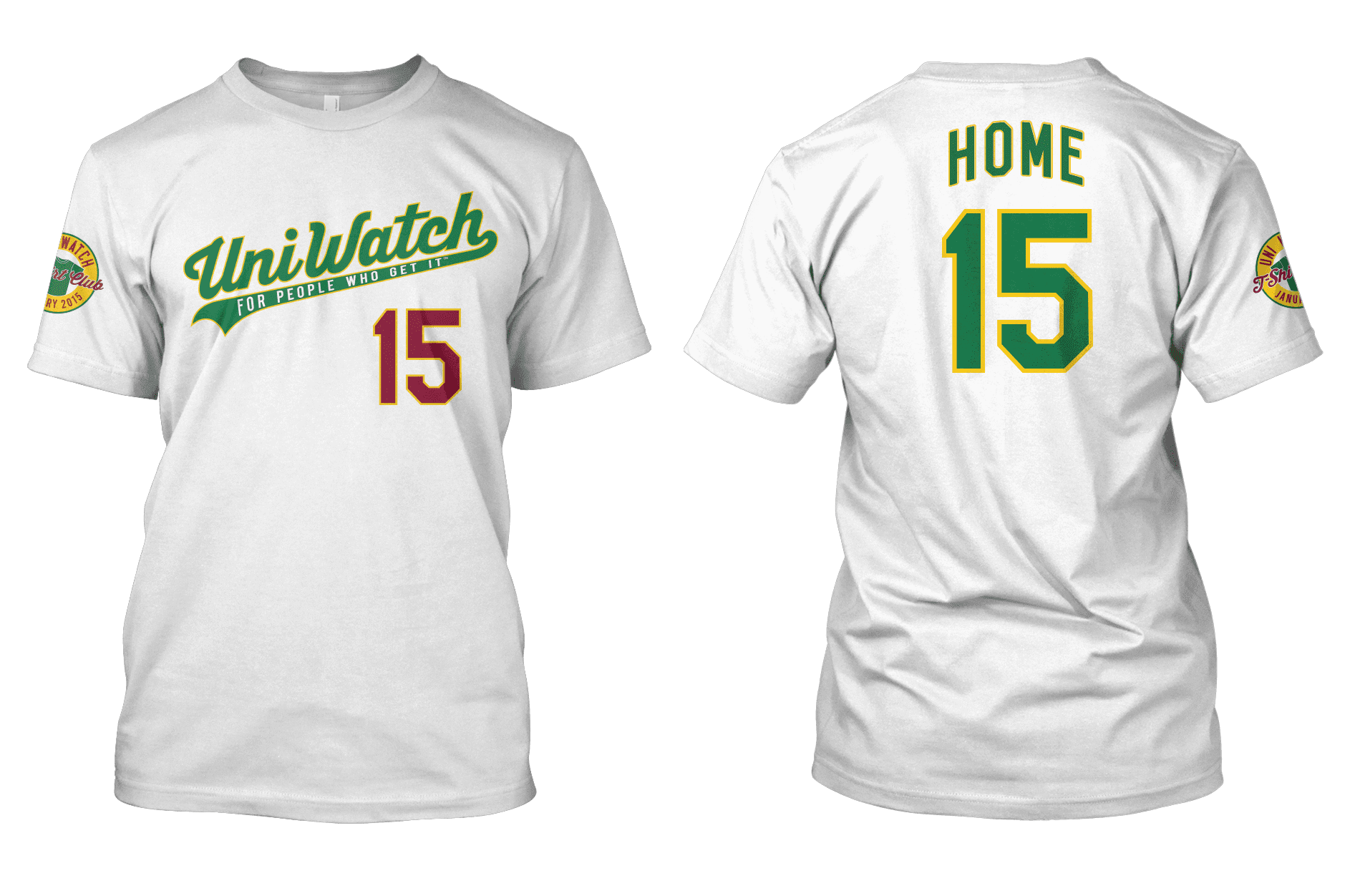 Changing the number to maroon would (a) give a greater presence to this color, which is part of the Uni Watch color scheme; (b) make the shirt design less A's-like; (c) match the maroon number under the magnifying glass that's shown at the top of this website; and (d) be a subtle shout-out to one of the great stories in uniform history.
I love the idea of changing the front number from green to maroon, but I have to admit that I'm conflicted about how it looks. What do you folks think?
(My continued thanks to Brian Molloy of Teespring, who has been very patient with my art direction and endless requests for revisions. Thanks also to Scott M.X. Turner, whose original magnifying glass logo design and subsequent 15th-anniversary logo design are proving to be very durable.)
• • • • •
Collector's Corner
By Brinke Guthrie
Ever seen this Chargers gumball helmet? I remember getting this in the late 1960s or early 1970s, and wondered "Why is the lightning bolt straight?!"
See, even when I was 10 years old, I knew I Got Itâ"¢. Now here's the rest of the final Collector's Corner of 2014:
• Here's a nice set of 1970s NFL helmet magnets. All look to be in good shape except for the wings on the Eagles helmet.
• Check out the artwork on this vintage 1960s Astros pennant!
• This 1970s New York Football Giants spiral notebook looks like it's in great shape. Also for the Giants fans: this rather understated sideline windbreaker.
• Wow, terrific set of 1965 NFL book covers also featuring the New York Giants. And they're "Thermo-Plastic Coated"!
• More magnets, but for a different sport: Check out this very cool 1970s NHL standings board/magnets set. Mint in package, baby.
• Don't you wish the Vikes would return to their classic look, and maybe include the logo on the sleeves like this 1970s T-shirt does?
• "Buy one of our sticks and we'll belt you." Hope that ad copywriter got a bonus for this NHL Cooper hockey stick/belt buckle promotion.
• Never seen this before: an NFL team towel from the 1970s with all the then-current logos. Twenty-six teams shown, so this is from before the Seattle/Tampa expansion.
• This takes me back! Had one of these big ol' 1970s Cincinnati Bengals beer steins. It sat on the shelf next to my Reds World Series steins, as I recall.
• Can't recommend this highly enough — the late-1960s Sports Illustrated Pro Football game.
•  •  •  •  •

PermaRec update: An early-1900s student whose employer called her "impertinent" for having the nerve to take the front elevator (!) is the subject of the latest Permanent Record entry. Enjoy, and my thanks to everyone who's provided supportive feedback on this project "" means a lot.
• • • • •
Uni Watch News Ticker
By Mike Chamernik

Baseball News: A really neat mini U.S. Capitol building has been constructed for the NHL Winter Classic at Nats Park, and some observers think the Nationals should make it a permanent park of the ballpark (from Tommy Turner). … A Reggie Jackson game-worn Kansas City A's rookie year batting helmet is for sale on eBay (from David Firestone).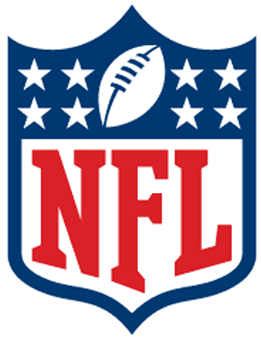 NFL News: Check out this old advertisement with a photo of Phil Simms. "I thought it was odd that they removed the side TV numbers and added his name to the sleeve of the jersey," says Jamie Burditt. "And it appears to be actually printed on the jersey itself, it does not look like a camera trick or something. The font seems to match the style the Giants wore in that era also. I never seen an ad where they moved the NOB to the sleeve." … Groupon is selling NFL team throw pillows, but the Browns and Bengals ones (at least) are in the Seahawks' jersey template (from Tony Crespo). … The Patriots posted their 2015 opponent schedule on their Facebook but the Jaguars pointed out the Pats showed Jacksonville's old helmet logo (from Stephen Hayes). … David Firestone found a photo of IndyCar driver J.R. Hildebrand in a 49ers-themed driver suit.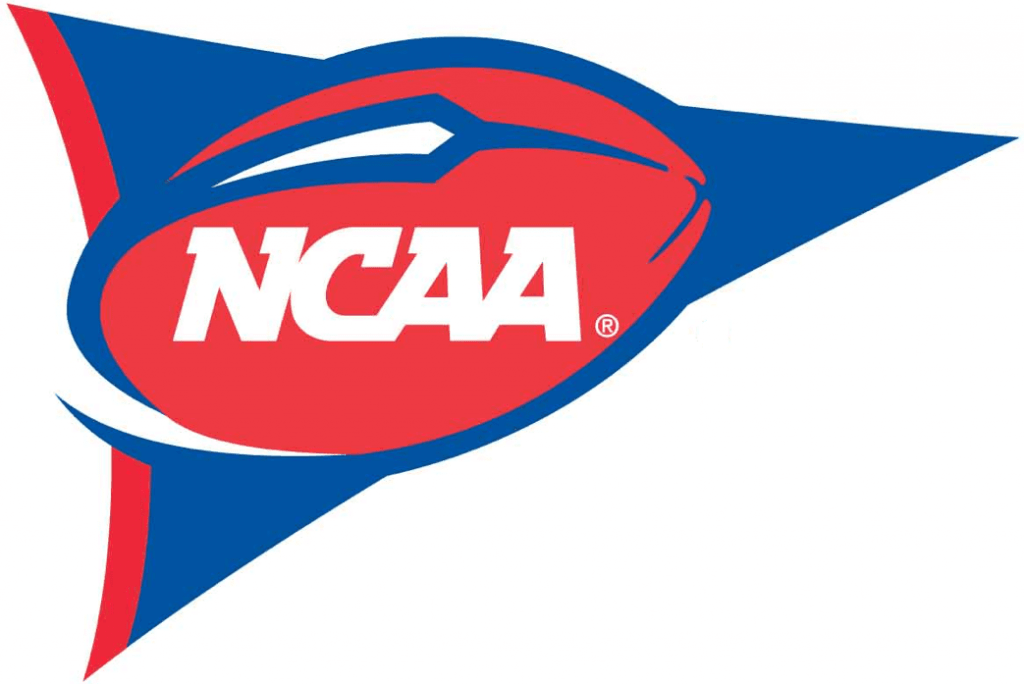 College and High School Football News: Notre Dame, as per longstanding tradition, will add NOBs for its bowl game (from Phil). … New uniforms for the All-American Bowl. … Here's a look at Oregon's Rose Bowl patch (from Phil). … Clemson wore helmet decals to honor its first bowl game. … West Virginia's Rushel Shell had a banged-up helmet decal yesterday. … The Detroit Free Press used John Harbaugh's photo on its front page for a story about Jim Harbaugh and Michigan. … A Texas fan wore a "5 Core Values" jersey at the Texas Bowl (from Phil). … Louisville will wear all black for its bowl game today. … "I finally got around to watching Unbeaten, the Big 10 Network documentary about Brook Bolinger," says Marc Burgess. "This shot from the 1994 Orange Bowl struck me as odd, because Bolinger has an Orange Bowl patch with a white background while Tommy Frazier has one with a red background. I've never seen mismatched bowl game patches before. Is there a reason for that, or is it just poor quality control?" … A New York State man donated $4,000 so members of his district's championship high school football team could keep their jerseys.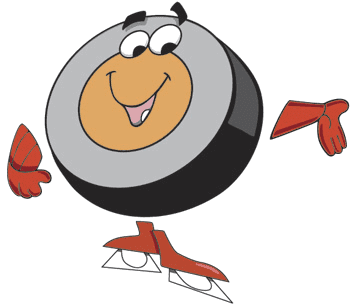 Hockey News: Toledo has some excellent WHA-adjace jerseys for its Winterfest Alumni game (from Phil). … Will Scheibler found a 1938 hockey trophy that had skate blades on the sides of it. … The Winter Classic is still in two days but some Modell's outlets have cut Caps' merchandise prices in half.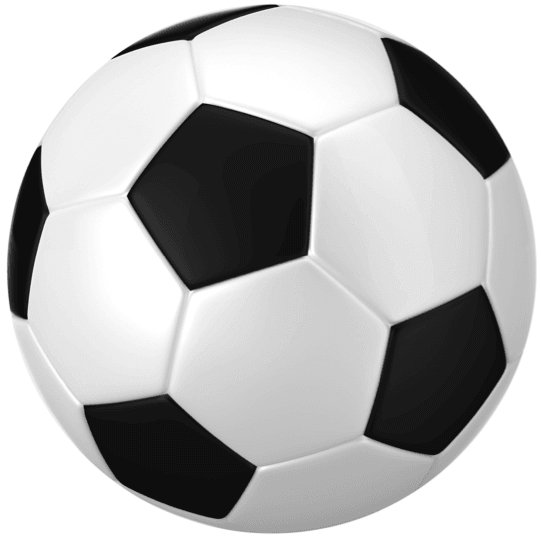 Soccer News: From yesterday's comments: "Wayne Routledge had a little shorts malfunction during today's Liverpool vs. Swansea City game," says Ryan, who didn't give his last name. "They totally ripped on one side. They brought out a new pair of shorts. He took them off right on the pitch and put the new ones on. The crowd really started hooting and hollering when he took off the shorts."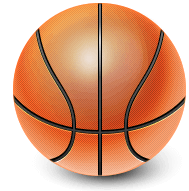 NBA News: The Mavs put a 70-by-70 foot logo on the roof of their corporate headquarters. … I was looking through the Bucks-Hornets game photos last night and I saw that Milwaukee guard Jerryd Bayless wears his headband backwards. Bayless started wearing a headband in 2012 (when he joined the Grizzlies for his fifth season in the league) and has always worn his headband reversed. According to the end of this video clip, Bayless said the he started wearing a headband solely for practical reasons, because he shaved his head and wanted to soak up the sweat. But, we still don't know why he wears it backwards. I want to get to the bottom of this!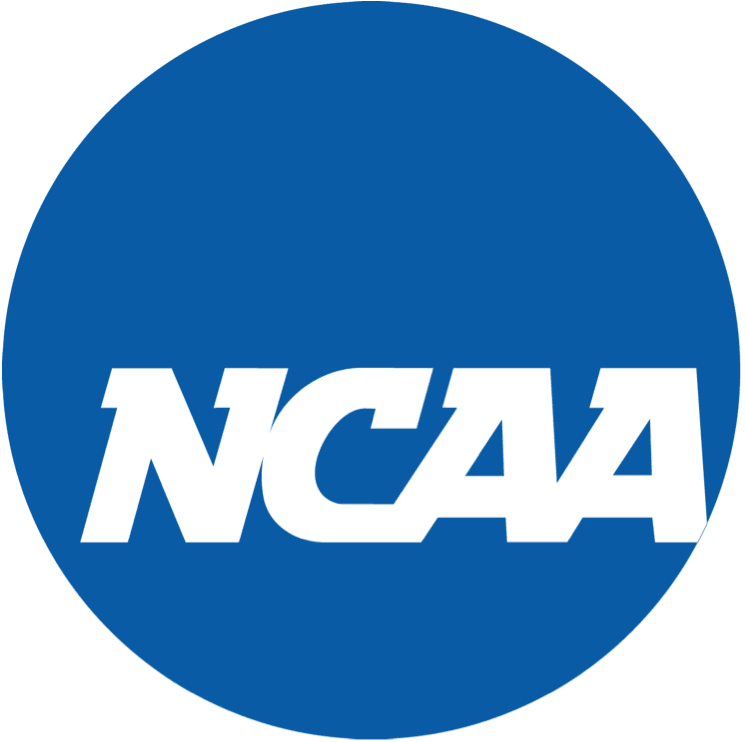 College and High School Hoops News: Georgetown will give out pink "G" t-shirts to support Men Against Breast Cancer (from Phil). … Marshall's men's and women's teams have added a memorial patch for university president Dr. Stephen J. Kopp (from Phil). … That California high school that banned the "I Can't Breathe" T-shirts has now had a change of heart (from Phil). … Middle Tennessee State's Reggie Upshaw goes JrOB (from Phil). … Long Beach Poly High School in California had its girls' basketball uniforms stolen after the team traveled to Miami for a holiday tournament.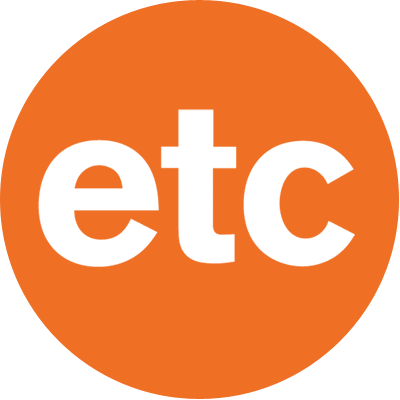 Grab Bag: A few decades ago, cyclist Eddy Merckx was as big a part of Adidas as Kareem Abdul-Jabbar was (from Sean Clancy). … House Majority Whip Steve Scalise is in the news for some bad reasons, but he has a sweet jersey in his office (from Aaron Scholder).