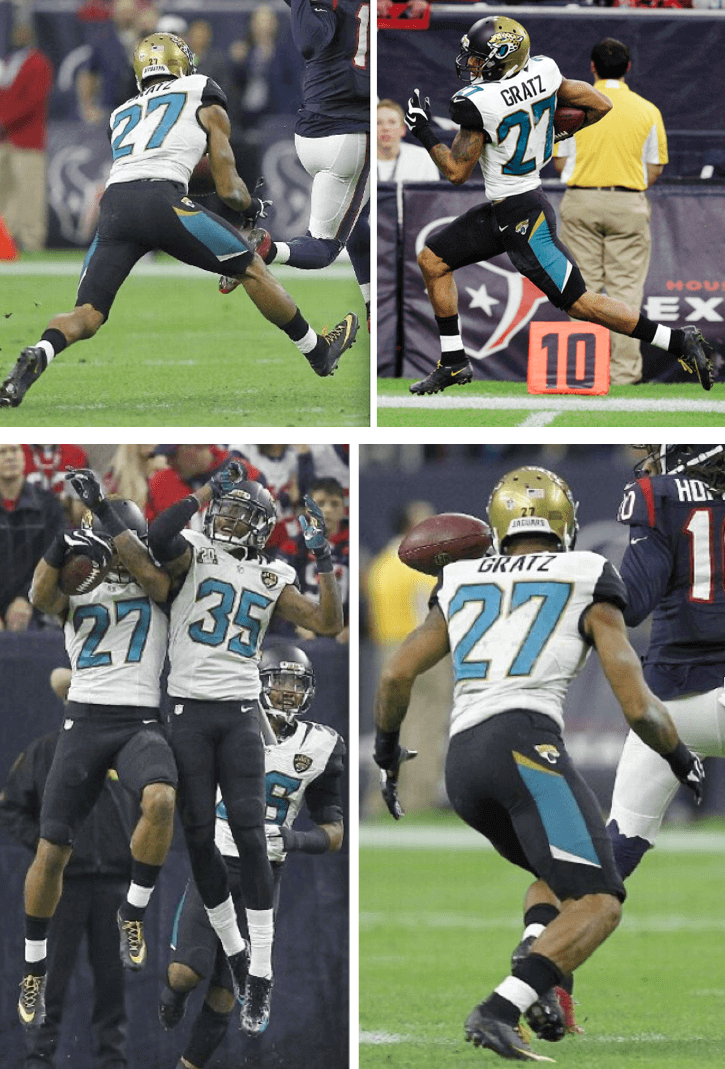 Click to enlarge
Since 1945, one uni-related difference between the worlds of pro and college football has been that NCAAers can go bare-legged while NFLers are required to wear full-length hosiery. But as you can see above, Jaguars cornerback Dwayne Gratz apparently decided that that rule didn't apply to him yesterday, as he bared his calves and rolled up his pants to biker shorts levels for good measure. Not a good look.
In other news from the final week of the NFL's regular season:
• The two New York coaches (well, technically New Jersey, but we'll let it slide) — Rex Ryan of the Jets and Tom Coughlin of the Giants — both wore NYPD caps. Disappointing to see that Coughlin was no longer wearing the little peace symbol he wore the previous week.
• More postgame jersey swaps: Jordan Matthews (Eagles) and Odell Beckham Jr. (Giants), Matt Asiata (Vikings) and Stephen Paea (Bears), and Brandon Flowers (Chargers) and Dwayne Bowe (Chiefs).
• The NFL logo was missing from Browns defensive back K'Waun Williams's collar.
• Speaking of collars: This isn't new, but the Cowboys' Nikelaces changing from white to blue is reaching epidemic proportions.
• Lions defensive lineman Ndamukong Suh's sideline hat looked extra-long, almost like a Rasta tam.
• The Seahawks thanked their "12th man" with a salute printed on their sidelines.
• Two teams wore white at home: the Dolphins and Titans.
• Protestors outside the 'Skins stadium called for the team's name to be changed and engaged in "heated and profane" confrontations with fans.
• A sign at the Georgia Dome listed the Falcons' opponents as the North Carolina Panthers.
• Another amusing glitch: The NFL's Red Zone channel thinks Mark Sanchez still plays for the Jets.
• Nothing amusing about this: In a development I can only describe as repellant, the Ravens' live mascot — an actual raven, not some guy in a costume — was wearing a little cape emblazoned with a corporate lifestyle logo. Douchebags,
• No photo, but with a flu bug spreading through the Bengals' roster, some Cincy players reportedly wore masks during their flight to Pittsburgh.
(My thanks to all contributors, including Colin Abendroth, James Armstrong III, Matt Barber, Charlie Charnigo, James Gilbert, Sean Kneringer, Matt Larsen, Jerry Lawless, Aaron McHargue, Rich Savickas, Jeff Shirley, Matt Straus, and of course Phil.)
• • • • •
ITEM! Uni Watch shirsey update: In case you missed it last Wednesday, I announced that I've partnered with the T-shirt company Teespring to create a series of Uni Watch shirseys that will soon be available for sale (if you can't the the slideshow below and/or want to see larger versions of the shirts, click here):
Response to the announcement was very, very positive (thank you!) — so positive, in fact, that Teespring and I have decided to expand the project into a year-long endeavor that we're now calling the Uni Watch Shirsey Club. We're still finalizing some of the details, so a few of the things I'm about to tell you could end up changing slightly, but here are the basics as they stand today:
1. There will be eight more designs in addition to the four that I've already shown you. That will make a total of 12 designs — one for each month of 2015. You'll see the rest of the designs as they become available for sale. You can probably guess what some of them will be, although I think a few of them may surprise you.
2. The mock-ups currently show a sleeve "patch" of the Uni Watch 15th-anniversary logo, but we're going to change that to a Uni Watch Shirsey Club patch, the design for which is being worked on as we speak. It will have a basic template and be modified with each shirt to include "January," "February," and so on. Update: The patch has now been designed: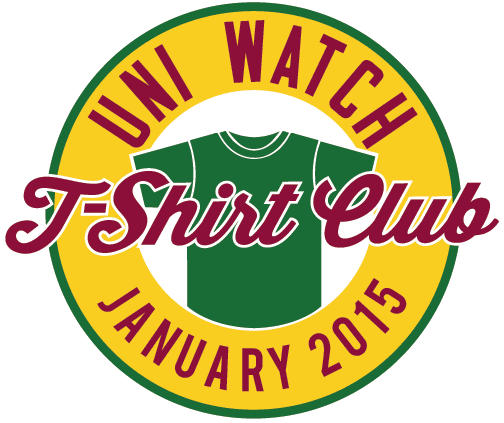 3. The January shirt, which will be the white "Home" design, will be offered for sale beginning next Tuesday, Jan. 6. After that, each subsequent shirt will be made available on the third Tuesday of each month. So the February design will go on sale on Jan. 20; the March design will go on sale on Feb. 17; and so on. I'll reveal each new design about a week before it goes on sale. (Note: The other three designs that I've already shown you — grey "Road," green "Alternate," and black "BFBS" — will all be included in the 12-month roll-out but will not necessarily be the next three in the sequence.)
4. Each shirt will be available for sale for only one week (that's how Teespring works — each shirt is a limited edition), from the Tuesday when it's made available through the following Monday. Once a shirt's one-week window closes, it will no longer be available for purchase.
5. Except for the January shirt, which will deliver to customers by Jan. 26, each month's shirt should deliver within the first 10 days of that month.
6. Prices will likely be in the $20-$22 range.
7. I'm pretty sure sizes will run at least from S through 3XL.
8. People who purchase all 12 shirts will be eligible for a bonus prize at the end of the year. I haven't yet decided what this prize will be, although I have some ideas. Stay tuned on that.
9. I have lots of additional design ideas. So if the response is strong, it's definitely possible that the project could be extended into 2016.
And there you go. I'm really excited about this — not so much in a "Let's sell some stuff!" way, but more in a "Fun creative project!" way. Additional details soon, and continued feedback welcome.
One question: How do you folks feel about the word "shirsey," and about the name "Uni Watch Shirsey Club"? I've always been kind of agnostic about "shirsey" myself (maybe because it reminds me of the name Shirley), although it does capture the essence of the shirt + jersey product. I considered just calling this project the Uni Watch T-Shirt Club, but there have already been lots of Uni Watch T-shirts — these are the first Uni Watch tees designed to look like jerseys, so I wanted to have a more specialized name for the project. Thoughts? Never mind — lots of negative response to "shirsey," which pretty much confirms what I thought. We won't use that term.
(Special thanks to Brian Molloy of Teespring, without whom none of this would be happening.)
•  •  •  •  •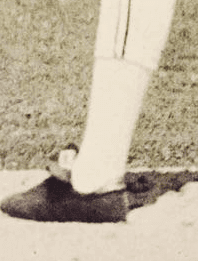 The case of the missing stirrups: Here's a weird one: It looks like the 1975 Twins didn't bother to wear stirrups in spring training — or at least Danny Thompson, Ray Corbin, Craig Kusick, and Rod Carew didn't. Bizarre!
This immediately got me thinking about other teams with uni-related preseason rituals, like the Red Wings' non-arched NOBs and the Steelers' missing helmet numbers. Were the Twins basically telling the players to "earn" their stirrups by making the final roster cut? Or did they just not want to bother with certain niceties for spring training games? Was this a one-year thing, or did they do it for other seasons as well? If anyone knows more, do tell.
(My thanks to @uniformcritic for tweeting these photos, and to Phil for letting me know about them.)
•  •  •  •  •

Baseball News: Designer William Vaught has created a poster-sized scorecard to track all the MLB ballparks he's visited. "Some parks I've obviously been to many times — four or more visits is a home run, one visit is a single, two visits is a double, and so on."

NFL News: NFL.com writer Dan Hanzus blames the Bucs' crappy season on their uniforms. "¦ Bud Light is currently running an ad that includes their bro-ish slogan as a Broncos NOB (from Cork Gaines). "¦ As an aside, isn't it odd that "being up" for doing something and "being down" for doing something mean the same thing?

College Football News: Good article on how the Oregon design program was created (thanks, Phil). "¦ NC State QB Jacoby Brissett had some unusual-looking armhole openings in the school's bowl game. Robert Obrecki asked Adidas about it and got this response. "¦ What with the team patch, bowl patch, conference patch, and logo creep patch, Nebraska barely had room to shoehorn in that captaincy patch (from Nathan Long).

Hockey News: Nats Park is being prepped for the upcoming Winter Classic and looks good so far. "¦ This article on the history of hockey at Northern Arizona University includes a 1981 photo that shows a college team — not sure which one — wearing Cooperalls (nice find by Travis Holland). "¦ Who does Cole Gunner play for? The Air Force hockey team, of course (from Scott McClure). "¦ Malden Catholic High in Massachusetts has a bizarre rear-jersey format: stacked numerals with the NOB running down the right side (from Michael Abelson and GPJR). "¦ The Slovakia flag normally looks like this, but the flag hanging at the Bell Centre for the World Junior U-20 Hockey Championships looks like this — note the orientation of the coat of arms. "According to Wikipedia, the coat of arms is to be rotated when the flag is hung vertically," says Casey B. "Very interesting tidbit!" For sure.

NBA News: While looking for something else, I came across this shot of Kings C DeMarcus Cousins and Spurs F Tim Duncan simultaneously wiping their faces with their jerseys during a game last month.

College Hoops News: Reader John Austin was at the UNC basketball museum and saw these great uni-numbered stirrups worn by Mitch Kupchak and Bobby Lewis and Walter Davis. I love how that last shot shows both home and road versions. You can see how they looked on the court here, here, and here.

Grab Bag: I showed this old roller derby photo to derby enthusiast the Rev. Nørb, who responded with something really interesting: "Looks like the Midwest Pioneers and SF Bay Bombers. Those uniforms were worn by more than one team over the course of their lifespan. From what I can gather, the league would buy about 10 male and 10 female unis for each team, which remained property of the league and were often repurposed when an old team was dissolved and a new team was hatched. Hence, the Eastern Express of the 1980's wore the old NY Chiefs unis from the '70s, the Latin Libertadores wore the old NY Bombers unis, etc. Another interesting facet of derby uni-ology is that teams generally were assigned jersey numbers that were consecutive and unique to that team: The Red Devils wore 11-19 or so (same numbers for the women's field as the men), the Bay Bombers 31-40, the Chiefs 41-49, the Pioneers 50-59, etc. The Jolters wore single digits in the '7's but not in the '50s and I don't know who wore 20-29. Fascinating shit, I tell you!" Indeed. "¦ Saturday's funeral for one of the NYPD officers who were recently murdered prompted a really interesting radio segment about the history of NYPD uniforms and funeral rituals. Strongly recommended. "¦ Oh baby, how awesome is this curling sweater label! It's from this sweater. "¦ When that AirAsia plane went missing on Saturday night, the airline changed its logo on its Twitter and Facebook pages from red to grey. "¦ This article about elite athletes with asthma includes the following: "Surprising numbers [of cyclists] carry inhalers in the back pockets of their jerseys." "¦ Faaaascinating article, with accompanying slideshow and video, about how camel racing in the Middle East is now increasingly done with robotic camel jockeys! Really interesting — recommended. "¦ Lots of old U. of Minnesota sports photos, across many sports, here (from Tom, who didn't give his last name). "¦ Darrell Waltrip's 1987 All-Star racing suit was a doozy (from David Firestone).