Click to enlarge
Stopped in at a local pizza joint yesterday, got myself a slice, and sat down with it at a table, where I seasoned it the way I always do: a layer of red pepper flakes followed by a layer of oregano. Then I dug in. A few minutes later, I my belly was full and I was ready to move on.
But as I got up from the table, I noticed that the oregano and pepper had left a perfect ghost image of my slice on my paper plate's cover sheet. Something about this struck me as Just Right. Hell, the colors are even somewhat Uni Watch-ish — green, mustard yellow, and deep red. And if you turn it upside-down, it's a Christmas tree! Maybe this was a sign of something deeper, or maybe it just meant I was a little over-zealous with the spice shakers. Either way, it was a small bit of unintentional visual poetry that made me happy, so I took a photo of it. If every day could include a simple pleasure as simple and pleasurable as this one, life would be much better. I suspect the pleasures are actually right there for the taking most days, and that it's just a matter of noticing them as we get up from the table.
For those of you who are traveling today (especially on the east coast, where the weather's gonna be seriously nasty), travel safe. For those who are working, don't work too hard. And for those who are depressed for any of the jillion reasons that Christmas can be depressing, hang in there and remember that being a misfit doesn't mean you're a loser and it doesn't mean you're alone — Uni Watch is proof of that. Peace. "" Paul
•  •  •  •  •
The "W" chronicles, continued: Yesterday I ran photos showing the oddly diminutive "w" on the Mercer hoops team's NOBs (and also mistakenly said that Mercer's unis were made by Under Armour — it's actually Adidas). That prompted reader Kyle Rawling to point out that the UW-Milwaukee team used this same typeface in 2012 for their chest insignia, but the "w" was the same size as the other letters because it included a layer of outlining: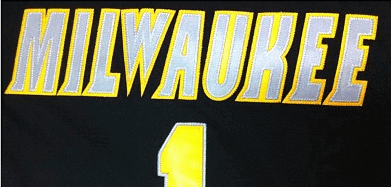 If you remove the gold outlining, you're left with the same font that Mercer is using — and the "w" is suddenly smaller than the other letters. So is Mercer using an NOB font that was never intended to be used without the outlining?
But wait — there's more! A variant of this font has also been used by (and perhaps the whole thing originated with) Louisville: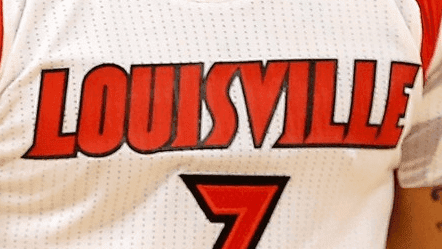 As you can see, the weight of the letterforms and ratio of letterform to outline is different in the Lousiville version, but it's definitely the same type family. But the word "Louisville" doesn't include a "w" — frustrating! Fortunately, I found this (click to enlarge):
So in that version, the "W" looks normal. Interesting! Also confusing! Perhaps someone with a greater typographic acumen than my own can suss all of this out for us.
•  •  •  •  •
Guaranteed to be too late for Christmas delivery: Now that you're done buying presents for all the other people in your life, how about getting something for yourself — or maybe even several somethings? I have just the thing for you (click to enlarge):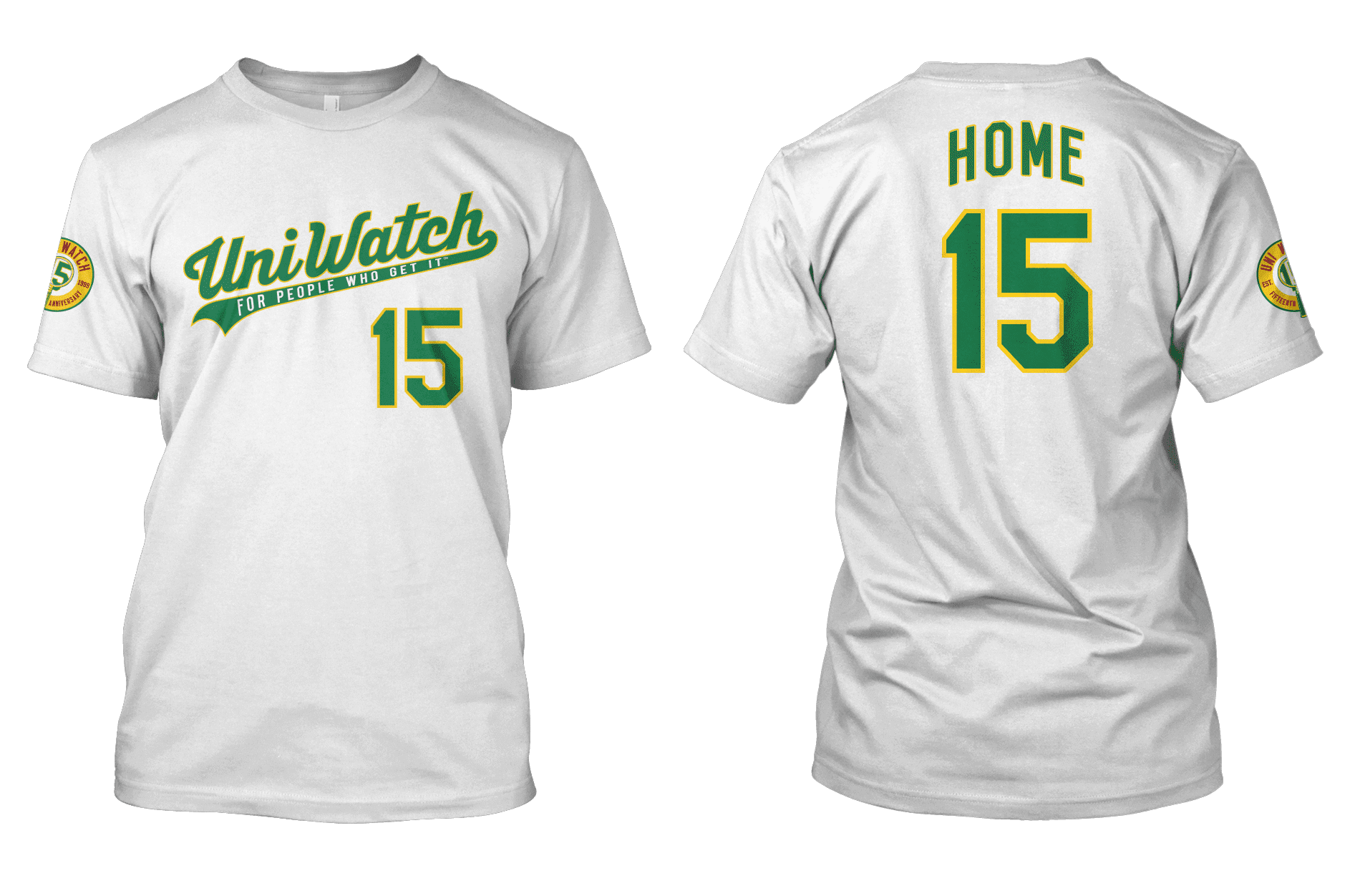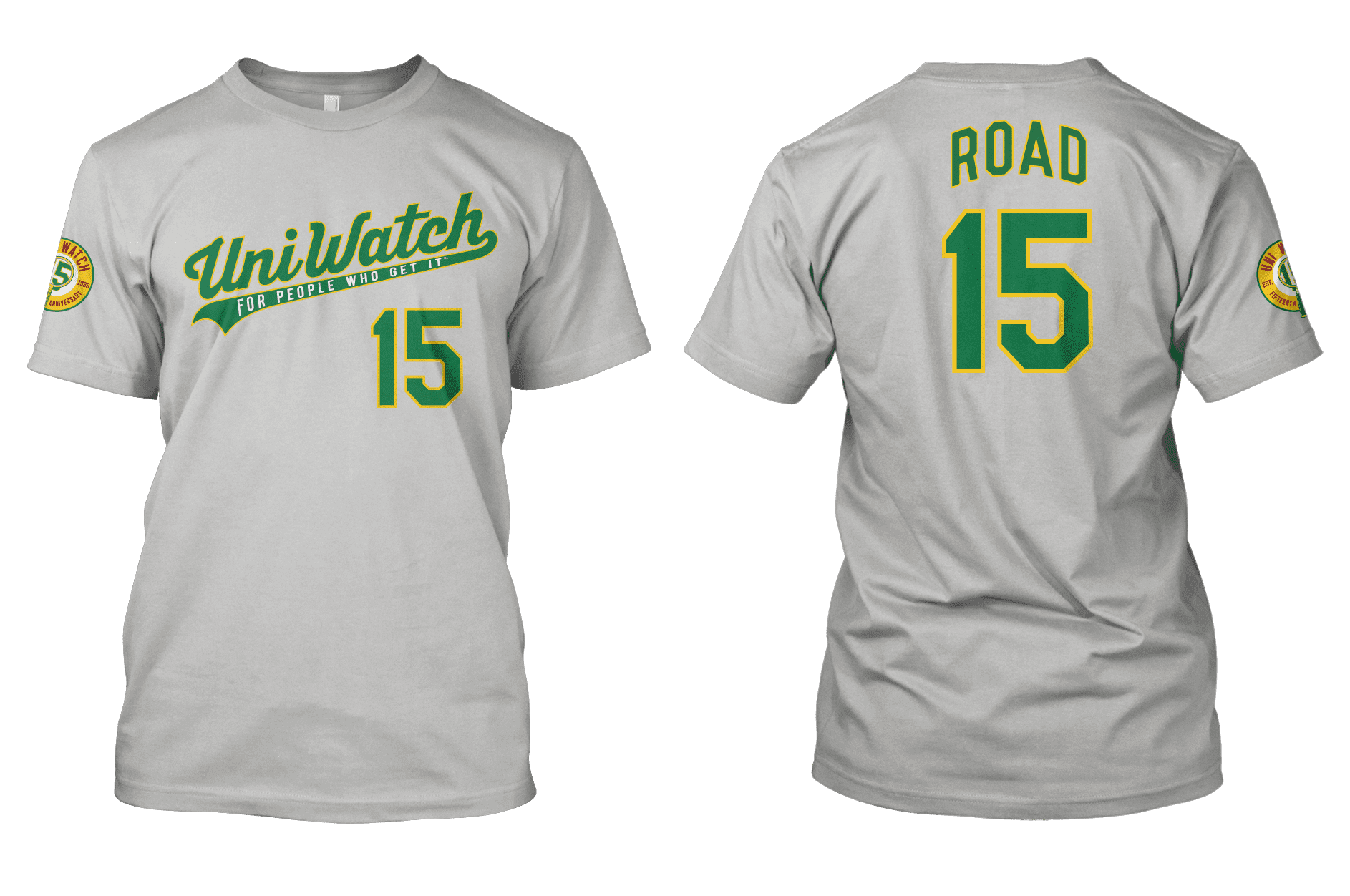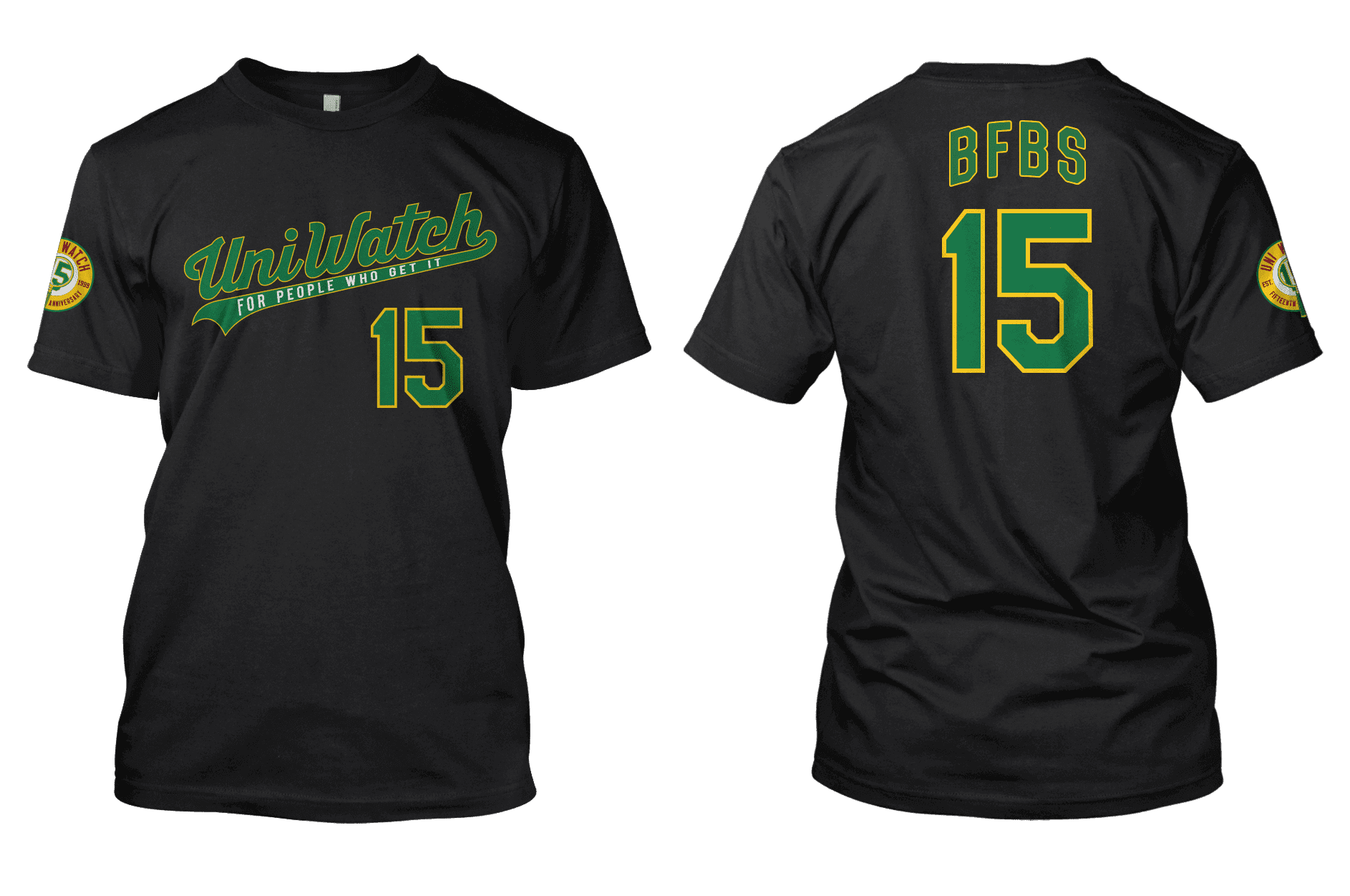 Pretty nice, right? These shirseys, which are being made by Teespring, will be available for sale after Christmas — maybe on Friday, or maybe next Monday. Prices will likely be in the $20 range. They'll only be available for a week or 10 days, because that's how Teespring works — everything is a limited edition. I haven't yet decided if we'll make all four designs available at once or if we'll roll them out one at a time every couple of weeks. (If you folks have any thoughts on that, I'm listening.) Either way, I love the "Collect 'em all!" feel of them.
As you can see, the shirts have a Uni Watch 15th-anniversary "patch" on the right sleeve. The original anniversary logo, as you know, shows the years 1999 and 2014. Technically speaking, Uni Watch's anniversary year runs thru next May, but we thought some of you might not like buying a shirt with "2014" on it now that 2014 is ending, so we made a slight adjustment to it to the logo — instead of the years "1999" and "2014," it now says "Est." and "1999."
Why didn't we get these out in time for Christmas? I wish I could say it's because I didn't want to be part of the big Christmas merch push, but the reality is that we didn't get started soon enough and then took too long refining the designs. Anyway: Ordering details to follow in a few days!
•  •  •  •  •
NFL Superhero Project wrap-up: Thomas Correia presented the final installment of his excellent NFL Superhero project last week, but he's put together an extra Christmas Eve bonus for Uni Watch readers — a poster-style graphic showing all 32 of his team/hero logos (click to enlarge):
I want to thank Thomas for sharing his skills with us over the past few months. When he first approached me with this project, I was willing to try it but frankly had some doubts about his ability to keep things interesting throughout the duration of the NFL season. He not only did that, but he was also a pleasure to work with, always delivering his content on time and in very solid shape. To see more of his design work, check out his Instagram page. Thanks again, Thomas!
•  •  •  •  •

NFL News: Riddell's SpeedFlex helmet, introduced this year, has been a big success. … One thing that's been bugging me lately is Roger Goodell's repeated description of the NFL logo as "the shield," and how this bit of corporate-speak has been happily parrotd by certain media members and fans (and, um, Uni Watch commenters/emailers). Slate sports podcaster and longtime Uni Watch pal Stefan Fatsis provided a superb analysis of "the shield," and how it fits into the NFL's larger worldview, in this week's "Hang Up and Listen" podcast. You can hear it at the 40:20 mark — good stuff (from Adam Brodsky). "¦ Wall Street Journal reporter Jason Gay, who was my editor for a few stories I did at GQ a million years ago, dressed up as Jim Harbaugh for a visit to Michigan. "He even got the hanging pen right," says Brinke. "¦ This Browns design is circulating over on Reddit. "Looks like same format of the earlier Broncos leak," says John Dies. "No idea how legit."

College Football News: Here are Marshall's helmets from last night's bowl game, with the much-discussed memorial decals for university president Stephen Kopp and Chad Pennington's father. … Meanwhile, check out turf pattern for that Marshall game — wow! Never seen anything like that. … There's news about USC players swapping jerseys at their final practice of the year about two-thirds of the way down in this article.

Hockey News: "We all know European hockey unis regularly carry more adds per square inch than the average stock car," says James Vetter. "But not in the new Champions Hockey League. In this tournament, styled after UEFA's Champions League, there are no ads on the front/back of the jersey or on the pants, although the left sleeve is bright red wotj the logo of the event's primary sponsor. This is for all teams, regardless of their team colors or jersey design. And in an odd twist, the points leader on each team has to wear a 'special' jersey and helmet." … Ugly + Xmas = San Antonio Rampage this Saturday (from Kyle Hinstorff). … New third jersey for the Green Bay Gamblers. … Awesome stripes — and a tiny captain's "C" — for the 1960-61 Cleveland Barons (from Leo Strawn Jr.). … The Kalamazoo Wings will be wearing tuxedo jerseys on New Year's Eve (thanks, Phil). "¦ Islanders captain John Tavares wore an NYPD cap for postgame interviews after last night's Habs/Isles game.

NBA News: Chris Creamer and I are both quoted in this article about the new Raptors logo. … In a related item, Conrad Burry says these are some leaked designs that the Raptors considered but rejected, although someone else on Twitter says those designs are fan concepts from a recent Toronto Star contest.

College Hoops News: New uniforms for Loyola (from Ryan Eigenbrode). "¦ "I'm watching the Diamond Head Classic basketball tournament from Hawaii," says David Westfall. "The scorer's take keeps rotating a University of Hawaii/Under Armour advertisement, which is interesting because their basketball team wears Adidas. It's the football team that wears UA."

Soccer News: The new USA away kit has leaked. "¦ Chester FC goalkeeper Jon Worsnop wore a facemask for the club's recent FA Cup match against Barnsley (from Graham Clayton).