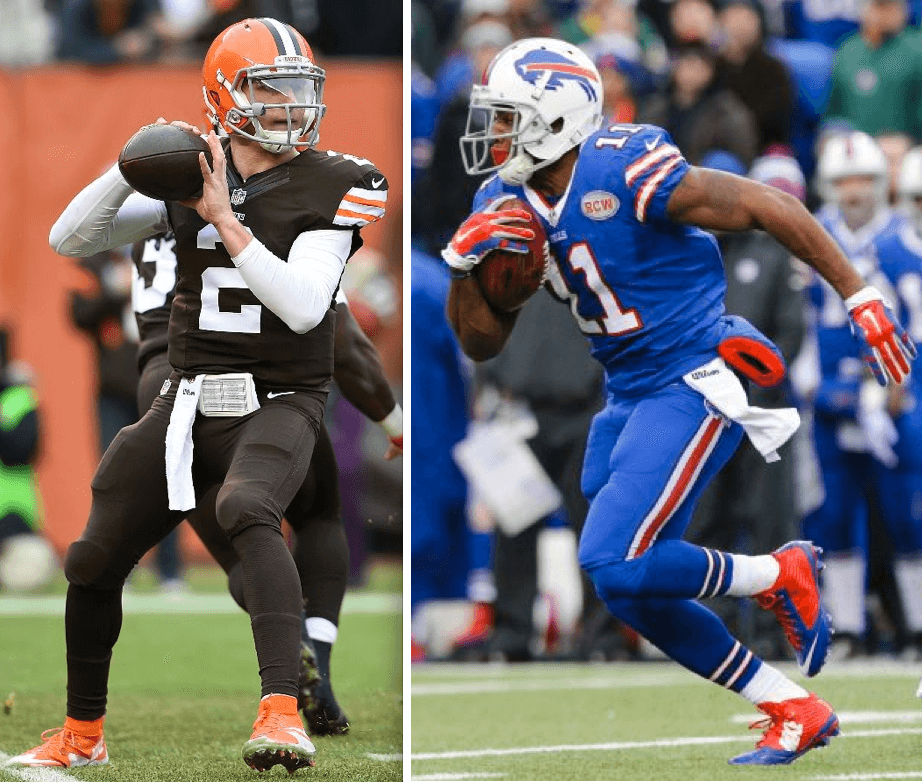 Click to enlarge
Should anyone doubt the power of Uni Watch, consider this: On Wednesday I had an ESPN column on mono-color uniforms in the NFL. Four days later, the Bills went mono-royal blue (first time ever) and the Browns went mono-turd (first time this season, third time ever). Coincidence? I think not! Can't say I'm fond of either look. If you want to see more, here are additional photos from the Bills and Browns games.
In other news from around the league yesterday:
• Browns wide receiver Andrew Hawkins entered the field wearing a T-shirt that had "Justice for Tamir Rice and John Crawford" on the front and "The Real Battle of Ohio" on the back. Rice is the 12-year-old Cleveland boy who was recently shot by a police officer who mistook the child's air gun for a real gun; Crawford is the Ohio man who was killed by police at a Walmart outlet while holding a BB gun back in August (and whose girlfriend was then treated rather badly by the police). Both were black. After the game, the president of the Cleveland police union called the T-shirt "pathetic" and demanded an apology from the Browns — an approach that didn't work too well when the St. Louis police union demanded an apology from the Rams after several players did the "Hand up, don't shoot" gesture two weeks ago. (According to one report, "at least one other" Browns besides Hawkins also wore the shirt, but I haven't been able to confirm that or determine who the other player was.)
• Bills defensive end Jerry Hughes had a bit of trouble with his Ralph Wilson memorial patch.
• Chiefs players wore bracelets in support of sidelined teammate Eric Berry.
• Here's something you rarely see anymore: Ravens wideout Steve Smith had pockets sewn into his jersey, instead of wearing one of those strap-on muffs.
• I don't know what Seahawks running back Marshawn Lynch was doing before his team's game against the 49ers, but it sure looked weird.
• Speaking of the Seahawks, their end zones are once again painted blue. They had been green.
• As if 49ers coach Jim Harbaugh hadn't already punched his ticket out of San Francisco, he went the extra mile yesterday by wearing his mock turtleneck backwards.
• In Tennessee, the Titans wore white at home and the Jets wore mono-green.
• Speaking of the Titans, defensive tackle Jurrell Casey incited a brawl and ended up with a torn TV number and a loose captaincy patch.
• Famous guy-who's-wealthier-than-you Warren Buffet was on the field and wearing prior to the Vikings/Lions game and looked unusually dorky.
• We've mentioned before that the Packers sew little name/number tags onto their sideline caps. Here's the one on Aaron Rodgers's hat from yesterday.
• The Buccaneers wore their orange socks for just the second time this season.
• No photo, but at one point in the Vikes/Lions game, Detroit's Golden Tate III and Minnesota's Ben Tate III were both on the field, meaning that there were two "Tate III" RNOBs on the field simultaneously.
• Cowboys wideout Dez Bryant had gray socks, or maybe gray tape. Here's another view.
• Eagles running back LeSean McCoy wore very high whites. Ditto for teammate Cary Williams.
(My thanks to all contributors, including Andy Bartsch, Jeremy Baxter, Kyle Hanks, Brady Henderson, Raymie Humbert, Kevin Lewter, Mark McGowan, Chris Schwartz, and of course Phil.)
• • • • •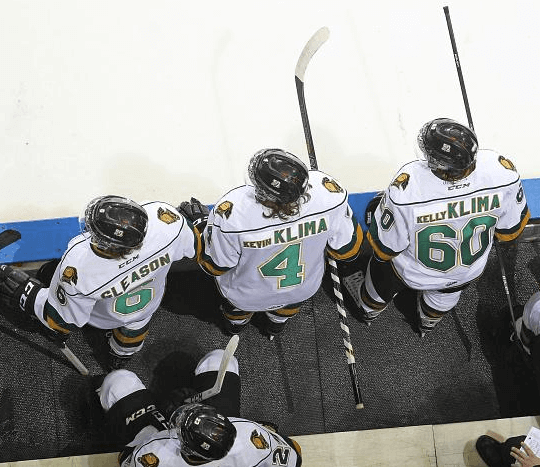 Just twin, baby: The two gents with the unusual nameplates are Kevin and Kelly Klima — twin sons of former NHLer Petr Klima. They play for the OHL's London (Ontario) Knights, whose equipment manager has given them a very odd FNOB format. To give you a better look, here's a close-up of Kelly's jersey.
Weird, right? Don't think I've never seen the first name set in tiny caps like that. Major thanks to Andy Rawlings for bringing this one to my attention.
•  •  •  •  •
Culinary Corner: One of our holiday traditions here at Uni Watch is the annual appearance of my recipe for homemade Irish cream. In other words, homemade Bailey's. In other words, melted ice cream that gets you drunk. It's super-easy to make, it'll make you the hero of whatever party you bring it to, and lots of you have told me how much you like it. Here's how to do it:
Start with some decent Irish whiskey "" Bushmills, Jameson, Tullamore Dew, something like that (but not super-high-end stuff, because the nuances will be lost in this preparation). Pour a pint of the whiskey into a large-ish container and mix it with a can of sweetened condensed milk, a pint of heavy whipping cream, a tablespoon of chocolate syrup, a teaspoon of vanilla extract, a quarter-teaspoon of almond extract, and a teaspoon of instant espresso dissolved in two tablespoons of hot water.
Mix well (if the container has a tight lid, you can just shake vigorously), refrigerate, serve over ice, and get ready to become the most popular person in the room. No need to thank me afterward, but you'll want to do so anyway — trust me.
•  •  •  •  •

Baseball News: We've all seen eye black, but what about eye white? That's Pirates catcher Manny Sanguillen, circa 1970 (From Tristan Ridgeway). "¦ Sy Berger, the guy who turned Topps into a baseball card juggernaut, has passed away (thanks, Brinke). "¦ Steve Johnston and his family were at the Swedish American Museum in Chicago on Saturday and spotted this magnificent satin baseball jersey from an old Swedish lodge team on display. "My son said, 'Dad we've got to take photos and send them into Uni Watch,'" says Steve. Glad to see you're instilling the boy with a good sense of priorities, Steve.

NFL News: Good article on the artist who created Pat Patriot (from John Pritchard). … Latest rumor regarding the Eagles comes from Brian Smith, who writes: "My wife was Christmas shopping for a jersey at a local sporting goods store and was told by the salesperson that the Eagles are done wearing the black jerseys. Last week was the final time, he said, and he advised against buying one. He said the team is switching to alternate kelly greens next year with the plan being to eventually go back to kelly green as the primary jerseys." "¦ WWE wrestler Dolph Ziggler, who's from Cleveland, had Browns-themed trunks for last night's TLC pay-per-view in Cleveland (from Jared Patz). "¦ "On an NFL Network documentary, Roger Staubach said he wasn't sure what to do with his Heisman Trophy, so several times he would find his daughter riding it like a hobby horse," says Douglas Ford.

College and High School Football News: Here's a cool little chart of Arizona State's 2014 uni combos (thanks, Phil). "¦ Joanna Zwiep bought this helmet at an Ohio thrift shop but doesn't know what team it's from. Anyone recognize the logo? "¦ Here's a great shot of the exterior-padded helmets that Ohio State wore in 1964 (from Larry Bodnovich).

Hockey News: The Worcester Sharks wore Worcester IceCats throwbacks on Saturday night. … The Reading Royals wore ugly Xmas sweater jerseys on Saturday (thanks, Phil). "¦ Sacred Heart goaltender Sammy Bernard wore a mask featuring the Cat in the Hat and Green Eggs and Ham at Dartmouth on Sunday afternoon. "Dr. Seuss, whose real name was Theodor Geisel, graduated from Dartmouth in 1925," explains Tris Wykes. "¦ Jeff Ash was at the Uihlein Ice Arena, the hockey rink at the University School of Milwaukee, on Saturday. "It's a rather tony prep school," he explains. "Before 1964, it was known as Milwaukee Country Day School. Its hockey teams date to the 1930s, and they played outside for some time." They had a bunch of old photos and uniforms on display, and Jeff took these excellent photos. I really like the stylized "C" logos in the first two photos and, of course, the green/gold color shots.

NBA News: This is pretty awesome: Former NBA guard Will Bynum is playing in China and his team didn't have a jersey ready for him, so they made a makeshift jersey for him (thanks, Mike). "¦ Now that Kobe Bryant has passed Michael Jordan on the all-time scoring list, Nike has released this limited-edition sneaker. "With black, purple, green, and Saints' gold, these shoes might be really popular in New Orleans," says Mike Engle. "¦ Here are the video game versions of the NBA All-Star Game uniforms — East and West (thanks, Phil).

College Hoops News: Oakland wore absolutely ridiculous black-on-black uniforms yesterday. Naturally, the one contrasting element was the Jumpman logo because as you know, it's all about Nike. Douchebags (from Drew Mastin). "¦ The Richmond Spiders have a live tarantula mascot. Key quote, from player Deion Taylor: "As long as it's in its little cage, I'm fine with it. If they let it out, then we have a problem."

Grab Bag: State legislators in Montana have a new dress code that some view as sexist. "¦ A lacrosse helmet that had been decertified by a safety rating group will be recertified now that the manufacturer has agreed to make a fix. "¦ The cycling helmet maker UVEX Sports has issued a recall of one of its helmet models due to a chinstrap defect. "¦ There's a new cycling team made up of members of the French army, so they have camouflage kits (from Bernie Langer). "¦ Aussie Rules footy club Richmond Tigers' 2015 clash strip has leaked. "They've been finding a way around having a true clash jumper for years by simply adding yellow to the side panels," says Leo Strawn Jr. "I'm happy to see this." "¦ I'm still calling it National Indoor Arena (from Callum Johnston). "¦ There's a new design initiative to create better-looking license plates (from Yusuke Toyoda). "¦ Also from Yusuke: Good piece on how a designer creates a logo. … Tennis player Andy Murray has caused a stir by posing for a photo in Under Arumour attire (from Murray Conalin).