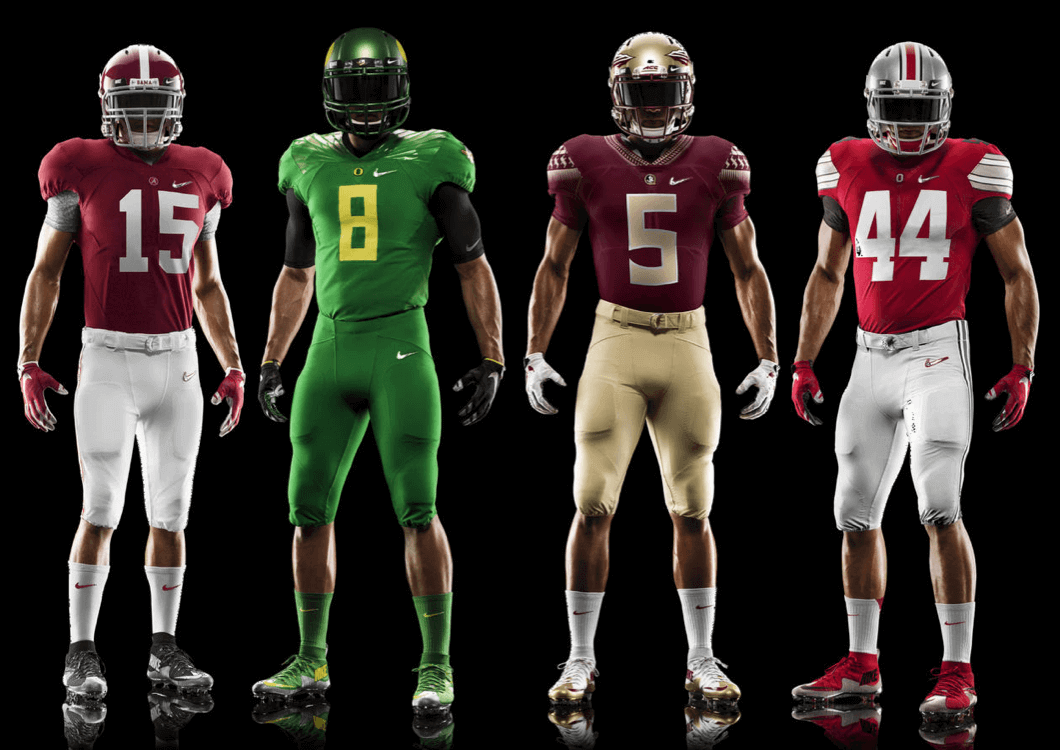 Click to enlarge
As you know, Nike has already won the college football playoff because all four of the semifinalists are Nike-outfitted schools. So now the swooshkateers are all "In your face, Under Armour!" (But they're not even mentioning Adidas — you know, just to rub it in.) The actual playoff is therefore a meaningless formality — an exhibition, basically — but yesterday Nike took a victory lap by releasing the uniforms that those four schools will be wearing, just because.
I've prepared a slideshow for each one, plus an additional slideshow for the footwear (if you can't see the slideshows below because you're on a mobile device, you can click to go directly to the Alabama, Oregon, Florida State, Ohio State, and footwear photos):
A few thoughts:
• Nike inexplicably chose to show home unis for Florida State and Ohio State, even though those teams are the No. 3 and 4 seeds and will presumably be the designated road team. Several hours after Nike's uniform announcement, a Florida State blog confirmed that the Seminoles will be wearing their road uni, not the home uni that Nike showed. No similar announcement yet from Ohio State, but it's a safe bet that they'll be wearing white (even if the NCAA wanted to grant a color-on-color waiver for the playoff games, that wouldn't work for the Alabama/OSU game, because you'd end up with red vs. red). So why did Nike release these uniforms instead of the ones that will actually be worn? Go back and re-read the bit about how these games are just exhibitions from Nike's perspective.
• The Nike logo on all the jerseys and pants is diamond-patterned. Not the team logos on the collars (or on the nose bumpers or anywhere else) — the Nike logos. Because this college football playoff system is, you know, all about Nike.
• The Oregon uniform is interesting, at least to the extent that they're dispensing with the helmet feather and going with the "O" helmet logo (and the Donald Duck nose bumper — nice).
• The Ohio State jersey has some interesting elements (the sleeve stripes, the black TV numbers), but there's no point in discussing them because there's no way the Buckeyes will be wearing this design.
• I think the shoes are pretty nice.
And there you have it. Remember, when betting on these games, just bet on Nike. Can't lose!
•  •  •  •  •
Click to enlarge
A contagious case of mono: At the beginning of the 2001 season, only one NFL team in the Super Bowl era had ever worn a solid-colored uniform (obviously not counting mono-white, which I'm not including for the purposes of this exercise). By the end of the 2002 season, all of teams shown above had done so, along with the Saints and Jaguars. My latest ESPN column examines the rise of going mono-colored and also provides a team-by-team breakdown of which teams have done it, which teams can and can't do it, and which teams should and shouldn't do it — check it out here.
• • • • •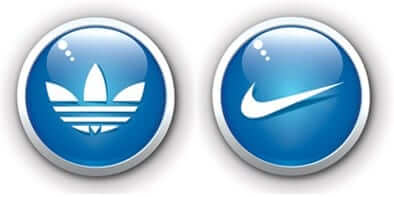 Couldn't happen to two nicer folks: Word came last night that Nike is suing three of its former designers who left the company in September. The suit alleges that the designers stole trade secrets and will be using those to conduct business with Adidas. Here's the crux of it:
The lawsuit, which asks for more than $10 million in damages, alleges that before the three [designers] left Nike, they were already consulting with Adidas. To further sell themselves and capitalize on their position, Nike says Dekovic [one of the designers] had the contents of his laptop duplicated, which gave him access to "thousands of proprietary documents relating to Nike's global football (soccer) product lines" where Adidas and Nike most fiercely battle. "¦

Nike says the three [designers] had signed a noncompete contract that spanned to September 2015. Yet less than two weeks after the three resigned, Adidas announced that it would back a Brooklyn-based design studio managed by [the three designers].

Even though Adidas said at the time that the three wouldn't work for them until 2015, Nike remained concerned about the trade secrets it claims were stolen from them.
Will this suit leave both companies with huge legal bills that they'll pass along to gullible consumers in the form of inflated prices for their already overpriced wares? One can only hope.
•  •  •  •  •
Uni Watch earns prestigious accolade: Forbes, a highly respected business magazine that people often mistakenly think I used to write for (I was actually a columnist for Fortune; people at both magazines are used to this mix-up, which happens all the time), has published a list of 100 "must follow" Twitter accounts pertaining to sports business. It's annoyingly spread out over seven screens, with no single-page option, so I'll save you the trouble and tell you that @uniwatch is listed on the fifth page.
This is, of course, a tremendous honor — especially considering that probably half of my tweets are just retweets of stuff that Phil posts (and the only reason I even bother to do that is because Phil emails me the links to his tweets). Even funnier, Rovell didn't make the list, which tells you everything you need to know about internet lists and general and this one in particular. And people wonder why I don't like doing ranking- and list-based columns.
And now, if you'll excuse me, I have to go add "Named a 'must follow' Twitter-er" to my résumé.
• • • • •
Membership update: Another batch of designs has been added to the membership card gallery (including Gareth Hammond's card, shown at right, which is based on Liverpool's 1990-91 jersey — great job by Scott on this one). The printed/laminated versions of these cards should mail out by the end of the week.
We're now fully caught up with the flood of orders we received when I posted that "Now or maybe never" notice last month. Thanks for the outpouring of enrollments — we've really enjoyed working on them.
The membership program will definitely stay open for another month or so, and hopefully longer. If enrollment slows back down to the glacial pace we were at before last month's announcement, I may pull the plug, but we'll see. For now, I'm very happy with all the recent activity — thanks again.
As always, you can sign up for your own custom-designed card here, you can buy a membership gift voucher here, you can see all the cards we've designed so far here, and you can see how we make the cards here.
• • • • •

Baseball News: There's a new bat manufacturer here in NYC. "¦ Love these reindeer baseball cards (from Ed Paul). "¦ Cardinals P Carlos Martinez is changing his uniform number to 18 to honor former teammate Oscar Taveras, who died back in October (thanks, Mike). "¦ Dig this: Junior Griffey in a Braves uni! (Great find by Anthony Juliano.) "¦ Check out Bucky Dent and Dick Howser wearing personalized "Yankees" gear for an Old Spice commercial. After I tweeted that photo yesterday, it prompted an amusing response from Dent's daughter (nice one from Curtis Peddle). "¦ New team-branded gloves for Auburn. "¦ Love-love-LOVE the chest logo on the South Bend Cubs' new BP jersey. What a beaut! New caps, too (thanks, Phil).

Pro Football News: Love this wrapper from a 1966 pack of Topps football cards (big thanks to BSmile). … Check out these bars of Cleveland Browns soap (from John Sheehan). … Ah, Lambeau Field, a classy haven of legendary refinement. "¦ Lots of readers noted that Cam Newton's car crash yesterday was sponsored by Under Armour. "¦ Here's more on that Harry Potter figurine that was on the Eagles sideline on Sunday (from Jonathan Daniel). … Yesterday was Dick Butkus's birthday so the Bears posted a Butkus photo gallery. Interestingly, a few of the photos show the Bears wearing jerseys without sleeve stripes, which I'm pretty sure means it was a preseason game. There's also a shot of the Bears wearing the block-numbered road jerseys that were briefly used in 1971, and this shot of Butkus in a Pro Bowl uni (from Jim Howicz). … Jim Cramer, a professional entertainer who plays a financial advisor on TV, is a big Eagles fan, but he must have lost a bet regarding last Sunday's Eagles/Seahawks game because he wore a Seattle jersey on the air yesterday (screen shot by Chris Howell). … Green Bay's indoor football team, the Blizzard, has a new logo (from Jeff Ash). "¦ Steve Santillo was watching the 1985 AFC championship game between the Dolphins and Pats and was surprised to see that one end zone featured the Pats' team name, even though the game was in Miami. Also: The "S" looks upside-down and the "I" kinda looks like it was added as an afterthought. Sloppy work. "¦ Good catch by Lee David Wilds, who noticed that Patriots RB LeGarrette Blount's visor tabs were silver (or maybe clear, with the silver of the helmet showing through) early in last Sunday's Pats/Chargers game and were then dark later in the game. Did he switch visors? Switch helmets?

College and High School Football News: Due to an acknowledged officiating error, the outcome of an Oklahoma high school football game is going to be decided today in court. "¦ You can vote on the best high school helmet in Louisiana (from Wesley Eustis). … In 1986, the bleachers from UNC's Kenan Memorial Stadium were sold to a guy who built a beach house out of them. "The house is still there and can be rented on a weekly basis," says James Gilbert. … Here's a schedule of all the bowl games showing helmet-to-helmet matchups, although I'm assuming lots of those helmets will be replaced by "special" designs that haven't yet been unveiled. "¦ A high school recruit shaved the Penn State logo into his head but now he's decided to go to Maryland. "¦ I like this: Pillows made from Clemson marching band uniforms (from James Gilbert).

Hockey News: Great job by Brian Rowland, who is tracking all the equipment — helmets, visors, gloves, sticks, skates, etc. — worn by L.A. Kings players. "¦ The Canadiens appear to be going for some sort of record with their memorial "4" for Jean Bevileau. First it was on the helmets, then it was on the jerseys, and now it's on the ice behind the nets (from Matt Larsen). "¦ Isles LW Matt Martin tore his jersey in a fight (from Dan Schneeman). "¦ We've seen the NHL All-Star Game logo, but there's also an All-Star Winter Park logo (from Leo Strawn Jr.).

NBA News: NBA commish Adam Silver has commented on the "I Can't Breathe" T-shirts: "I respect Derrick Rose and all of our players for voicing their personal views on important issues, but my preference would be for players to abide by our on-court attire rules." No indication that the players will be fined, though. "¦ Silver and others who don't like to see athletes wearing these social commentary T-shirts can take heart in the fact that yesterday's release of the Senate report on CIA torture didn't prompt a single NBA player to wear a shirt that said, "I Can't Breathe (Because I'm Being Waterboarded)."

College Hoops News: New gold uni for Elon (from Alex Simon). "¦ Here's a fun little Cincinnati uniform mystery. Can you help solve it? (From Cary O'Reilly.) … Illinois debuted these gray uniforms last night.

Soccer News: The Bank of Nova Scotia has struck a new sponsorship deal for the Gold Cup, which is the championship for national teams from the United States, Canada, Mexico, the Caribbean, and Central America. "¦ Manchester City's new training facility features 16 training pitches, one of which is sky blue Field Turf (from Cort McMurray). "¦ The 2nd round of the English FA Cup featured a pink and black ball (from Graham Clayton).

Grab Bag: Here's a really interesting take on how lots of sports logos feature skylines and other commercial real estate (from Jason Silfies). "¦ Here's a company that will design your logo for 50 bucks. "¦ Boxer Amir Khan will be wearing what are probably history's most expensive trunks for this Saturday's bout against Devon Alexander (from David Wilson).