Click to enlarge
One of the happiest days of December here at Uni Watch HQ is the annual arrival of a package from longtime reader/baker Elena Elms, who always sends me an assortment of uni-themed holiday cookies. This year, as you can see above, she chose to honor Derek Jeter. Having spent the past two decades rooting hard against Jeter and his team, I'll be biting into these cookies with extra gusto.
But wait, there's more. This year, for the first time, Elena included something for Uni Watch mascots Tucker and Caitlin — a pair of hand-sewn Jeter jersey catnip toys (click to enlarge):
These were a big, big hit with their target audience. Tucker and Caitlin could tell there was something for them in the box before I even opened it, and I had a hard time keeping them away from the catnip toys long enough to photograph them. (I pretty much had one hand holding the camera and used the other to try to keep the kitties at bay.) Once I got the photos, I put the toys down on the floor, where — well, see for yourself:
I enjoy thinking that the catnip jerseys are functioning like voodoo dolls, and that Derek Jeter is even now feeling the kitties' cold, wet sandpaper tongues against his body. Squirm, Derek! The only question now is whether I can sell the "game-used" catnip toys to Jeter's auction house, Steiner Sports. (Kidding. Mostly.)
Thanks so much for your generosity and thoughtfulness, Elena — you're the best.
•  •  •  •  •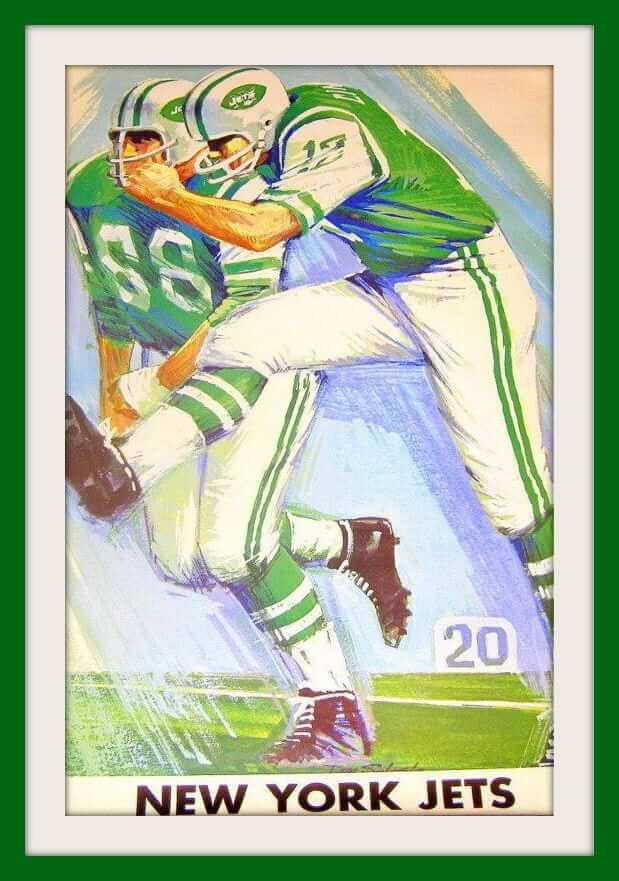 Collector's Corner
By Brinke Guthrie
Dave Boss alert! Never seen this Jets poster before. These Chargers and Bills posters are new to me, too — wow! This last one isn't Boss, but you can't beat the style and contemporary graphics of this Oilers poster, either.
You say you want more than just posters? Okay, then — here's the rest of this week's eBay haul:
• Big lot of Bengals stickers, patches, etc. The seller also has similar sets for the Niners, Vikes, Seahawks, and Falcons. Good stocking stuffers!
• We all know it doesn't get much better NFL gear-wise than Sears from the 1970s, and this is Exhibit 1-A: Cool Sears Chicago Bears varsity jacket, with matching gloves. Had one of these in Bengals style, as I recall.
• Lowest price I've seen for the complete set of 1970s NFL Chiquita helmet stickers. These won't last long.
• Interesting-looking 1973 Mets World Series pin, shaped like a desktop globe.
• Do you think any team these days would go with a logo as simple and goofy the 1960s Cincinnati Royals logo shown on this set of four bar glasses?
• We've featured 1970s NFL switchplates before, but I've never seen this pose or these KC Chiefs graphics before.
• Here's a set of four vintage 1970s MLB bumper stickers for assorted teams (plus a 1971 game program thrown in for good measure).
• First time I've seen the classic 1970s Placo brand helmet plaque with the red Bills helmet.
• Check out the psychedelic cover art on this 1973 Detroit Tigers yearbook. "The Champions of the East." And I owned this 1973 Reds yearbook — I'd buy these the first day they came out, usually at the "580 Building" Reds gift shop near Fountain Square.
• And we wrap up this week with some vintage NFL Helmet Buggys. We've got the Stillers right here, and that same seller also has the Pats and Giants.
•  •  •  •  •
Uni Watch News Ticker
By Garrett McGrath

Baseball News: "Bob Locker pitched for Oakland in 1972 but was traded to the Cubs in November for Bill North," says Jonathan Daniel. "Topps didn't have a photo of him for their 1973 release so they did their usual airbrush job, but check out the center fielder. Topps invented a new Cubs uni with a huge logo on the chest." … Minor League Baseball now has an official wine sponsor (from David Teigland). … Jim Walaitis sent in this really nice hand-stitched St. Louis Cardinals Christmas ornament made by the mother of a friend. … The Wisconsin Timber Rattlers are holding a batting practice jersey design contest (from Jeff Ash).

NFL News: Seattle Seahawks DB Earl Thomas exchanged jerseys with Chris Maragos of the Eagles following Sunday's game (thanks, Paul). … Reader Alex Allen got this great NFL uniform print for his birthday from his wife.

College and High School Football News: The TCU Horned Frogs wore a helmet sticker for the late Jim Swink during their victory over Iowa State. … Army is wearing black on black for the game against Navy this Saturday, and Navy is wearing a custom uniform inspired by the "Don't Tread on Me" flag (thanks, Phil). … Virginia Tech is wearing flag-themed helmets at the Military Bowl (from Andrew Cosentino). … Readers Ryan Knarr and Tim Brulia both sent in this story about the Pennsylvania high school football state semi-finals. It was a neutral-site game in Altoona, and both teams — Bishop McDevitt and Central Valley — were under the assumption they would be visitors on the scoreboard, so both brought their white jerseys. The PIAA wouldn't allow a white vs. white game, so McDevitt played the first half in Altoona's maroon jerseys, which were readily available because they were playing in Altoona's stadium. McDevitt's home blue uniforms arrived during the first half, and they switched tops at intermission.

Hockey News: Spy vs. Spy: Here is a spy picture of the upcoming San Jose Sharks uniform for the 2015 NHL Stadium Series (thanks, Paul). … "Check out the Gunzo's logo on Denis Savard's jersey. "Gunzo's is a hockey supply store in Chicago and Morton Grove, Illinois," explains Matt DeLeon.

Soccer News: The 2015 MLS match ball comes with the league crest in club colors (from Todd Gaines). … The rest from Yusuke Toyoda: Nigeria's national team has been dropped by Adidas over alleged breaches of contract. … The T-shirt celebrating Los Angeles Galaxy's fifth MLS Cup title looks awfully similar to the one for Germany's fifth World Cup title. … Normally in soccer, the captain's armband doesn't change hands (or arms, rather) unless the captain comes out of the game. But Steven Gerrard, Liverpool's primary captain, started a few recent matches on the bench, resulting in the unusual sight of the player who started the game as captain handing over the armband without being subbed out.

NBA News: It's spreading: Several Cleveland and Brooklyn players, including LeBron James, wore "I Can't Breathe" T-shirts while warming up for last night's Cavs/Nets game at the Barclays Center. Both teams' coaches said they were in favor of the move, and there's been no indication that anyone will be penalized by the league for not wearing official shooting shirts.

College Hoops News: Reader Gregory Koch sent in this tweet from the UConn Trademark representative that implies that the UConn basketball team may wear throwbacks at some point, but not this year. … Illinois will debut new silver uniforms on tonight against Villanova.

Grab Bag: Belgian cycling team Omega Pharma-Quick Step becomes Etixx-Quick Step for 2015. This is a picture of the new kit (from Sean Clancy).