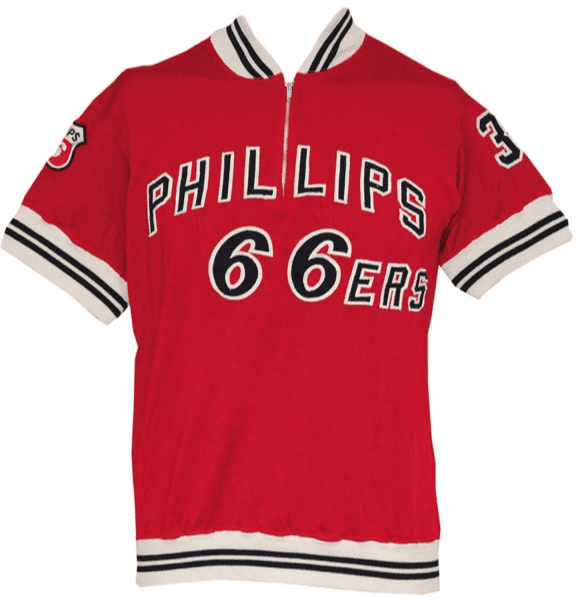 Our friends at Grey Flannel Auctions are running another catalog auction, which means it's time for me to showcase some of the most interesting items they're selling. Here we go:
• I love the elegant simplicity of this cap that Babe Ruth wore during a 1934 tour of Japan.
• Little-known uni-related fact about Mike Schmidt: When the Phillies wore zippered jerseys, he had a little button and loop added to his front shirttails, to keep them from spreading apart.
• Schmidt also had button added to his jersey for the Phils' infamous one-day mono-burgundy uni. That listing page also includes this game photo, which I hadn't seen before.
• Speaking of the Phils, look at the amazing chain-stitched numerals on this Steve Carlton jersey. Here's the full listing.
• Interesting pair of San Francisco Giants McNOBs here: Willie McCovey had a base-aligned lowercase "c," while Willie McGee's "c" was raised.
• Love this two-tone Cardinals dugout jacket, although it would be even better if the right sleeve were navy.
• This Reds cold-weather jacket looks like a gown! Interesting to see the "Reds" inside the underline — I don't recall seeing the Reds use that format before.
• Speaking of cold-weather attire, check out this Braves garment.
• Notice anything odd about this Bill Veeck leisure suit-style promo jersey? The numbers are the wrong font! Should look like this.
• In April of 1964, when I was about three weeks old, Arnold Palmer wore this cardigan in the Masters. What a beaut! I would totally wear that.
• I'm a little confused by this Edmonton Oilers "practice bib" — never seen anything like that before. Did these used to be common?
• Not sports-related, but I love this Baby Ruth candy bar vendor's jacket. Looks kinda like a jockey's silks, no?
• Here's a maker's mark I bet most of you have forgotten: the old Wilson/Staff logo, which the 49ers wore in 1995. Here's the full listing for that jersey.
• So much to like in this 1963 Phillips 66ers warm-up jacket and, even better, this 1967 66ers warm-up top. Tasty!
• Naturally, I love the colors on this early-1960s Bob Cousy warm-up fleece. But the interesting thing is the buttons — they seem really big, no?
• Hmmm, seems like there were major kerning issues with this mid-1950s Philadelphia Warriors jersey. That "A" is practically falling off of the jersey!
• Two rarities in one: The NOB on this late-1980s Sacramento Kings jersey is nameplated and beneath the number — both very unusual for the NBA.
• • • • •
ESPN reminder: In case you missed it yesterday, the annual Uni Watch Holiday Gift Guide, chock full of interesting uni- and logo-related items for your shopping consideration, is now available. Enjoy.
• • • • •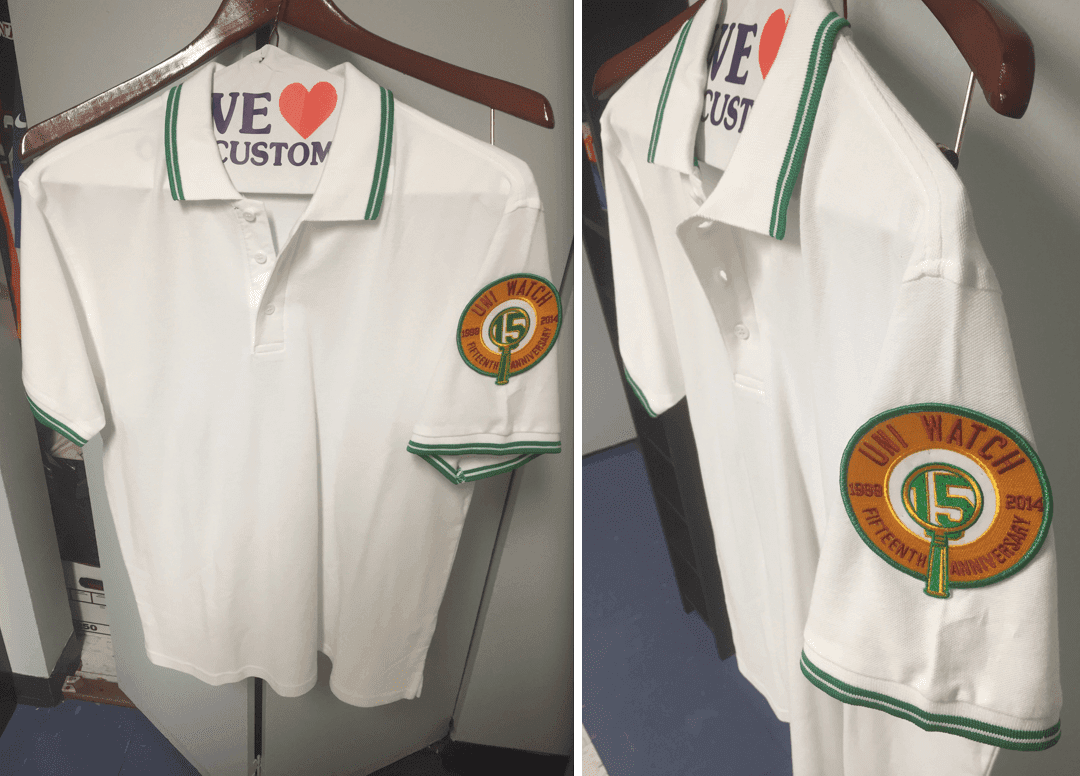 Click to enlarge
Patchwork: The shirt you see above belongs to reader Mike Engle. He bought himself a Uni Watch 15th-anniversary patch, then ordered the shirt from Amazon ("less than $18, including shipping," he says), and had his local dry cleaner sew the patch onto the left sleeve. "I think it looks fantastic," says Mike. "And I happen to own maroon and gold turtlenecks, so it will look even better layered!"
If you want your own Uni Watch 15th-anniversary patch, you're out of luck for now — they're sold out. But I'm willing to order more if there's enough demand. If you want to add your name the waiting list, let me know. Thanks.
Meanwhile, for those of you who've already purchased a patch, what have you done with it? Send me photos and I'll feature them here on the site, like I did today with Mike's shirt.
• • • • •
NFL Superhero Project
By Thomas Correia
There are now only three Thursday games left on the NFL schedule, including tonight's matchup between the Cowboys and Bears. For that game, we have an entire secret agency that's ready to take down any threats facing a hero made completely of rock (click to enlarge):
The Cowboys' star is such a simple and classic logo, which actually makes it harder to "hero-ize." I had hoped to find a hero to complement the star's two-color simplicity, but instead I went with a whole organization that also uses a simple two-color treatment: Marvel's S.H.I.E.L.D. They can arguably be called "America's Team," just like the Cowboys, so this seemed like a perfect combination.
After drawing a blank on Chicago's "C" logo, switched gears and focused on their orange bear head logo. I figured no one is bigger, fiercer, and orangier than the Thing, from Marvel's Fantastic Four. The jaggedness of the bear head logo worked well with the jagged rocks on this hero. The one big tie-in is that the eyes are taken from the bear logo.
Next week: Cardinals vs. Rams. Which heroes will represent those teams? Post your best guesses in today's comments.
• • • • •
Today's Uni Watch Birthday
By Douglas Ford
[Each day this month, Douglas Ford is selecting an athlete who's celebrating his or her birthday and presenting some uni-notable photos of that athlete. Here's today's installment.]
Today's birthday boy had the distinction of having led his team to the biggest comeback victory ever in both the collegiate and professional ranks, with the Terps and Bills, respectively. But here's how he looked in beautiful tube socks in high school and later leading the Jets in those 1990s sack exchange uniforms — happy birthday, Frank Reich!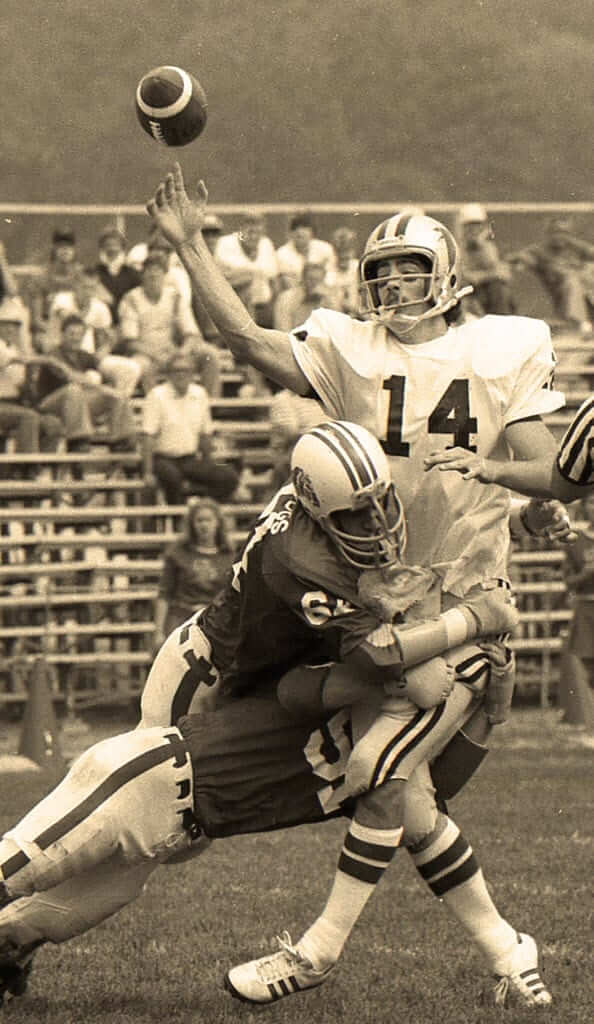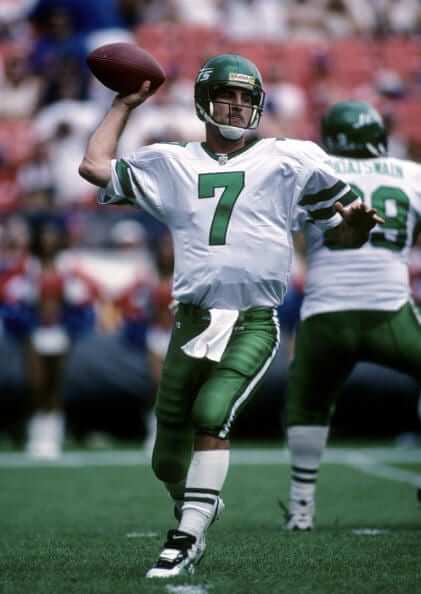 • • • • •
PermaRec update: Check this out "" a student who literally had a black mark on her record (shown at right, upper-right-quadrant). I don't mind saying this is a pretty good one, folks — get the full scoop over on Permanent Record.
• • • • •

Baseball News: Here's a good look at the Mets' new alternate road cap. "¦ Loooove the texture in this old photo of Hall of Famer Zack Wheat and his son (from Pete Woychick). … Astronaut Terry Virts is an Orioles fan, and Monday was his birthday, so he wore a Matt Wieters jersey in space (thanks, Brinke). … As noted yesterday, the Oklahoma City RedHawks have been renamed and are now the Dodgers. Here's their new uniform and logo style guide, including an "OKLA" logo that's a clever idea, but the execution feels too clunky (from Brett Clark). "¦ Oh man, this is too awesome: a catcher with a bullseye on his chest protector (big thanks to Rob Neyer). "¦ The Sacramento River Cats will wear California State flag-themed jerseys next September (from @balddude). "¦ Former Yanks catcher Jorge Posada wore No. 20, but he had No. 39 on his catcher's helmet during the 1998 postseason as a shout-out to teammate Darryl Strawberry, who'd been diagnosed with colon cancer (from Andrew S.).

NFL News: Is it standard for NFL sideline ballboys to wear their first names on their chests? (Screen shot by Andy Bartsch.) "¦ Here are some shots of Bears players cutting their socks to create the leg warmers. Hate it when they wear the stripes down low like that (from Ryan Becerra). …Very mature move by Rob Gronkowski, who used tape to put a "69" on his practice jersey yesterday (from Ray Roig). "¦ The Chargers will wear their powder blue alternates on Sunday. "¦ Did Bills S Aaron Williams have a blue visor on Sunday? (From Chase Beard.)

College Football News: Arizona will wear red helmets for tomorrow's Pac 12 championship game against Oregon. No word yet on the rest of the uni (from Dane Drutis). "¦ Ohio State has added a "53" memorial decal for Kosta Karageorge.

Hockey News: Reprinted from yesterday's comments: This year's NHL All-Star Game uniforms may have leaked. Those are real stinkers, so let's hope they're just someone's concepts. "¦ The Canadiens have added a "4" memorial decal for Jean Béliveau.

NBA News: The Kings will wear Rochester Royals throwbacks tomorrow night. "¦ Cavs G Kyrie Irving now has his own signature shoe. "¦ Speaking of the Cavs, the waistband-rolling trend has hit the NBA, thanks to Cavs F Mike Miller.

College Hoops News: Crazy shorts design for Gardner-Webb. Yes, I know that's one of Under Armour's basic templates, but it still looks crazy. "¦ UNC wore purple shoelaces last night in honor of coach Roy Williams's friend Ted Seagraves, who died this week of pancreatic cancer. "¦ In that same game, fans were given green T-shirts as part of a recycling promotion (from James Gilbert). "¦ Two color-on-color games last night: Notre Dame vs. Michigan State and, in a real visual stinker, Penn State vs. Virginia Tech. "¦ A USF player went NNOB two nights ago. Not sure if that was a blood jersey or what (from Griffin Smith). "¦ Remember St. John's center Chris Obekpa and his tucked-in shorts? Under Armour has apparently made a shorter set of shorts for him (big thanks to James Ballow). "¦ Two things about Northwestern F Vic Law: (1) He's yet another Under Armour player who's rolling up his waistband. (2) No photo, but he's apparently gone to a JrOB (from Cameron Songer). "¦ And still more Under Armour players doing the waistband roll: Auburn's Tahj Shamsid-Deen and Jack Purchase. "¦ Fans attending last night's UCF women's team's game against Georgia Southern received a voucher for — get this — an ugly sweater T-shirt. Can ugly sweater headbands and leggings be far behind? (From Brian Crago.)

Soccer News: No photo, but this article says that soccer players Yaya Touré, Carlton Cole, Kei Kamara, Patrick Vieira, Fabrice Muamba, and Andros Townsend have saluted healthcare workers by wearing their names on the backs of their jerseys.

Grab Bag: Jersey snafu at the Canada Cup of Curling this week: "Here Marc Kennedy, a member of Team Koe, wearing the shirt of teammate Brett Laing," says Matt Farrell. "They had two Laings on the ice." "¦ New Mexico State and Oklahoma State have settled a mascot dispute. "¦ Tiger Woods has a new sponsorship deal with Hero MotoCorp but will not wear the company's logo on his golf bag or shirt. "¦ Man, old roller derby jerseys were the best (from Michael P. Mahon). "¦ The online pornography site YouPorn — aka The Site Where You Spend All Your Time When You're Not Here at Uni Watch — has been trying to sponsor a video game team (yes, there are professional video game teams) but has been getting pushback because, well, you know. But they've struck a compromise with a team that's willing to call itself Team YP.