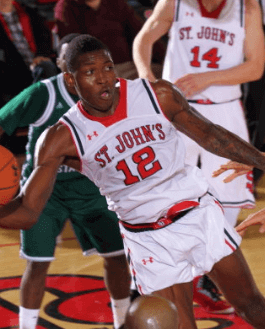 Last week I mentioned how several college hoops players, especially on Under Armour-outfitted teams, were rolling up the waistbands on their shorts, maybe to make their shorts shorter or maybe just as a style thing. But center Chris Obekpa, who plays for St. John's — another Under Armour team — definitely wants his shorts to be shorter, and he's taken a unique route toward achieving that: He's tucking the bottoms of his game shorts into the bottoms of his base-layer compression shorts.
Obekpa is a junior, but this is the first season he's been fussing with his shorts. According to this New York Daily News article, he does it because "when he perspires the moisture collects at the bottoms of the shorts and makes them heavy and cumbersome when he is running." So he "tucks the bottoms up under the spandex padded bike shorts he wears underneath them."
I've never seen or heard of anything like this. And although the season is young, Obekpa has already applied his unique stylings to all three of Red Storm's uniforms — white, red, and blue (click to enlarge):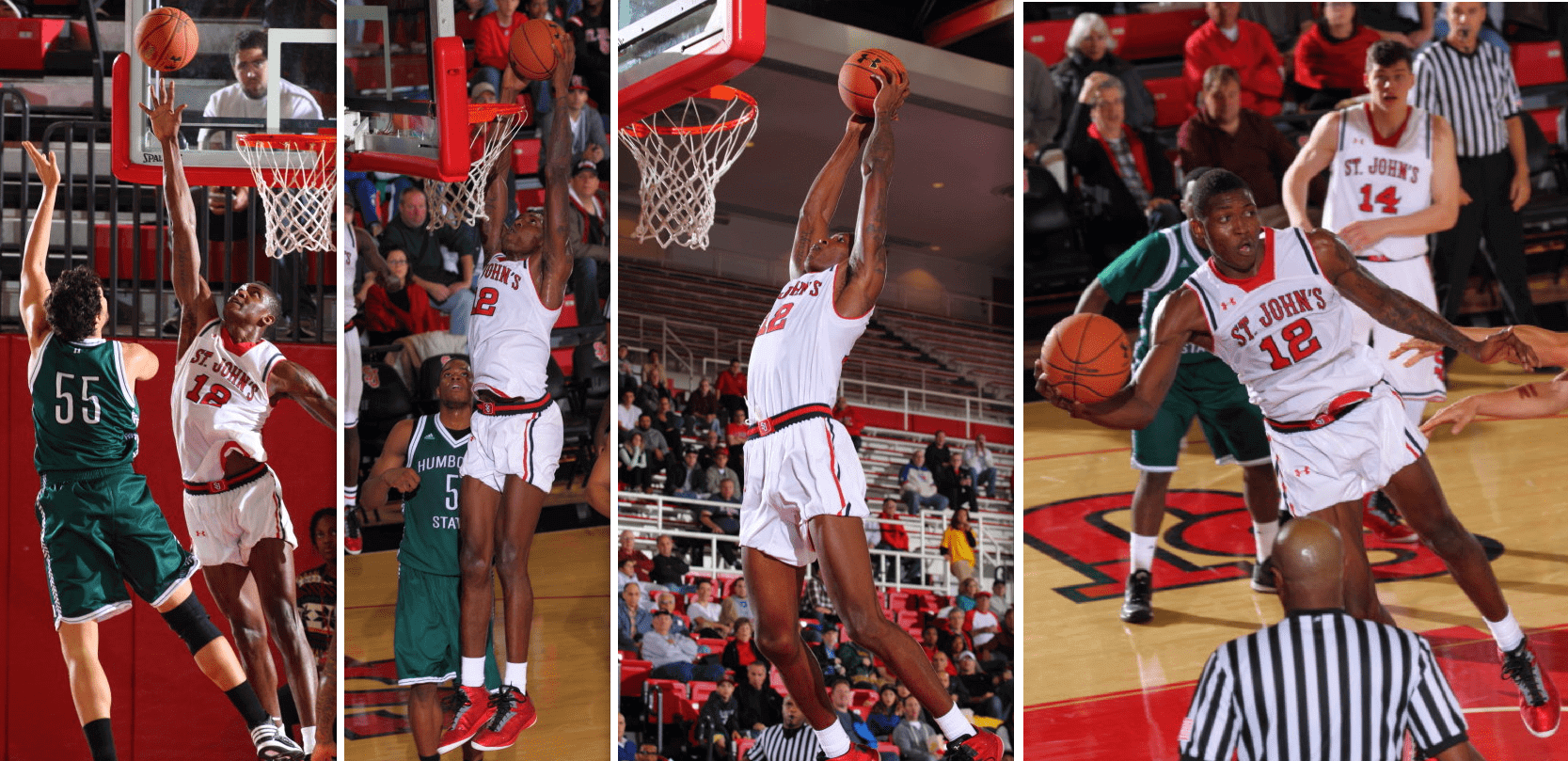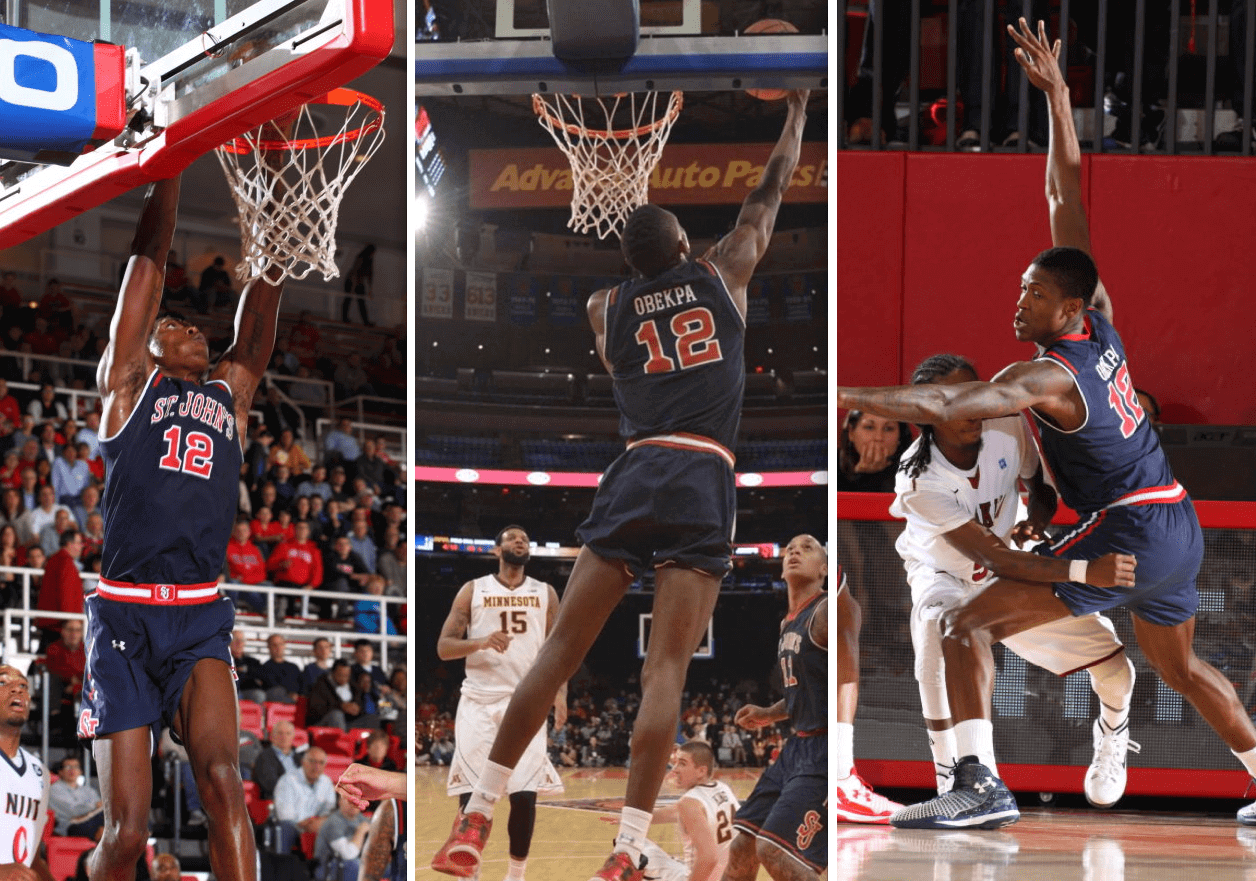 Apparently the shorts don't always stay put, because I found a few game shots showing Obekpa looking normal. But those are the exceptions — he definitely likes to have them tucked in.
If you're wondering why Under Armour doesn't just get Obekpa some shorter shorts, well, he's wondering the same thing. According to that Daily News piece:
Obekpa said he thought that Under Armour, who makes the Red Storm's uniforms, would have heard about his desire for a shorter short and would have sent one by now.

"I thought everyone would know by now I need them," Obekpa said. "I will ask the coaches to try to get me shorter shorts."
Is it a good look? Definitely not. But I still love it, because it's (a) something we've never seen before and (b) a personal uni modification that has nothing to with "Look at me!" and everything to do with functionality. In other words, it's a personal quirk, an eccentricity, a reminder that uniforms aren't always uniform. I like that.
•  •  •  •  •

'Skins Watch: A lifelong passionate 'Skins fan has decided he can no longer support the team's name and has altered his team gear accordingly (thanks, Phil). … Here are some more 'Skins fans who'd like to see the team change its name. … The National Congress of American Indians has begun a Kickstarter fund drive for a project that will involve "digitally removing the offensive logos from an exciting Washington highlight. No R-word, no mascots, no racism. But the amazing football play remains. In this way, we'd like to remind Washington fans that their memories will remain when the mascot changes." One of their donor rewards is this T-shirt, which is one of the simpler and better anti-'Skins tees I've seen. … Here's a good podcast that looks at the 'Skins situation within the larger context of how Native Americans have been depicted and (mis)represented throughout history (from Adam Brodsky). … Here are photos and details on the anti-'Skins protest that took place prior to last weekend's 'Skins/Niners game (from Patrick O'Neill). "¦ Here's a good piece on Bruce McCall, the illustrator who designed this week's 'Skins-mocking New Yorker cover (from Yusuke Toyoda). … Washington's new mayor-elect, Muriel Bowser, thinks the 'Skins should change their name (from Tommy Turner). … ChangeTheMascot.org has produced an anti-'Skins commercial (thanks, Phil). … Lots of Native American imagery on the cover and interior pages of this 1951 Stanford football program. The team was called the Indians in those day (from David Dinsmore III).

Baseball News: New road cap for the Brooklyn Cyclones. "¦ If you've been looking to acquire a bunch of baseball pants and softball shorts with contrasting pocket flaps, look no further. "¦ Douglas Ford was watching footage of the 1980 World Series and spotted a fan in the stands wearing an interesting two-tone Phillies batting helmet. "¦ Check out this 1971 shot of Indians catcher Ray Fosse. Is that the team's "C" logo on the front-facing back of his helmet? Never seen a logo on that side of a helmet before (from Marc Viquez).

NFL News: With Corey Fuller playing for the Lions and brother Kyle Fuller playing for the Bears, and those two teams playing each other yesterday, the Fullers' parents wore a new style of Frankenjersey. Much more interesting than the usual half-and-half format, no? "¦ For the second consecutive year, the Cowboys wore blue at home on Thanksgiving. "¦ Bears RB Ka'Deem Carey was pushed out of bounds during yesterday's game against the Lions and ended up bending the yard-marker pole (screen shot by Seth Moorman). "¦ Two months ago I ran an entry on NFL coaches' headsets. At the time, Niners coach Jim Harbaugh was wearing his earpiece on the left side. But in recent weeks he's become a double-flapper (from Omar Jalife). "¦ During last night's 49ers/Seahawks game, NBC ran a graphic showing just how hard the Niners' passing game was sucking. As you can see, they used a Reebok-era photo of Michael Crabtree (good spot by Jamie Burditt).

College Football News: Here's a good site devoted to U. of Minnesota football uniform history (from Tony Wotzka). … Whoa, look at the texture on No. 45's uni number in this old Georgia Tech shot. That whole photo is tremendous (big thanks to Michael Rich). … As you know, the laws of physics — or at least the laws of capitalism — dictate that Everything Must Be Branded, so the annual game between Clemson and South Carolina will henceforth be known as the Palmetto Bowl. Trophy and logo to follow in time for next year's game, wheee! "¦ Maryland is using its uniforms as a recruiting tool. Who knew?! (From Phil.) "¦ In a related item, Ohio State is OK with wearing alternate uniforms against Michigan because recruits like it (from Andre Torres).

Hockey News: The Penguins made a fun Thanksgiving-themed adjustment to their Twitter avatar yesterday (from Aaron McHargue). "¦ New gray alternates tomorrow for the Omaha Lancers. They'll be auctioned off, with the proceeds going to support children's brain cancer research.

NBA News: The Timberwolves wore pink shoelaces on Wednesday night as a gesture of support for Thad Young, who had missed the previous five games due to the death of his mother (from Mike Engle).

College Hoops News: Looks UNC coach Roy Williams was wearing a shirt with the outdated ACC logo the other day (from Michael Kinney). … Here are St. Bonaventure's Buffalo Braves throwbacks for this weekend. "¦ Those black/pink Penn State uniforms will make their on-court debut today.

Soccer News: Real Madrid has removed a small cross from its logo to appease a Middle Eastern bank (from Chris Weber). … Some awesome gameday posters on the Chicago Red Stars' website (from Steve Johnston). "¦ I think we've seen this before, but just in case: Here's a website with a database of English and Scottish soccer uniforms (from Paine Proffitt).

Grab Bag: There's a movement in Miami to restore an old stadium. … Love this 1929 Maine track and field jersey and program (from David Firestone). … Australian cricket player Phil Hughes, who'd been critically injured after being hit by a pitch, has died, which is leading to more articles about cricket helmets. … Electronic devices sold in America no longer have to carry certain regulatory logos and symbols. "¦ A few days ago I mentioned the word "vexillology," which is the study of flags. As a follow-up to that, the great design podcast 99 Percent Invisible recently did an excellent episode about the city of Portland's flag design. Recommended listening.
• • • • •
Looking ahead: Phil's taking a well-earned break, so you're all stuck with me this weekend. See you tomorrow, yes? Yes.