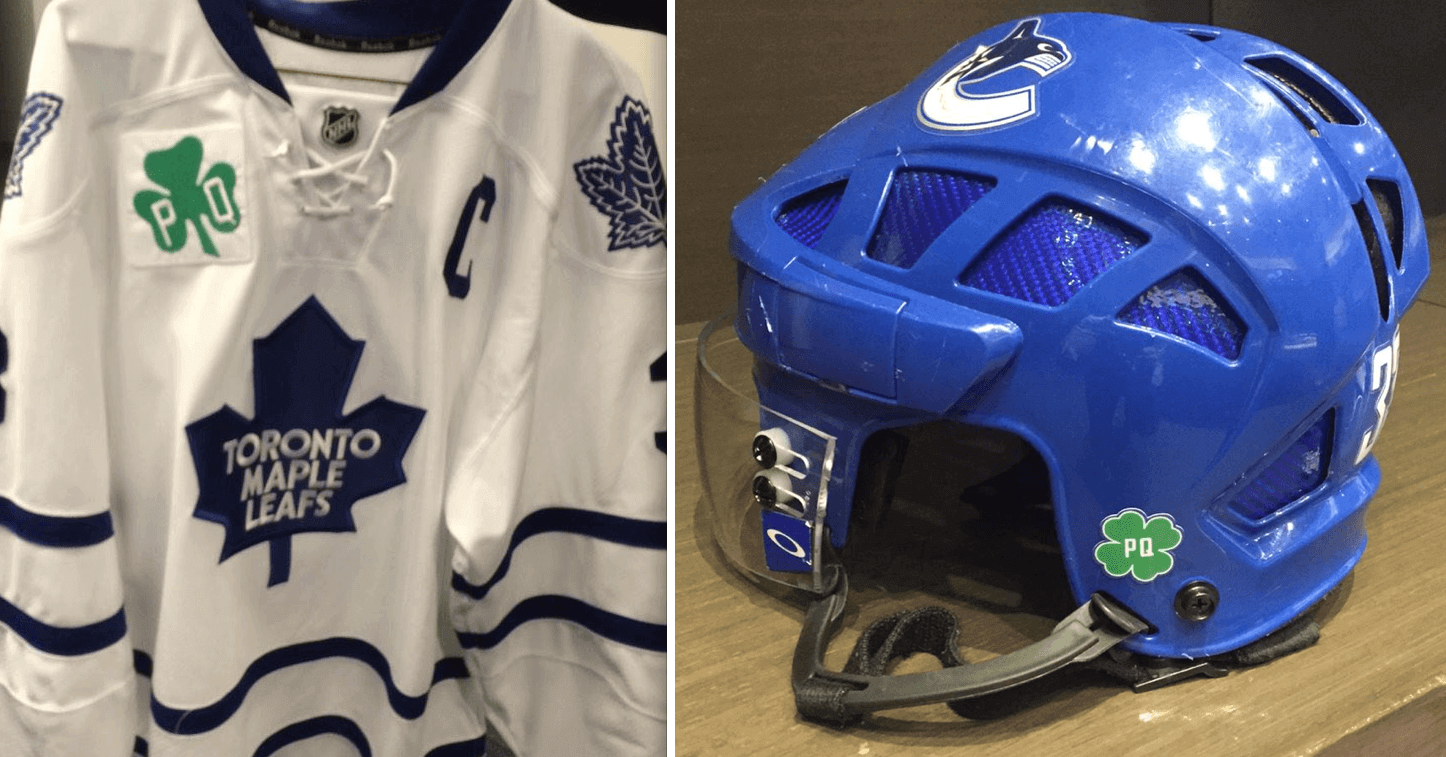 Click to enlarge
Pat Quinn, who passed away on Sunday, had the distinction of being a coach/GM for two different teams, both of which announced yesterday that they'll be memorializing him on their uniforms. The Maple Leafs will be wearing a jersey patch, but only for their next two games (on the road tonight in Pittsburgh and at home on Saturday against the Caps), while the Canucks have added a helmet decal that they'll wear for the rest of this season. It's almost like the two teams took a quality vs. quantity approach — less time for the bigger gesture, more time for the smaller one. Maybe it all evens out.
Interesting to note that the Leafs used a three-leaf clover while the Canucks went with four. Speaking of which: Why is it de rigueur to use clovers as the default symbol for Irishmen (the Tug McGraw memorial patch is another example) but there's no comparable symbol for other ethnicities? Like, when someone of Italian descent dies, you don't see memorial patches shaped like a stick of pepperoni, right? I'm not saying there's anything wrong with the Irish/clover trope, I'm just wondering why we don't see anything similar for other groups.
Quinn also coached the Flyers, Kings, and Oilers, incidentally. To my knowledge, none of those teams has announced plans to uni-memorialize him. That's not surprising in the case of the Kings (Quinn left on bad terms) or the Oilers (Quinn coached them for only one season, and it was a bad one), but I'm a little surprised the Flyers haven't done anything — Quinn coached them to the 1980 Stanley Cup Finals. Can someone who's a bigger NHL fan than I am provide some insight?
•  •  •  •  •
NFL Superhero Project
By Thomas Correia
We're a day early this week, because of the Thanksgiving holiday. And in the spirit of Thanksgiving, I'd like to begin by giving thanks to a few people. First off, my thanks to Paul, for having faith in this project and trusting a complete stranger to contribute to his site on a weekly basis. Thanks also to my buddy and fellow Uni Watch fan Ryan Noonan, for guiding me as my own personal "art director/critic" on each one of these logos. Thanks to my two kids for always asking to see the new logo Daddy created and occasionally providing some great ideas to add. And thanks to my wife for those two kids.
Today we're going to cover four of the six teams playing in tomorrow's NFL games, beginning with the Eagles and Lions (click to enlarge):
There's no better hero to represent Detroit's blue, hairy lion than Marvel's own blue, hairy mutant, Beast. I had a lot of fun with this one by re-creating the hands, feet, and head that would humanize the lion and transform it into one of the X-Men's original members. The eye and wavy lines were carried over from the Lion's logo. Credit to my nine-year-old daughter for reminding me to include the "X logo" belt buckle.
A funny story about this Eagles logo: I initially figured the beaked helmet of DC's Hawkman would make for a good look. My biggest problem was creating the giant wing on the side of Hawkman's helmet. I had spent time sketching it out and had just finished building a frame for it when it suddenly dawned on me that the Eagles have a wing on the side of their football helmets — duh. For me, that one additional element elevated this hero/team combo from good to great.
Now let's look at the Seahawks/49ers game (click to enlarge):
The focal point of the Seahawks logo has always been its eye. Therefore, it seemed fitting to use Hawkeye of the Avengers for Seattle. I simply placed his classic purple mask onto the Seahawks logo. My six-year-old son wasn't that impressed, so he suggested that I needed to include an arrow somewhere, just to emphasize the character's archer identity a bit more. As usual, he was right.
The 49ers' interlocking "SF" logo is tricky, because not many heroes have interlocking letters on their chest. But one well-known exception is Marvel's Daredevil, who coincidentally recently moved to San Francisco in the comics. But instead of using San Fran's plain oval logo, I opted to get creative with the Niners' retro shield logo. I replaced the "SF" with Daredevil's "DD" and replaced the football in the top-right quadrant with a scale (which hints at Daredevil's alter ego as criminal lawyer Matt Murdock). But my favorite part of this logo is that DD's billy club creates a "4" while the moon/city forms a "9."
There are two other teams playing on Thanksgiving — the Cowboys and Bears — but I'll feature them in next week's installment. Which heroes will I use to represent them? Post your guesses in today's comments, and have a great Thanksgiving!
• • • • •

One more sponsorship shout-out: Yesterday I gave little testimonials to our new holiday-season advertisers, There Used to Be a Ballpark and Left Field Cards. Today we have one more new advertiser who's hopped on board, and I want to say a few words about them as well.
So: One of the nice surprises of 2014 has been the emergence of Oxford Pennant, which offers retro-styled, made-in-USA pennants. The graphics are sharp and the soft felt materials feel really plush. Do yourself a favor and take a look at their product line. (As an aside, it's also worth noting that Oxford Pennant is based in Buffalo, so they could probably use a little pick-me-up right about now.)
As always, my thanks to all of these folks for partnering with Uni Watch. I hope you'll consider them for your holiday shopping.
•  •  •  •  •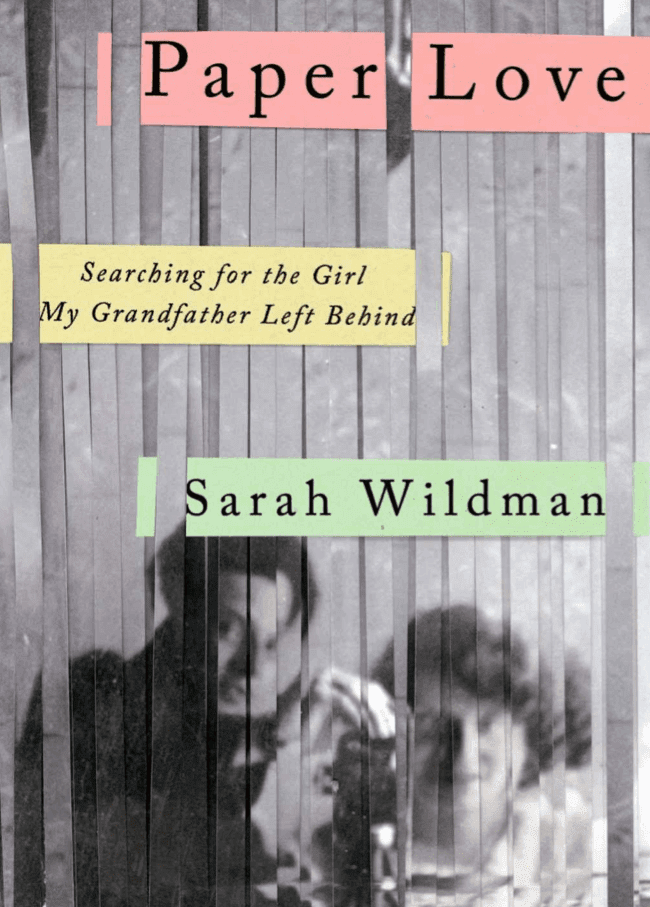 PermaRec update: There's a new book (shown at right) about a stash of 1930s love letters that lead down a rabbit hole of family secrets and Holocaust history. Learn more in the latest Permanent Record entry.
• • • • •

Baseball News: Who's the super-suave dude in the Colorado Rockies cap? None other than jazz great Sonny Rollins (big thanks to Jeff Katz). "¦ The Padres are once again supplying uniforms to local Little Leagues, with the designs drawn from all eras of Padres history. … I think we may have seen this before, but once more won't hurt: Here's a WKRP in Cincinnati screen shot that shows Venus Flytrap wearing a Reds-ish jacket with "Cincinnato" on the chest. Was this a licensing issue? (From Gene Sanny.)

NFL News: Looks like the cover design of the next issue of Mad magazine, due out on Dec. 5, pokes some fun at the NFL logo. "¦ Love this old photo of Johnny U with a "fumble-proof football" (from Michael Clary). "¦ Pats owner Robert Kraft got his own pair of signature Nike shoes (thanks, Brinke). … While looking for something else, I came across this Lions pipe. Well, that's one way to get though Thanksgiving with the relatives.

College Football News: Here's an amazing, if disturbing, sight: Mississippi Gov. Ross Barnett proudly holding a Confederate flag at the Mississippi/Kentucky game on Sept. 29, 1962. The following day he refused to allow James Meredith to enroll as the school's first black student. Further details here. … If you have to make your uniform look like a costume, at least wear my favorite colors, like USF will be doing this Friday.

Hockey News: "As a general rule, goalies seem to keep their pad designs for a year (altough they can run through duplicate sets of each annual design)," says Mike Engle. "Here's an exception: Toronto's Jonathan Bernier has made a mid-season switch from this design to this blue stencil design. It's still the CCM E-Flex Pro 2 pad — just a different graphic. Personally, I like the new one. If you can only have one color (Toronto blue here), I like the lines. They pop." … According to a small item buried within this page, town council members in the Canadian town of Marystown "wore hockey jerseys to last week's [council] meeting. Residents are also being encouraged to wear a jersey to school or work this Friday in celebration of Jersey Day." … What happens when you dress one hockey team as Batman and another as the Riddler? A fight, of course (from Robert Lapidus). … Cross-dressing alert! The AHL's Charlotte Checkers will wear Hornets-themed jerseys this Saturday (thanks, Phil). … The ECHL's Colorado Eagles will use candy-striped sticks on Saturday. The sticks will then be auctioned off to benefit local children's charities. Nice move, although it'd be a lot nicer if the sticks weren't plastered with corporate douchebaggery. Further details here (from Ted Phillips). … Ken Pilpel's daughter plays on a high school girls' hockey team comprised of students from four different schools, so their uniforms use all four schools' colors. Fortunately, those colors mesh pretty well. Then there's Ken's son, who plays in the Maryland Youth Hockey Association. "The teams only have color jerseys, so all the games are color-on-color," says Ken. "Most of the time the matchup is good, but sometimes it gets murky. This year my son's team is blue, but last year there were purple and we were playing a royal blue team. The ref made my son's team wear pinnies so they could tell the difference." "¦ A fan at last night's Sens/Blues game was dressed as a blind ref (from Matt Larsen).

Basketball News: The Nets will soon begin a series of six "Brooklyn Blue Nights" presented by the team's latest corporate partner, BlueRock Energy. For these games, "In celebration o Brooklyn's rich heritage and tradition, the Nets will wear blue jerseys, and fans will be encouraged to turn Barclays Center into a sea of Brooklyn blue pride." Huh — I've been living in Brooklyn for over 27 years and wearing blue jeans for the vast majority of that time without even knowing I was Brooklyn-proud. "¦ My old high school in Indiana has had the same band sign at basketball games for over 20 years," says Matt Blinkco. "After they recently tweeted a photo of it, I finally realized that it has an upside-down 'K' and has most likely been like that since its creation."

Grab Bag: Oh baby, look at this spectacular vintage roller derby jersey. Va-va-fucking-VOOM! (Big thanks to Jeff Ash.) … Big news in the soccer worlds, as Sony is reportedly ending its sponsorship of the World Cup. … A severe head injury suffered by Australian cricket player Phil Hughes has led to some detailed analysis of cricket helmet design. … New Superleague rugby uniforms for Catalans Dragons (from George Chilvers).
• • • • •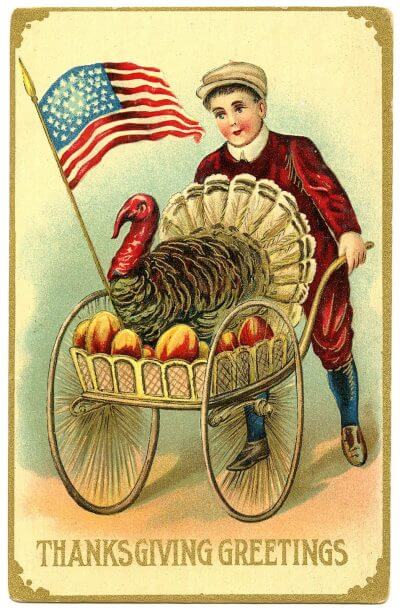 Gobble-gobble: The day before Thanksgiving always feels like a big drumroll — the drumroll before the drumstick, or something like that. Here in New York, they originally said we were due for some significant snowfall today, so I was hoping to go sledding, but now they're saying there'll be little if any accumulation. Rats.
If you're traveling today, travel safe. If you're working today, I hope they let you out early. If you're cooking a few things in advance today, I hope they all turn out great. And if you're doing some last-minute food shopping today, well, I hope you come out of the supermarket scrum in one piece.
My brother and I will be spending Thanksgiving with our mom, who's still rehabbing from hip-replacement surgery earlier this month (but doing fine, thanks), so I'll be off the grid for most of tomorrow. But the site will be open for comments, grousing about traffic, grousing about relatives, and so on, so feel free to swing by.