Nathan Shields is an illustrator. Some of his work is done the conventional way, but he's making a name for himself by producing an impressive body of work in a very non-traditional medium: pancake batter.
Shields recently partnered Fansided to create a series of videos that show him creating pancake versions of all 32 NFL team logos. It would be one thing if he used little plastic logo molds or something like that, but he drew them freehand — so cool! The videos are mesmerizing to watch, and the results are surprisingly good. I have a feeling most of these weren't done perfectly on the first take, but whatever — it's a great project.
Each video runs about half a minute. You can see all 32 of them below, grouped by division:
AFC North
AFC East
AFC South
AFC West
NFC North
NFC East
NFC South
NFC West
I could quibble with some of Shields's logo choices. I wish he'd done the Ravens' helmet logo instead of their secondary logo, for example, and I definitely wish he'd done Brownie the Elf instead of the Browns' bulldog logo. (I say that with apologies to Todd Radom, who designed that bulldog logo and based it on his own dog!) I also wish there was at least one video shown at regular speed, instead of sped up, just so we could get a better sense of the process in real time. But hey, it's Shields's project, so he gets to call those shots.
If you're thinking we've seen NFL logo pancakes before, you're right. Longtime Uni Watch reader/contributor Brady Phelps made these pancakes for the last Super Bowl, for example. Still, I love seeing the videos that show the process, some of which are really surprising (check out the Colts vid, e.g.). Kudos to Shields, and to Fansided for partnering with him on these videos.
One additional thought about pancakes: If you want to give your maple syrup a boost, add a capful or two of bourbon to it, and then heat up the syrup before serving (which you should be doing anyway). The alcohol will vaporize but you'll still get the bourbon flavor, which goes really well with the maple syrup. Trust me.
•  •  •  •  •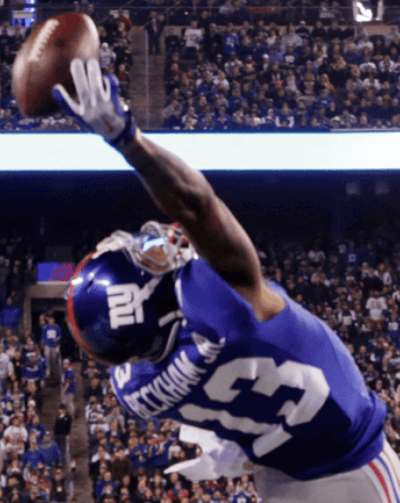 New ESPN piece: As I mentioned yesterday, Giants wideout Odell Beckham Jr.'s amazing catch on Sunday night wouldn't have been possible if he hadn't been wearing gloves. The same can be said of a one-handed catch made by Robert Woods of the Bills last night — no way he makes that grab bare-handed. That's not a knock on Beckham or Woods; it's just reality. It also reinforces a point I've made here several times over years, namely that the rise of gloves is among the most important changes on the gridiron over the past generation, and almost certainly the most unheralded and underrated one.
With that in mind, I've written a short ESPN piece about how gloves have transformed the sport over the past few decades. Check it out here.
As an aside, reader Jerry Wolper reports that AP sportswriter Will Graves issued a series of tweets last night regarding a conversation he had with former Steelers great Lynn Swann. They talked about Beckham's catch and gloves. The pertinent tweets are here and here.
• • • • •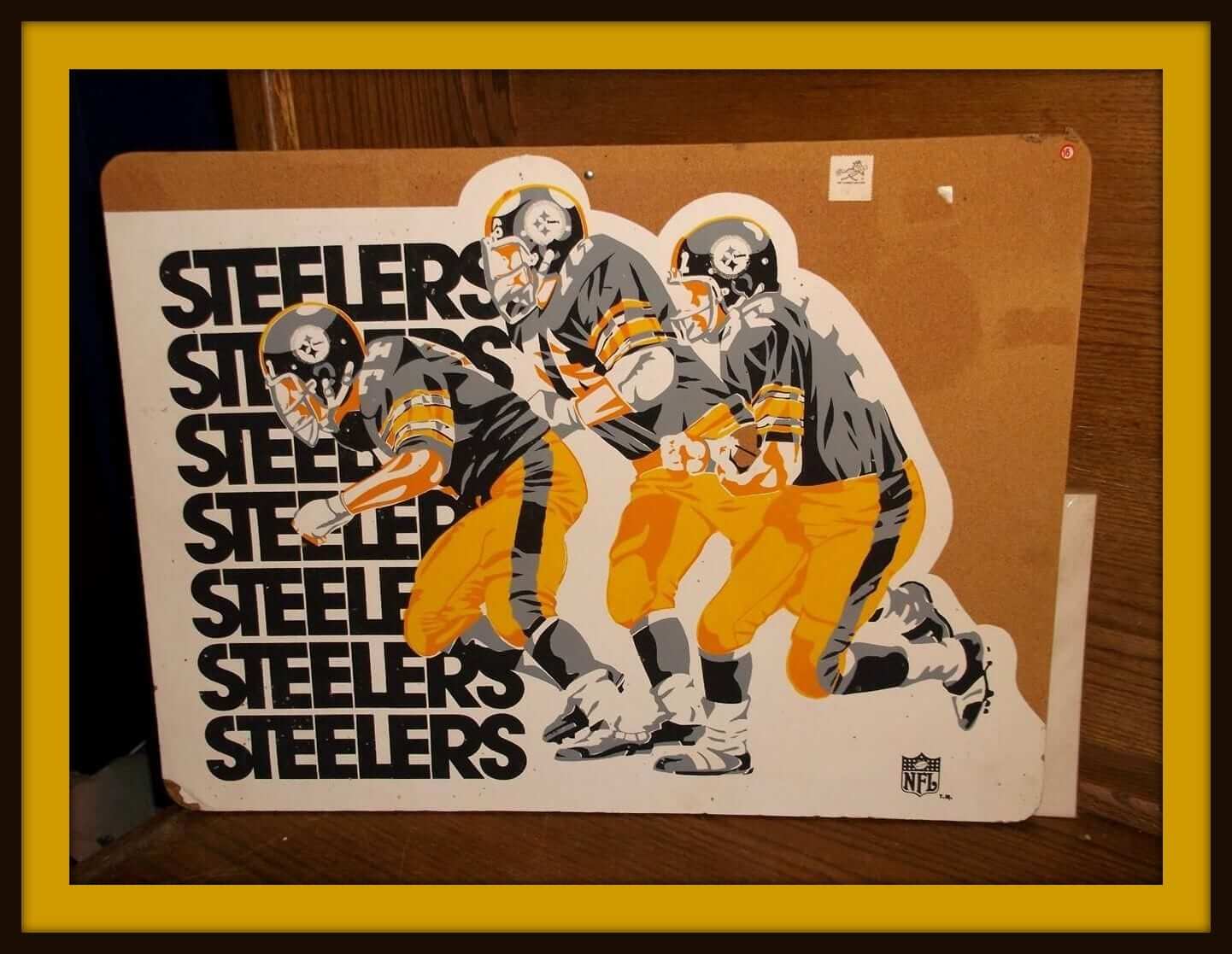 Click to enlarge
Collector's Corner
By Brinke Guthrie
Stillers fans! Check out our lead item today, taken from the pages of a Sears Christmas Wish Book from back in the day. This is the first one of these NFL bulletin boards I've seen on eBay. Corners are a little gnarly on the ends, but the classic artwork more than makes up for that.
(And speaking of Sears, shame on me if I've never shared this link that shows more Sears Christmas Wish Books than you can imagine. Have at it!)
Here are the rest of my picks for this week:
• Staying with the Steelers, here's a nice-looking vintage women's Steelers sweater. Oh and while we're at it, let's toss in this 1970s boys' varsity jacket, and this helmet plaque, too — never seen one with the black facemask before.
• This vintage Reds bobblehead is a little "¦ different-looking, wouldn't you say?
• Never seen these before: Philadelphia Flyers sneakers — from P.F. Flyers, naturally.
• Staying with the Philly theme, here's a classic-looking Eagles poster with artwork by the legendary Chuck Ren. It's framed, too.
• You're a step ahead in Keds, especially if you get this 1960s store display.
• Helmet Buggy alert! This ad is for a 1970s Colts buggy. They mistakenly listed it as Indy instead of Baltimore, but the look is still the same, eh?
• You'll have people at the gym shouting, "Luv Ya Blue!" as you stroll by with this 1970s Oilers gym bag.
• Two AFC cups and one NFC iHop cup, all from the 1970s, in this auction! (I have the NFL version of this — it's my official daily orange juice breakfast cup.)
• Distinctive artwork on this 1960s SF Giants scarf.
•  I can't imagine using this Bengals helmet as an ashtray, but that's what it was meant for.
• From reader Michael Clary, here's a 1960s New York football Giants wind-up doll. (Not a Giants fan? Here are versions for the Falcons, Oilers, and Cowboys.
•  •  •  •  •
Holiday sponsor shout-outs: As you may have noticed, we have a bunch of new advertisers that are vying for your attention and dollars during the holiday run-up. They all offer excellent product lines, and I'm proud to have them on the site. One at a time:
• A few weeks ago I raffled off a few prints of Jeff Suntala's gorgeous baseball stadium illustrations. If you lost out on the raffle, you should definitely consider shopping around on Jeff's website, There Used to Be a Ballpark. And even if you've been to his site before, he's just added some new prints. Great, great stuff.
• I've been a huge fan of Amelie Mancini and her Left Field Cards business for several years. (I even wrote an ESPN column about her two and a half years ago.) If you're a baseball fan — or if there's one on your holiday shopping list — then her super-cool cards and T-shirts should be just what you're looking for. Check them out here.
• Our friends at Grey Flannel Auctions have a new catalog auction underway. I'll be spotlighting some of the more interesting items in an upcoming edition of "Auction Action," which will likely run next week.
• And although this isn't new, I continue to be a big fan of American Trench's excellent socks, a pair of which I'm wearing right now.
And there's one additional new advertiser — a very cool one — whose ad should be showing up on the site soon. Stay tuned.
My thanks to all of these enterprises for partnering with Uni Watch. Please consider supporting them as you're doing your holiday shopping.
Footnote: If you're thinking of posting some sort of "Gotcha!" comment ("Sure, Lukas hates advertising — until it's one of his advertisers!"), please read this before you do so. Thanks.
•  •  •  •  •
PermaRec update: A 95-year-old letter from a former student who was apply for a substitute teaching job (shown at right) is the key document in the latest entry on Permanent Record.
•  •  •  •  •
Uni Watch News Ticker
By Garrett McGrath

Baseball News: Here's an old newspaper article, apparently from the 1930s, about the growing trend of sunglasses on the baseball field (from Kenn Tomasch). … The single-A Mahoning Valley Scrappers a new alternate logo (thanks, Paul). "¦ The newly renamed Biloxi Shuckers, the double-A Brewers affiliate, posted their new cap logos (thanks, Phil). … History watch from 1883: A photo of the St. Louis Browns (also Brown Stockings) of the American Association at the original Sportsman's Park (from Jonathan Daniel).

Pro and College Football News: The Lions unveiled a new logo celebrating the history of their Thanksgiving game. "¦ The Oregon National Guard 41st Brigade logo will be worn on helmets during the upcoming Oregon/OSU Civil War game.

Hockey News: Here is a list of the top five forgettable NHL sweaters from the late 1990s and the early 2000s (thanks Paul). … "As I was perusing some classic Queen videos on YouTube, I noticed in the one for Spread Your Wings from 1978 that bassist John Deacon is wearing a sweet Chicago Blackhawks letterman jacket," says Phil Johnson.

NBA News: The Magic's sleeved gray jersey will make its on-court debut tomorrow (thanks, Phil). … The Heat will roll out a new "Miami Red" uniform campaign tonight (from Phil).

College Hoops News: "The Kansas women's basketball team is wearing a black "Whitney" patch this season in honor of a longtime fan who died of leukemia this off-season," says Jeff Braun. "Makes for a large number of patches on the jersey front." "¦ This article includes an interesting quote from Maine coach Bob Walsh: "All of our guys are wearing zero on the back of their practice jerseys. That's the number of times we've been in the NCAA Tournament and we want to embrace it and attack it." "¦ No photo, but a note buried within this page indicates that NJIT — that's the New Jersey Institute of Technology — is wearing "JC" patches in memory of Joe Caiola, the Assistant Director of Athletics who passed away in June.

Grab Bag: Here are your mascots for the Rio 2016 Olympics and Paralympics (thanks, Paul). … The uniform is nearly complete for the 154-member Cavalcade of Bands Honors Band, which is scheduled to participate in the 126th Tournament of Roses Parade (thanks, Paul). … Pumas are the official shoe of Rikers Island Prison (from Paul Lee). … Port Adelaide completes its V-line guernsey range with a new summer jumper in teal (from Leo Strawn Jr.). "¦ Yesterday, we posted a leaked version of the NYCFC away kit. here is the official look (thanks, Phil).