As you know, the Bears normally wear a George Halas perma-memorial on the left sleeve. But their Monsters of the Midway throwback jerseys don't include the "GSH" inscription, so they show their allegiance to Papa Bear by wearing his initials as a helmet decal.
The "GSH" decal on the throwback helmet has always been fairly small and easy to miss. Someone with the Bears apparently thought it was too small, because yesterday they made it a bit bigger (click to enlarge):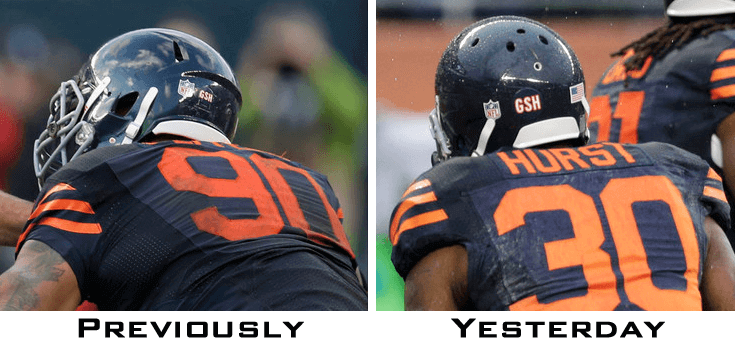 This isn't just an aberration involving those two players. I looked at a lot of photos going back several seasons, and there's no question that the decal was larger yesterday. How's that for a subtle in-season change?
Aside from that, it was a pretty uni-uneventful day around the league. But here are a few tidbits:
• Lions defensive end George Johnson wore an Under Armour base layer and made a half-hearted attempt to cover up the logo. Here's another view.
• The "1" on Falcons cornerback Desmond Trufant's back uni number was upside-down. You can tell because the drop shadow is projecting the wrong way.
• The Browns wore their brown pants.
•  The paint wasn't even dry yet on Giants wideout Odell Beckham Jr.'s amazing catch when Nike turned it into a branding exercise, and some enterprising designer turned it into a T-shirt.
As an aside: Beckham's catch wouldn't have been possible a generation ago, when players didn't routinely wear super-grippy gloves. As I've said several times in the past, I think this is one of the biggest and most under-reported changes in the game over the past few decades. I'm not anti-glove, but I'd love to see today's players go without the gloves for one game, just to see how big a difference it would make. I think the results would be fascinating.
(My thanks to all contributors, including JustinSr, Means1974, Eric Stoker, Jamie Uthe, and of course Phil.)
•  •  •  •  •

Call for entries: My next ESPN column, to be published sometime next week, will be the annual Uni Watch holiday gift guide. I already have a pretty good assortment of stuff to feature, but I'm always happy to have more. If you know of a uni- or logo-related item that would make a good stocking stuffer, please send details this-a-way. Thanks.
•  •  •  •  •
Click to enlarge
Bonus 'Skins Watch: I usually wait until Friday to run 'Skins Watch, but there's already a lot of chatter about this week's New Yorker cover illo (plus Phil mentioned it in Saturday's Ticker), so I didn't want to wait.
The cover design, by longtime illustration pro Bruce McCall, makes the obvious connection between the 'Skins and Thanksgiving — or at least now it seems obvious, although I don't recall anyone having connected those dots before. Good work by McCall, who explains some of the thinking behind the design here.
•  •  •  •  •
Membership update: Another eight designs have been added to the membership card gallery (including D.P. McIntire's awesome-looking Stargell-era Pirates treatment, shown at right). The printed/laminated versions of those cards should mail out today or tomorrow.
As always, you can sign up for your own custom-made membership card here, you can see all the cards we've designed so far here, and you can see the step-by-step process by which we produce the cards here.
•  •  •  •  •

Baseball News: Strong work by game-used jersey debunker Peter Nash, who's presented convincing evidence that an old New York Giants jersey that was supposedly worn by Jim Thorpe and was then cut up into pieces that were sold along with cards produced by Donruss, was actually never worn by Thorpe. … Cardinals manager Mike Matheny is giving up his regular No. 22 so newly acquired Jason Heyward can wear it. No word yet on which number Matheny will wear (from Mark Richter). … New uniforms for the Seibu Lions. "The right sleeve patch 'Believe Lions' colors are taken from the three colors that the team has had in its history — black (Nishitetsu), light blue (original Seibu color), and 'legends blue' (the current darker color)," says Jeremy Brahm. "The new road uniform (dark blue) was the third uniform last year. I think they'll also have some throwbacks." … I was watching an old episode of The Sopranos the other day, and there's this sequence where it turns out that this guy Tony's been meeting with is actually an FBI informant and has secretly been recording the meetings via a tiny microphone hidden in the button of his baseball cap. I kept waiting for them to use the term "squatchee," but no dice. Dang. "¦ The name and logo for Biloxi, Mississippi's new minor league baseball team will be announced today.

NFL News: The 'Skins lease on FedEx Field runs for another dozen years, but the team is already planning for a new stadium (from Tommy Turner). "¦ With the Bills having a "home" game in Detroit tonight, the Bills' logos are being added to the Ford Field end zones and at midfield (thanks, Phil). "¦ Good spot by Joshua Johnson, who writes: "Remember Randall Cobb getting ketchup on his jersey during a Lambeau Leap? He parlayed that into an advertising gig for Clorox. But what's with his jersey? It looks like Clorox just had him turn his standard jersey inside-out." Interesting — we've seen plenty of instances of advertisers using faux NFL jerseys when they don't have a license to use the real thing, but I don't think I've ever seen an inside-out jersey before. "¦ The NFL and New Era think you're stupid enough to buy an ugly new cap for Thanksgiving. "¦ Saints owner Tom Benson is donating $11 million to the Pro Football hall of Fame, most of which will be spent to renovate the Hall's stadium, which will be renamed after Benson.

College Football News: Hawaii wore their gorgeous rainbow throwbacks against UNLV on Thursday night (from Eric Bangeman). "¦ Harvard's placekicker wears glasses — like, regular eyeglasses, not sports glasses — on the field.

Hockey News: Several Rangers players don't want to see ads on NHL jerseys (from Brooks Simpson). "¦ Teams in the ECHL are gearing up for a Batman/Riddler promotion. "¦ Oooh, the 1950-51 Lethbridge Native Sons — an old junior team — had one of the most gorgeous jerseys I've ever seen. That's the back of the jerseys, so they were going with the city name as the NOB (from Graham Clayton). "¦ Is this an old women's hockey team? Nope — it's a bunch of ice show performers who were doing a show at Maple Leaf Gardens in the 1950s (from Will Scheibler). "¦ " On Sunday, just for the heck of it, I decided to watch the French language video feed of the Canadiens game," says Matt Larsen. "In the second period they promoted an upcoming Ottawa/Detroit game. Interestingly, they translated 'Senators' into 'Senateurs' but did not do likewise for the 'Ailes Rouges.'" "¦ Small note at the bottom of this article indicates that the Rockford IceHogs will be wearing "Brovember" jerseys on Wednesday. "¦ Are the Kings gonna be going with the infamous Burger King design for their upcoming Stadium Series game? "Either that or else this is the best troll job ever," says Mike Engle.

NBA News: Depending on what kind of cable deal you have, you may be able to see this very good nine-minute documentary about the Lakers' uniform manager. Recommended viewing (from Paul Lee). "¦ Forty-six years ago yesterday, the Bucks used one of the greatest program covers ever. Yowza! (Great find by BSmile.)

College Hoops News: The Nebraska women's team wore these very nice throwbacks yesterday (thanks, Phil). "¦ Akron wore black uniforms with a big "Z" on the front and TNOB for yesterday's win over South Carolina.

Soccer News: "Joe Allen of Liverpool took an elbow to the head, which busted him open," says Mark Coale. "He ended up wearing a numberless blood jersey and a head wrap." "¦ The NYCFC away kit has leaked. "¦ Ditto for the Orlando City road kit.

Grab Bag: I've been a member of the Center for Land Use Interpretation for many years. The problem is that they're based in L.A., so I'm often unable to see their very cool exhibits. They currently have a new exhibit about the U.S./Canada border that I wish I could see. If any of you SoCal readers want to check it out, I'm eager to hear your reactions, descriptions, etc. … Flags and flag design seem to come up semi-regularly around here, so I was happy to learn a new word the other day: vexillology, which is the study of flags. "¦ WBO welterweight champ Manny Pacquiao and challenger Chris Algieri both wore blue trunks when facing each other on Saturday night. "¦ I was recently visiting a luthier (that's someone who builds and repairs stringed instruments, don'tcha know), and her workshop had this really cool wall display of various sizes of planes. Sorry for the shitty photo, but I trust you can see why I found that so appealing. "¦ Back in 1981, Sony was considering a new logo. Here's a bunch of proposed designs that were rejected. "¦ The International Rugby Board has rebranded as World Rugby. "Reaction from the rugby community has been overwhelmingly negative," says Eric Bangeman. "I, for one, look forward to the 2015 World Rugby Rugby World Cup." "¦ Alex Allen came across these DVDs of Bull Durham and Hoosiers with cool minimalist cover art. "¦ Mark Nicklawske found a very cool hat in the thrift shop but doesn't know what team or sport it's for. Anyone know more?
• • • • •

What Paul did last night a week ago: I'm a big fan of Slate's weekly politics podcast and culture podcast, plus they also have a very good sports podcast (although I rarely listen to that one because I already have enough sports in my life). Each of these three podcasts has its own three-person team, and last Monday night all nine of those people — several of whom I have connections to — came to New York for a live tag-team event, which I was very happy to attend.
The format was like so: All nine people were onstage together, with each three-person team getting a chance to do a truncated version of its own weekly podcast. First up were the politics podcasters — David Plotz, Emily Bazelon, and John Dickerson — who discussed President Obama's immigration policy (for all of these admittedly crappy photos, you can click to enlarge):
My connection to this crew is that Plotz, who's now the CEO of Atlas Obsura, was Slate's editor-in-chief when my 10-part "Permanent Record" series ran there. He was a big booster of the series, for which I'll always be grateful. (He also got me on the comp list for this show — thanks, David!)
Next up were the culture podcasters — Julia Turner, Dana Stevens, and Stephen Metcalf — who discussed the cultural implications of this New York magazine article about emoji:
My connection here is that Stevens, who's Slate's movie critic, lives around the corner from me. I got friendly with her and her husband, Robert Weinstock, about a decade ago, when I wrote a New York Times article about how he'd lost his sense of smell.
Then came the sports podcasters — Mike Pesca, Josh Levine, and Stefan Fatsis — who discussed NBA commish Adam Silver's recent push for legalized sports gambling:
I've had dealings with all three of these guys. Pesca, who used to work for NPR, interviewed me for an NPR story a while back; Levine was my editor at Slate in 2004, when Uni Watch was briefly appearing there; and Fatsis and I have been mutual fans for years, plus I interviewed him here on the Uni Watch blog back in 2007, when he'd written a book about his tryout with the Broncos.
After each three-person podcast team did its thing, the podcasters were put into assorted mix-and-match panels and assigned to debate various hypothetical questions — one of which, as it turned out, involved the Washington football team. The question was basically this: "You oppose the team's name. A good friend of yours posts something on Facebook supporting the team's name. Do you confront your friend on Facebook or let it slide?" Turner and Plotz were assigned to defend the "Let it slide" position, while Stevens and Levine were assigned to argue in favor of confronting the friend. I took some really shitty video of the debate, which lasted three minutes. It begins with Plotz explaining why the friend should not be confronted on Facebook:
The several Billy Joel jokes in there are references to the previous debate, in which four of the panelists were asked, "If the world could hear the music of only one person for the rest of eternity, and if that person had to be either Billy Joel or Beethoven, which one would you choose?" That debate, frankly, was more interesting that the 'Skins one, but I didn't record it. You can hear it, however, along with the rest of the night's content, here.