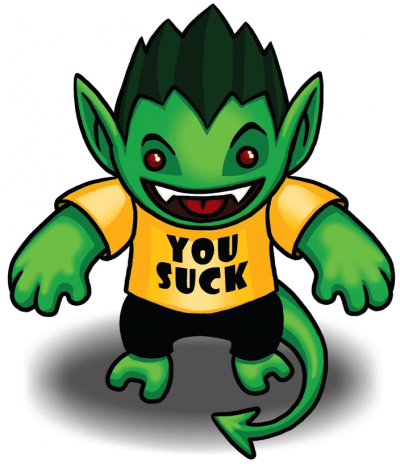 Trolls are a fact of life on the internet. And while trolls can be annoying, I can respect a good troll, the same way I can respect a good villain in a movie. In fact, there's one troll — Joe "Big Cock" Johnson, who bedeviled this website for several years — who I respected so much that I ended up interviewing him and eventually even created a separate website for him.
Joe Johnson admittedly set a pretty high bar — you don't come across a troll like that every day. (The Jeff doesn't count — he's a contrarian, not a troll.) Still, I'd like to think we can do better than the copy/paste hack who showed up here on the site yesterday morning. He fired his first salvo at 8:50am (for all of these, you can click to enlarge):
It went on like that for about another two screens' worth. Pretty tedious, eh? Obviously, I deleted the comment and blocked the guy who posted it, but not before he added this: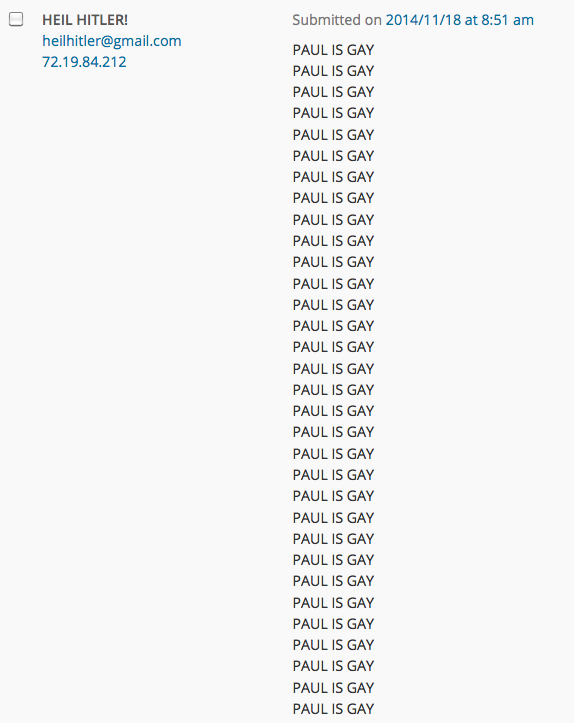 That one scrolled on for another few screens' worth. Now, it's possible for juvenile name-calling to be effective, or even entertaining ("The Ballad of Jerry Curlan" comes to mind). But "Paul is gay," times a thousand? Seriously? Come on, man — I'd like to think Uni Watch readers are more creative than that.
Based on his IP address, this little shit is apparently a student at UMass. Son, I hope you're better at your classwork (or beer pong, or getting laid, or any of the other things college students are supposed to be doing) than you are at trolling, because you're never gonna make it in this game with that lazy-ass approach.
I wouldn't have bothered to mention any of this except that another Uni Watch troll emerged yesterday, and on a new platform to boot! Check it out: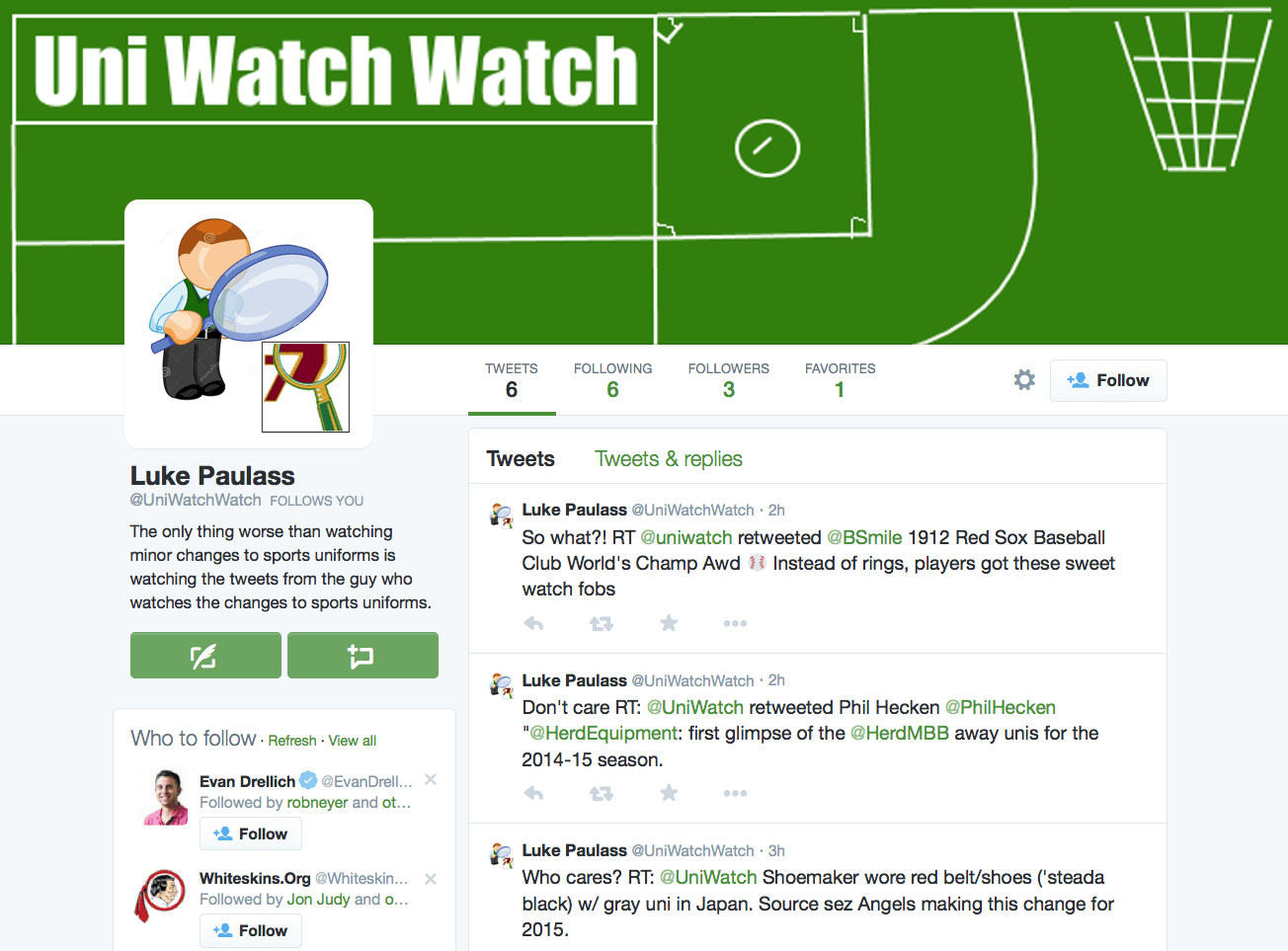 That's a screen shot from the home page of a new Twitter feed called Uni Watch Watch, which apparently launched yesterday afternoon. For now it's mostly just retweets of my tweets, with a short put-down appended to each one — okay, so that's kinda meh, but I still feel it has potential! Frankly, I wouldn't have even known about it except that Phil and reader BSmile both spotted it yesterday and brought it to my attention. (Unfortunately, Phil also "reported" it to the Twitter authorities, so it's possible that this troll account will be deleted by the time you read this, but I'll try to deal with that as we go along. Here, see if this link to the troll account still works. If it doesn't, blame Phil!)
Let's take a closer look at Uni Watch Watch:
• The "Uni Watch Watch" handle: I like it! The double-"Watch" effect works nicely, and the troll gets bonus points for knowing that "Uni Watch" is two words, both capped, with a space in between (which is more than I can say for, ahem, lots of you non-trolls out there). On the standard Uni Watch spectrum of Good to Stupid, I'd say this handle is very, very, Good.
• The troll's name: "Luke Paulass"? Dude, you just undid all the good work you'd done with the handle. "Paul is gay" looks like literature compared to this. Should've just stuck with "Uni Watch Watch." Very, very Stupid. Hey, he just changed it from "Luke Paulass" (awful) to "Watchy McWatcherson" (not great but definitely less cringe-inducing)! I like this — a troll who takes advice. Still pretty Stupid, but he's getting there.
• The avatar: Looks like he just used a stock illustration for the little guy with the magnifying glass (it's clearly watermarked). Still, the idea of his avatar looking at my avatar is pretty clever — a good visual representation of "Uni Watch Watch." I like! Good.
• The little statement of purpose: This wasn't originally part of the guy's page, but then he added it a few hours after creating the account. It's a pretty straightforward manifesto: "The only thing worse than watching minor changes to sports uniforms is watching the tweets from the guy who watches the changes to sports uniforms." I like that — you get in, you say your piece, you get out. Good.
• The header design: The baseball diamond and basketball net feel pretty random, but whatever. The real issue is that he used green, my favorite color. Come on, dude — if you want to fuck with my head, you know which color to use! Seriously, hello!! Stupid.
• The tweets: Normally, I'd embed a few of the tweets here for you to see. But again, it's possible that the troll account may have been taken down by the time you read this, so I've taken screen shots of the first five tweets and gathered them into a Flickr set (if you can't see the slideshow below, click here):
.
As you can see, the best tweet was the first one. After that, he just came up with weak put-downs ("Don't care" and "So what?!") and tacked them onto my tweets — pretty uninspired. Also, most of my tweets include photos, but those photos are missing from his retweets of those tweets, which kinda ruins the effect. Like, if you're gonna critique what I'm doing, at least show the full thing I'm doing and
then
critique it. I feel like this account has some decent troll potential, but he's gonna have to try harder. Hey, it's still early days, but for now it's
pretty Stupid.
All in all, I'd say Big Cock Johnson's place in the Uni Watch pantheon remains secure. But a fella can dream, can't he? If the Uni Watch Watch account hasn't been taken down yet, I urge everyone to follow it, if only to give the troll some incentive to work on his craft. Meanwhile, you can track the account here:
Tweets by @UniWatchWatch
A final thought: I'm sure some of you are thinking, "This is exactly why I don't bother with Twitter." And you're right! That's actually one of my favorite things about Uni Watch Watch — I feel like it's trolling Twitter as much as it's trolling me, and that's a good thing.
•  •  •  •  •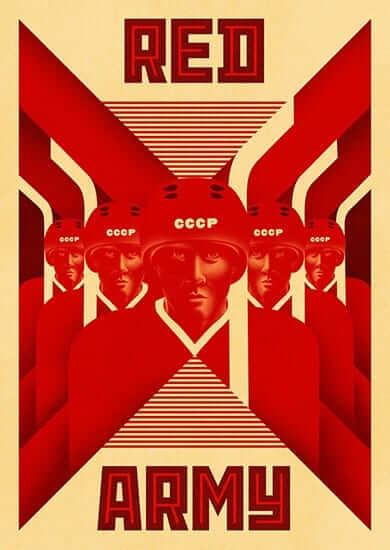 Uni-centric movie review: Frequent Uni Watch commenter BvK1126 checked in with the following in yesterday's comments:
Last night I went to a screening of the documentary Red Army, which is about the Soviet Union's domination of the sport of ice hockey for the better part of four decades. It's an engrossing film, especially for anyone who remembers those seemingly unstoppable Soviet Red Army and national teams from the '70s and '80s.

It's also a feast for a Uni Watcher's eyes, with lots of footage and photos of various versions of what may be the most feared uniform in sports history. One of the most intriguing to me was this jersey, which features two very distinct shades of red. (The brighter shade looks almost highlighter pink in the film footage.)

A guy in the front row of the screening came decked out for the occasion in a jersey that looked like this, except that the lettering on the back was in Cyrillic and the letters and numbers were screened on in white instead of black. Unfortunately, I wasn't quite close enough to get a decent shot of him in the dim lighting.
Sounds good, right? If you live in New York, Red Army is currently playing at the AMC Empire 25 in Times Square; it's due to open in other cities in late January. Here's the trailer:
•  •  •  •  •
Roll your own: Reader Scott Novosel spent a good chunk of yesterday obsessing over (and peppering me with emails about) an admirably esoteric uniform detail: college hoops players who roll up their shorts' waistbands in order to make the shorts a bit shorter. He spotted players from three different teams doing this yesterday — South Carolina, Manhattan, and Utah (click to enlarge):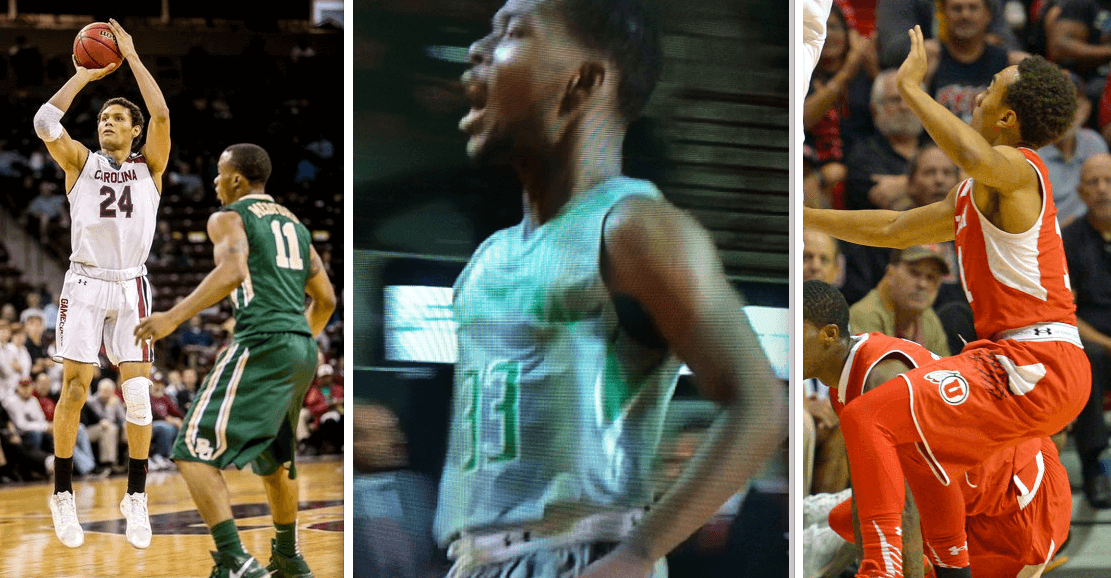 The interesting thing about this, as Scott noted several times during the course of the day, is that those are all Under Armour schools, which led Scott to speculate, "I wonder if UA is making the shorts too lengthy."
Speaking of college hoops: I have a new ESPN column today — a follow-up to last week's season preview.
• • • • •

Baseball News: The Angels have been wearing black belts and black shoes with their road grays, but Matt Shoemaker, pitching in Japan as part of the MLB tour, wore a red belt and red shoes with his road grays the other day. A team insider tells me that's a change that's being made for 2015. … "It seems the Giants and A's donate their old uniforms to the San Quentin prison team, which are worn when San Quentin plays other prison teams, as well as minor league and semi-pro teams," says Don Gray. "Of particular interest is this nifty sleeve patch." … The Mets have once again moved in their rightfield fence. There's a photo gallery here. … Oooh, look at this awesome piece of championship jewelry that the 1912 Red Sox got (from BSmile and Jonathan Daniel. "¦ The Giants have a new championship logo, which is stylistically similar to the logos they used to mark their championships in 2010 and 2012. In case you're wondering, they didn't wear those logos as sleeve patches in the years following their titles; instead they wore this much more generic patch design in 2011 and then this very similar generic patch design in 2013. Remains to be seen what they'll do next season, but the pattern appears to have been set.

NFL News: Reprinted from yesterday's comments: Titans CEO Tommy Smith said on a radio show that we've probably seen the last of the light-blue jerseys. I asked a team spokesman if this means they're redesignating the navys as their primary jersey or if they've getting an overhaul — no response. I'll keep poking around to see what I can find out. … Stan Capp was watching Monday Night Football at a hotel in Mexico, which had several of these handmade-looking NFL logo banners on display. … "The Giants still get their duffles from Gerry Cosby in New York, which has been supplying the team for well over 50 years," says Mark Gonillo. "They no longer have NFL logo rights, hence the generic 'Football Giants' stencil. It's refreshing a team staying loyal to a longtime supplier."

College Football News: Here's a gallery of Lafayette football unis through the years (thanks, Phil). … When UNC and Duke play each other tomorrow night, they'll both be wearing black helmets — even though black isn't actually a school color for either team. … Nicholls State has been granted permission to wear white at home for tomorrow's game against Southeastern Louisiana (from Chris Mycoskie). … UGA coach Mark Richt says the team might wear black at some point this season (thanks, Phil). … USC and UCLA will once again go color-vs.-color when they face off at the Rose Bowl (thanks, Phil). … "I was downloading the Mountain West Network app on my phone and noticed they have Derek Carr on their cover with a WAC patch instead of a MW patch," says Ramon M. … Here's Maryland's latest costume.

Hockey News: The Hockey News has been sold from one media conglomerate to another. … "While looking through the Google newspaper archives, I found this 1945 article about some of the innovations made by the original Maple Leaf Gardens superintendent, Doug Morris," says Will Scheibler. "One innovation was the penalty clocks, so I looked and found this 1940s photo tat shows the clocks, and this 1965 close-up. In that last photo, Eddie Shack of the Leafs — No. 23 — is serving a penalty." "¦ The anthem singer at last night's Ducks/Flames game wore a jersey with a musical note instead of a TV number on the sleeve — not bad! Is this a standard thing for the Flames' anthem singers? (Thanks, Phil.) "¦ Previously unnoted change for this season: The Bruins' helmet numbers have changed from black to gold (thanks, Phil).

Basketball News: Ogie Menor, who plays for a team in the Philippines called the Blackwater Elite, has arguably the greatest haircut of any athlete ever. But what animal is that supposed to be — a lizard? Something else? In any case, my compliments to the chef. "¦ Here's an absolutely spectacular interactive site that chronicles more than a century's worth of Iowa basketball history. Don't miss (big thanks to Brad Eenhuis). "¦ Love this old photo of Senate and House pages dressed up in basketball togs (thanks, Phil).

Grab Bag: This interview with Under Armour founder Kevin Plank includes an explanation for why he spelled "Armour" with a "u": "I was skeptical at the time about whether this whole Internet thing would stick. So I thought the phone number 888-4ARMOUR was much more compelling than 888-44ARMOR. I wish there was a little more science or an entire marketing study behind it, but it was that simple" (from Yusuke Toyoda). … Here's a look at the evolution of the Virgin logo (thanks, Brinke). … Last Sunday's New York Times Magazine had a long list of innovations and technologies that either failed or fell out of favor. Of interest to us here is the entry on decorative German military helmets. … Fox Footy is asking fans to vote on which AFL team has the best clash jumper. "Only problem I see on the list is that Collingwood's main jumper is featured, rather than their clash." … A "bobblehead hall of fame" is hoping to open in Milwaukee in 2016, and look, there's Brinke ordering his plane ticket already! … If you're going to go color-vs.-color, you may as well use the greatest colors available! Those are members of the Australian and South African cricket teams, which are currently playing a one-day international series in Australia (from Graham Clayton).