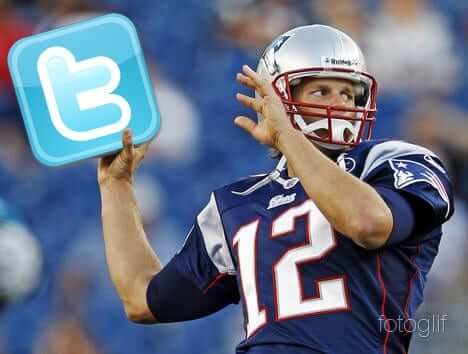 As I write this, the Uni Watch Twitter account has 78,434 followers. I'm fairly certain no uni-centric website has ever made it to 78,435 followers, so I was thinking I'd do something pretty special when we hit that very historic milestone.
Then again, maybe that's not such a great idea.
If you can't quite believe what you're seeing there, look here, or in just about any other corner of the internet, because this story had some serious legs last night. As you can see, many of those media outlets chose to show the Pats' ugly tweet. I thought about showing it as well but ultimately decided to just link to it.
The NOB on the jersey is particularly interesting in light the NFL's famous list of words that you can't have on a jersey, eh? I wonder how many "clever" DIY variations on that NOB we're going to see people wearing at NFL games this weekend.
The offensive tweet stayed up for over an hour before the Pats finally took it down. Then they issued this apology:
We apologize for the regrettable tweet that went out from our account. Our filtering system failed & we will be more vigilant in the future.

— New England Patriots (@Patriots) November 14, 2014
That right there is a case study in how to evade responsibility. As the Pats see it, they didn't send out the offending tweet — no, the tweet simply "went out" from their account, like magic! Much easier to blame the snafu on a "filtering system" failure than to say actual human beings employed by the New England Patriots fucked up, right? This is the brave new world of social media, where bots do all the work and major errors can be chalked up to software glitches.
Still, you have to think someone's getting pink-slipped over this, right? The only remaining question is how long it will take for that person to be hired by the Mets.
•  •  •  •  •
Membership reminder: In case you missed it yesterday, there was an announcement regarding the future of the Uni Watch membership program. If you've been pondering signing up, or putting it off, or waiting for the right moment, you should read this. Thanks.
Patch reminder: I'm currently sold out of Uni Watch 15th-anniversary patches. Should I order another batch of them, and how big should that batch be? If you're interested in getting a patch, let me know now. Thanks.
• • • • •
Our favorite pin-up artist: It's been a while since I've shown any of Rob Ullman's cheesecake-style uniform illustrations here on the site, so here's a small gallery of his recent work. These are all commissions that he did for people who hired him to do portraits of their partners or themselves (if you can't see the slideshow below, click here):
• • • • •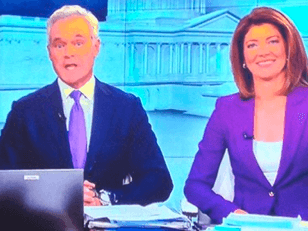 My favorite color: Remember last week's entry about TV reporters wearing purple on Election Night? I've expanded on that idea in a new article that I've written for the design website re:Form — and I managed to do it without saying a single negative thing about purple.
I'll have another piece up on re:Form next week, and I'm pretty excited about it — it's an account of my recent visit to FAST Corp. in Wisconsin. I think you'll really like it.
• • • • •

'Skins Watch: "There was a big profile on DC in this month's issue of Delta's in-flight magazine, Sky," says Ryan Goldstein. "In the sidebar, the mayor recommends that visitors check out DC's professional teams but simply omits any mention of the 'Skins. Maybe it's because the they, unlike DC's other teams, are not 'doing well.'" "¦ A Native American group in Cincinnati has asked for the removal of a car dealer's sign featuring a caricatured Indian (from David Sonny).
•  •  •  •  •
Uni Watch News Ticker
By Garrett McGrath

Baseball News: MLB and New Era are betting that you cap collectors are stupid enough to buy yet another one of your favorite team's cap just because it has a "Japan All-Star Series" side patch (from Shannon Shark). … Todd Radom shared a great post yesterday on the beautiful designs of tickets and programs of MLB teams in Japan, 1953-84. Not to be missed! … This is a fantastic Brooklyn Dodgers era die-cut ticket from Ebbets Field (from Jonathan Daniel). … An interesting article about a phantom MLB uniform from Washington (thanks, Phil).

NFL News: The Dolphins wore mono-aqua last night. Additional photos here. "¦ A Bills lineman's captaincy patch was coming loose last night (screen shot by John M). "¦ Bills DB Aaron Williams wore a sock on his left arm last night (from Phil). "¦ The Cardinals are going full-bloodclot in this Sunday's game against the Lions (thanks, Phil). … How much would it cost to buy everything advertised in an NFL game? Find out in this great article on brand exposure during an average NFL broadcast (thanks, Brinke). … Did you know each NFL official carries a little card in his pocket? Here's a great close-up photo of the side judge's card from last Sunday's Jets/Steelers game (thanks, Phil). "¦ The 49ers will stop using paper tickets next season (from Brinke). "¦ Anyone else think the NFL might be taking this military thing just a smidge too far? (From Phil.) "¦ Nike is warning NFL players to stop customizing their cleats or else their endorsement contracts could be terminated (Phil again).

College and High School Football News: Here's the patch that the teams will wear in the 2015 College Football Championship Game. … Miami will wear orange helmets and smoke uniforms against FSU. … The Fighting Illini are going to wear a special helmet decal to honor ten former players who died in combat (thanks, Phil). … The Louisiana Ragin' Cajuns will honor the late Orlando Thomas by bringing his no. 42 out of retirement (thanks, Phil). … North Carolina State will be wearing red-black-red at their game this weekend (from Nick Troutman). … "Wabash College and DePauw University play one of (if not the) most famous small college rivalry game over the Monon Bell, which is being played again this coming weekend," says Aaron Parrish. "Here is the program from the 1954 game, which seems to be right up Uni Watch's alley." "¦ Houston Scarborough, a high school team in Texas, has an odd helmet design that uses Michigan State's Spartan logo on the front of the helmet. They also wore pink socks for a recent game (from Kris McInnis).

Hockey News: Blues goalie Jake Allen and the team are running a contest open to all fans to design his second goalie mask. If any Uni Watch readers participate, send us your designs and we'll show them here on the site (from Mark Richter).

Basketball News: Tony Allen of the Grizzlies forgot to take off his shooting shirt before entering last night's game against the Kings (from Eric Bangeman). "¦ The University of New Mexico Lobos will open the 2014-15 basketball season with a pair of unique jerseys: camouflage-accented uniforms for Friday night's season opener against Idaho State and turquoise-accented uniforms for Sunday night's game versus Cal State Fullerton. "¦ Bucknell will wear awesome 1976 throwbacks against Penn State on Nov. 28.

Soccer News: New York City FC, the new MLS franchise, posted unveiled its inaugural uniform yesterday. Many observers commented that it looks a lot like the home kits their owners, Manchester City, will wear across the pond, (thanks, Phil).

Grab Bag: The BYU "Sailor Coug" logo has received an update and will be used as a secondary logo across all BYU sports (from Drew Mastin). … "There's a Lance Armstrong biopic in the works and a London shop is selling over 100 of the retrofitted bikes used in the production," says Sean Clancy. … The Washington Post ran these really cool graphics about the comet landing on Tuesday (from Andrew Hoenig).