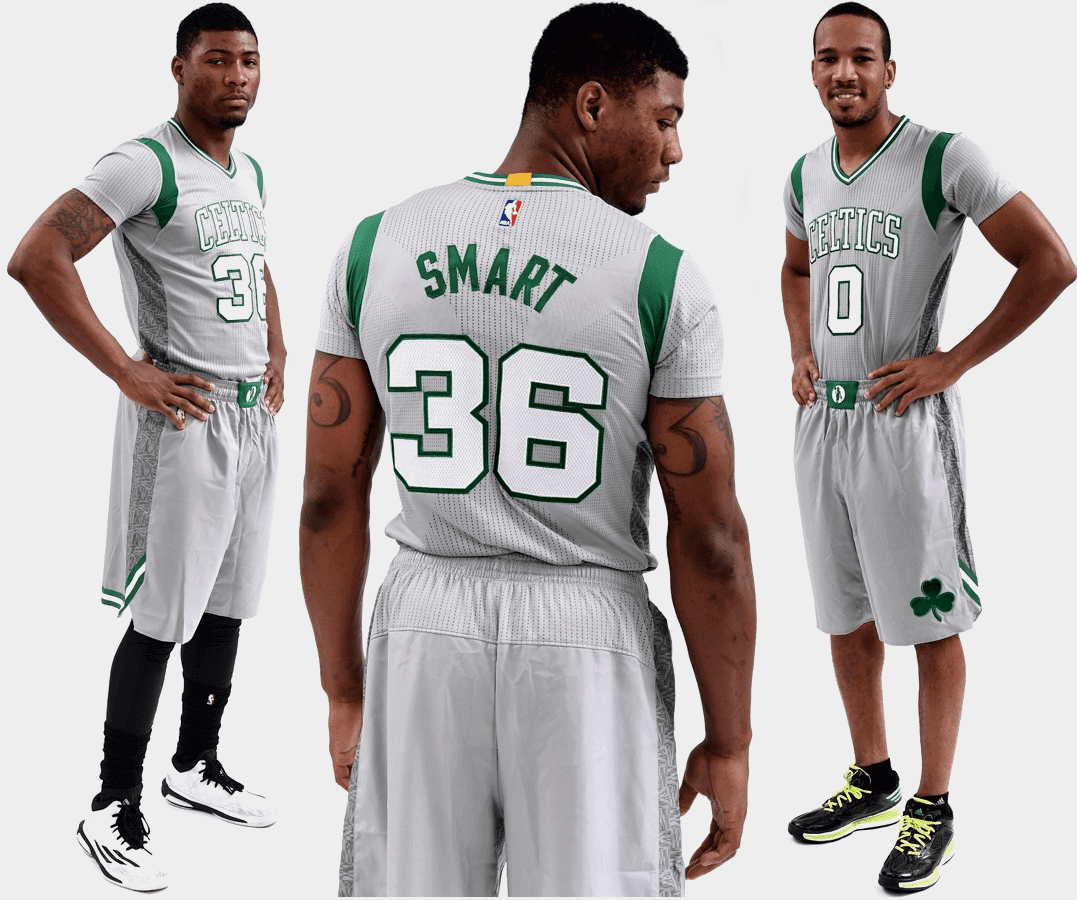 Click to enlarge
We've known for months now that the Celtics had a new alternate uni in the works for this season. When the shorts design leaked a few weeks ago, and didn't look promising. And I guess you could say the full uni, which was revealed last night, has followed through on that promise.
We expect this kind of thing from teams like the Hawks, Timberwolves, or Blazers. But the Celtics? Embarrassing. But not as embarrassing as the uni design's name, which there's no way I'm going to repeat here. You can find it, along with the dates when the uniform will be worn (so you can mark your calendar to make other plans on those nights), here.
Want another photo? Okay — once more, with feeling (as in "feeling like shit"):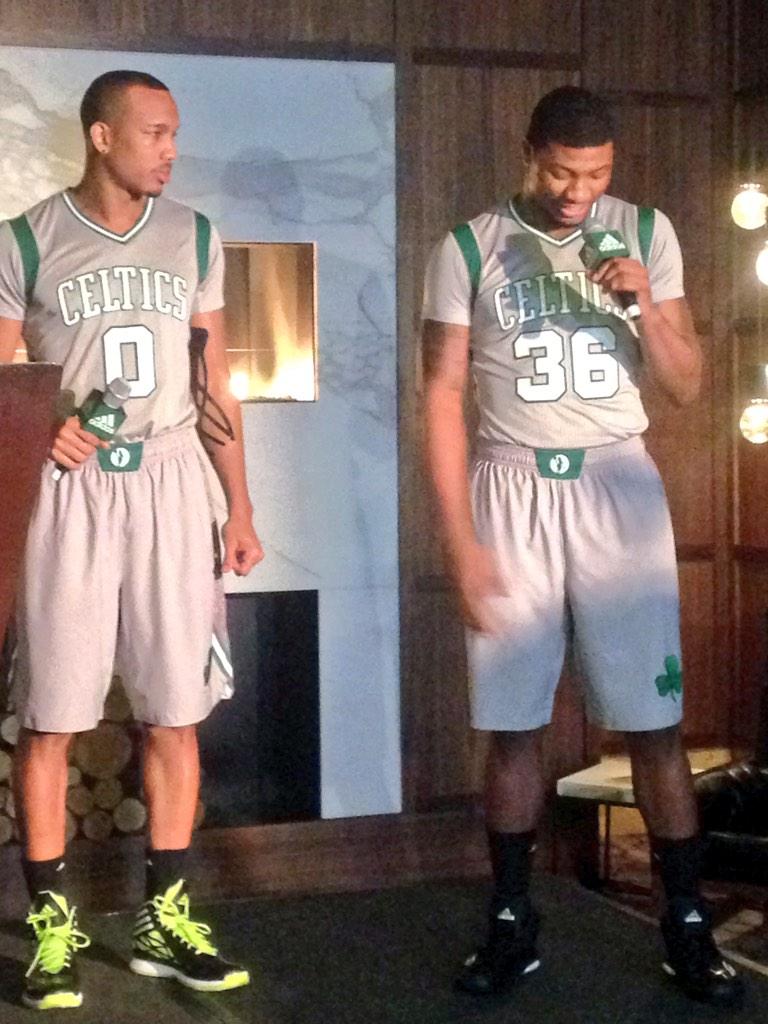 •  •  •  •  •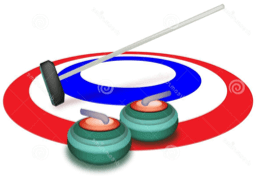 Sport of kings comes to Kings County: Prospect Park — Brooklyn's version of Central Park, where I go biking every day — got a fancy new ice skating facility last winter, and on Sunday that facility will host Brooklyn's first-ever curling class, conducted by former U.S. national champion and longtime Uni Watch pal Dean Gemmell.
Sunday's class will be the first session in a five-week program that will include instruction and game play. Phil and I have both signed up, so I'll probably have some good photos to share with you on Monday. Hurry hard!
•  •  •  •  •

'Skins Watch: Maryland's new governor-elect plans to call the 'Skins by their regular name (thanks, Phil). "¦ I realize you can't always pick your allies, but those of you in the pro-'Skins camp might want to ask yourselves if you really want to be on the same side of the ball as these guys, who were at a Wizards game the other night (thanks, Phil). "¦ There was a mild stir yesterday morning when the Indians tweeted a photo of their 2015 jersey without a Wahoo patch. But as a team spokesman confirmed for me, that's just a low-priced replica, which doesn't have patches. No changes to the team's uni program in the coming season.

Baseball News: While looking for something else, I came across these 1980s stickers showing the A's uni set. There's also a Dodgers version. "¦ Michael Schliefke checked out the Hallmark Visitors' Center in Kansas City the other day and saw this Hallmark baseball jersey and jacket. "¦ The Jackie Robinson West Little League team was apparently invited to the White House, where they gave President Obama a flag-desecration baseball glove. Kinda surprising no MLBer has worn anything like this. Anyone want to give the over/under on when it'll show up next season? "¦ Arizona Fall League player Tony Renda had some belt problems last night (from Andre Torres).

NFL News: Seriously unattractive game last night in Cincy, as the Bengals wore mono-black, the Browns wore brown pants, and both teams loaded up on G.I. Joevember accessories — including, get this, G.I. Joe tights for Browns CB Joe Haden. The CBS and the NFL Network chipped in by rendering the "TNF" lettering in camouflage. Sigh (screen shot by Gorden, who didn't give his last name). "¦ Meanwhile, cops at the game showed their support for Devon and Leah Still by wearing Still's No. 75 (thanks, Phil). "¦ Here's a close look at a quaterback's play-calling wristband (thanks, Brinke). "¦ Jon Phillips notes that Kentucky Sen. Mitch McConnell has been using a rather Flying Elvis-esque campaign logo. "¦ Reprinted from yesterday's comments: Sky Sports is excited to be televising next year's NFL games in London, but they used the outdated NFL logo (from James Burke). "¦ Many of you probably already know the story of how the Lions ended up wearing Honolulu blue, but here it is again, just in case you want to refresh your memory (from Timothy Tryjankowski). "¦ In the "What took you so long?" department, Nike has severed ties with Adrian Peterson (thanks, Phil). "¦ I was at a vintage shop the other night and spotted this super-cool football-themed pillow. Looks handmade, too. Too pricey ($32), alas.

College Football News: Flag-desecration helmet for Purdue. "¦ ASU wore its new helmets yesterday in practice. "¦ Speaking of those new ASU unis, here's a backgrounder on how they came to be, plus a video (from Joseph Giordano and Dave Burns, respectively). … Here's this weekend's uni combo for Vanderbilt. "¦ Interesting piece on how LSU fans' attire has changed over the past century (thanks, Phil). "¦ Wake Forest wore gold helmets last night. As you can see in those shots, Wake was wearing mono-black, which perhaps explains — but certainly doesn't excuse — why three idiot fans went blackface and -body. "¦ G.I. Joevember unis on tap tomorrow for Austin Peay (Phil again). "¦ "My grandfather, Ray Graves, played center at the University of Tennessee from 1939-41 under Coach Robert Neyland," says Justin Davis. "I recently got an email from an aunt saying they had his old jersey and asked if I'd like it, to which I said, OF COURSE. Ray later went on to coach the Florida Gators from 1960-69, so this is a real SEC classic." "¦ Flag-descration helmet logo tomorrow for Washington.

Hockey News: G.I. Joevember warm-ups last night for the Flyers (from Marc Matteo). "¦ Some heavy-duty headwear last night, plus a doozy of a shiner, for Radko Gudas of the Lightning (from Matt Larsen). "¦ G.I. Joevember jerseys for Ohio State. "¦ Good article on goalie mask artwork (thanks, Brinke). … Sports Business Daily ran an article on NHL COO John Collins yesterday, and at the very bottom of the piece they quoted him saying jersey ads are "coming and happening," which quickly resulted in an avalanche of breathless media reports, even though Collins provided no details or even a timetable. Collins is clearly working from the Cuban/Silver playbook here, trying to create an air of inevitability for something he knows is going to be messy. As the NBA can tell you, inevitability is the easy part — hey, NBA uni ads are so inevitable that they've been inevitable for years now! But if Collins is serious, let's take him at his word: Tweet at the NHL and tell them you don't want ads on jerseys. While you're at it, call the NHL office and tell Collins (or whomever) how you feel about this issue. #NoUniAds. … As an aside, I was amused by the bit where Collins "noted that jersey branding by manufacturers is already a form of jersey sponsorship." He's right about that, of course — I've been saying as much for years — but his implicit point is, "Eh, we already have one sponsorship, so why not have more?" That's like saying you already have chicken pox so it's no big deal if you get the measles while you're at it.

Basketball News: You probably already the stories about sponsorship douchebaggery regarding the early Dream Teams, but here they are again, just in case (from Bryant Robinson and Bryan Kimball). "¦ The Raptors will wear the purple dinosaur throwbacks tonight. "¦ Here's something I didn't know about: In 1989-90, the Celtics wore a black memorial band with black "Follow Through" lettering. According to this auction listing, it was "for the owner's wife, who used to tell Kevin McHale to follow through" (nice find by Matt Malinoski). … New uniforms for Tulsa.

Soccer News: NYC FC is gonna be doing that thing where season ticket holders can have their faces incorporated into the team's jersey (from John Childers).

Grab Bag: Nike is partnering with a design/tech company to create an airplane interior design geared for athletes. Interestingly, the project is simply called "The Athlete's Plane," instead of something more Nike-ish, like "The Avenging Chariot" (from Jeremy Brahm). "¦ People on TV keep using iPads even when they're supposed to be using Surfaces (from Caleb Borchers). "¦ Have I mentioned lately how much I love Hamilton Nolan? "¦ Faaaaascinating piece on butter stick design! Don't miss (thanks, Brinke). "¦ Rugby news from Dan Budny, who writes: "Leicester played the Barbarians a few days ago and went with their original 'numbering' system, which uses letters. There's more info on that if you scroll down here." "¦ Who has the most consistently creative magazine cover designs these days? Don't look now, but it's Businessweek. "¦ Did you know nearly every hospital-born baby in America gets wrapped in the same blanket design? It's true — really interesting details here (from Heather McCabe). "¦ New rugby kit for France. "Of note is the change from white shorts to dark blue, and the repositioning of the three Adidas stripes (now dark blue instead of white) so that they run over the shoulder instead across the shoulder and behind the collar," says Eric Bangeman. "¦ Also from Eric: Rugby fans — or at least the ones in this Reddit thread — aren't happy with the latest jersey designs. … You know its holiday shopping season when every team in every league is selling some idiotic ugly sweater. A few of these are amusing, but come on — can't anyone come up with an original idea (or at least a good-looking one) without piggybacking on someone else's? It's pathetic. … An ongoing mascot controversy at UT-RGV was resolved yesterday to nobody's satisfaction (from Cort McMurray).
• • • • •
Click to enlarge

What Paul did last night: The City Reliquary has a new exhibit devoted to portraits of old Jewish gangsters (including Arnold Rothstein, the guy who fixed the 1919 World Series, shown above), and last night I attended the opening reception.
The exhibit, which is called "Mazel Tough" (a name that narrowly beat out "Kosher Nostra," I'm told), is excellent. Illustrator Pat Hamou uses a painstakingly obsessive cross-hatching technique that gives his portraits a lot of depth and texture, and he makes the most of the gangsters' facial features. Each portrait is accompanied by a little placard indicating what the gangster was notorious for, his run-ins with the law, and so on. The whole thing is really nicely presented.
I happen to have a bit of Jewish gangster in my gene pool (my maternal grandfather was a bootlegger during Prohibition). But even if you're not so lucky, you'll still dig "Mazel Tough" — see it. You can learn more about the exhibit here and here, and you can see more of the portraits here.