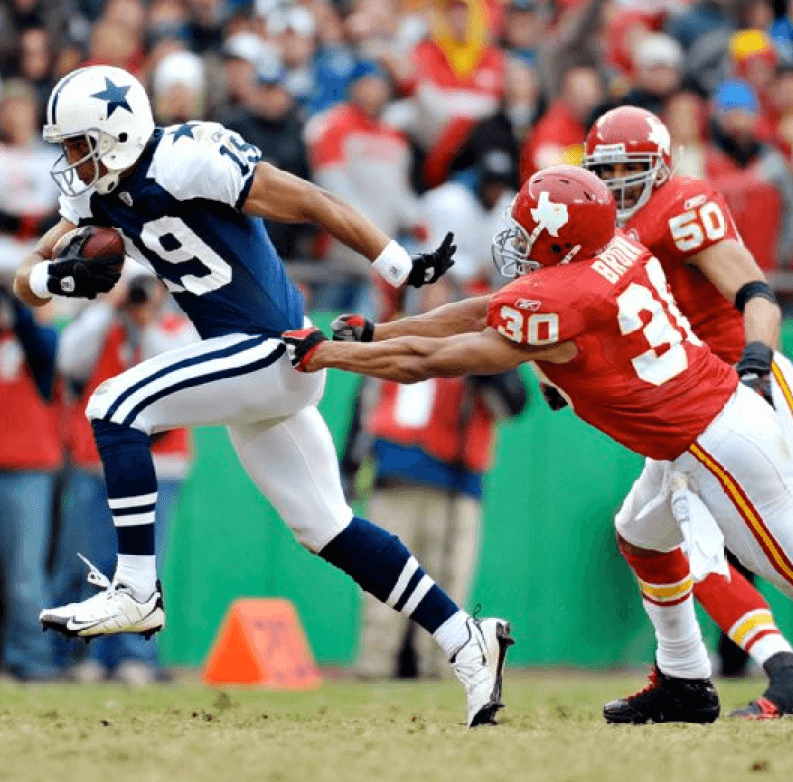 In case you missed it yesterday afternoon, my latest ESPN column is about color-on-color matchups across many sports. It also includes a poll that allows you to vote on how you feel about color-on-color. Check it out here.
But one reader, Mark Lockwood, wasn't content to simply vote in the poll. He quickly dashed off an assessment of how the NFL might look this week if color-on-color games were permitted. I don't usually go in for these "What if…" fantasies, but I didn't have a good lede for today I liked what Mark brought to the table here, so here's his rundown.
Color vs. Color in the NFL
By Mark Lockwood
As a staunch believer in color-vs.-color (CvC) football beauty, I have taken some time to look at this week's NFL games and see which ones would provide opportunities for contrast and good looks if white were removed from the jersey equation. We don't want to overdo it, but my feeling is one CvC game per time slot per week would be great. So let's look at this week's slate of games and see how they'd look as CvC matchups, grading each pairing in terms of uniform contrast (fairly objective) and aesthetics (subjective) on a combined scale of zero through five.
Browns at Bengals (Thursday night): Since the Bengals have already used their orange alternate allotment of two games this year, that means they will be wearing their black home unis tomorrow night. That would provide hardly any contrast with the Browns' home uniform, and even the teams' helmets are similarly-colored (we can thank Paul Brown for this). Grade: 0
Chiefs at Bills: A potentially glorious color-on-color matchup. These two uniforms have bold colors and are classic designs to boot. Grade: 5
Titans at Ravens: If the Ravens wore black, it would be better aesthetically, but this game works fine from a contrast perspective no matter which home uni the Ravens pick. However, no game the Ravens or Titans are in will ever be considered a design delight with their current uniforms. Grade: 3
Cowboys at Jaguars: Sort of a moot point, given the Cowboys' preference to wear white whenever possible. Even with their blue jerseys, the contrast wouldn't be great enough, in my opinion. Grade: N/A
Dolphins at Lions: The Lions' blue and Dolphins' teal don't provide enough of a contrast for a CvC game. Grade: 1
49ers at Saints: Great color combination possibility in this game, with the only caveat being that the two teams will definitely have same-colored helmets and might also have same-colored pants. Still, black vs. deep red? Let's see some of that! Grade: 4
Steelers at Jets: I can't help but envision how great this game would look as color-on-color on a snowy field. Plenty of contrast between uniforms and helmets. Tasty! Grade: 4
Falcons at Buccaneers: Red vs. red isn't going to work, obviously. Grade: 0
Broncos at Raiders: Orange (with blue) against black (with silver), especially in a longstanding rivalry matchup, would be fantastic. Even though the Broncos' uniforms bring down the grade a bit, the color contrast in the California sunshine makes this a=one a no-brainer. Grade: 5
Giants at Seahawks: Giants blue vs. Seahawks whatever-it-is would not provide much visual appeal, and certainly not enough contrast. Grade: 0
Rams at Cardinals: As with the Chiefs and Bills, there's a lot to like about a blue-on-red game. Great jersey contrast, great helmet contrast, and a division rivalry make this a great option for CvC. Grade: 5
Bears at Packers (Sunday night): A unique color matchup that worked for decades before road whites became the norm, this game would provide a visually appealing rivalry matchup in prime time. Make it so! Grade: 5
Panthers at Eagles: The Eagles are finally going to be in their standard home green jerseys, which, unfortunately, are too dark to provide much contrast with the Panthers' black jerseys. This would be a different story if the Eagles were back in kelly green, or if the Panthers hadn't already worn their light blue alternates for their two allotted games this season. Grade: 1
So that's the full slate. How did it break down by time slot? Let's take a look:
Thursday night: No CvC.
Sunday, 1pm ET: The one no-brainer here is Chiefs vs. Bills, which I think you'll agree is an ideal option.
Sunday, 4pm ET: We have two great options: Broncos at Raiders and Rams at Cardinals. How do we decide which one to go with? The best way is to choose the largest amount of eyeballs we can deliver the color goods to, and unfortunately the Rams/Cardinals game is only being broadcast to the St. Louis and Phoenix markets, while the Broncos/Raiders clash is being shown to the entire western half of the country. Therefore, our CvC game for the 4pm ET slot should be Denver/Oakland. [Personally, I don't see why you can't do both games, but this is Mark's fantasy, not mine. "" PL]
Sunday night: Yes please, Bears and Packers!
Monday night: Nope, not this week.
That gives us four CvC games out of the thirteen on offer this week. Not too few, not too many. Never more than one at a time. And high-contrast pairings that look great. Let's do this, NFL!
———
Good stuff, Mark — thanks for submitting it.
Mark has offered to present a similar rundown for each remaining week of the season. What say ye, readers — interested?
•  •  •  •  •
NFL Superhero Project
By Thomas Correia
Tonight we have the "Battle of Ohio" between the Browns and Bengals. In my latest NFL Superhero matchup, it's a battle between two Marvel heroes who possess the power to heal faster than normal from injury — which could lead to an extremely long fight (click to enlarge):
Although the Browns don't have a helmet logo, they've actually had many logos in their long history, including the "Brownie Elf" logo, which reminded me of Superman villain, Mr. Mxyzptlk, and the "Bulldog" logo, which reminded me of Inhumans' canine alien, Lockjaw. I loved the suggestion last week to use the Juggernaut, who actually wears brown and orange. But I eventually decided to use the team's "Football B" logo and adapt it to Luke Cage (aka Power Man). Cage is known by his last name and chain link belt, so merging those elements worked well.
The three stripes of the Bengals' B logo brought only one hero to mind for me: the X-Men's most famous mutant, Wolverine. The three stripes can easily resemble the three claws that eject from one of Wolvie's fists. Also, his popular yellow costume includes three similar stripes on each side of his torso. And a simple 90-degree rotation of the "B" logo allows it to be modified into a "W."
As you prep to watch a long battle tonight, which two characters do you think will be battling next week, when the Bills face the Dolphins?
•  •  •  •  •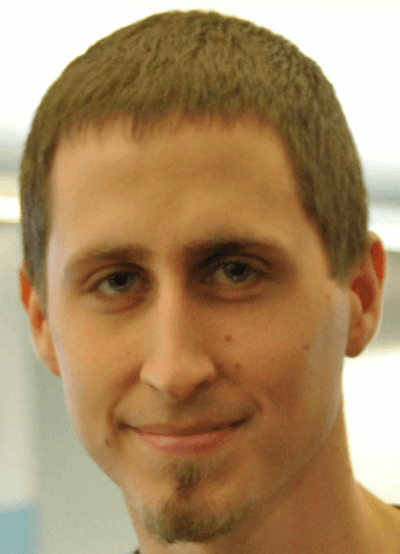 Mike's Question of the Week
By Mike Chamernik
I'm sure this has been discussed on Uni Watch before, but I've never asked it: What's the most aesthetically pleasing American sports city, from top to bottom, in your opinion? Consider everything: uniforms, colors, logos, and sports venues. You can also factor in the minor league and college scene, if you like.
To me, it's tough to beat Pittsburgh. The Pirates, Steelers, and Penguins all have great unis, the black-and-yellow theme is awesome, PNC Park is regarded as the best in baseball, and the script "Pitt" helmet even made a comeback this year.
While we're at it: What's the worst-looking city? The most underrated city?
• • • • •
PermaRec update: The negative and resulting photo shown at right were taken many years ago at an Iowa prison. They're part of an excellent new history project that's described in the latest post on Permanent Record.
• • • • •
Uni Watch News Ticker
By Mike Chamernik

Baseball News: The Mets are changing their pinstriped unis from cream to white, plus they have a new alternate road cap and a new BP cap. Here's what some of the team's uni combinations will look like. Meanwhile, the "snow white" uni has been scrapped, which apparently means that the camo and blue home jerseys will now be worn with pinstriped pants instead of white pants … "Tremendous photo of Stan Musial in a St. Looey road uni (I think in Wrigley) leaning on a gun and addressing the crowd," says Phil). … Andy Chalifour was watching Rookie of the Year the other night and noticed the catcher on the Cubs wore a flapless helmet.

NFL News: "On October 13, Paul linked to an image of three Cowboys players wearing three different sideline cap colors," says Lou DeGeorge. "This past week against Arizona, it got a little weirder. At the start of the game, Tony Romo, who'd usually gone with the navy blue "D" cap, was wearing the lesser-seen white "D" cap. Brandon Weeden, who had all year been wearing the white cap on the sidelines, had switched to gray, while at some point early in the game, Romo switched back to navy blue. Then, by the end of the game, Weeden himself might have switched back to white (tough to tell if that's white or gray with the sun glare)." … The Cowboys have put poppy decals on their helmets for the London game this Sunday (from Phil). … GQ has rated the best- and worst-dressed NFL commentators each week (from Eric Wright). … The Browns' Johnny Manziel and the Bucs' Mike Evans swapped jerseys after Sunday's game. The two were teammates at Texas A&M.

College and High School Football News: Two West Virginia high schools, Wayne and Chapmanville, played a gloriously muddy game last weekend (from Brice Wallace). … Arizona State will wear its "Desert Fuel" uniforms on Saturday (from Phil). … Oklahoma will wear alternates with white helmets on Saturday against Baylor. … Texas's defensive coordinator would not be happy with the Longhorns wearing a clown suit, also known as an alternate jersey (from Phil). … ESPN messed up the logos in this MAC graphic (from Phil). … Two cool items from Matt Cline: a 1931 Army/Navy game program and a copy of The Log, which was a weekly publication produced by Navy that wrapped up the previous game.

Hockey News: The Blackhawks have unveiled their Winter Classic jersey. "¦ The Rochester Institute of Technology will wear camo jerseys this weekend (from Phil). … The Ottawa Senators have racing prime ministers, sort of like the Nationals' racing presidents. Here's a look at them in action (from Will Scheibler). … A wonderful 1972-73 Bobby Hull Winnipeg Jets jersey sold at auction the other night for quite a few pennies (from Jonathan Daniel). … The Rangers wore purple chinstraps for Hockey Fights Cancer (from Phil).

Soccer News: The MLS expansion team Orlando City will have an all-purple look (from Phil). … "Just wanted to share what I believe are good-looking jerseys to support Breast Cancer Awareness and Research my daughter's U15 soccer team purchased and wore all month," says Stuart Ciske. "Everyone bought one, and in Wisconsin the long sleeves were welcome, as October tends to be cool. Though pink, I believe the grey stripes and blue lettering and numbers make it look sharp with either their home (blue shorts, white socks) or away (silver/blue) kits. Even has stripes!"

Basketball News: The great SI Vault tweeted a photo of Bill Walton, Robert Parish, and Kevin McHale posing on a mini Celtics court. Is it just me, or do athletes not pose with silly props and take wacky photos for sports publications anymore? I miss stuff like this. … Like we saw with the Heat yesterday, the Clippers also wear undershirts that provide a phantom NBA logo showing through to the jersey (from Paul Lee). … New unis for Seton Hall.

Grab Bag: The All Blacks have a new set that is called the "blackest jersey ever." … Chrysler is retiring its pentastar logo.