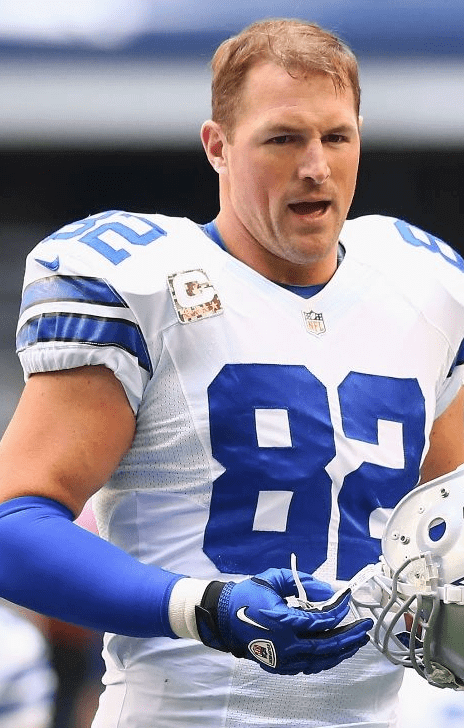 The NFL eased into G.I. Joevemeber yesterday, as the league's "Salute to Service" initiative was unrolled at the Cardinals/Cowboys game in Dallas. As you can see at right, the Cowboys wore camouflage captaincy patches and also had camo ribbon helmet decals with military branch logos, while the Cardinals also had camo captaincy patches and wore a Pat Tillman memorial decal instead of the service branch logos. As you can see in that last photo, there were also camo towels, as well as camo goalposts, ball logos, pylon logos, and so on.
The Steelers also wore the camo ribbons and military branch logos, but their opponents, the Ravens, did not. Other teams will be doing "Salute to Service"-centric games as the month proceeds.
In other news from around the league yesterday:
• It's good to see that Browns tackle Joe Thomas's aunt, Mary Steinkraus, is supportive of her nephew, but maybe she's taking it a bit too far.
• Several thousand people, many of them Native Americans, participated in an anti-'Skins protest march prior to the Vikes/'Skins game in Minnesota (photos here and here, and there's a video clip and slideshow here). As you may recall, there had been a move to prevent the 'Skins from wearing a uniform that included their wordmark or helmet logo, but they ended up wearing their regular uni.
• More on that same game: Because the game was played at the U. of Minnesota's stadium, there were plenty of signs rendered in 'Skins colors, making it seem somewhat like a home game for the visiting team.
• For the second time in four weeks, the Bengals wore their orange alternates.
• Speaking of the Bengals, Devon Still wore "Lauren Strong" on his nasal strip. That's a reference to Mount St. Joseph women's basketball player Lauren Hill, who has an inoperable brain tumor.
• The Texans wore their red alternates.
• The Seahawks added an "MP" helmet decal to express solidarity with Marysville-Pilchuck High School, where several students were recently killed in a mass shooting.
• In that same Seahawks/Raiders game, back judge Scott Helverson was wearing the old-style number number/letter font, which was last used in 2012. Why does this keep happening? Come on, people — wear the up-to-date jersey!
• The Browns promoted their game against the Buccaneers by posting a graphic on Facebook with an outdated Bucs helmet.
• Last week I noted that Ben Roethlisberger passed right-handed but punted left-footed. "You may have noticed that the Steelers' punter/holder, Brad Wing, who punts left-footed, threw a pass right-handed on a busted PAT attempt that turned into a two-point conversion," says reader Joe Werner. "What are the chances that any other teams have two guys who both throw and kick with that hand/foot combination?"
• The Steelers retired Joe Greene's number at halftime.
• Aside from the Cowboys, only one team wore white at home this week: the Dolphins.
• NFL Network analyst Brian Billick appears to have been hiding a non-Surface tablet behind a Surface standee (a move that should be familiar to anyone who ever hid a dirty magazine inside an open copy of Sports Illustrated).
Turning to Saturday's college action, Phil and his contributors had extensive coverage in yesterday's entry. But here are two late-breaking items:
• Ohio State kicker Sean Nuernberger was wearing the wrong pants on Saturday.
• Arizona quarterback Anu Solomo, who normally wears No. 12, had his jersey torn on this play and then returned wearing No. 18. Surprising that they didn't have another No. 12 jersey available for him, no?
(My thanks to all contributors, including Chris Flinn, Jennifer Hayden, Rob Holecko, Aaron McHargue, Art Ryel-Lindsey, Steve Schutt, and of course Phil.)
• • • • •
Raffle results: The three winners of the Jeff Suntala ballpark prints are Ryan Humphrey, Matthew Moncrief, and Bryan Stroud. Thanks to all who entered. I have another raffle in the works and should be announcing it soon.
• • • • •
A question about Twitter: Many of the Ticker submissions I receive will mention that a team "just tweeted out a photo of their new uniform," or that a player "tweeted out a photo of his new facemask," or something along those lines.
Here's my question: What's with the use of "out," and how did it become part of the Twitter lexicon? Why do people say "tweeted out" instead of simply "tweeted"? This construction is also frequently used by media outlets, although I'm not sure if the media picked up on it from vernacular discourse or the other way around. Either way, it bugs me — feels like unnecessarily jargon-like.
Yes, I realize that tweeting something is akin to sending it out into the world. But the same can be said for lots of other communication formats, and we don't append an "out" when referring to them. We don't say, "He emailed out a thank-you note," for example — we simply say that he emailed it. For that matter, we don't say, "I mailed out a birthday card to my father" — we say, "I mailed my father a card."
So what's the deal with tweeting out? Is there something I'm missing here? Get the "out" out!
•  •  •  •  •

Baseball News: Some friends and I had dinner last night at the venerable Italian restaurant Bamonte's. I've been there many times over the years, beginning in 1988, when my parents had their 40th-anniversary party there. Many years and many visits later, last night I found myself in the men's room, which is adorned with lots of baseball photos, including the famous shot of Jackie Robinson surrounded by his Brooklyn Dodgers teammates. But last night I spotted something I'd never noticed before: The number font on Gil Hodges's jersey (No. 14) is different from everyone else's. "¦ Remember the recent kerfuffle over the Citicorp building appearing in the Mets' skyline logo? Marc Rivlin found a version of that skyline on a ticket stub from 2011, so that logo has been floating around at least since then.

NFL News: The Giants will be wearing their white alternate pants for tonight's game against the Colts. … Here's a slideshow of 49ers uniform history (thanks, Brinke). "¦ New logo for the Super Bowl LI host committee. "¦ This is pretty funny: In 1970, NFL Films mic'd up the Bears' live mascot (from Douglas Fod).

Hockey News: Three things from Saturday night's Blackhawks/Leafs game: Hawks goalie Corey Crawford had a new mask; if you look again at that photo, you'll see that the ads on the boards were purple, for cancer awareness; and the players wore purple cancer-awareness helmet decals (all this from Anthony Zogas). … Some kid made himself a very cool Wild jersey out of what appears to be duct tape (from Barry Brite). "¦ Excellent article on the evolution of goalie mask artwork (from Leo Strawn Jr.). "¦ After Gordie Howe's recent stroke, the Red Wings wore No. 9 jerseys for pregame warm-ups on Friday. "It's weird to see a goalie wearing No. 9," says Michael Hersch.

NBA News: For reasons that aren't clear, Josh McRoberts of the Heat intentionally tore his jersey in half during yesterday's game. … Better Living Through Corporate Sponsorships, Part 713: Remember that guy on the Cavs bench who was pouring Gatorade into a Powerade bottle? The Cavs have now "launched an internal investigation" on that (quote marks added because the whole thing is so totally fucking ridiculous). All the idiots associated with this, in whatever capacity, deserve each other. "¦ It's not uncommon for media outlets to use outdated team logos, but few are as funny as this one, which Google used last night.

Grab Bag: Not uni-related, but yesterday's New York Times Magazine has a feature on light-heavyweight champ Bernard Hopkins that's one of the best pieces of sportswriting I've seen in years. Even if you don't care about boxing, it's super-interesting an eminently readable. Highly, highly recommended. "¦ Man, they just don't make sporting goods label designs like they used to, eh? … Very interesting article about how teams and other companies are turning to crowdsourced designs more and more. Highly recommended (big thanks to Jerry Wolper). … The Australian rugby league team wore a claret and blue striped jersey and black shorts, instead of the traditional green and gold, for their Four Nations match against England (from Graham Clayton). "¦ NHRA driver Steve Torrence has a Marilyn Monroe-themed helmet. "¦ Yesterday was the New York City Marathon. I live only half a block from the route, so I always go down to watch for a while. Unfortunately, it's gotten much less fun since the Boston Marathon bombings of 2013, because the runners are no longer allowed to wear masks or bulky costumes. I understand the reasoning behind the new rules, but it has definitely cut down on the sense of the Marathon being a big, wacky party. Too bad.
• • • • •

What Paul did last night two nights ago: Went out on Saturday night to see Dear White People, a really smart, funny send-up of racial (and class) identity politics. I went by myself, which, in retrospect, was a mistake, because I'm pretty sure this movie is a de facto Rorschach test — everyone will interpret it differently, because almost anyone at any point on the political spectrum will be able to find a moment within the film where they can say, "See, that's what I'm talking about!" But no two people are likely to seize upon the same moment, so it's probably best to see the movie with other people and compare notes afterward, just to talk things through and hear other people's perspectives. But whatever — see it with other people, see it alone, but just see it. It's worth your time.
• • • • •
As I mentioned on Friday, my 90-year-old mom is having hip-replacement surgery this morning, so I'll be off the grid for big chunks of today and tomorrow. Thanks in advance for playing nice while I'm busy being a good kid.