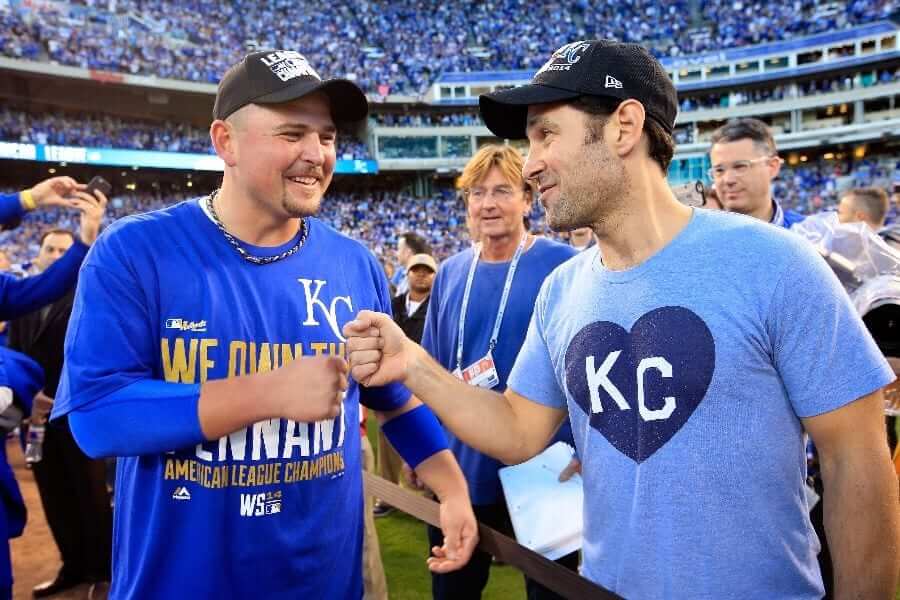 Click to enlarge
On the left is Billy Butler of the Royals. On the right, actor Paul Rudd, who happens to be a big Royals fan. Both men are wearing T-shirts. One of those T-shirts is charmingly simple and remarkably effective; the other is a steaming mess of over-cluttered design (as you can more clearly see here). Imagine if all the guys in this photo had been wearing a shirt like Rudd's, instead of like Butler's. Wouldn't that have been nice? Why couldn't they have done that? Wait, let me guess.
As bad as that shirt is, however, at least it doesn't have a big, throbbing apostrophe catastrophe. Ugh.
I wasn't rooting for the Royals at the start of this series, but they won me over. I'm happy for them and their fans. I'm also happy for all of us who root for shitty MLB teams (something I've gotten way too familiar with in recent years), because the Royals' ascendancy shows that even the worst team can turn it around.
A few other aesthetic notes on the new A.L. champions:
• Here's something you don't often get to see: the American League trophy. Quick, what's its official name? Give yourself a gold star if you knew it's called the William Harridge Trophy. And who was Harridge? Bonus points if you knew he was the American League president from 1931 to 1959. But here's the real stumper: What's a league president?
• In a stunning development, the Royals' clubhouse celebration featured at least three different brands of goggles (and maybe more!). I for one am disgusted at the commissioner's office's failure to designate an Official Pennant-Clinching Protective Goggle of Major League Baseball. Or maybe they did designate one and some of the players were simply wearing unauthorized pennant-clinching goggles, an offense for which they'll do doubt be fined.
• I'm sure there's a good reason why Royals pitcher Danny Duffy was celebrating in a bear costume, but I don't think I want to know what it is. (I'll say this, though: He's in good company.)
•  •  •  •  •
NFL Superhero Project
By Thomas Correia
My favorite comments lately have been those that support the connection between a hero and an NFL team through some comic book story that I wasn't aware of (last week, for example, there was a connection between Spidey and Houston). Thanks, and keep up the comments!
This week's match-up, featuring the Jets and Patriots, was probably the easiest combination of superheroes to figure out (click to enlarge):
For the Jets, I knew I had to use a hero closely associated with the color green, so I decided to go with the Green Lantern, or rather the entire Green Lantern Corps. Plus the most famous Green Lantern in comics was a jet fighter pilot, Hal Jordan, so that clinched it for this choice.
This Patriots logo was actually what inspired this project. I'm a Pats fan, and back in April I saw the film Captain America: The Winter Soldier, which gave me the idea of combining the flying Elvis logo with the most patriotic of superheroes. It was challenging and fun, so I then decided to re-create the entire NFL in the superhero format. So this is the logo you have to thank for what you've been seeing the past few weeks.
Next week: Chargers vs. Broncos. Bring on the guesses in the comments below.
• • • • •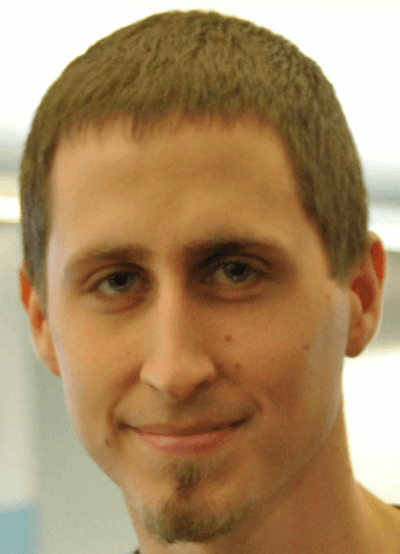 Mike's Question of the Week
By Mike Chamernik
I've asked before about your favorite piece of sports memorabilia. Now I'm putting a spin on it: What's the oldest piece you own? Why have you kept it so long? How have you kept it in good condition? If it's something that's on display or even usable, are you worried that you might ruin it? What is the endgame with the item (pass it along, sell it, etc.)?
I have a cool 1950 Wisconsin State Fair race car shirt. I got it from my grandpa (via my dad) a few years ago, and even though it's 64 years old, it's still in pristine condition — perfectly white, no flaking on the printing. So even though I think it would fit me nicely, I don't want to ruin it. So it sits in a drawer. Which makes no sense at all.
•  •  •  •  •  •
Podcast alert: Longtime Uni Watch reader Anthony Verna is an intellectual property attorney. He recently launched a new podcast to address trademark issues, and earlier this week he interviewed me to discuss branding, logo design, and so on. We mostly talked about aesthetic approaches (not so much the legal stuff that's his bread and butter). You can listen to our discussion here.
• • • • • •
Uni Watch News Ticker
By Mike Chamernik

Baseball News: Lots of people sent this in: Royals pitcher Jeremy Guthrie apologized for wearing a "These O's Ain't Royal" T-shirt at his postgame press conference Tuesday night. … Red Wing Shoes is selling a throwback boot for a model that was originally designed for Ted Williams (from Tommy Turner). … The illustrations for William Bryce's "Canadian base ball guide for 1877" are now online at the Canadian Library and Archives' website — the four links have color illustrations of socks, hats and belts (from Will Scheibler). … Miguel Cabrera stars in a Chrysler ad that has blank jerseys and caps, which I find wildly distracting.

NFL News: "I have noticed that the NFL game balls are darker this year," says Tony Bruno. "I asked a friend who's a rep for Wilson, and he said that this year they can use a ball for three weeks instead of new game balls every week. The more they are used, the darker they get." … The Ravens will wear black tops with pink accessories on Sunday (from Phil). "¦ Comedian Tom Wrigglesworth, who supposedly looks like Packers QB Aaron Rodgers, got to meet the Packers' seamstresses, who made up a jersey for him (from Aaron McHargue). "¦ Here's a look at Washington's record in recent years broken down by pants design (from David Cline).

College Football News: Dockers and the NCAA are selling team-branded khakis (from Phil). … Oregon made a video to show how its throwback helmets are made (from Phil). … A TCU player had an upside-down Big 12 logo Saturday (from Phil). … BYU will wear black uniforms next month (from Phil). … USC will wear metallic helmets with chrome facemasks for its homecoming game.

Hockey News: Here's a look at the Sabres' uniform history (from Phil). … The Islanders' fisherman throwbacks reemerged in part because of eBay (from Phil). … Garrett Heller reports that not only are almost all the Reebok-branded jerseys gone from the AHL — they were replaced by CCM jerseys — but that also the popular RibCore hockey stick is now made CCM instead of Reebok. "Makes me think when Reebok's jersey contract with the NHL expires in a few seasons, the company bidding for renewal will be under the CCM name (rather than Reebok or even the rumor of Adidas)," he says.

Basketball News: Here's a Knicks uniform timeline. It's a little hard to read on that link, so use the download button and you'll get a PDF, which you can enlarge for easier viewing. Those pages are from this year's Knicks media guide. … The Knicks will wear this patch for games against the Nets before the All-Star break this year. … New away unis for Kansas (from Phil). … New blue jerseys for Florida (from Phil). "¦ The NBA 2K15 video game shows a new sleeved version of the Raptors' camouflage jersey (from Sunny Moon). .

Grab Bag: The Seattle Sounders unveiled the (very simplistic) logo for their FC 2 team (from Yusuke Toyoda). … Here's how your brain processes a logo (from Brinke). … Wilson is selling "Wilson" from the film Cast Away. Timely! … I don't usually pimp my work here at Uni Watch, but here's something some of you might find interesting: I have an Instagram account where I post pics of what I'm most interested in – jerseys and cool signs from around Chicago. Follow me if you please.