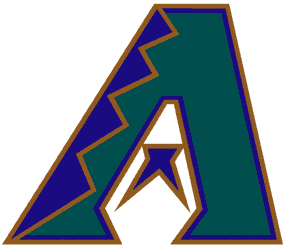 When the Dallas Mavericks recently unveiled their 2015 alternate uniform more than a year in advance of its on-court debut, I quipped that it was one of history's earliest unveilings. But reader Joey Artigue quickly corrected me, pointing out that MLB's two most recent expansion teams — the Diamondbacks and Devil Rays — unveiled their inaugural uniforms on Nov. 1, 1995, nearly two and a half years prior to the teams' first games in 1998. (Here's an AP report on the unveilings, which really shows how much the uni-verse has changed in 20 years.)
But as Joey explained to me, there was something else very unusual about the D-backs' unveiling. Obviously, team ownership couldn't have players on hand to model the new unis, because the expansion draft hadn't yet taken place — the team didn't have any players yet. But they wanted the uniforms to be worn by athletes, not just by models, so they went across the street — literally — and got some Phoenix Suns players to wear the uniforms. Both teams were owned Jerry Colangelo, so it made sense.
The Suns personnel who participated in the unveiling included Kevin Johnson, who was the Suns' captain at the time; Danny Ainge, who had just wrapped up his playing career (and who, of course, had been an MLB player with the Blue Jays); Danny Manning, the team's big free agent signing from a few months earlier; first-round draft pick Wesley Person; and head coach Paul Westphal. Joey says he's certain there's a group photo floating around that shows all five them, but for now we just have these shots of Johnson and Ainge (for all of these, you can click to enlarge):

That last photo is from this article, which has more info on the uniforms: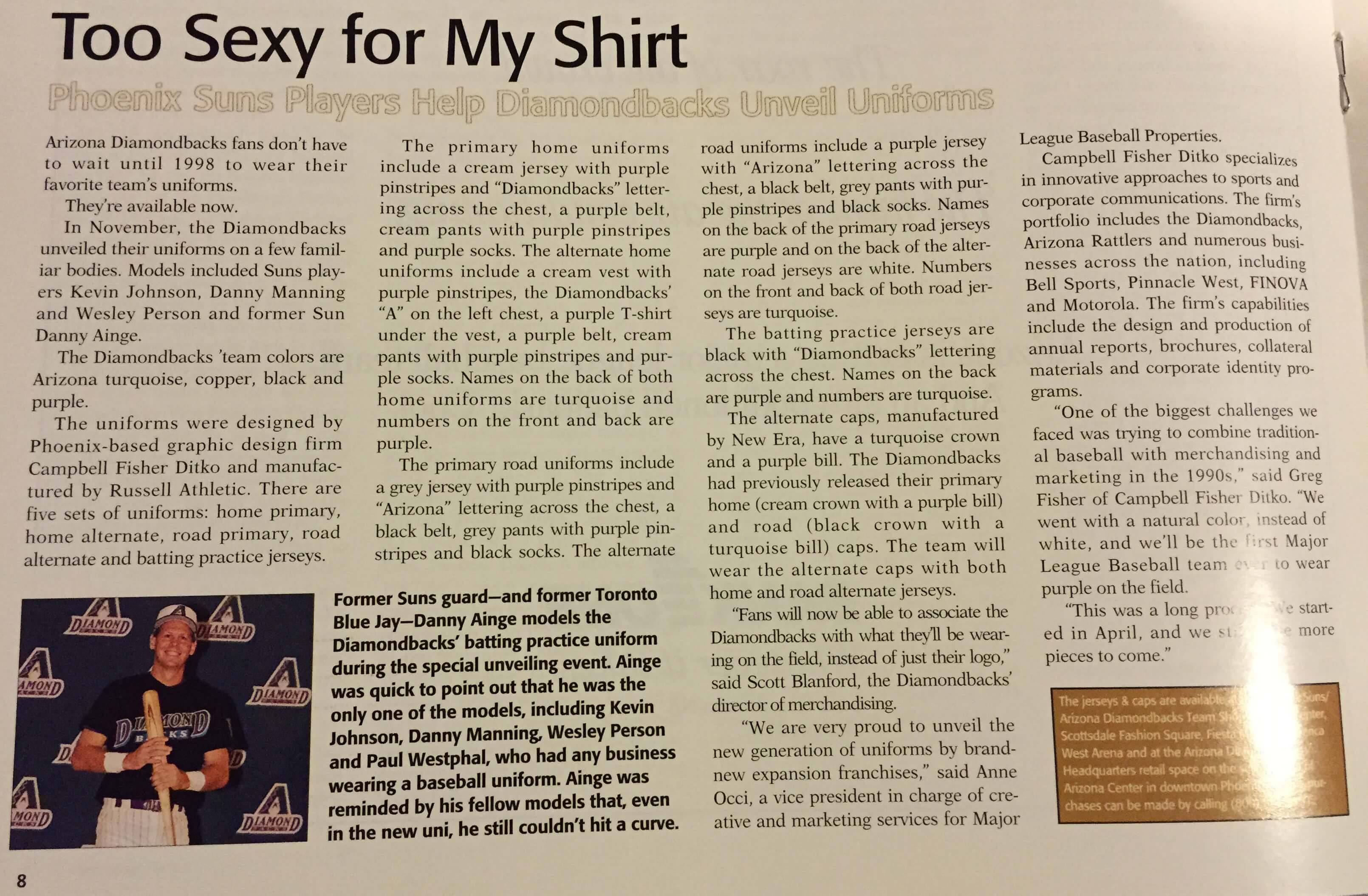 Personally, I'm fascinated by this. Have there been other unveilings featuring athletes from a completely different sport? Maybe, but I can't think of any. Anyone..?
Meanwhile: As you know, this unveiling took place smack in the middle of the uni-verse's purple-and-teal phase. One Diamondbacks fan, quoted in the third and fourth grafs of this article, noted the trend and predicted that the team would end up with buyer's remorse and have to change its colors — and he was right! Check it out: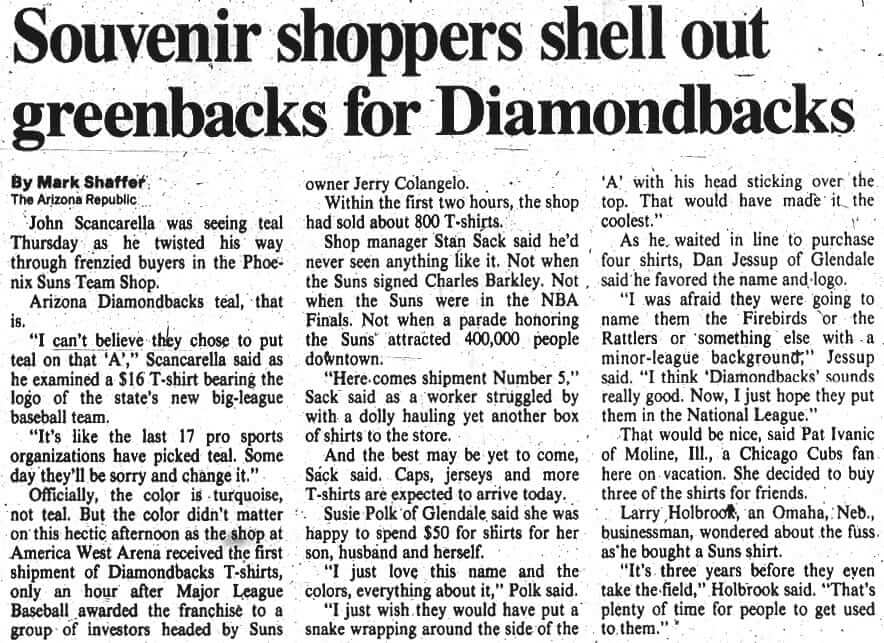 Joey Artigue — the reader who provided me with all this stuff — is 23 years old, so he was just a wee nipper when the unveiling took place. How was he able to cobble together all this stuff? His father, Ray Artigue, worked for the Suns and the D-backs for 16 years. He's quoted at the beginning of this article, which has more to say about the team's color scheme and also the choice of its name:

Speaking of the team's name, Joey offers the following additional information:
"Diamondbacks" was the third-favorite team name option out of four or five options. My dad swears he and Jerry Colangelo were the only people to vote for "Diamondbacks" in the initial vote on the three finalists, with the other two options receiving about four or five votes each. For some reason they kept voting and the numbers kept changing, so Colangelo became fed up and said, "That's it, I'm deciding — it's Diamondbacks. I'm gonna go call Bud."

The two favorite options of the club's other executives were Scorpions and Rattlers. In both cases, they were going to take the logo, colors, and fonts of the Scottsdale Scorpions (a fall league team) or the Arizona Rattlers (an arena football team) and rename one of those teams. Jerry owned the Rattlers, so that would have been the easier option. They even had prototype uniforms and caps made.
Finally, there's this: As you probably know, the team's inaugural white home jersey had purple pinstripes. But Joey provided a mock-up showing that it was originally supposed to have copper pinstripes: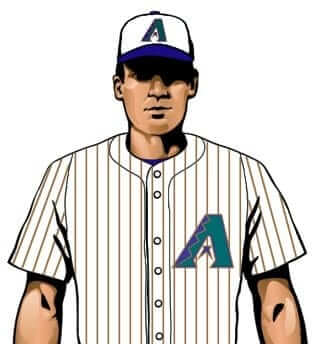 Sensational stuff all around. Big, big thanks to Joey and his father for sharing these materials with Uni Watch.
•  •  •  •  •
Books and Bobbles Raffle: When intern Garrett McGrath isn't slaving away on Uni Watch stuff, he works at the book publisher Little, Brown. He worked on The Nolan Ryan Beef & Barbecue Cookbook, which was published earlier this year, and now he has some promo items to share with the Uni Watch readership.
First up are two copies of the book signed by Ryan. And then there are 10 Ryan bobbleheads, showing him in a Mets uni:
We're going to raffle these off like so: Two randomly chosen winners will get a signed book and a bobblehead; an additional eight winners will get a bobblehead.
To enter, send an email to the raffle address with your shipping address in the body of the email by 8pm Eastern this Sunday, Oct. 12. If your entry is chosen and you did not include your shipping address, your entry will be discarded and we'll pick someone else. One entry per person. We'll announce the winners on Monday.
Let's hear it for Garrett for making this stuff available — thanks, buddy!
•  •  •  •  •
Uni Watch News Ticker
By Garrett McGrath

Baseball News: Yesterday we mentioned that Eric Hosmer's compression sleeve has a subtle stripe pattern. Reader David Dinsmore says that striping is on all of last year's Nike baseball line merchandise. … Not sure how I feel about this. A Cardinals fan wore a jersey with an "I am Darren Wilson" NOB during a Ferguson/Michael Brown protest at one of the Cards/Dodgers NLDS games. Watch the video in that article at your own risk (thanks, Paul). "¦ "During last night's NLDS game, the green screen ads behind home plate and the tape wrap on Pablo Sandoval's bat weren't getting along very well," says Brian Hesise. Great job on that animated GIF!

Pro Football News: Seahawks CB Richard Sherman accused Washington WR Pierre Garçon of pulling his hair. … "Seahawks punter Jon Ryan tweeted their Oct. 7 flight menu compared to the Orioles' menu from the day before," says Chris Flinn. "Interestingly, Delta used the old Seahawks logo colors that haven't been used since 2011." … The FXFL launches tonight. Here is a roundup of the logos and helmets. "¦ A not-very-funny installment of the comic strip "Close to Home" recently showed an NFL player wearing glasses (from Alex Allen). "¦ Kevin Kilby reports that his local CBS affiliate in North Carolina is promoting tomorrow night's Colts/Texans game with a very odd Colts logo. SportsLogos.net shows that as an "unused" logo from 2001, and a commenter on the page posted the following: "Logo created for Union Federal Banks, once the team's official bank, as well as primary sponsor of the Colts' practice facility. Only used in advertising, never intended for use as an official logo."

College Football News: Two University of Florida players had a fight, and one was injured, over a pair of cleats (thanks, Paul). … MIOB: "Temple has two Nate Smiths on the roster, Nate D. And Nate L., so they go with full names and middle initials," says Andrew Hoenig. … Here's Purdue's DayGlo helmet for their Hammer Down Cancer game this weekend. But they apparently won't have DayGlo jerseys (from Eric Johnston). … Misssissippi State will be wearing these patches for the 100th Anniversary of Scott Field (thanks, Phil). … "I caught a bit of the Iowa State versus Oklahoma State game on Oct. 4 and noticed something odd on the NOB of senior LB Drake Ferch," says David Prestwood. "His nameplate reads "Dr. Ferch" even though there is no other Ferch on the team. He is a kinesiology and health major, so maybe he'll get that MD eventually. I can't recall every seeing a FNOB shortened to Dr. before — is this a first?" … This Saturday Iowa State will be wearing mono-gold! "¦ "Key from Key And Peele (a sketch show on Comedy Central) was honored at Penn State and they made him a custom jersey for Hingle McCringleberry, which is a character from a skit on their show," says Chris Flinn.

Hockey News: Ring Watch: The Los Angeles Kings received their Stanley Cup championship rings yesterday (from Brian Smith). Lots of diamonds. … Penguins netminder Marc-Andre Fluery wore yellow pads and a new mask, which is a tribute and looks similar to the one Tom Barrasso used to wear (thanks, Phil).

Soccer News: Cool project from reader Denis Hurley, who's launched a new blog called The Numbers Game, which will be focusing on uniform numbers worn in soccer. Good stuff.

NBA News: With the Nets playing the Maccabi Tel Aviv team last night, some anti-Israel protestors showed up, including someone in a Nets jersey with a "Palestine" NOB (thanks, Phil).

College Hoops News: New uniforms for Weber State basketball team confirmed in media day photo (thanks, Phil). … New uniforms for the Elon University men's and women's teams.

Grab Bag: Interesting lists: The Forbes Fab 40 consists of the 10 most valuable sports brands in each of four categories — businesses, events, teams and athletes — and quantifies the earning power of each brand relative to its competitors (from Tommy Turner). … "On a recent episode of Antiques Roadshow some guy had a military/athletic calendar with gorgeous art from 1919 made by an early version of Wilson Sporting Goods," says Sean Clancy. "The expert, Nicholas D. Lowry "" one of my faves "" also talks about Wilson's entry into sporting goods as a way to manufacture leftover slaughterhouse, umm, innards or something." … DIY potential: "These vintage style jerseys from Orvis are just begging for a Uni Watcher DIY project," says Jimmy Lonetti. … Paul covered Qalo wedding rings last year and reader Blake Pass saw that a member of Ryan Newman's NASCAR pit crew name Cruz Gonzalez also wears one. "¦ New logo, apparently, for the University of Portland. "That's taken from the West Coast Conference store, so it should be legit," says Kenny Ocker. "¦ "The Red Bull-sponsored touring car team will have a one-off Royal Australian Air Force livery for this Sunday's Bathurst 1000 touring car race," says Graham Clayton.