I you're a fan of mono-black on the gridiron (or anywhere else, I suppose), yesterday was a very good day. Let's start at Northwestern, where the Wildcats unveiled a new "gothic" costume that'll be worn on Oct. 18 against Nebraska (click photos to enlarge):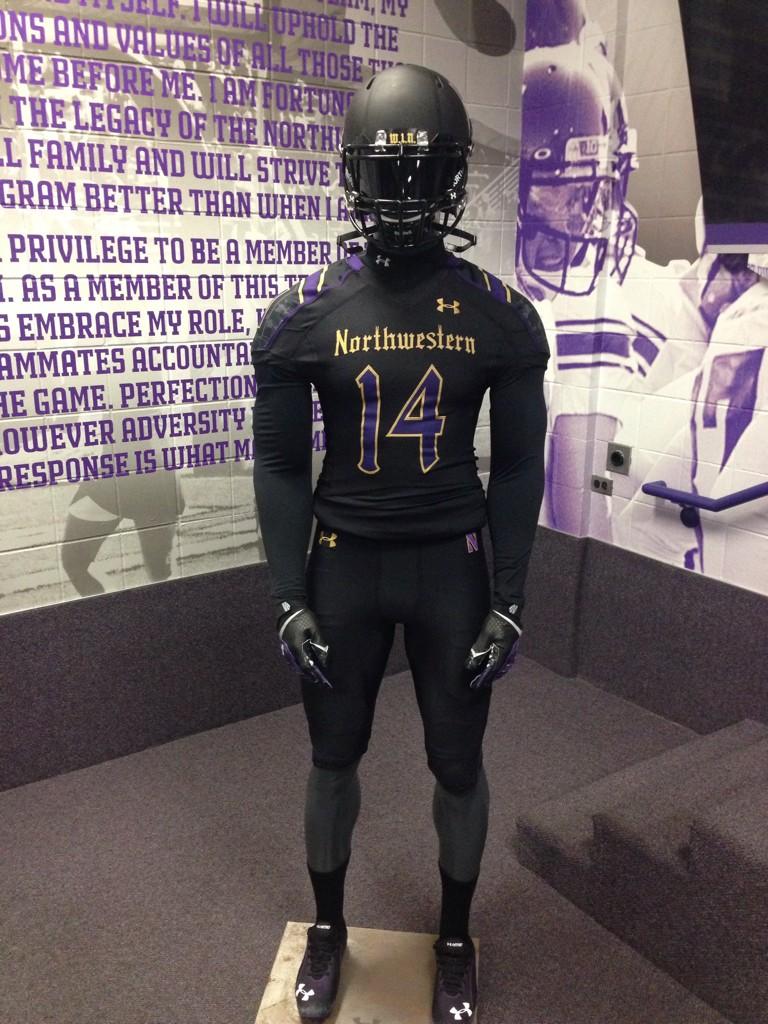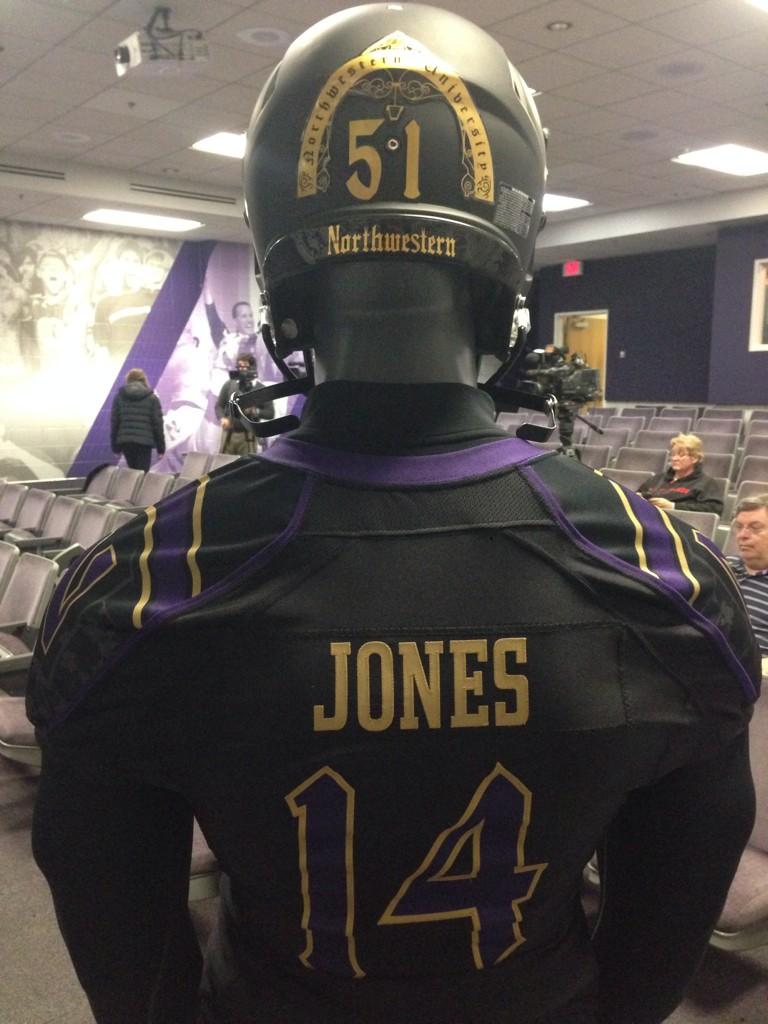 A few thoughts:
• Hilarious that they're calling this "gothic." Anyone who's ever spent five minutes in a high school knows that goths can't stand sports and especially can't stand football.
• What's with the standard NOB lettering font? Doesn't that undercut the whole design?
• No word yet on whether the players will come out of the tunnel on horseback while carrying Under Armour-branded jousting lances, but I'm sure Kevin Plank's crew is working on that.
• The arch design on the back of the helmet is a shout-out to the archway at the campus's main entrance. Storytelling!
• The "W.I.N." on the nose bumper stands for "What's Important Now," which is problematic on two levels: (1) Everyone knows what's important now for any college football player at any given moment is getting laid, period. (2) Sorry, but the use of "W.I.N." as an acronym was officially retired when the whole country got finished laughing at this. Storytelling!
• What is Northwestern famous for again? Oh, right — Northwestern stripes. But hey, why bother to include that on a uni design when you can create a comic book fantasy about Sir Lancelot or whatever? Check that — those are indeed Northwestern stripes on the shoulders. Looks sort of like an afterthought.
So that's our mono-black design news for the college ranks. Turning now to the NFL, there was some interesting news out o Philadelphia, where the Eagles announced that they'd be wearing their black alternate jerseys this Sunday night against the Giants. But according to Philly linebacker Connor Barwin, who did a radio interview yesterday, the Iggles won't just be wearing black above the waist. They'll also be wearing black pants.
The key quote from Barwin:
We will be wearing all black, for the first time ever, I think. We've always worn black jerseys with white pants, but we will be in all black, which is going to be very cool for Sunday night.
Actually, Barwin is mistaken on one point: The Eagles haven't always paired the black jersey with the white pants. Back in 2003 and '04, they went black over green.
Ah, but as we all know, green is a very problematic color for the Eagles and Nike this season. In fact, according to this item, the Eagles probably won't be wearing their green jerseys until Week 10. Oh, but a brand-new set of black pants? Yeah, I'm pretty sure Nike knows how to manufacture anything in that color, no problem.
•  •  •  •  •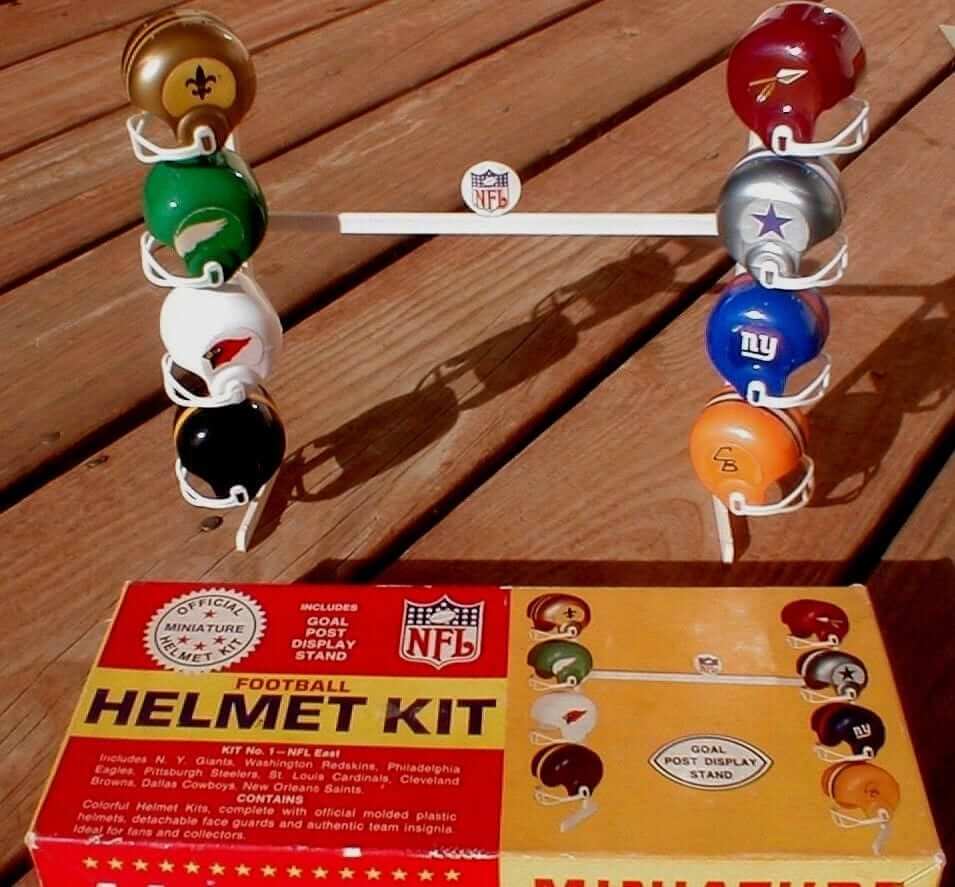 Click to enlarge
Collector's Corner
By Brinke Guthrie
Whoa, check out these 1960s NFL goalpost helmet kits! They have the old-style goalposts, and the boxes look to be in perfect shape. Two different auctions from the same seller — here's Kit #1 (with the Browns' "CB" logo) and Kit #2.
Those are tough acts to follow, but here are the rest of this week's eBay picks:
• Even though I live in the land of In & Out, I still fondly recall going to Frisch's Big Boy. So does reader Dennis Jones, who sent in the listing for this Chelsea Big Boy softball jersey.
• Look at the great cover artwork on this 1958 Cards at Cubs scorecard, signed by Mr. Cub Ernie Banks and others.
• Classic NHL team logos on this pair of 1970s thermal mugs.
• Eagles fans, here's one of the 1970s helmet plaques with the green wings on white helmet treatment. Reminds me of Mel Tom and Pete Liske.
• This 1960s Yankees bobblehead is in pretty good shape considering its age. He's in better shape than I am!
• Is this late-1960s/early-1970s Chicago Bears poster cool, or what?
• Here's a 1970s NFL Thermos. But why didn't they print those helmets in full color?
• These vintage Seattle Pilots pennants have lasted a lot longer than the team did.
• Nice-looking 1969 NFL uniform mini-poster!
• Here's one of those cool copper 1960s NFL logo plaques. That one's for the KC Chiefs. Speaking of which, I had this Chiefs poster back in the day. Bought it solely because I liked the graphics, not the team.
The Swingin' Friar decorates this 1970s Padres/7-Up promo thermal cup.
•  •  •  •  •

Baseball News: Royals speedster Jarrod Dyson has "Zoom" shaved into his hair. "¦ Speaking of the Royals, Grady Harmon notes that Eric Hosmer's compression sleeve has a subtle stripe pattern. "¦ Here's the towel the Nats gave out during their home playoff games a few days ago (from Tommy Turner, who appears to have quite the Nats collection). "¦ Tristan Ridgeway plans to dress up as Kirk Gibson for Halloween. "¦ Unfortunate typo last night on the Busch Stadium scoreboard (thanks, Phil). "¦ In the past we've noted that Cardinals OF Jon Jay has worn argyle socks under his uni pants. He now appears to have switched to a groovy stripe pattern (from Scott B).

NFL/CFL News: Shame on me for not mentioning yesterday that the Titans added a "2" memorial decal for Rob Bironas on Sunday. Super-duper close-up here (thanks to Mako Mameli for setting me straight). … Officiating crews were all wearing pink ribbon patches on the backs of their caps on Sunday — except for back judge Greg Wilson, who was working the Bears/Panthers game and had the ribbon patch on the side, not on the back (good spot by Jamie Uthe). … Hmmm, is that a personal logo on Antonio Brown's wristband? "Most like his 'first down' pose," says Michael Korczynski). "¦ Love the sleeve stripes worn by the 1972 BC Lions (good to hear from you, Ricko). "¦ Visiting QBs who play in Seattle often tape up their earholes to help block out the crowd noise. Seattle QB Russell Wilson appears to have returned the favor last night in Washington (from Will Edge). "¦ Don't recall if we've mentioned this before, but Washington QB Kirk Cousins appears to be wearing one of those Qalo wedding bands (good spot by Chris Flinn). "¦ Speaking of Cousins, they mistakenly showed him — or showed someone — wearing No. 12 during last night's postgame show (from Travis DeMarco). "¦ As noted yesterday, the league has banned any public use of non-Bose headphones, but that didn't stop Seahawks DB Richard Sherman from wearing Beats prior to last night's game. Michael Bennett also wore Beats, and Marshawn Lynch wore Monsters (all of this from Aaron McHargue — great work).

College Football News: In case you missed it in Sunday's post: Georgia's captaincy patches, which had changed from white to black the previous two weekends, changed back to white for Saturday's game against Vanderbilt (from Britton Thomas). … Super-cool throwback helmet this weekend for UTEP. Looks like the facemask and neck bumper are cream, or vintage white, or whatever we're calling it this week. Have we seen that color used for those uni elements before? … Here's this weekend's homecoming uni for Georgia Southern. "They're trendy but also have many of Georgia Southern's traditions represented," says Ryan Minter. "¦ Not sure what this will entail, but Purdue will be wearing "neon yellow" this weekend. "Not looking forward to it," says Michael Burnett.

Hockey News: Derek Jeter and Frank Sinatra are featured on Cédrick Desjardins's new mask (thanks, Phil). … Reprinted from yesterday's comments: Some Flyers players wore striped socks to support the local Ronald McDonald House. "¦ In an unusual move, the Islanders are bringing back a throwback of their infamous fisherman jersey — but only for pregame warm-ups. They'll also wear their original 1972-73 uni for their final game at Nassau Coliseum next April. "¦ Speaking of the Isles, their new alternate uni — which was last season's Stadium Series uni — is in EA NHL 15, but it still has the Stadium Series patch.

NBA News: The NBA preseason began last night, and it appears that the referees have new uniforms. Looks like a significant upgrade (thanks, Phil).

Grab Bag: New red/black college hoops uniforms, with that weird color-blocking on the shorts, or Lousiville (thanks, Phil). … More than four decades after the fact, blood-stained guard and inmate uniforms from the 1971 Attica prison uprising are being returned to victims' families. … UNC's alumni association is asking its members to vote on their preferred shade of Carolina blue. "But everyone knows Carolina blue is Pantone 542, says Yusuke Toyoda. … Cyclist Michal Kwiatkowski debuted his world road race champ's jersey at Il Lomabardia on Sunday (from Sean Clancy). "¦ Blackout game tomorrow for Purdue volleyball (from Michael Burnett). "¦ I bet you didn't know this: October, in addition to being Pink-Saturation Month, is also Spina Bifida Awareness Month. Really! So a high school team in Paintsville, Kentucky, is wearing yellow socks because their coach's son was born with the condition. Yellowtober! (From Josh Claywell.) "¦ 75 years ago yesterday, these kids played football in Manhattan. Such a great photo! (Big thanks to Bruce Menard.) "¦ New logo for the Aussie football team the Western Bulldogs. "This photo also shows a new jumper design, but I'm not sure if it will be a training top or clash jumper for next year," says Leo Strawn Jr.