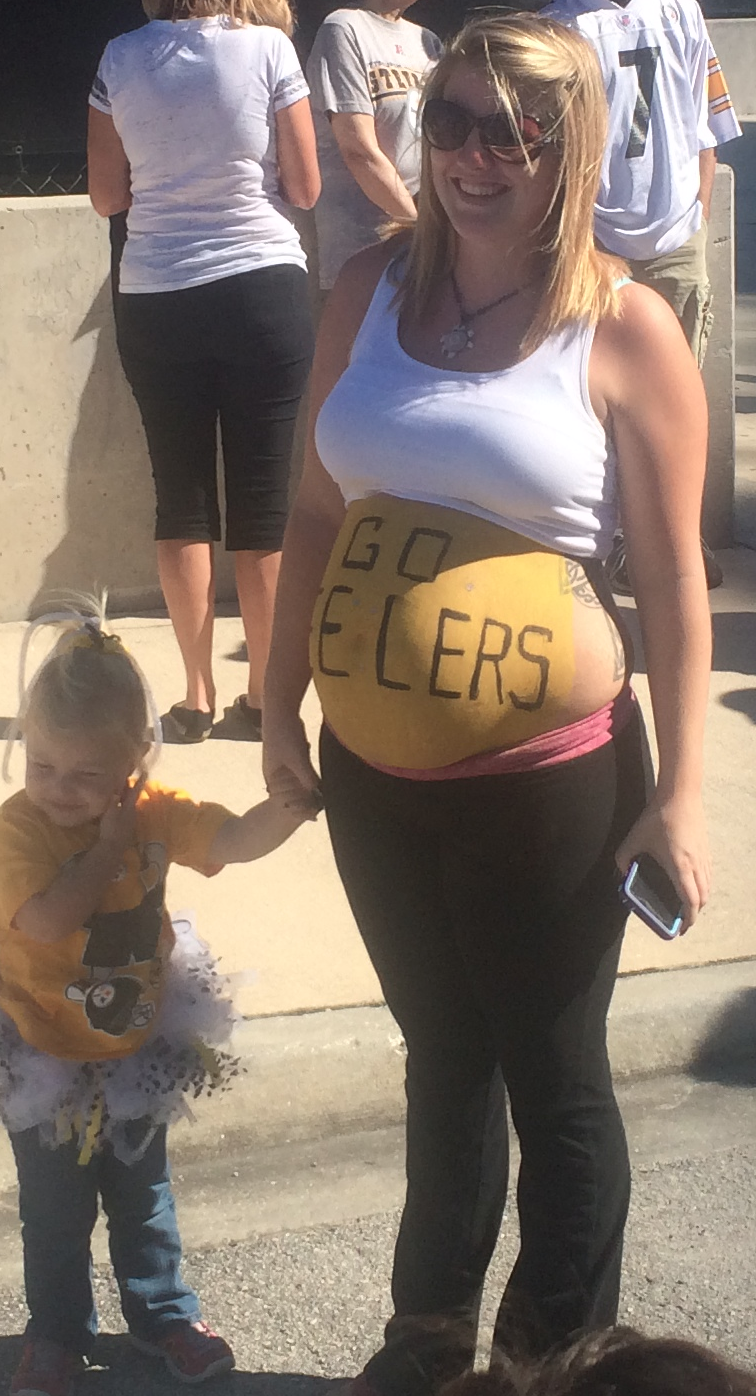 We've all seen face painters, but how about pregnant belly painters? That was the scene yesterday in Jacksonville, where a Pittsburgh fan with a child in tow and a bun in the oven showed up for the Jags/Steelers game. Click the photo at right to enlarge, if you dare.
But hey, at least the expectant mother wasn't wearing pink. Just about everyone else was wearing it yesterday. Here's a slideshow of some of the Pinktober accessories. Bonus points to the Colts' mascot for wearing a pink horseshoe.
In other notes from around the league yesterday:
• Several readers have noted that the Nikelace on some (but not all) Cowboys jerseys has been looking very blue in recent weeks. Additional examples here and in the background here.
• Buccaneers linebacker Lavonte David's left-side helmet logo was coming loose and then suffered a tear.
• Broncos wide receiver Julius Thomas had a minor jersey tear.
• Another player with a jersey tear in a similar spot: Pats quarterback Tom Brady. Looks like they did a bit of repair to the silver shoulder stripe, too.
• Here's a weird one: A table on the Jets' sideline had a box of something — not sure what — featuring the team's old SST logo, which hasn't been used since 1997.
• With the Patriots playing the Bengals, the Pats' cheerleaders showed their support for Cincy defensive lineman Devon Still, whose daughter Leah is fighting cancer, by wearing his jersey. Still himself wore a "Leah Strong" nose strip.
• Speaking of the Pats, their defensive line sure is keeping up with the Joneses.
• The Ravens were cooling off with a Colts-branded sideline fan.
• Speaking of fans, I guess Big Fogg doesn't have a corporate deal with the league, because its logo on the Chargers' sideline misting fan was covered up. Douchebags.
• Sidelines now have canopied areas where players can read their iPads Surface tablets without glare.
• The scoreboard at EverBank Field in Jacksonville featured the preggers chick going into labor when Big Ben tossed a touchdown pass an infinite regression.
• Another item from that Jags/Steelers game: CBS listed the score as "Final" in the middle of the first quarter.
•  Yet another item from that game: In a move that turned out to be controversial, the Jags' live mascot mocked the Steelers' Terrible Towel with an Ebola reference.
• Thanks to Nike's continuing incompetence, the Eagles' green jerseys still aren't ready, so they once again had to wear white at home.
• Other teams wearing white at home: the Jaguars, Titans, Saints, Panthers, and, of course, Cowboys.
(My thanks to all contributors, including Matt Barnett, Dan Budak, Steve Dodell, Jeff Flynn, Stephen Hayes, Wayne Koehler, Mike Lindquist, Jon Solomonson, and Tom Van de Kieft.)
• • • • •
Hard sell: After the first batch of Uni Watch 15th-anniversary patches quickly sold out, I ordered a big second batch, figuring it'd move as briskly as the first batch had. Instead: crickets, mostly. Come on, people — the patches are really cool, and are easily my favorite Uni Watch promo item ever. Reasonably priced, too. Get yours here so I'm not left sitting on a big pile of them, okay? Okay.
Also available: 15th anniversary stickers and T-shirts.
End of sales pitch. Thanks for listening.
• • • • •

NFL News: Thanks to the NFL's new deal with Bose, players can no longer be seen wearing Beats By Dre headphones. Douchebags. "¦ "My league just adopted a pretty novel 'trophy' for the league
champion: a customized, wearable jersey based on the champion's team name and logo," says Justin Cliburn. "We're making it retroactive so our previous managers get one, too. Here's the post announcing it with examples of two previous jerseys. As the other champions' jerseys are delivered, I'll send photos."

College Football News: Is San Diego State getting new helmets? If so, let's hope it's not these (thanks, Phil). "¦ Auburn CB Trovon Reed wore a long-sleeve orange undershirt with last year's BCS championship patch against LSU last weekend (Phil again). "¦ Arizona State's BFBS uni will debut on Nov. 8 against Notre Dame. "¦ Modest proposal from Pete Woychick: "If UCLA can't, or won't, get 'UCLA stripes' right on its football uniforms, I propose the term be redefined until such time as said stripes are restored to their proper shape and orientation. Henceforth, a 'UCLA (Unsightly Curvi-Linear Aberration) stripe' shall refer to any misplaced, short, truncated, shriveled, or otherwise unsatisfying uniform stripe, especially one that has replaced a superior option. Renaming of the stripe pattern that completely surrounds the shoulder and armhole [i.e., the old UCLA stripe] to commence immediately; nominations gratefully accepted."

Hockey News: The Erie Otters — a major junior team in the Ontario Hockey League — "honor" their player of the game by having him wear a really garish suit (from Mark Coale). … Speaking of which: "major junior" has always struck me as one of those inherently contradictory terms, like "jumbo shrimp."

Soccer News: New Volkswagen-sponsored kits for AC Fiorentina. "Volkswagon is at least their third different auto sponsor in the last 15 years, following Toyota and Mazda," says Bryan Justman.

Grab Bag: A basketball player a Modesto Junior College had a backwards uni number during a preseason jamboree the other day (from Eric Sun). … Pinktober is also in full swing in the NHRA. It's a little hard to see in that photo, but Antron Brown and Jack Beckman are racing this week with the names of people who have defeated breast cancer on the sides of their cars (from David Firestone, who, incidentally, hates commemorative patches).