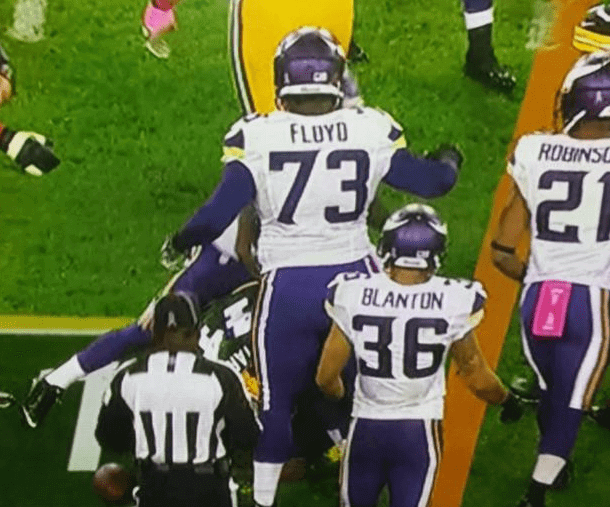 Screen shot by Treg Harris
We've seen several NFL officials wearing the wrong number font over the past season and a half. But as you can see above, things were even odder in last night's Vikings/Packers game, as one of the officials — I'm told it was the line judge — was missing his number and position designation. Come on, guys, get it together.
As you can also see in that photo, Pinktober officially got underway last night. There was the usual assortment of pink towels, gloves, shoes, wristbands, helmet decals, and all the rest. Plenty of photos here.
Meanwhile: New ESPN column today — the annual NHL season preview. Enjoy.
•  •  •  •  •

'Skins Watch: Here's first-person account of a Native American who took part in The Daily Show's recent segment on the 'Skins. Compelling reading — highly recommended. "¦ At least one FCC commissioner doesn't think the agency should ban the 'Skins name from the public airwaves. "¦ If you think the 'Skins name is bad, check out Wynnewood High School in Oklahoma, whose teams are called the Savages. And just for good measure, they've gone with TNOB. "I believe there only about 13 sports teams at any level in the entire nation that still use this team name," says Chance Plett, whose wife teaches and coaches at the school. "¦ The Packers' team president says NFL owners have discussed the 'Skins name, although it hasn't been as high a priority as, say, dealing with concussions and domestic violence (from Tommy Turner). "¦ There will be an anti-'Skins rally in Minnesota on Nov. 2, prior to the Vikings/'Skins game later that day (thanks, Phil).

Baseball News: There's been some chatter about the Mets making a minor uni adjustment for next season. I know what it is and am not allowed to talk about it, but I can confirm that it's genuinely minor and not a big deal. "¦ Speaking of the Mets, this is pretty good. Well, except for the drop shadows. "¦ Reprinted from yesterday's comments: Good look at the logo histories of this year's playoff teams. "¦ Two years ago, the Nationals distributed red rally towels for the postseason. This year they're switching to white (from Tommy Turner). "¦ For reasons that aren't clear, at least to me, Bryce Harper was wearing a football helmet yesterday, complete with an MLB logo on the nose bumper. "¦ Did you know the Padres drafted Johnny Manziel in the 28th round earlier this year, as a publicity stunt? They did — and then they started selling Manziel jerseys (thanks, Phil).

NFL News: Several readers have noted that Saturday Night Live mixed and matched the old and new NFL logos during a skit last weekend. … A pair of old-ish Packers fans apparently still get frisky! Reminds me of the bathroom doors at Hot Doug's in Chicago. "¦ Ever wonder what it'd be like to assign emoji to every NFL team? Me neither, but here it is anyway (from Kary Klismet). "¦ No photo, but the Titans are adding a memorial decal for Rob Brionas (thanks, Phil). "¦ Several problems with this graphic that ran on the NFL Network's website yesterday. For starters, the Vikes didn't wear white pants last night, but we'll give them a pass on that — maybe they didn't know in advance. The bigger problem is that the striping on the pants is wrong. Also, the Nike logo on the sleeve is facing the wrong way (from Joshua Kramer).

College Football News: Oregon went full-on Pinktober last night. Coach Mark Helfrich even wore a pink belt. Lots of additional photos here. "¦ Houston did the stars/stripes thing last night. "¦ Blackout on tap for Rutgers but no SOB (which was missing a period at the end anyway). "¦ Harvard RB Andrew Casten wears an Eric Dickerson-style neck roll (from Matt Steinmetz). … Interesting detail from last weekend: Georgia changed the color its captaincy "C" from white to black. "Seems like a peculiar time to make the switch," says Britton Thomas. … Mississippi State will wear the centennial uniforms this weekend (thanks, Phil). … New helmets this weekend for Virginia. … "Just heard a radio commercial on ESPN 980, which is owned by Dan Snyder, for the Notre Dame vs. Navy game on Nov. 1 at FedEx Field," says Bryan Firvida "Dring the commercial they say 'Come see both teams sporting their new Under Armour uniforms!' FedEx Field is not the easiest to get to — Metro is over a mile away and traffic and parking are always a mess — so I guess they're pulling out all the stops to get people to go to the game." "¦ Here are this weekend's outfits for Toledo, Minnesota Duluth, and Illinois.

NBA News: New court design for the Pelicans (thanks, Phil). … The Nuggets are unhappy about their live mascot making an unauthorized appearance at a Republican Party rally (from Yusuke Toyoda).

College Hoops News: New uniforms for Kansas and Florida, the latter of which has an alligator sweatback pattern. "¦ New uniform font for Iowa.

Soccer News: A novel approach to Pinktober: Two Seattle Sounders players wore pink tutus over their uniforms (from Yusuke Toyoda). … Also from Yusuke: "Indy Eleven hasn't been great on the field, but they've been putting out some nice gameday posters." And one more from Yusuke: The Washington Spirit are hold a design contest for scarves that will be given to season ticket holders. "¦ "The Melbourne Knights wanted to play in their Football Federation Australia Cup round of 32 match against Brisbane Olympic wearing a shirt bearing the name of their major supporter – Melbourne Croatia Soccer Club," says Graham Clayton. "Football Federation Australia refused the Knights' application, based on their National Club Identity Policy, which restricts new clubs from using languages other than English and symbols with 'any ethnic, national, political, racial or religious connotations either in isolation or combination' in their names or logos, as well as any existing clubs that are seeking to change their names or logos."

Grab Bag: Big Boi from Outkast wore an assortment of uni-related garb during the duo's recent shows in Atlanta (from Britton Thomas). … I like these Northwestern-striped beer mitts (from Jimmy Lonetti). … Rugby stripe-o-rama! That's Bath on the left and Northampton Saints carrying the ball (big thanks to Eric Bangeman). … "Australian rugby player Kurtley Beale is in trouble because he was asked to change from a T-shirt into a team polo, which led to an argument with team management," says Caleb Borchers. "No word yet if this was about sponsors and branding, or just team protocol." "¦ Saw this chick on the subway last night wearing boots that had shoelaces, buckles, and zippers. What, no snaps? "¦ Happy Yom Kippur to all who are observing tonight.