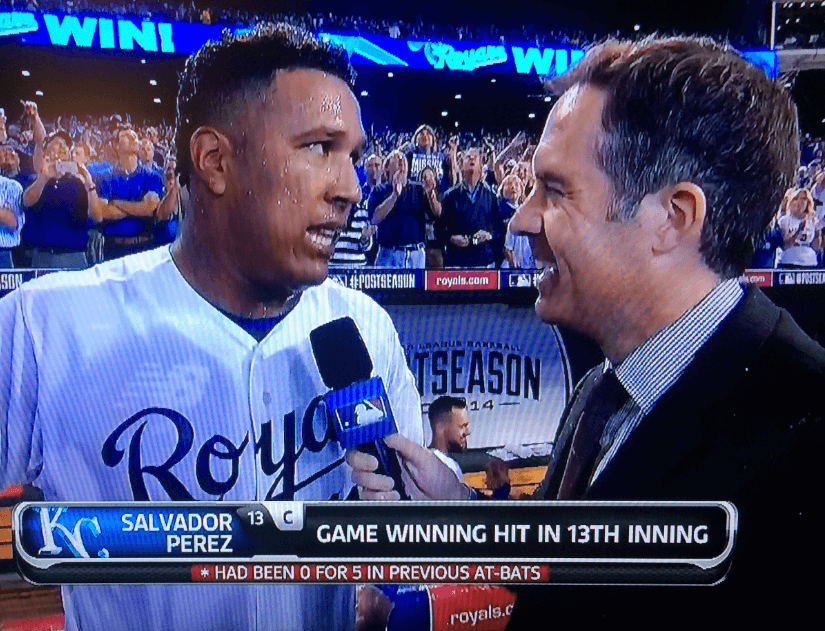 Screen shot by Seth Moorman; for all photos today, click to enlarge
Arguably the most uni-notable moment in last night's American League play-in game came during the postgame interview with Royals catcher and walk-off hero Salvador Perez, when we all got a clear look at the New Balance logo on his undershirt. That's the thing with these Cool Base fabrics — they're so diaphanous that they're sometimes translucent. Did someone from Nike, which has MLB's base-layer contract, have a conniption upon seeing the NB logo peeking through Perez's jersey? One can only hope.
This also makes the second day in a row that New Balance has been mentioned here on the site (they showed up in the college football section of yesterday's Ticker) — probably a record.
A few other notes from last night's ballgame:
• Both teams wore "Postseason" patches on their sleeves and caps, along with a decal on their helmets: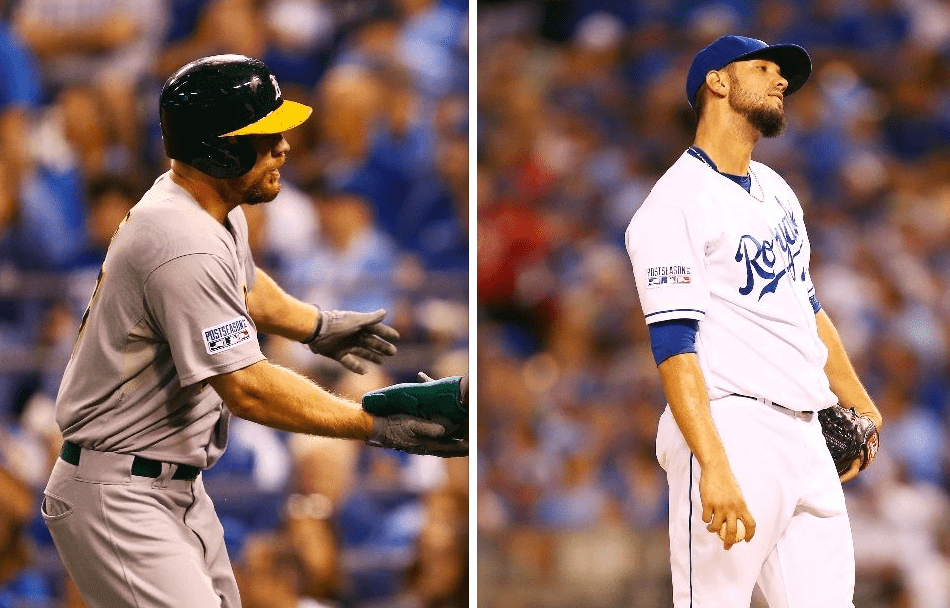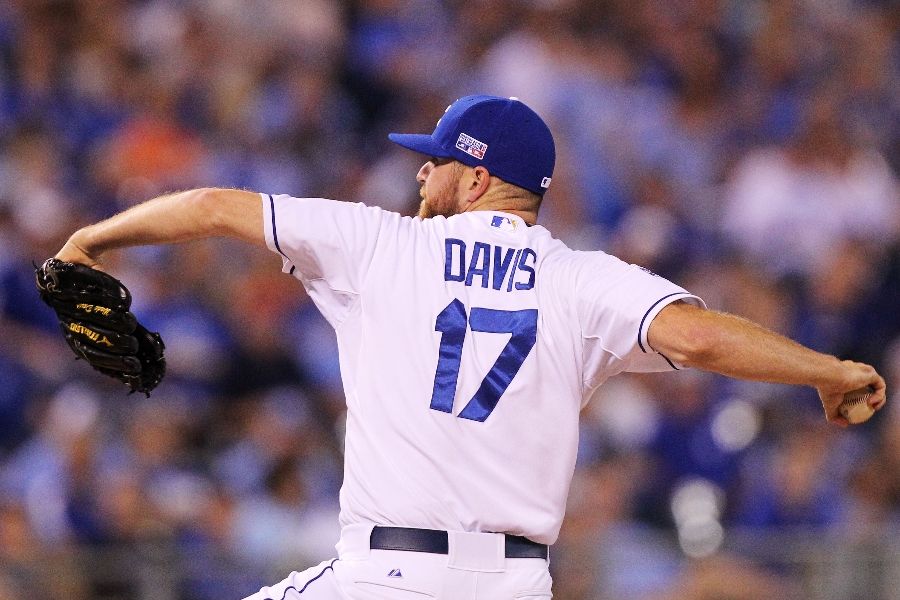 • The "Postseason" branding also appeared on the field: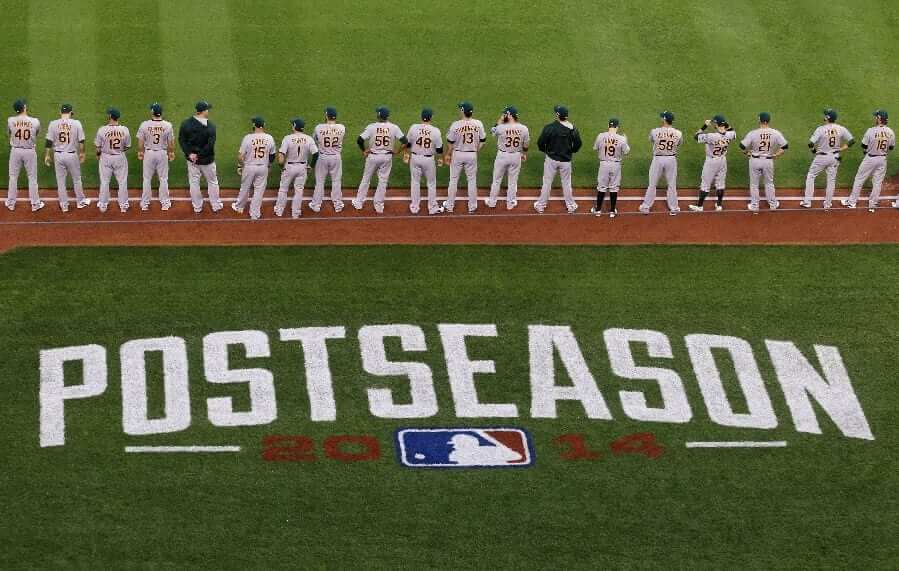 • James Shields honored former Rays coach Don Zimmer by scratching "Zim" into the back of the mound, which I'm now told he's been doing ever since Zimmer died. Obviously, Shields played for the Rays for many years before being traded to the Royals, but it's still odd to see a player from one team memorializing a coach from another team, especially on his team's home mound: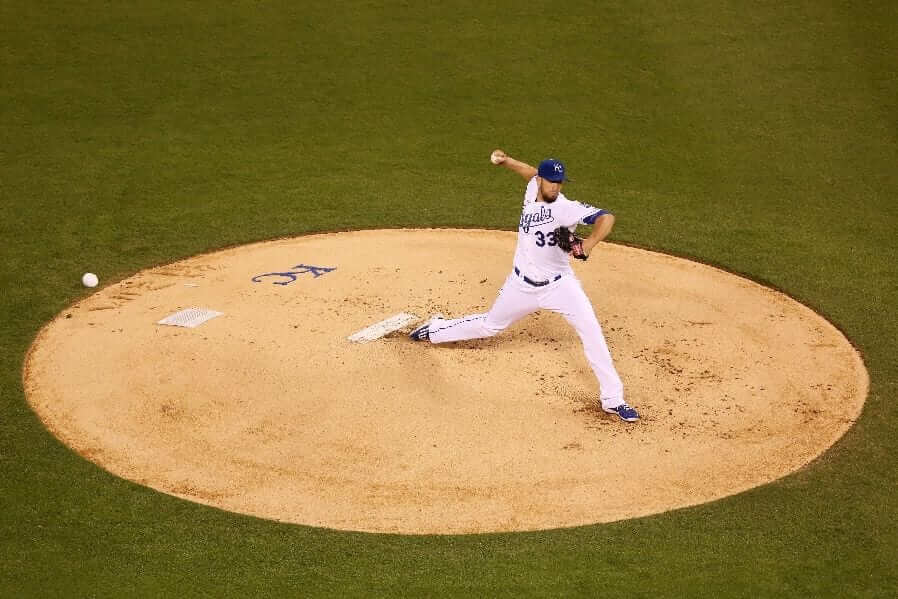 •  •  •  •  •

Baseball News: The Angels gave Big Bang Theory actress Melissa Rauch a jersey. Granted, she's small, but look at the size of that uni number (from Jonathan Daniel). "¦ Carl Yastrzemski's son, Mike, played for Florida State in the early 1980s and had a "Yaz" nickNOB (from Jared Wheeler).

College and High School Football News: USC's helmets this Saturday will reportedly have a shinier finish (thanks, Phil). "¦ Also from Phil: Syracuse is planning an orange-out for the Louisville game. … Kudos to the U. o Virginia, which is telling its fans to wear whatever they like as long as they're loud. Such a rational, reasonable concept — it obviously has no chance of catching on (from Tommy Turner). … Here are Oregon's Pinktober unis for tomorrow's game against Arizona. "¦ "Salt Lake City has a very high population of Pacific Islanders compared to the rest of the United States," says Dom Lewis. "That's why Taylorsville High School in Taylorsville, a Salt Lake City suburb, has a Polynesian pant stripe similar to what the University of Hawaii used to have." "¦ I think we've seen Dartmouth's new alternate helmet already, but here's a much closer look. "It's intended to invoke a granite feel for a team from the Granite State," explains Tris Wykes. "¦ More "U! S! A!" nonsense, this time from Houston. "¦ Very shiny shade of blue on BYU's helmet this Friday. "¦ Here's Maryland's uniform for this Saturday.

Hockey News: Islanders captain John Tavares had his number retired by his old major junior team, the Oshawa Generals. … Awesome catch by Michael Hersch, who noticed that the Red Wings have changed their helmet wordmark lettering from solid to outlined. And no, this isn't one of those preseason-only things like the Wings' NOB lettering. Last preseason the helmet lettering was solid. Same thing the year before that. "¦ Very disappointing to see that the Flyers are bringing back their ice girls. Why not just have go-go girls in cages suspended above the ice? At least that would be more honest (from A.J. Frey).

NBA News: Jeremy Lin, now with the Lakers, threw out the first pitch at Dodger Stadium last Saturday but his jersey didn't have a front number. … Reprinted from yesterday's comments: New court design for the Cavs.

College Hoops News: New uniforms for Navy, with the same stripe motif used on the Midshipmen's football uniforms (thanks, Phil). "¦ Daniel Listoe was waiting for a bus in downtown Chicago and spotted someone wearing Indiana basketball striped warm-up pants.

Soccer News: Portland soccer jerseys showed up at a girls' soccer tourney in Nicaragua. "¦ Pinktober kits for Monterrey Rayados, who play in the Liga MX.

Grab Bag: Here's a photo gallery of custom shoes that Fizik made this season for pro cyclist David Millar, who has now retired (from Sean Clancy). … "The Duggar Family of the TLC Reality series 19 Kids & Counting apparently uses 'Nike' as a code word," says Gregory Koch. "Due to the family's strict religious beliefs, the daughters will call out, 'Nike' to warn their brothers and father to avert their eyes from immodestly dressed women." "¦ New package design for Hershey's Miniatures (thanks, Brinke). "¦ Interesting article about some old grain silos in Buffalo being repainted to look like a six-pack of Labatt's. "¦ Here's a look at a Pym Technologies logo from the upcoming Ant-Man movie. "¦ New logo for LSU-Eunice athletics (from Jarrad Tauzin).