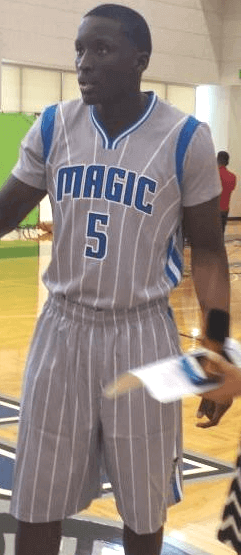 Never a dull moment in the NBA, where teams are scurrying to get their uni ducks in a row in time for the start of the preseason this weekend. Here's what went down yesterday:
1. The Magic held their media day, and photos quickly began circulating of various players wearing gray pinstriped uniform featuring, of course, sleeves. Here's some additional info, a rear-view shot, and some additional photos.
My thoughts on this one:
• Color-wise, I think this shade of gray works quite nicely with blue. One of the better gray designs I've seen, in any sport.
• I like the gusset stripes at the shoulders. Wish more of the NBA's sleeved jerseys went this route. (Of course, I'd like it even more if they used striped gusset inserts, but hey, baby steps.) But the gusset stripes have a retro feel that clashes with the modern collar design. They'd be better off going with an old-school scoop-neck collar for this one.
• The preceding compliments notwithstanding, there's exactly zero reason for this uniform to exist. But rationality hasn't played much of a role in the uni-verse for a while now. Sigh.
•  They sure are going all-in on the sleeves, eh? Remember, a buyer from a major sporting goods chain recently told me that the sleeved jerseys aren't selling well, and a lot of the players reportedly aren't in love with them either. But the league is apparently committed to the sleeves. See, that's the problem with a two-year production/retail cycle — once the wheels start turning, you can't stop them, even if you wish you could.
2. The Rockets site ClutchFans reported that the Rockets will celebrate the Lunar New Year by wearing this Chinese-lettered jersey on Feb. 21, 23, and 25: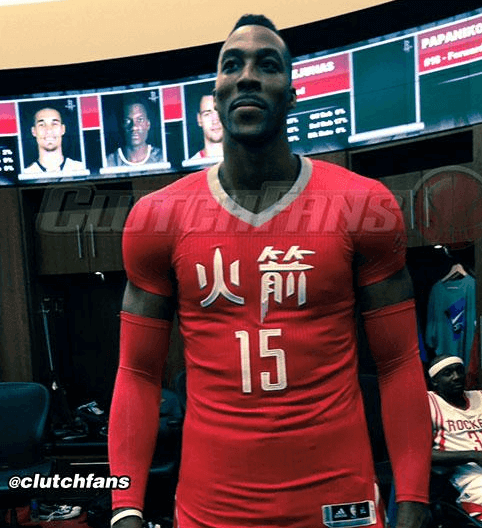 Too bad Jeremy Lin and Yao Ming don't play for the Rockets anymore, eh? Still, Houston does have a notable Chinatown, so I suppose we could file this one under ethnic outreach, like the Latin Nights jerseys. Or maybe we should just file it under "Another excuse to push the fucking sleeves."
That ClutchFans entry also mentions some uniform changes the Rockets are supposedly making for 2015-16, including news about a new alternate jersey and narrower shoulder straps on the home and road primaries.
3. Yesterday also brought our first peek at the Raptors' 20th-anniversary patch (click to slightly enlarge):
I'm not a fan of using roman numerals for anniversary patches, which always seems pompous and overblown. In this case, you know they did it just as an excuse to use Xes. The letter X — it's like the alphabet version of the color black.
•  •  •  •  •
Red menace: For only the second time in team history — or the second consecutive season, if you prefer to look at it that way — the Chiefs wore solid red last night (the first time was last year's home opener). According to coach Andy Reid's postgame presser, they went full-bloodclot because the players asked owner Clark Hunt if they could do it. But this year's red-out wasn't quite the same as last year's, as you can see here (click to enlarge):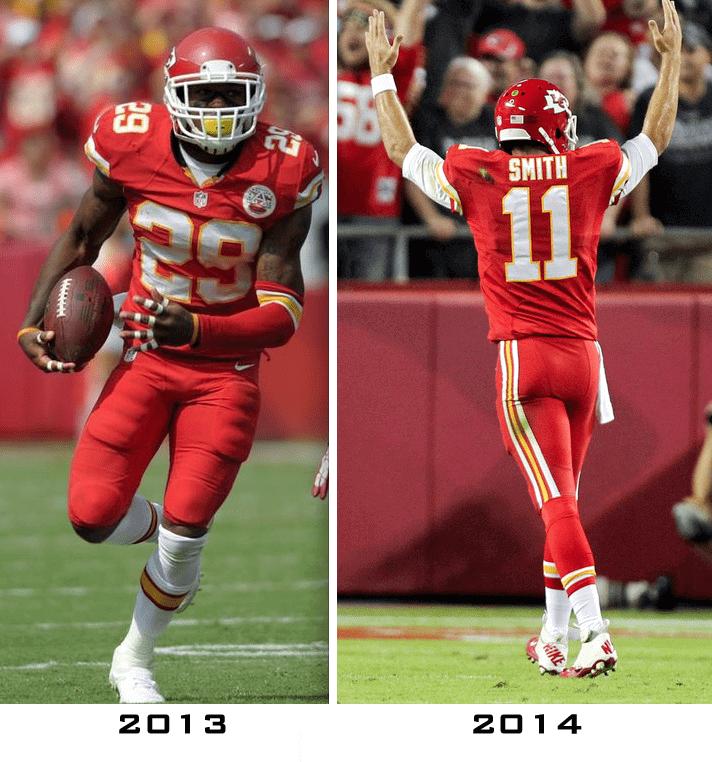 That's right — they changed their socks. Last year they wore the white socks, which are what they normally wear with the red pants; this time they switched to the red-topped socks. They normally wear those with the white pants, but I guess they wanted the red-out to be as red as possible. What, no red facemasks? (Note to Chiefs: That question was strictly rhetorical.)
• • • • •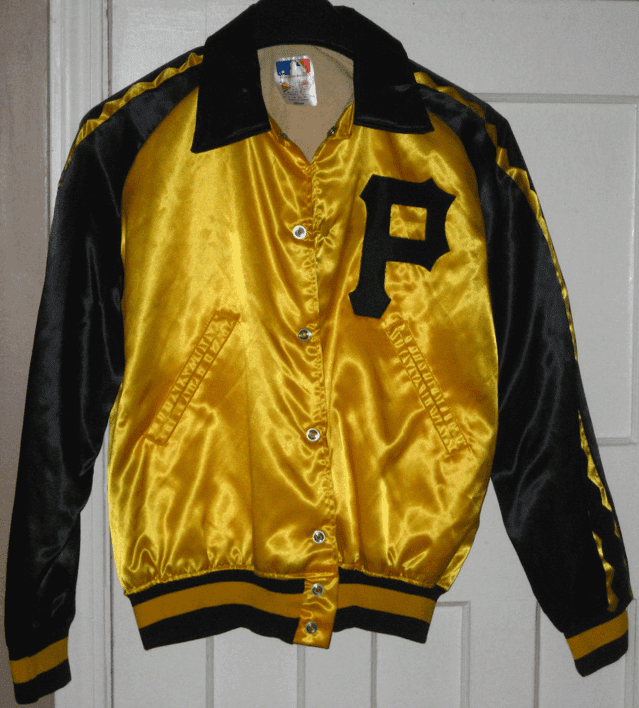 Collector's Corner
By Brinke Guthrie
The Pirates host my Giants tomorrow evening in the National League Wild Card game, and it's a pretty sure bet that none of the Buccos will be wearing this 1970s "We Are Family"-style jacket. Can't Majestic think out of the box, or must everything be from a template? (P.S. Can't forget this 1970s Pirates helmet bank, either.)
Okay, now to some other stuff:
This 1970s-1980s Browns seat cushion looks to be in good shape. So does this Cliff Engle Brownies sweater.
• Paul, you might recognize this beer coaster: Ever had a Knickerbocker beer when watching the New York Football Giants? [Knickerbocker was no longer being produced by the time I reached drinking age. But I used to collect breweriana, including coasters, so I am indeed familiar with that coaster design. "" PL]
• This decal says it was heavenly to be an Angels fan back in the day.
• Did Motorola have an NFL deal back in the 1970s? Seems so, given their logo on this NFL Koozie.
• Here's a set of 1970-1971 NHL posters, brought to you by your local Canadian Coca Cola Bottlers. Another poster from the same period: ""The Wild Bunch," from the San Diego Gulls.
• Gotta like this 1960s Packers lighter in team colors.
• The 1970s Atlanta Braves meant business! Or, at least their stickers did.
• I've heard of Nerf footballs, of course. Had plenty of 'em get waterlogged at the Terrace Park Swim Club and then tear apart. But have you ever heard of a 1970s "Itza" football?
• Here's a 1970s parade sign from the Pro Football Hall of Fame in Canton. Been there once, fantastic place to see a game.
• "LUV YA, BLUE!" Oilers fans yelled that at the TV while reaching into this 1970s Oilers ice bucket. They kinda soft-pedaled the team name, though.
• Great double-bar facemask and old school font on this 1970s Patriots thermal mug.
•  •  •  •  •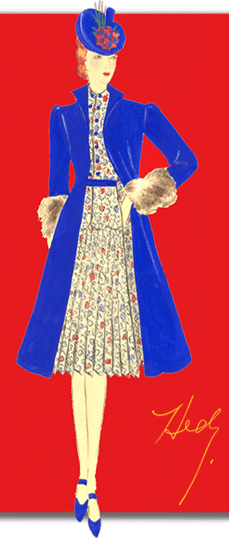 PermaRec update: A fascinating story of a dressmaker who perished in the Holocaust and whose clothing designs are then found and finally produced decades after the fact (including the one shown at right) — that's the crux of the latest entry on Permanent Record.
This is the part where I remind you to spend all your money on Uni Watch 15th-anniversary patches, stickers, and T-shirts alreeady, okay? Okay.
•  •  •  •  •
Uni Watch News Ticker
By Garrett McGrath

Baseball News: We previously mentioned that Detroit firefighters gave Tigers reliever Joe Nathan a fire helmet emblazoned with the Tigers' logo after he gave a $50,000 donation. He wore it on Sunday night to celebrate the Tigers' AL Central title (from Jeffrey Sak). … Nationals utility player Kevin Frandsen wants fans to wear nothing but red during the playoffs (from Tommy Turner). … In more Nats news: A fan was supposed to go home with the game-used jersey of Jordan Zimmerman, who pitched the first no-hitter in team history, but went home with an autographed one instead (from Chris Flinn). … Here is the logo for the 2014 MLB Japan All-Star Series (from Jeremy Brahm).

NFL News: Yesterday, we pointed out that Falcons defensive lineman Kroy Biermann has been wearing red contact lenses to cut down on glare. It seems that Buccaneers receiver Louis Murphy was also sporting a pair (from Wayne Koehler). … Can you spot all of the outdated logos on the NFL Films website? Joe Bailey spotted Dolphins, Browns (should have gray mask), Jaguars, Vikings, and Seahawks. Any others? "¦ Here's the most generic and wrong-colored Cowboys T-shirt you'll ever see. The guy wearing it is Pink Floyd guitarist David Gilmour, shown there with Paul and Linda McCartney. The three of them were attending a 1970s Led Zeppelin show (from Aaron McHargue).

College Football News: Auburn has a T-shirt launching Gatling gun, which is every bit as cool and safe as it sounds (thanks, Phil). … The University of Arizona is wearing red helmets on Thursday night (thanks, Phil). … The Indianapolis Star ranked the ten best helmets in college football (from Treg Harris). … The University of Kentucky is doing "blackout" for their game on Saturday, but that doesn't necessarily mean the team will be wearing black unis (thanks, Phil). … Georgia Tech is wearing white helmets for their whiteout game on Saturday (thanks, Phil). … "Can't think of another school that has New Balance as their uniform manufacturer, but University of Maine is sporting the brand," says Ryan Rudman. "Makes sense, because New Balance has three factories in Maine." "¦ Stars/stripes helmets upcoming for the Citadel.

Soccer News: Here's an article about the creation of Champions League logo (from Yusuke Toyoda). … Whoa — fashion designer Yohji Yamamoto has created a new pair of adidas F50's for Real Madrid's Karim Benzema (from Stephen Boyd). "¦ Beautiful sriped uniforms for Paul's alma mater, SUNY-Binghamton. [Very nice, but the purple keeper's kit is the turd in the punchbowl. "" PL] (From Benjamin Ramos.)

College Hoops News: The University of Northern Iowa has their new uniforms (thanks, Phil). … The Georgetown Hoyas posted a picture of two uniforms the team will be wearing this upcoming season. … The Western Kentucky University Hilltoppers are having a uniform fan vote (thanks, Phil). … Indiana University "" Purdue University Indianapolis (wow, that is long) posted a picture of their new court.

Grab Bag: The FIVB will be using LED nets in 2015. The LED nets can display messages, flags, logos, scores, sponsor branding, countdowns and refereeing decisions (from Jeremy Brahm). … In more volleyball news: "Check out the referee uniforms from this French volleyball match," says volleyball expert Jeremy Brahm. "Normally very plain, but the French tricolore makes in interesting." … Innovation and E-commerce have been the keys to Nike's growth (from Tommy Turner). "¦ On the other hand, here are three Nike T-shirts that Mad magazine — and maybe some Uni Watch readers — would like to see (from Paul Stave).