Today is going to be a very busy day in the uni-verse. In the NBA, the Mavericks are going to reveal have revealed their alternate uniform for 2015-16 (that's next season, not this coming season), plus another team that I can't name will be unveiling a new alternate uni. a new Pelicans alternate has leaked. Meanwhile, the Capitals are slated to reveal have revealed their uniform for this season's NHL Winter Classic.
I might do a bonus post on all of this later in the day, or maybe I'll just wait until tomorrow. For now, though, we have something completely different: a guest entry from Jack Carlson, who's going to enlighten us on the very interesting uniform history of an oft-overlooked sport. Enjoy.
An Introduction to Rowing Blazers
By Jack Carlson
Most of us have blazers hanging in our closets, but few people realize that the word "blazer" originates with the "blazing red" flannel jackets worn by a college rowing team, the Lady Margaret Boat Club. In the course of researching my new book, Rowing Blazers (Vendome Press), I actually had the pleasure of seeing the first known written use of the word "blazer" to refer to an article of clothing. It appears, in quotation marks, in an 1852 register of uniforms worn by each Cambridge college rowing club in one of the world's oldest rowing competitions, the May Bumps.
Today, for better or worse, most blazers aren't bright red, and the word has lost its strict association with rowing jackets. But the sport of rowing maintains its bright and bizarre blazer tradition, full of its own myths, rituals and anecdotes. I've spent the past four years traveling around the world to hear these stories firsthand and to photograph rowers ""- from college teams to Olympic champions -"" in their own piped, striped, trimmed and badged blazers.
Rowing blazers began as purely practical items. They were made to be worn in the boat and were among the first uniforms in college sport. Their absurd color combinations and garish stripes were designed to help spectators on distant shores tell which crew was which, and their thick wool flannel material and relaxed fit were designed to maximize warmth, comfort, and ease of motion while rowing on chilly mornings on the Thames or the Cam.
But very early in the history of the sport, rowers, like athletes in other sports and in more recent times, developed a special attachment to their gear. They began wearing their blazers on terra firma, where they served as signs of status and athletic prowess, not unlike varsity jackets and letterman sweaters.
The Henley Royal Regatta — the most prestigious rowing event in the world, currently celebrating its 175th anniversary — has helped the sport maintain its blazer tradition by enforcing a strict blazer-and-tie dress code in its spectator enclosure, thereby providing an annual five-day forum for oarsmen and -women to see and be seen in their club colors.
In many clubs, small details of the blazer have great significance among cognoscenti and serve as visual measures for what one has achieved in the sport. The Argo Rowing Club in the Netherlands, for example, uses a green blazer with pocket badge featuring a white ship, and a rower will use a needle and thread to stitch a small white wave beneath the ship each time he wins a race. If he wins a national title, he may embroider a small Dutch flag at the top of the ship's mast [click to enlarge]:
At other clubs, these signifiers are less subtle. At the Hampton School Boat Club in England, a normal rowing blazer is bright yellow with black stripes. But those who have won "the treble" in the same year (the Schools' Head of the River; the National Schools Regatta; and the Henley Royal Regatta) wear "Curtains Blazers," which are literally cut from the burlap curtains that hung in the school's Great Hall, emblazoned with rampant lions and Saxon crowns.
Rowing jackets range from the understated to the absurd, and it is difficult to say which end of the spectrum is more prestigious. The blazers worn by the top Oxford crew are plain dark blue with matching dark blue grosgrain trim. They have no pocket badge, out of respect for Oxford having the original "blue blazer." The blazers of an elite rowing society at Cambridge, on the other hand, are striped light blue, magenta, black, red, yellow and indigo. The club's ties, socks, caps, scarves, and even watchbands feature the same stripes.
A pattern I noticed while doing research for the book that might be especially interesting to Uni Watch readers (and is, undoubtedly, connected to rowing's history as one of the world's oldest collegiate sports) is the frequency with which university colors were derived from its rowing team's colors, rather than vice-versa. Harvard's crimson, for example, originates with the color of the school's rowing team, selected in 1858. The dark blue of Oxford University comes from the color worn by the university's crew in the 1829 Boat Race. Likewise, Cambridge University's duck-egg light blue was adopted from the color worn by the crew that won the 1836 Boat Race by 20 lengths. Yale's university color was green until the rowing team, which had been wearing dark blue jackets since the 1850s, prompted the university as a whole to adopt blue in 1894. And Georgetown's rowing team took blue and gray as its colors in 1876 as a sign that the northern and southern boys in the crew would be "pulling together" (a reference to the Union and Confederate uniform colors during the Civil War). The university followed suit several years later.
All images are from Rowing Blazers by Jack Carlson and are copyright Carlson Media Inc. All rights reserved.
———
Paul here. Big thanks to Jack for this highly educational entry. I'm looking forward to meeting him tonight at his book launch party, where I expect there will be plenty of photo-worthy blazers on hand. Full report to follow later this week.
•  •  •  •  •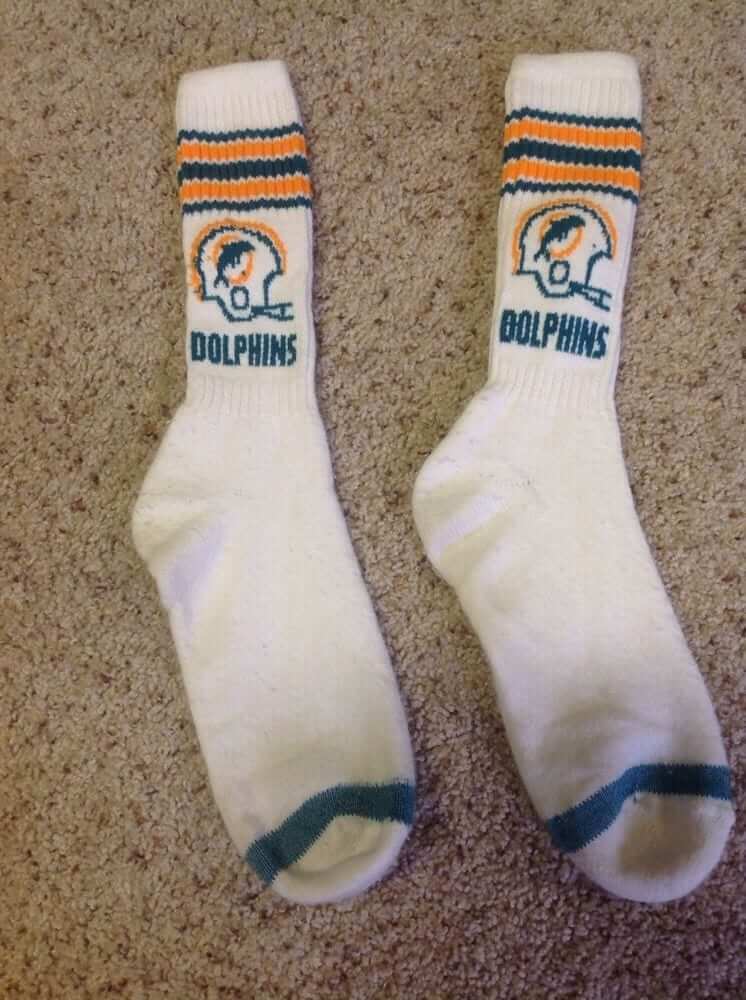 Collector's Corner
By Brinke Guthrie
Boy, are these terrific or what? Don't recall seeing a lot of logo socks back in the day. If I had, a Cowboys and Bengals pair woulda been in my sock drawer. But if you're a Dolphins fan, these socks should be just the thing.
Here's the rest of this week's picks:
• Stay in shape with this 1970s- era NHL Hockey Player's Conditioning Manual.
• Interesting set of 22 1970s NFL matchbook covers.
• And here's a lot of six 1966-1967 NFL book covers.
• Here's a set of four 1965 NFL placemats. The key deal here is, while you're eating dinner, you can learn all about offensive formations. "Mom, Brown Right Over Flip Zac 73 Chicago F Arrow X Curl — and pass the salt."
• Technigraph alert! This 1965 49ers plaque would look good on the wall at Uni Watch HQ in Brooklyn. Or at my house, come to think of it. (P.S. Here's a Falcons helmet still in the 1960s shrinkwrap!)
• Here's a Wilson promo photo of Packers RB Paul Hornung. No facemask!
• Bucco Bruce is front and center on this 1970s Tampa Bay Buccaneers kids spiral notebook.
• Hmmm, why would a Pirates bobblehead be wearing red and green?
• I like how "CHIEFS" is emblazoned on the chest of this Wilson-branded jersey. Wonder why NFL teams haven't done this? This ad says 1970s, but the uniform number suggests that it might have been made for Joe Cool's time with the team (1993-1994).
• Nice 1970s San Diego Chargers poster by Stancraft. This one ends tonight!
(The seller has more here.)
• Seen plenty of these 1960s-1970s NFL helmet banks before- but never a Broncos version.
• This auction is for a pair of 1969 caricature drawings of Cowboys greats Chuck Howley and Bob Lilly. I think the artist missed the mark.
• Staying with the Cowboys, here's a 1971 promo poster of "Bullet" Bob Hayes. No team markings on this one.
• • • • •

'Skins Watch: As you know, 'Skins Watch now runs only on Fridays, but this can't wait: The new season of South Park begins tomorrow, and they're apparently going to address the 'Skins situation. This teaser video reportedly aired during Sunday's Eagles/'Skins game, but only in the DC market:
• • • • •
E-book reminder: In case you missed it yesterday, our friends at Diversion Books are currently offering Uni Watch readers a special $2.49 price on Mike Shropshire's excellent book The Ice Bowl. Full details here.
• • • • •
Uni Watch News Ticker
A joint effort by Garrett McGrath and Paul

Baseball News: Giants CEO Larry Baer talked on a podcast about how ads on MLB uniforms could become a reality under new commissioner Rob Manfred (thanks, Phil). … The Washington Post has a great piece about the traveling secretary and clubhouse staff with plenty of uni details (from David Goodfriend). … Back in 1966, an umpiring team's uniforms were lost, so they had to wear pink Yankee Stadium ushers' shirts and Yankees caps (great find by Todd Radom).

NFL News: The NFL logo was missing from Jets safety Antonio Allen's jersey last night (from Matt Harris and Ross Hazlett). "¦ Someone at Sunday's Bills game was wearing OJ Simpson "Guilty" NOB jersey (from Brady Phelps). … Teddy Bridgewater switched from white gloves in the first half to black gloves in the second on Sunday (from Wesley Eustis). … The 1964 Dr. Pepper Bottler Meetings program featured a beautiful cover photo of an old Cowboys/Steelers game (thanks, Phil). "¦ As you know, the Chargers have a yellow stripe on their socks. But Malcolm Floyd has two yellow stripes — one high and one low (from Jared Buccola). "¦ Bears LB Jonathan Bostic wears No. 57. But is the 7 bigger than the 5? Sure looks that way (from Frank Mercogliano).

College Football News: The University of Louisville unveiled a gray and red uniform that they will be wearing at home against Florida State on Oct. 30 (thanks, Brinke). … Jameis Winston coming out in his full uniform for warm-ups on Saturday was a "miscommunication," according to Florida State head coach Jimbo Fisher. … "I noticed during last Saturday's Michigan/Utah game that when Utah QB Travis Wilson went down with an injury in the second quarter, one of the Utah athletic trainers was wearing a fanny pack with the Fiesta Bowl logo," says Sean Lewis. "Utah has only appeared in the Fiesta Bowl one time (2005). I won't go as far to suggest that the fanny pack was from that trip, but I can't possibly think of another reason why a trainer would have something like that." … Nebraska will be wearing those "Red Rising" unis Saturday night against Illinois. … 1968 throwbacks on tap this weekend for Virginia (thanks, Phil). … With Arizona State slated to do the blackout thing this weekend, here's a look back at previous ASU blackout games (Phil again). "¦ Here's a good look at Navy's 1963 "Beat Army" helmets, which also had helmet NOBs (from Erkki Corpuz).

Hockey News: Here's a view of the All-Star Game patch on the Blue Jackets' jersey. … The Calgary Hitmen wore their Bret Hart-inspired sweaters on Saturday (from Mike Styczen). … Great story from Graham Clayton, who writes: "In 1995 Sweden issued a stamp commemorating the country's victory over Canada in the Gold Medal game at the 1994 Winter Olympics in Lillehammer, Norway. The stamp shows Peter Forsberg scoring against Canadian goalie Corey Hirsch. While Forsberg gave his permission for his image to feature on the stamp, Hirsch declined. Stamp designer Lars Sjööblom got around this by changing Hirsch's uniform from red to blue and changing his number from 1 to 11."

NBA News: A shot from a preseason photo shoot reveals that the Hawks have changed their chest insignia from the team name to the city name. As you can see, they've also removed the secondary logo on the right leg of the shorts, added the Pac-Man logo to the left leg, and moved the NBA logo from the left leg the upper-right thigh. (And of course they've also moved the NBA logo on the jersey from the front to the back, but that's a league-wide thing.)

College Hoops News: The North Carolina State Wolfpack unveiled their new men's basketball uniforms yesterday (thanks, Phil). … The Siena College Saints have new uniforms for the upcoming season as well. Look at those shorts! … Western Kentucky is asking for fan input on an alternate jersey design (thanks, Phil).

Grab Bag: "This past weekend I had the pleasure of being in Wisconsin," says reader George Nikas. "I saw this sign in a local bar. I love the use of the logos, but the best part of it was that it's carved in wood (or out of wood)." … A Detroit-area mom and daughter have been charged with putting a huge penis image on a local football field. … Melbourn Squash Club's new logo tried to capture the essence of the sport without showing a racket. Interesting stuff (from Yusuke Toyoda). … Here's a gallery of national cycling kits from the recent under-23 world championships (from Sean Clancy).