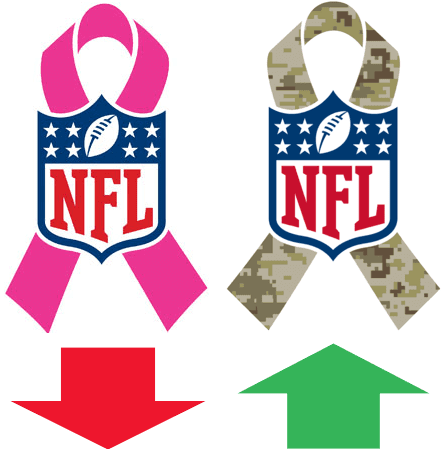 Yesterday afternoon I took part in a panel discussion as part of an NYU sports business class. One of the other panelists was the buyer for a well-known chain of sporting goods stores — let's call him Mr. Buyer — and he had some very interesting things to say, chief among them the news that the NFL will be dialing back the throttle a bit this year on Pinktober. This has nothing to do with the recent domestic violence issues that have been in the news — Mr. Buyer said the league had already planned to soft-pedal the pink months ago. There'll still be some pink, but not as much. It won't be used for any nationally televised games, for example.
On the other hand, Mr. Buyer said the NFL plans a bigger push this year for G.I. Joevember. He didn't specify what the bigger push would involve, but it can't be good.
Other tidbits from Mr. Buyer included the following:
• The NBA's sleeved jerseys are not selling well.
• In general, jersey sales strongly correlate with winning — the better a team does, the more jerseys it sells. The big exception is Maryland football, whose jerseys sell regardless of how the team is performing.
• In terms of NFL merch, Reebok was much easier to do business with than Nike is, because Nike "is all about Nike."
• Related to the above: Nike doesn't like to promote non-Nike athletes. For example, they don't like to push Robert Griffin III jerseys, because Griffin has a deal with Adidas.
• Mr. Buyer nonetheless wishes NFL owners would turn Nike loose on NFL uniforms, because "we'd sell a ton of them." He doesn't expect that to happen, though, because NFL owners are too tradition-bound.
• Mr. Buyer doesn't think Nike will make a run at the MLB uniform contract, for two reasons: (1) MLB requires that all of its on-field uniforms (the ones actually worn by the players, not the retail authentics) be made in the USA, and Nike wouldn't want to do that. (2) Nike is already getting good brand exposure from its MLB undershirt contract, because of all those collar logos. In fact, Mr. Buyer says customers routinely call his stores asking for "that new Nike Mets jersey" or "that new Nike Pirates jersey," because the undershirt collars make people mistakenly think that Nike makes the jerseys.
• Regarding the snafu with the Eagles' green jerseys: With the Eagles wearing white at home and also wearing white for at least some road games, Mr. Buyer worries that he won't have enough white Eagles jerseys in stock. His biggest fear is that the Eagles will win their first six games wearing white, because then they'll probably keep wearing white for the rest of the season and everyone will want to buy a white jersey and he'll be screwed.
• Mr. Buyer often has to engage in "blind buying" — ordering jerseys even though he doesn't know what they'll look like. Case in point: He had to order a bunch of Washington Capitals jerseys for the upcoming Winter Classic game, but the Reebok catalog didn't include a visual of the jersey — it just said "TBD" ("to be determined"). The unveiling for that jersey is slated for next week, but Mr. Buyer still hasn't seen what it looks like.
• Socks like these have been very popular lately, but Mr. Buyer thinks socks "may be the next tech bubble," so he's not ordering too many of them.
• Mr. Buyer hopes the NBA doesn't put advertising patches on its jerseys. He already has to worry about players getting traded or injured or arrested (all of which can leave him stuck with worthless inventory), so he doesn't want the added complication of corporate brands thrown into the mix. Just asking for trouble, he says.
• Mr. Buyer says Under Armour will never be able to recoup the financial investment they had to make in order to land the Notre Dame contract, at least not in merch sales. The deal was more about establishing UA's credibility as a national player on a par with Nike.
•  Signs of a generational shift: Sales of soccer "hard goods" (i.e,. balls and other equipment) are outpacing baseball sales.
There was probably more, but that's as much as I can remember.
•  •  •  •  •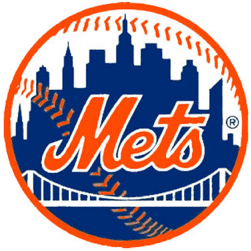 Mets logo update: The kerfuffle over the Citi-fied Mets logo, which I wrote about yesterday, made it all the way to The New York Times. Mets brass claimed ignorance and said no changes are planned for the official logo.
The more I dug into this story, the more it looked like the logo switcheroo was just a mistake, and now reader Steve Dodell has come up with fairly convincing evidence of that. He found a promotional graphic that was posted on the Mets' Facebook page back in July, and it shows both versions of the logo — original and Citi-fied. I suspect the Citi-fied version was just floating around on someone's computer (or perhaps several someones' computers) and was used interchangeably with the original logo without anyone even realizing the distinction between the two.
But it remains unclear when the altered logo was created, or why, or by whom, or at whose direction. I'd still like to know the answers to those questions.
•  •  •  •  •
Uni Watch News Ticker
By Garrett McGrath

Baseball News: Following up on yesterday's entry about the Mets' logo, Todd Radom has imagined a revised logo reflecting a more contemporary NYC skyline (thanks, Paul). … The Atlanta Braves' new stadium will be called SunTrust Park (thanks, Brinke). … The curly "W" logo on Nats' mound has changed from dark brown to red (from Mike Donovan). … The King of Gifts: In addition to a kayak, Derek Jeter got a Don Zimmer jersey from the Tampa Bay Rays before their game yesterday (thanks, Phil). "¦ Yanks 3B Chase Headley, who took a pitch in the face a few days ago, is now wearing a faceguard on his batting helmet when bating right-handed. No attachment when he's batting left-handed, however. "¦ Division championship caps are now being produced by '47 Brand, not New Era (thanks, Phil). "¦ Bryce Harper was wearing a personalized DC Fire Dept. helmet during the Nats' postgame celebration last night. He apparently traded some gear for it (from Brady Phelps). "¦ If you look at all the Cubs cards on this page, you'll see that the Cubbies were wearing a logo patch on their left sleeve — except for Lou Brock who had it on his right sleeve (good catch by Phil Chua). This is awesome: Giants infielder Matt Duffy's bat knob decals show Duffman from The Simpsons (from Phil).

NFL News: The Cleveland Browns new uniforms will not include a logo on the helmet (thanks, Phil). … Nike stores in the Twin Cities have pulled Adrian Peterson merchandise off the shelves (thanks, Brinke). … The Arizona Cardinals are wearing alternate black unis this weekend (thanks, Phil). … "Has anyone noticed that the Packers sideline hats have a small uniform number embroidered on the right side?" asks Shane Canup. "I did some research but couldn't find anything about it on your site. This picture of Aaron Rodgers has it, and it's apparently from last year, so they've been doing it at least that long."

College Football News: History is fun: an insightful and inspiring article by someone trying the find the lost uniform of Iowa State legend Jack Trice (from Nathan Gruber). … Adidas has hinted at a possible 1939 Texas A&M throwback uni (thanks, Phil). … Georgia Tech Athletic Department has added its website URL and Twitter handle to the goalposts. … BC will wear those red bandana tribune uniforms for the rest of the season (thanks, Phil). … Throwback helmets for Duke this weekend. "¦ Yesterday's Ticker mentioned players wearing helmet decals showing their flags of national origin. One previous example: Rice had several Canadian players in 2012, and they wore the Canadian flag on their helmets (from Mark Hamilton). "¦ North Crowley High School in Texas has poached UNC's logo and color (from Jason Brown).

Soccer News: Two from Yusuke Toyoda: Borussia Dortmund manager Jürgen Klopp wore a number from the club's loungewear collection, a hoodie with the text '"Borusse!," for Tuesday's Champions League match against Arsenal. … Bayern München is temporarily switching sponsor logo from the usual Deutche Telekom "T" to a magenta pink "1" to advertise a new service from the sponsor.

Grab Bag: You know hockey season is getting close when teams start debuting new designs for their red lines (thanks, Phil).Reunited rock band the Replacements wore Saint Paul Saints jerseys at last weekend's Twin Cities show (from Jimmy Lonetti). … "In the halls of UW-Eau Claire's Zorn Arena (Eau Claire, WI) are Blugolds basketball team photos," says Lukas Hoffland. "Most of the men's photos have them in regular unis, but the 1978-79 photo had warmups: done with the classic tequila sunrise template on the shirt and pants." "¦ Here's a NCAA-style bracket of Catholic mascots (from Nicole Haase). "¦ Here's an Aussie football match featuring yellow vs. yellow! "That's West Coast Eagles with blue wings, shorts and socks v. Hawthorn with brown bars, shorts and striped socks, from Round 5, 1987," says Leo Strawn Jr.