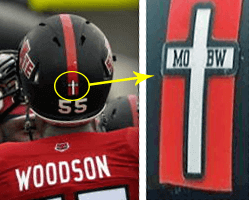 If you read the Ticker closely and have a good memory, you may recall that about two weeks ago Arkansas State added a new memorial helmet decal for player Markel Owens and equipment manager Barry Weyer, both of whom recently died. At the time, I wrote, "I wonder if there are any non-Christians on the team, and how they feel about wearing that."
Now it turns out that the team is changing the decal design. In a statement released yesterday, Athletic Director Terry Mohajir said:
I am 100 percent in support of our coaches' and players' expression of faith, as well as their choice to honor the two individuals associated with our team who passed away by voluntarily wearing a cross decal on the back of their helmets. Unfortunately, we have received a complaint that use of the cross violates the Constitutional prohibition against separation of church and state.

After consulting with University counsel, we have been advised to either modify the decal or remove it completely. Thus, in order to ensure that we are in full compliance with Constitutional law, we will be modifying the decal to still honor the two individuals who are no longer with us.
Left unsaid but implicit in Mohajir's statement is the fact that Arkansas State is a public university that receives public funds. I'm assuming that there would be no church/state issues with the decal for a private school.
According to USA Today, the complaint came from an Arkansas-based attorney who had noticed the cross decals during the team's game last Saturday. He sent an email to the university's counsel later that day, saying, "That is a clear violation of the Establishment Clause [of the First Amendment to the U.S. Constitution] as a state endorsement of the Christian religion. Please advise whether you agree and whether ASU will continue this practice."
The counsel looked into the matter and then advised the athletics department as follows:
While we could argue that the cross with the initials of the fallen student and trainer merely memorialize their passing, the symbol we have authorized to convey that message is a Christian cross. Persons viewing the helmets will, and have, seen the symbol as a cross and interpreted that symbol as an endorsement of the Christian religion. This violates the legal prohibition of endorsing religion.
As you might expect, there's been some negative reaction to the move, including from the father of the deceased equipment manager. According to that last link, the vertical stroke of the cross will be eliminated, leaving only the horizontal stroke with the two men's initials.
The Constitutional issues here seem fairly straightforward. But even for a private school, adding a religious symbol to a uniform, whether it's a cross, a Star of David, a star and crescent, or whatever, seems inappropriate to me, because I don't think any athlete should be forced or coerced to wear religious imagery. The only exception might be for religious schools.
I'm sure there have been other examples of teams (pro, college, whatever) incorporating religious symbols into their uniforms, but I'm drawing a blank. Little help..?
I'm better at recalling examples of individual athletes and other uniformed personnel wearing religious symbols, including Barry Bonds, Troy Polamalu, Billy Martin, Bucky Dent, Mike Rossman, and lots of others. Also worth mentioning are athletes who compete while wearing religious garments, such as Aaron Liberman, Ruqaya Al Ghasara, and Yossi Lipskier. And then there are teams that don't wear religious clothing per se but wear specialized uniforms to conform with religious notions of modesty, such as Beth Chana Academy and Gate City Christian High School. (If you have additional examples that fit into any of these categories, send them my way and/or post them in the comments. Thanks.)
But none of those situations is the same as the Arkansas State case. I'm sure many of you have strong feelings about this one, but let's keep the discussion civil, yes? Yes. And let's also please refrain from invoking the term "politically correct," which, in addition to being a nonsense term, has nothing to do with Constitutional law or the First Amendment. Thanks.
•  •  •  •  •
NFL Superhero project: Reader Thomas Correia has come up with a new project, which I'll let him describe to you:
After seeing the recent creativity of redesigned NFL logos and the increased popularity of superhero films, I decided to use my knowledge of both and challenge myself to combine a comic book character with each NFL team, like this [click to enlarge]:
Hopefully you can figure out the superheroes I'm referencing there. Why am I using the Underoos template? Because Underoos are fun, nostalgic, and made every kid in the late '70s feel like a superhero.

As you can see, the teams shown are the same ones who'll be playing in tonight's Thursday Night Football game. What do you think? If the response is good, Paul and I will post a new NFL/superhero image each Thursday for that night's TNF match-up.
So there you have it. What say ye, folks? Wanna see this as a recurring feature each Thursday?
•  •  •  •  •

Baseball News: All MLB players will wear American flag cap patches today — you know, because Sept. 11 is a national holiday. … If you skip ahead to the 3:15 mark of this podcast, you'll hear Mariners SS Brad Miller talking about why he doesn't wear batting gloves and does wear stirrups (from Gil Neumann). "¦ This is pretty great: With the Toledo Mud Hens' season now over, a mini-golf course has been set up in the outfield (from Tom Konecny). "¦ Yesterday I mentioned that the Orioles retired Frank Robinson's number after they traded him away, but while he was still active. Now Thomas White has come up a photo of Robby being honored by the O's. "¦ Great story from Terence Kearns, who writes: "When Austin Kearns made his debut for the Cincinnati Reds and I heard his name on SportsCenter, I vowed to collect his jerseys as long as they had the 'Kearns' NOB. Worked out great, because I'm a Mets fan, so I didn't have to compromise my integrity, or the collection's, when he played for the Yankees in 2010 — NNOB!"

NFL News: The mask that inspired the original Seahawks logo may be coming to a Seattle museum (from Kirsten Hively). "¦ How Jerseys Make People Behave Like Idiots, Part 673: A disgruntled Giants fan burned his Eli Manning jersey after Monday night's loss to the Lions. "¦ Chargers are calling for a white-out this Sunday. This article quotes QB Philip Rivers thusly: "I know the rest of the guys enjoy wearing the white uniforms. Seeing the stadium full of white on a beautiful Sunday afternoon definitely will add to the intensity of the game." … Speaking of the Chargers, Keenan Allen was wearing G.I. Joe tights in practice the other day (from Brady Phelps). "¦ Great story from Mike Sullivan, who writes: "Since Jan. 1 I've been photographed once per a day in my Buffalo Bills helmet, wherever in the world I am. It's been fun and attracted an engaged following on Twitter and Instagram (including, quietly, the team's social media team). Anyway, on Monday the Bills Equipment tweeted that they were swapping out the helmet decals for this Sunday's throwback game. I quickly sent them a tweet asking if they'd do the same for me. Some of my twitter follows threw their support behind it and not soon after they said they'd swap them out for this week and swap the decals back next week. Looks great!"

College Football News: BYU, much like MLB, mistakenly thinks Sept. 11 is a national holiday. "¦ Here's a video interview with Army's equipment manager (thanks, Phil). "¦ There had been rumblings about Oklahoma going with an alternate uni this weekend, but they're sticking with the traditional look. … Army will be wearing white this weekend. … Boston College's upcoming "red bandana" tribute to Welles Crowther was mentioned in yesterday's Ticker, but we didn't have photos. Now, thanks to Ilana Hardesty, we do. "¦ USF's new green helmet will make its on-field debut this weekend. "¦ Here are Notre Dame's Shamrock Series helmets being prepped for this weekend.

Hockey News: New 40th-anniversary patch for the Capitals. They've also set up a separate sub-site to celebrate the team's history. How great would it be if they brought back the white pants as a throwback? (From David Raglin.)

Pro and College Basketball News: 30th-anniversary logo and patch for the Kings. … Speaking of the Kings, they now have some "partial logos," whatever that means. … Here are some logos pertaining to next year's All-Star Game. … New college hoops uniforms for Utah.

Soccer News: FC Barcalona will wear its secondary red/yellow striped kit on Saturday. "The reason they won't don their usual blue and red duds is to commemorate the annual Diada Catalunya (National Day of Catalonia)," explains Ryan Maquiñana. "In response, Athletic Club Bilbao will wear their green, white, and red secondary kits that are a tribute to the Basque Country flag. Both Catalonia and the Basque Country are autonomous communities within Spain that have sizable factions that have stumped for independence, so there is a political angle to this as well."

Grab Bag: Sad but not surprising: A man and woman in Florida are soliciting corporate sponsorships for their wedding and honeymoon (from Tom Konecny). "¦ Four Chicago-area firefighters have been suspended for refusing to remove patriotic stickers from their helmets and lockers. "¦ Here's a rare sight: an early issue of Life magazine without the familiar red logo. … Back in the days of open-faced auto racing helmets, someone came up with the Turbo Visor. "A failed attempt to keep rain out of the drivers' eyes," says Graham Clayton. … The Westboro Baptist Church picketed a bunch of NYC media outlets yesterday. I'm a little hurt that they didn't make it out to Uni Watch HQ, but maybe they were limiting themselves to Manhattan.