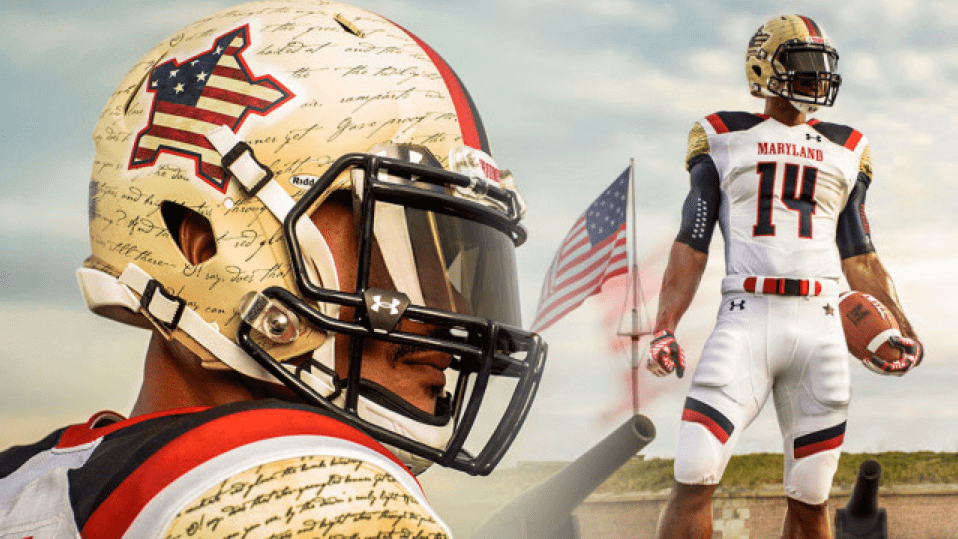 Click to enlarge
Maryland unveiled its latest costume yesterday, inspired by the 200th anniversary of "The Star-Spangled Banner" (lots of additional photos here). And you might be surprised by my reaction: I like it.
I don't quite love it, mind you — it has a few too many bells and whistles, which I'll get to in a minute. But I do think it's a very solid uniform. Why? Here are a few reasons:
1. Amidst all the pointless military-inspired unis, here's one that actually has a story to tell. How many of you remembered that "The Star-Spangled Banner" began as a Francis Scott Key poem called "Defence of Fort McHenry," which was about the Battle of Fort McHenry, or that the Battle of Fort McHenry took place in 1814, or that it was part of the War of 1812, or that Fort McHenry was (and is still preserved) in Baltimore? I probably knew all of this myself at one point, but a lot of the details had become blurry over the years. Thanks to this uniform, those details are back in sharp focus. It's not military dress-up — it's a history lesson.
2. It looks really good. White-over-white combos look a lot better with a contrasting shoulder yoke to provide a splash of color, and even the diagonal pants striping — an element I'd normally hate — adds some nice balance here. Yeah, the script poem on the helmet and sleeve caps is ridiculous, but from a distance it just looks like a warm gold-ish tone, which is fine. And up close, well, at least it's not a diamondplate pattern or something like that.
3. The belts are blue, except for team captains, whose belts will be red — a shout-out to the American military captains who wore red belts at the Battle of Baltimore. As military details go, that's a good one. I like.
4. The outline of Fort McHenry on the helmet looks like a turtle! I don't know if that was intentional or a happy coincidence. Either way, it works.
5. This shouldn't really matter, but it does: It's nice to see a set of unveiling photos that don't show the player roaring like a beast, posing like a douchebag, or being surrounded by smoke and/or pyrotechnics. If you present your design with a bit of dignity, I'm more likely to perceive it as being dignified.
So what are the flaws? The slogan on the pants is classic Under Armour nonsense, and slogan on the back of the jersey isn't much better. (And in case you're wondering, the Maryland spokesperson tells me they got a one-time exemption from the NCAA to wear the SOB. Not a lot of teeth in that rule, apparently.) Aside from that, though, count me as a fan of this one.
(Want to read more? Adam Weinstein — fast overtaking Hamilton Nolan as my favorite Gawker scribe — has an entertaining take on the new uni.)
This unveiling coincided with Maryland and Under Armour announcing a 10-year extension of their partnership, by the way.
• • • • • •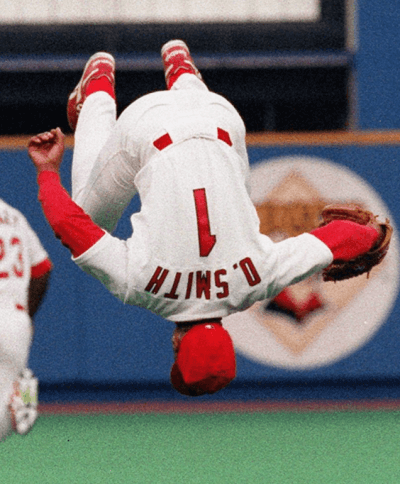 Active player number retirements, continued: Several readers have come up with additional examples of players whose numbers were retired before they themselves retired:
• "The Cardinals retired Ozzie Smith's No. 1 in a ceremony at his last regular season game on Sept. 29, 1996," says Brent Scott. "But the Cardinals made the postseason in 1996, and Ozzie continued to wear No. 1 until the Braves eliminated them in Game 7 of the NLCS, so he wore his uniform number after it had been retired."
• "The Orioles retired Frank Robinson's No. 20 after they traded him to the Dodgers [in 1972]," says Jeff Katz. "I recall a photo of a very disenchanted-looking Robinson being presented his framed jersey." Robinson later wore No. 20 as an Orioles coach and manager.
• "Eddie Murray had his number retired by the Orioles after they traded him to the Dodgers [in the 1988 off-season]," says David Holland (hmmm, sound famliar?). "He ended up playing another playing stint with Baltimore in 1996, so he got to wear his number again."
• Also from David: "Nolan Ryan's No. 30 was retired by the Angels in 1992, while he still playing for the Rangers."
• "In 2008, the Wollongong Hawks of Australia's National Basketball League thought they were going into extinction due to lack of money," says Paul Zalunardo. "At what they thought was their final home game, two players — Glen Saville and Mat Campbell — had their numbers retired. Then a new owner emerged over the off-season and the club was saved. Saville and Campbell kept playing in the same numbers, which were also hanging from the rafters. The Hawks remain in the league to this day."
• • • • • •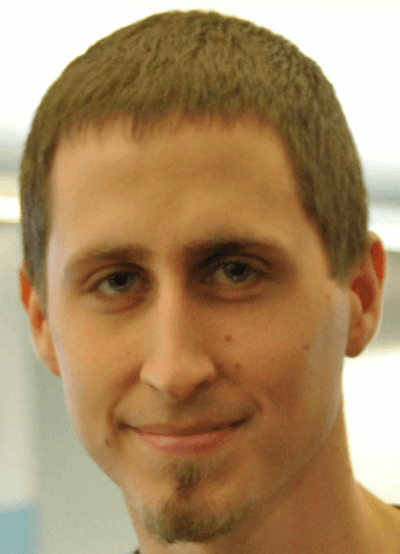 Mike's Question of the Week
By Mike Chamernik
Last Thursday I watched the Packers/Seahawks season opener and noticed how much the Seahawks uniform set has grown on me. I didn't care for them at first because they were so different, but after two years I've come to really like them — the neon green, the pants pattern, the gray accent, the numerals, and even the monochrome blue. I wouldn't want the entire league to look so radical, but Seattle has done a nice job of owning its design.
Is there any uniform or logo that you initially didn't like but then grew to enjoy? If so, do you think it was because you just got used to it? Was the design really good from the start and you just couldn't see its virtues right away? What about the opposite — has there been any logo/jersey that you liked at first but then grew to dislike?
As always, post your responses in today's comments.
• • • • •
Uni Watch News Ticker
By Paul

Baseball News: During Monday night's Mets/Rockies game, former Met LaTroy Hawkins came in to pitch for Colorado. The first batter he faced, Mets catcher Travis d'Arnaud, acknowledged his former teammate by touching/tipping the bill of his batting helmet. The Mets' broadcast crew said this had become a common thing when hitters face a former teammate, which I hadn't been aware of. Something to watch for in the future. "¦ Ferdinand Cesarano was recently in Philadelphia (he actually biked there and back from NYC!) and was impressed to see that the Steve Carlton statue included space between his stirrups strips and shins — a great detail. "¦ Here's a really good slideshow of minor league theme uniforms from the past season. … Dodgers gave away a Babe Ruth bobble last night. .. As most of you know, the Mets currently have three players whose NOBs begin with a lowercase "d." But the shirseys being sold on this page of the MLB's online shop show their NOBs in all-caps (from Rick Edelman). … Rays starter Chris Archer had a Little League-style stirrup glitch last night. "Naturally, he gave up a home run right away," says John M.

NFL News: Chargers RB Ryan Matthews wore yellow cleats on Monday night (from Eric Wright). … The Ravens will let fans exchange their Ray Rice jerseys. But a Baltimore father had a better idea: He altered his daughter's Rice jersey to say, "Be Nice to Girls" (from Mark Simpson). … Meanwhile, Nike has severed its deal with Rice. … Why would the NFL Network, of all media outlets, show a Steelers helmet wiwth a big, fat center stripe? "Right after that promo they went to the game rewind of Monday night's Cardinals/Chargers game and the voiceover referenced 'the Phoenix Cardinals,'" says Joe Bailey. "You'd think the league's own network could get this stuff right." … The Jets should really bring back the JetsMobile (big thanks to Bruce Menard). … Someone has started an online petition calling for the NFL have players wear No. 24 in some capacity for Domestic Violence Awareness Month, which is October. "The number was chosen because, statistically, 24 people per minute are victims of domestic violence," says Thomas Seeley. … Here's a great story on how graphic designers create season tickets (big thanks to Thomas Moore). … Here's a rarity: The Cowboys will be wearing their blue jerseys two weeks in a row (thanks, Phil).

College Football News: Blackout game this Friday for Buffalo. … At least one local columnist thinks Marshall's uni numbers should and will be changed (from Brice Wallace). … Black helmet with train-track striping on tap for Purdue. … Blackout helmet for Middle Tennessee State as well. … Houston is the latest team to desecrate the flag. … New uni this weekend for UTSA. … Tennessee fans are freaking out over a really ugly jersey design that's been circulating, but I'm pretty sure it's just a fashion jersey (thanks, Phil). … No photo, but this article says Boston College "will be wearing helmets and uniforms emblazoned with a red bandanna when they play USC" this weekend. That's in memory of former player Welles Crowther, who always wore a red bandana and died in the Sept. 11 attacks (from Chris Eidt). … Mississippi State is adding a memorial decal for broadcaster Jack Cristil, who died last weekend (thanks, Phil). … Good spot by Jonathan Sluss, who noticed that Ohio State DL Adolphus Washington wearing the Buckeyes' regular pants, not the rivalry pants, during the recent game against Virginia Tech. … This essay includes an account of what the author claims to have been the first penalty flag ever thrown in a college football game. To find it, search on the words "Uncle Jack" (from Tris Wykes).

Hockey News: Interesting to see this shot of former Habs defenseman Stephane Quintal wearing a white helmet with black straps (good spot by Mike Engle). … New uniforms for Boston College. "¦ The University of Minnesota-Duluth has formed a committee to advise on number retirements. … The Devils will once again wear green for St. Paddy's Day.

Pro and College Basketball News: Grantland published a league-wide ranking of NBA court designs yesterday, and it includes six new designs that hadn't been seen before. You can see those six courts singled out here. And apparently there's a new Pelicans design still on the way. … Speaking of court designs, the Trail Blazers are going to put all their season ticket holders' names on the court (presumably in very small type). … New court design for Louisville. … New uniforms for Geneva (from Tyler Damazo).

Soccer News: Here's a look back at Chelsea's shirt sponsors over the years (from Bryan Justman). … NOB typo for a Man U retail jersey (from Randy Williams).. … "The qualifying matches for the Euro 2016 tournament started this weekend," says Yusuke Toyoda. "The Euro 2016 logo patch on the right sleeve is bigger than for previous tournaments (the 2012 version was a lot smaller), and now there's a new 'European qualifiers' patch on the left sleeve (which looks vaguely like the Alabama elephant logo from a distance), above the 'Respect' patch. 2012 winners Spain gets to wear the champions patch instead of the 2016 patch."

Grab Bag: Interesting discussion on whether apparel designs can or should be copyrighted. "¦ People loooove debating whether men should ever wear shorts. "¦ Faaaaascinating piece on how Walmart uses the term "dress code" for its employees, rather than "uniforms," for financial reasons. "¦ In a related item, a sign spelling out the dress code at one Walmart is riddled with typos and grammatical errors. … Designer Abbott Miller, a big shot who's a partner at the influential design firm Pentagram, says "branding has become oppressive" and "I hate logos." "¦ A reader who prefers to remain anonymous is working on a DIY project and is thinking of using this unusual closed "2" design. Anyone know more about it, or know of any other examples of it? … Ever wonder how ballet shoes get made? Me neither, but here's an interesting video anyway (thanks, Brinke). … What would a Nike-designed team plane look like? This (thanks, Phil). … Sean Clancy likes the color-coordinated kinesio tape on cyclist Alberto Contador's right leg. "¦ Buried within this surfing article is the following: "[The Hurley Pro event] is where the Association of Surfing Professionals first started putting surfers' names and world rank on the back of their jerseys, helping those not in the know recognize the competitors. It's those little things that make an event step up from good to great." Who knew? "¦ New logo for China Eastern Airlines. … Jon Stewart wore a very subtle flag pin last night (thanks, Phil).