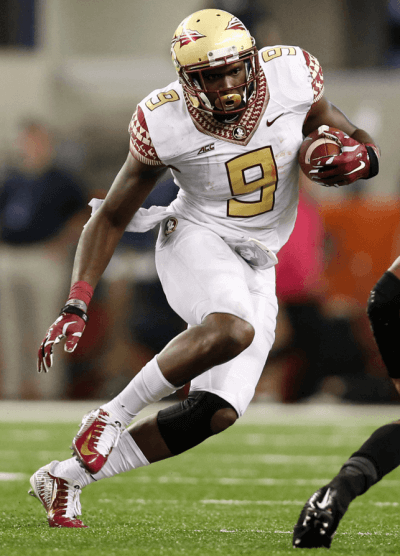 If you're looking for the Uni Watch take on the new Maryland uniforms that were unveiled today, we'll have that tomorrow morning. Thanks for your patience.
Now then: Big news yesterday out of the ACC, as Florida State acknowledged that its new uniforms are a flop. The Seminoles will have new helmet colors — for the shell and the facemask — in time for the Sept. 20 game against Clemson, and the uni numbers on the white road jerseys will return to their traditional garnet tone at some point later this season.
According to the FSU site Warchant.com, there were other problems:
According to another athletic department official who declined to speak on the record, the uniform problems extended beyond the colors. Due to a manufacturer's defect, the facemask paint chipped badly during the season opener. And the spear decals didn't match properly with holes drilled into the helmets, which led to some peeling.
What a mess. The football season has barely begun and this is already the second major black eye for Nike (the other one being, of course, the failure to have the Eagles' green jerseys ready in time for the start of the NFL season).
Interestingly, FSU's press release about the situation begins with, "Saturday night at AT&T Stadium was the first opportunity we had to see the color of our helmets and facemasks under stadium and broadcast television lights." Really? I thought new designs are routinely tested under broadcast conditions precisely to avoid snafus like this one, and I have a hard time believing it didn't take place this time around. Seems more likely that FSU and Nike knew exactly how the uniforms would look but didn't anticipate the intensely negative response from the team's fan base.
Speaking of that press release, there's no mention of Nike, at least not by name. Instead, it's just "We are working with our equipment partners to make these changes happen as soon as possible" — a big change of wording from the "Team Unveils New Nike Uniforms" headlines that we've become accustomed to seeing. So when there's glory to be had, Nike is front and center; when there's a fuck-up, Nike suddenly becomes an anonymous "equipment partner." Hmmmmm.
In any case, a major team making an in-season uni adjustment like this seems pretty momentous. Can you imagine something similar happening in the NFL (or any of the Big Four pro leagues, for that matter)? It's unthinkable. But maybe this kind of thing will become more common as social media and 24/7 press coverage combine to give fans a bigger megaphone for voicing their displeasure.
•  •  •  •  •
ESPN reminder: In case you missed it yesterday, my latest ESPN column is about the uni-related issues swirling around Derek Jeter and the Yankees. Enjoy.
• • • • •
Collector's Corner
By Brinke Guthrie
As most of you know, the Brownies will receive a uni makeover for next season. Ownership has said that the helmet won't be changed, which sounds like a smart move — there'd probably be a fan revolt. But what if they put Brownie the Elf there, like on this helmet?
Here's the rest of this week's eBay finds:
• Chuck it out! Mid-1970s New York Giants helmet design Chuck Taylor patches for your Converse hi-tops.
• Here's a 1960 NFL mini-poster; the team logos look a lot like the Chiquita NFL stickers that followed ten years later.
• Here's an early-1970s (not 1960s as the listing says) Patriots zip-front sweater from Sears.
• Show up at Lambeau wearing this 1960s Packers stadium usher uniform and maybe you'll get in for free!
• I'd be willing to bet that the model for this 1969 Rawlings NFL kids uni ad was Washington RB Larry Brown.
• Riiiiight, a pair of 1970s red 49ers golf slacks. Perfect for the game and then the disco afterwards. Hurry, this listing ends tonight.
• Look at the artwork on this 1960s Mets wristwatch ad.
• Here's a mid-to-late 1970s Cincinnati Reds "Japan Tour" jacket, made by Rawlings. It has No. 48 on the label, so this belonged to Ross Grimsley.
• This early 1970s Cowboys bumper sticker sure looks familiar — it might have graced the rear bumper of our family's Ford LTD wagon. Sticking with Big D, that's a pretty big star on this early-1970s Cowboys helmet bank. But then, everything's bigger in Texas.
• Great art on this 1969 NFL 50th Anniversary booklet. Nice set of 50th Anniversary thermal mugs, too.
• • • • •
Uni Watch News Ticker
By Mike Chamernik

Baseball News: Brewers C Martin Maldonado wore neon green-accented catching gear Sunday (from Jim Santel). … The Long Island Ducks will wear Breast Cancer Awareness jerseys today (from Phil). … Ben Fortney sent along this 1935 Dodgers scorecard from Opening Day in 1935. … Dock Ellis had a great jacket to commemorate his no-hitter (from Phil). … I picked up some MLB team-branded Pop-Tarts from the store the other day. I find it interesting they used the Brewers' throwback/alternate ball-in-glove logo, while all the other teams used their official logo or their hat logo. Also, I love the part on the front where it says "Collect all 30 teams." Okay, I see the back of the box is a checklist, but I like the idea of collecting and trading Pop-Tarts. All right! I got a Padres one! Let me store it in Lucite. Just six tarts left to find now.

NFL News: From yesterday's comments: The Bears will not wear captaincy patches, instead naming their five captains on a game-by-game basis (from Ryan Lindy). … First look last night at the Lions' William Clay Ford patch and the Giants' 90th season patch. Neither team wore them in the preseason. … Lions RB Joique Bell suffered a jersey tear last night (from Matt Barnett). … Neither the NFL Shop nor Dick's Sporting Goods will sell Ray Rice jerseys anymore, and a Baltimore restaurant is accepting traded-in Rice jerseys. … The fans decided on the Browns' endzone design (from Roger Peasley). … Casey McCotter is distracted by this shot of Cardinals coach Bruce Arians: the two Cards logos are facing opposite directions. "It is like this all the time! Wonder why?" He asks. "Has to be the only team in the league that does this." … According to this, the reason Niners WR Michael Crabtree wore blue cleats against the Cowboys Sunday was because, as a kid growing up in Dallas, he dreamed of suiting up and playing for the Cowboys (from Brinke). "¦ Cardinals RB Jonathan Dwyer had a minor helmet malfunction last night (from Pastor Seth).

College Football News: Great submission by Mike Raymer: The NOBs of these two Arkansas State players form the name of the main character from the Vacation film series. … Temple wore black helmets Saturday (from Cliff Blake). … Cincinnati will wear all-white unis with chrome helmet decals Friday against Toledo (from Phil). … Texas Tech will wear Zach Thomas-era throwbacks (from Phil). … Notre Dame will wear these cleats for the Shamrock Series (from Phil). … Middle Tennessee State wore blue helmets for the first time since 1977 on Saturday (from Jerry Lawless). … Virginia Tech has new flag desecration helmets (from Andrew Cosentino). … A source tells Phil that Maryland will wear all white this weekend and that West Virginia is going gold/blue/gold. … Oklahoma may wear alternates this Saturday. … New white helmet for Utah.

Hockey News: The Wilkes-Barre/Scranton Penguins unveiled a retro-ish third jersey (from Phil). … Caps goalie Braden Holtby has a new mask (from Phil). … "Here are some photos from some Champions Hockey League over the weekend," says Alec Pappas. "All teams have the red left sleeve due to the lead sponsor of the tourney. The sweaters are otherwise rather clean for European hockey. Top Scorer for each team now has a sweater to tell those who are eating his dust who actually did it." … The Arizona Coyotes will wear throwbacks in March. … Here's what Michigan will wear this year (from David Raglin).

Grab Bag: Bowling Green is switching from Adidas to Nike next spring (from Phil). … The Makers of Sport podcast had an interview with Adam Clement, the Team Sports Creative Director at Under Armour (from Phil). … New logo and livery for Southwest Airlines. … From Reddit, the tiger face on this bag of nuts spells out "Tiger Nuts." … Federal law may remove the exception the military has on not having to wear American-made physical training shoes, so New Balance is salivating right now (from Phil). … Hey, penguins in uniforms! "The penguins at the Matsue Vogel Park in Matsue City, Japan, are wearing uniforms for U.S. Open finalist Kei Nishikori," says Jeremy Brahm. "Kei was born in Matsue and visited the park in 2008 with his family and has said in interviews that he likes penguins." … David Firestone found a ton of nice socks at Spencer's Gifts. I'm guessing they were on display between the shelves of fake plastic vomit and the male stripper pop-up greeting card rack.