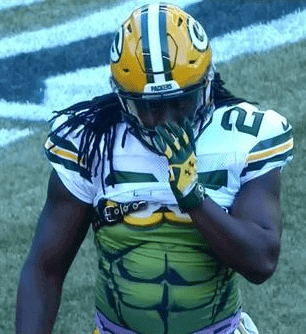 Let the record show that the ball carrier on the first play from scrimmage in the 2014 NFL season was wearing (a) a SpeedFlex helmet and (b) a Hulk base-layer shirt. That would be Green Bay running back Eddie Lacy, shown at right.
Unfortunately, Lacy later left the game with a concussion — not a good regular season debut for the SpeedFlex.
A few other notes from last night's Packers/Seahawks game:
• I was a bit surprised to see that the Seahawks' championship banner, which was unveiled before the game, says, "2013 World Champions." I mean, Super Bowl XLVIII was played on Feb. 2, 2014. Yes, I realize that the Super Bowl was the culmination of the 2013 season, but it still seems a bit weird. I didn't have time last night to look up other teams' championship banners — do they all follow this format?
• Aaron Rodgers was apparently trying to block out the crowd noise by putting yellow tape over his earholes.
• Packers coach Mike McCarthy's signature Sharpie in the cap appeared to be AWOL last night.
• Head linesman Derrick Bowers was wearing an "SS" cap patch. I'm assuming the other zebras wore it as well, although I can't find any other photos. Anyone know what this was for? Was it worn during the preseason and I just missed it? (Update: Commenter Douglas informs me that it's a memorial patch for former NFL official Sid Semon.)
(My thanks to all contributors, including C.B. Ciullo Aaron McHargue, and of course Phil.)
•  •  •  •  •
ESPN reminder: In case you missed it yesterday, my latest ESPN column is about the very different uniform cultures in pro vs. college football, and the reasons behind those differences.
• • • • •

'Skins Watch: The New York Daily News — a newspaper whose editorial policy might fairly be described as center-right — has become the latest media outlet to boycott the 'Skins name and logo. You can see one immediate result of that move here. "¦ The Vikings/'Skins game slated for Nov. 2 at the U. of Minnesota's stadium, which was already the subject of controversy, may soon become the subject of a lawsuit. … Good story about how the Spokane Indians have connected with a local Native American tribe (thanks, Phil). "¦ That California high school whose teams are called the Arabs is keeping the name but scrapping its live mascot, which had drawn complaints. … A local flag football team in my Brooklyn neighborhood agreed to change its name from Redskins to Bears after parents complained. "¦ The bad news is that some asshole Oklahoma State students suggested last weekend that Florida State's football team should be sent home on the Trail of Tears; the good news (aside from the gratifyingly accurate apostrophe usage) is that this led to a sternly worded rebuke from the OSU student newspaper. "¦ About a third of the way down this page is the news that ESPN's Lindsay Czarniak won't be using the 'Skins name on the air (thanks, Phil). "¦ Most Americans still think the 'Skins should keep their name, although the trend shows the pro-change numbers growing. "¦ Also, 58% of current NFL players think the 'Skins don't need to change their name. … Comedy Central's Tosh.0 poked some fun at the 'Skins name a few days ago (from Chris Flinn). … That "Cleveland Caucasians" T-shirt is a hot-selling item (from Jim Mason). "¦ Buried within this article about Daniel Snyder wanting a new stadium is the following intriguing passage: "Multiple other commentators, including former Washington football team executive Vinny Cerrato, have suggested that Snyder may try to trade his racist team name for a bright, shiny stadium. The deal, essentially, would be: Give me a huge wad of cash, and I'll name my team, say, the Washington Warriors. "¦ [This would] serve as a face-saving ploy, allowing the owner to yield to public pressure to change the name while getting something very big in return." "¦ A new video to be released on Sunday, produced by a Native American group is urging FedEx to end its corporate sponsorship of the 'Skins stadium. Quote from someone connected to the video: "FedEx has a great diversity statement for their employees and corporation. We think it's hypocritical of them to support an NFL team that uses a racist name when their diversity statement explicitly states they are against racism" (from Scott Turner).

Baseball News: Police have busted a Philly-area counterfeit MLB jersey operation. Fun quote, taken from an email from one of the ringleaders to his supplier in China: "Make sure the factory takes their time, though. People are starting to complain about some of the quality of the jerseys. Some crooked letters/numbers and buttons are coming off." "¦ Quiz during the YES broadcast of last night's Bosox/Yanks game: "Derek Jeter has worn No. 2 for 20 seasons. Who is the only Yankees player to wear that number for more than five seasons?" Answer: Red Rolfe, 10 years. Play-by-play man Michael Kay proceeded to blow a gasket on the air, insisting that the answer had to be Frank Crosetti. But while Crosetti wore No. 2 for 22 years as a coach, he wore it for only two years as a player. "¦ Speaking of the Yankees, last week they acquired longtime Uni Watch hosiery hero Josh Outman from the Indians. He went low-cuffed in his first appearance with the Bronx Bombers (I'm assuming they just didn't have his preferred style of stirrups available), but last night he was back to his signature look. Outmania! "¦ Here's a great gallery of Tigers media guide covers from 1978 to the present (nice one from Wayne Koehler). … Good article on the guy who's selling all the Jeter-related memorabilia.

NFL News: The Eagles' green jerseys will finally be ready for Week 6. They'll wear white at home until then. Neither Nike nor the Eagles has responded to my questions regarding the embarrassment of the jerseys not being ready in time for the start of the season. … Back in 1959, the Packers and Giants played a preseason game in Maine. It was Vince Lombardi's first game as head coach (from Paul Dillon). … Alaska Airlines is offering early boarding to Seattle travelers who wear Russell Wilson jerseys. This is similar to the deal they had previously offered to people wearing Utah jerseys. … Here's a rare action shot of the Saints' black helmets, which were worn during the 1969 preseason (from Andrew Lopez). "¦ You Have Got to Be Fucking Kidding Me Dept.: The NFL has come out with a men's fashion guide telling fans how to integrate NFL gear into their wardrobes. For some reason the models shown on that page don't have beer guts or mullets, but I'm sure that's just an oversight (from Phil). "¦ Here's a weird one: Fran Tarkenton during his days with the Giants, wearing a No. 80 jersey (from Douglas Ford). "¦ The only thing worth saying about that new Ray Lewis statue can be found in this headline.

College Football News: Here are this weekend's uni combos for UNC, Duke, Illinois, Missouri, Ohio, and Louisiana Tech. … Black helmet on tap this weekend for Army. "¦ Here's Notre Dame's sideline jacket for the Michigan game. … No photo, but this article on 1939 Iowa "Ironmen" includes the following quote: "We won. Notre Dame changed the color of their jerseys of the second half (from blue to green), but it didn't do them any good." Hmmmm — anyone know more? (From Aaron Telecky.) … UAB has come out with a white version of their wacky helmet. … Good overview of Baylor's uniforms in the Art Briles era, although it's hard not to laugh out loud at the line, "We're Americans — we like to look good." Uh, right (from Ryan Patrick).

Hockey News: New alternate jersey for the Oklahoma City Barons (from Matt Montgomery). … I've heard from several Cincinnati Cyclones fans who say they hate the team's new logo because it reminds them of a toilet being flushed, and it's kinda hard to argue with them.

Pro and College Basketball News: New college hoops uniforms for Kentucky (thanks, Phil). … NBA commish Adam Silver has repeatedly said that ads on uniforms are "inevitable." Now he thinks big-time legalized sports betting is "inevitable," because state budgetary coffers are bare and there'll be no way to raise funds except to promote gambling. Do you ever get the feeling that a Venn diagram of what Adam Silver says is "inevitable" and what benefits Adam Silver would basically be two overlaid circles?

Grab Bag: Hot item for tennis fans at the U.S. Open: game used wristbands. … The DJ known as Deadmau5 is involved in a trademark dispute with Disney over his mouse ears logo. ,,, Case Western Reserve University's teams are all getting new uniforms and a new patch in honor of an alum who created Nike's patented cushioning system (thanks, Phil). … Bit of a kerfuffle in the Indiana court system, where an attorney has been chided by a judge for not wearing socks (from Jonathan Daniel). … At least three people wearing McDonald's uniforms were arrested yesterday in New York, part of the nationwide protests to raise the wages of fast food workers. … A 15-year-old Florida girl was forced to wear a T-shirt with "Dress Code Violation" on the front after officials at her high school determined that the skirt she'd been wearing was too short. "¦ U.S. Open broadcaster John McEnroe wore a suit with Chucks yesterday (thanks, Phil).