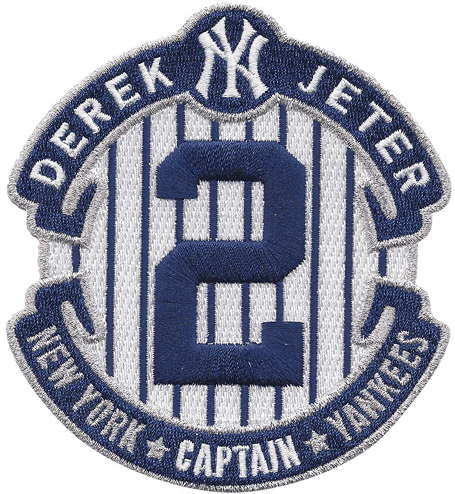 The Derek Jeter Farewell Tour officially became unbearable last night, as Newsday reported that the Yanks would be retiring Jeter's number this Sunday — three weeks before the end of the season. That prompted The Daily News to say, "Nuh-uh, no they're not,", which in turn prompted Newsday to respond, "Actually, they haven't decided yet, so there."
Or to put it another way: For fuck's sake, please make it stop.
Retiring a player's number before he himself has retired is, of course, absurd on its face. Nonetheless, there's some precedent for it: Last year the Yankees retired Mariano Rivera's number on Sept. 22 — one week before the end of the season (although that was an unusual case, because Rivera wore No. 42, which was already retired throughout MLB anyway). It's worth remembering that the Yankees were the first MLB team ever to retire a number — Lou Gehrig's No. 4 in 1939 — so maybe they think they can adjust the concept however they like to suit their purposes.
Speaking of the Yankees: As I mentioned in yesterday's Ticker, the Yanks will be wearing a Jeter tribute patch from this Sunday through the end of the season. By my count, this will make Jeter the fourth active MLB player to wear his own tribute patch, the other three having been Tony Gwynn, Cal Ripken Jr., and Rivera (but not, as I mistakenly Ticker-mentioned yesterday, Chipper Jones — his tribute logo appeared on the Braves' bases and on deck circle during their final homestand in 2012 but was not worn as a patch).
Have active players in any other sports ever worn patches saluting themselves? I can't think of any. If you know of any, do tell. Thanks. (Meanwhile, designer Todd Radom has envisioned what Babe Ruth's tribute patch might have looked like. "All it's missing is a broad," says reader Lou Sherwood.)
Meanwhile: New ESPN column today, about the very distinct uniform cultures in pro and college football check it out here.
•  •  •  •  •

Baseball News: So much to like in this 1973 photo of a kid selling lemonade in a Dodgers cap (from Duncan Wilson). … Brace yourselves, Yankees fans: Here's a shot of Joe D in a Red Sox uniform! … The good news is that Braves closer Craig Kimbrel wore gold shoes yesterday as part of charity initiative. The bad news is that there was a swoosh on each individual metal spike (from Mike McLaughlin and Phil, respectively). "¦ Here's something I've never seen before: a vintage Pirates duckpin bowling ball bag. "My favorite item of the week," says Michael Clary.

NFL News: If you have a favorite old TV commercial that featured an NFL player, chance are it's included in this compilation reel of old NFL-related ads (thanks, Brinke). "¦ Also from Brinke: New uni number assignments for the 49ers.

College Football News: Penn State is using its simple unis as a selling point (from Chris Flinn). … Arkansas is now using its new secondary logo for merit decals (from Seth Shaw). … In a related item, here's a thought: Has the proliferation of teams with multiple helmet designs cut down on the use of merit decals? If your team has, say, three different helmets, it seems like it would be a hassle to apply the decals to all of them and make sure they're all consistent. Thoughts? … Western Illinois — an FCS school — has G.I. Joe side panels on its primary jerseys (from Omar Sofradzija). … NC State will debut new blackout unis this weekend (from Nick Troutman). … New uniforms for Gettysburg College (from Eric Wright). … Here are this weekend's uni combos for Arizona, Arizona State, Nevada, and Ohio State. … New uniform on tap this weekend for Southeast Missouri State (thanks, Phil). "¦ "I've seen orange pylons with a college's logo on them but never a blue pylon with a college logo before," says Chris Flinn.

Hockey News: The Tampa Bay Times, which like every other newspaper these days is a little busy trying not to become extinct, has decided that spending jillions of dollars to slap its name on a hockey arena might not be the best idea after all. This will no doubt come as a great relief to the Times employees who are being eased out the door.

NBA News: If you've been wondering what NBA jerseys might look like if reimagined in a soccer format, today's your lucky day (thanks, Phil). … New court design upcoming for the Kings (thanks, Phil).

Soccer News: Germany has added a fourth star to its national jersey, reflecting the recent World Cup championship (thanks, Phil). "¦ Chivas USA defender Andrew Jean-Baptiste was victimized by an NOB typo yesterday. "¦ Great collection of photos of old soccer mascots (from Jason Fetty).

Grab Bag: New Ralph Lauren-designed uniforms for the Ryder Cup (thanks, Phil). … In a related item, Ralph Lauren is now the official outfitter of the PGA (from Tommy Turner). … Shame on the city of Philadelphia, which is selling corporate naming rights to its train stations. "At the bottom of that article, it mentions that they're trying to sell the rights to Suburban Station (basically our Grand Central Station, though not very grand) to Verizon," says Bernie Langer. "This is gross, and I'm not seeing any pushback." … This is awesome: What if Game of Thrones had a Saul Bass-style title sequence? (Big thanks to Scott Davis.) … Over 600 million searchable images from library books are now available on Flickr. "There's potential for a lot of good uni research in there," says Patrick Walsh. "For example, here's Spalding's 1911 official college base ball annual." … When I got a custom-made suit two years ago, a tailor took all my measurements with a measuring tape. But you can also have it done with a 3-D body scanner (thanks, Brinke). … Also from Brinke: a series of athletes' portraits comprised entirely of Nike swooshes. … Hmmm, does this sign mean "No pets, skateboarding, drinking, or smoking," or does it simply mean "World's coolest dog not allowed"? (Big thanks to Dave Raglin.) … Big scramble to get Port Adelaide's "prison bar" jumpers made in time for Sunday's Aussie football elimination final. Some good factory video footage in that link (from Leo Stawn Jr.). … Note to grounds crews: Before breaking out the lawnmower, make sure the grass is real (from Andrew Rader).