By Phil Hecken
Well, dear readers — we've arrived at the last Thursday in August — which means this is my last weekday lede (at least until Paul's next vacation or next Summer, whichever comes first), and I wanted to take a minute to thank everyone for your support and for bearing with me these past four weeks. It's been a fun ride, but I for one (and I'm sure many of you) am glad it's over.* I am still amazed that for eleven months out of the year, day-in and day-out, Paul is able to provide amazing content for all of us to enjoy. It ain't easy.
* (I'll still be back tomorrow, but the lede will come from Morris Levin, who has been gracious enough to provide a segment for us every Friday during Paul's sabbatical — Thanks, Morris!).
I'd like to thank all those who submitted columns during the month (and there are actually a few I didn't get to — those will probably come on the weekends), and one I'd actually hoped to run today (a really GREAT column), but unfortunately the timing just didn't happen.
I also want to offer my thanks to Johnny Ek, for taking a couple of my weekends while I tended to the weekday store, Brinke, for his "Collector's Corner" every Tuesday, and especially Garrett McGrath and Mike Chamernik — the Uni Watch "interns." Their invaluable assistance with the tickers during the month has been a tremendous help. Great work, all of you.
And I'd especially like to thank our leader, Paul, for having the faith in me to handle the month (not just for 2014, but for the past four or five years) while he takes a much-deserved break. The time off allows him to pump out some killer ESPN columns and recharge his batteries as we gear up for a great fall…
Speaking of the autumn…
I have once again assembled a great lineup of special segments and experts who'll bring you many features in the coming months. First and foremost, I'm pleased to announce that Terry "TJ" Duroncelet will be back with his awesome "Sunday Morning Uni Watch" segment. That's always a huge hit. Joining TJ will be Catherine Ryan, who'll be returning for the "5 & 1" segment (and she'll likely be joined by a couple of guests also providing a 5 & 1 over the coming weeks), and Tim E. O'Brien, who'll be back with the "Duck Tracker" (and also a few other teams).
I also be back with Rob Holecko, who has firmly established the "UWFFL" will be back for another run, and Alex Rocklein will return with his "MLB Playoff Uni Tracker." Of course, there will still be the colorizations and concepts, plus some new contests and other special sections.
I'm also pleased to introduce a new collaborator, Alex Gerwitz, who will be bringing us the "EPL Tracker." What's that, you ask? Well, let me introduce Alex and let him tell you all about it:
. . .
Hello fellow Uni Watchers,

There have been many great uni tracking projects over the years, but, surprisingly, I've never seen one for the English Premier League. This is meant to be a simple 3-color graphic showing shirt, shorts, and sock combinations for each match. If you want to see the actual uniforms…er, "kits", you can find them all in the official Premier League handbook.

Alex
Thanks, Alex. And since the Premier League is already in full play, here is how the EPL tracker will work (click either image to enlarge):
Week One
Week Two
. . .
But mostly, I want to thank all the Uni Watch readers and contributors for their support — that's why we're all here and what makes this blog so great. I can't speak for Paul, but I know I couldn't do it without you. You're all aces.
And finally, this fall I will be (finally) completing my "Capstone" (basically a Masters' Thesis), and it's on a subject that has been a touchy one on Uni Watch for the past several years — the possible (probable?) renaming of the Washington Football team. If you would like to be considered for an interview on this topic (only serious queries) — I would love to talk to you. You can be for or against the renaming (I'm looking to hear both sides of the issue). If you have an interest (especially if you are a Native or a member of the media), please drop me a line.
OK, I've babbled on enough — I'll be "back" tomorrow with one last post, then I kick off the weekends starting September 6th — and I can promise you you will NOT want to miss that one.
So, now I will turn the blog over to Paul, who has a few words himself.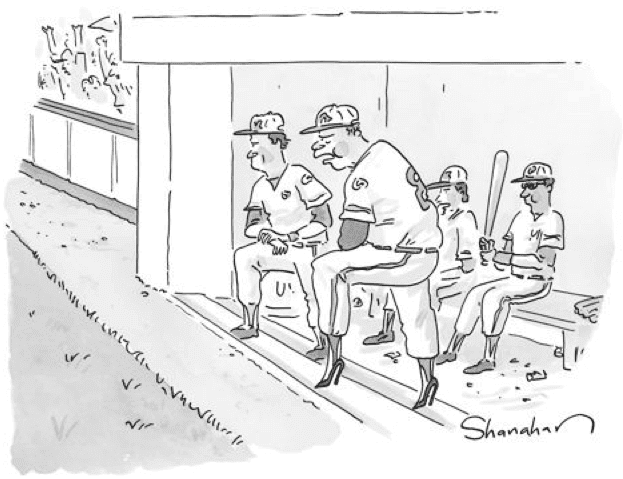 And now a few words from Paul: The New Yorker runs a weekly contest in which readers are invited to supply the caption to a blank cartoon. This week's cartoon, shown above, is uni-related, so it would be great if a Uni Watch reader ended up as the winner. Submit your entries here.
And as long as I have you here:
•  I've written a new ESPN piece about the Blues' new uniforms — check it out here.
• In case you missed it yesterday, my annual NFL season preview is now available over at ESPN.
• While we're at it, my college football season preview, which was posted on Monday, is available here.
• You can still order a Uni Watch 15th-anniversary patch here.
• Uni Watch memberships are, as always, available here.
• I was in Chicago last weekend for a wedding, and while I was there I finally had the pleasure of meeting intern Mike Chamernik (and his lovely girlfriend, Stephanie) in person:
Great to finally shake your hand, Mike — thanks for all your hard work and contributions to the site.
I also met up with Uni Watch reader Jordan Cutler, who's part of the family that owns the landmark Chicago hot dog emporium Superdawg. He treated me and my friends Tim and Karen to free food and great stories (that's Jordan in the center and Tim on the left, all three of us wearing the same sneakers; click to enlarge):
Thanks so much for your hospitality, Jordan — and don't forget to follow up on those illustrations we discussed!
My Chicago trip also included a trip to my friend Bob's audio master studio, where I saw something very, very cool:
• Speaking of cool, a few days ago I was at a bar that had a little ritual I'd never seen before:
Okay, that's enough for today. Tomorrow is the last day of my annual August sabbatical from the blog — I'll be taking the site back on Saturday. check that, Johnny Ek will handle this weekend, and I'll take the site back on Monday. Mega-thanks to Phil, Garrett, Mike, Ek, Morris, and all the other contributors who've kept things humming this month — you're the best.
And now…a few words from Garrett McGrath
In 1989, three events would come to define NYC: the Central Park Jogger attack, the murder of Yusef Hawkins, and the election of the city's first and only black mayor.
I discuss how these events unfolded and what they mean to us today in my article for The Wilson Quarterly.
Please check it out and share.
–Garrett
Mike Chamernik's…
Question of the Week
Every Thursday Intern Mike Chamernik poses a uniform-related question to the readership. Here's today's:
. . .
The other night I was looking into the team nicknames for some of the Chicago-area high school teams I cover. Normally, I run across a lot of standards, like the "Warriors," "Wolves," "Bulldogs" and "Wildcats," but Genoa-Kingston had a gem. Their teams are known as the "Cogs." The Cogs! I love it.
The nickname is unique without being gimmicky, and I enjoy the technical, automotive theme. I like that each player is known as a Cog – a part that makes the team as a whole run smoothly.
What are some of your favorite high school, college or minor league team nicknames, and why?

Too Good…
for the Ticker
Interesting detective story today from Jason Loomis:
Hey there,

I've been a long time reader of your site and big time Brewers fan. I have about 20 or so Brewers authentics in my collection. A few years ago, i sent in a pic of me in full throwback pinstripe uniform and you ran it on your site. Got a pretty cool response from other readers.

Anyways, on to my point here. I've long wondered what Prince Fielder has stitched on the inside of his jersey up near the top button. I've included pics from all 3 of his teams. I mostly noticed it of course watching him here in Milwaukee. Either way, at Miller Park this past weekend i found a game issued jersey from 2011 of his in a sale the team store was doing. Of course it had the patch, so i looked at it and found it says "Success". I think thats amazing that he has that in there, and wonder if he changes it up or not. Either way it's a cool uni detail that im not sure was ever covered on your site. If it was, my mistake.

Thanks for the time and keep up the great work!

Jason Loomis
Click on any images below to enlarge:
And BOOM. Thanks for sharing, Jason!
OK, now onto the ticker…
Today's Ticker was written and compiled by Mike Chamernik

Baseball News: Here's a color shot of the Phillies' usher unis in this 1970 brochure (from Jonathan Daniel). … "Check out this screenshot of Kirk Gibson playing for the Michigan State Spartans," says Ross Yoshida. "It shows him wearing 2-in-1 stirrup socks! I had no idea those things existed way back then as they didn't really gain traction in MLB until the late 80s/early 90s." … The Cubs called up Jorge Soler the other day, and he will be the first player in team history to wear No. 68. … Paul was at last night's Mets game and spotted three fans wearing three different David Wright jerseys, all with incorrect NOB styles.

NFL News: A Seahawks fan has the team's logo on his glass eye (from Brinke). … Here's a look at how NFL teams found their brand footing (from Brinke). … Someone at the website Fiverr.com will design unis for your fantasy team for $5. Several members of Justin Cliburn's league got their teams mocked up, and here are some of the best results. …The Packers quarterbacks wore all-denim outfits to their Welcome Back luncheon. Aaron Rodgers looks stunning in a denim fedora and bolo tie! (from Dennis McMillan).

College & High School Football News: New field design for UConn (from Phil). … West Virginia will go all-white versus Alabama in its season-opener. … Looks like this Nike graffiti slogan will be all over Minnesota's TCF Bank Stadium this season (from Thomas Hack). … USF is an Under Armour school, but that didn't stop coach Willie Taggart from posting a photo with a Nike-clad Bulls fan to Facebook back in May (from Josh Claywell). … Lost Lettermen graded the new college football unis (from Phil). … Looks like Oregon State will wear white helmets for the Beavers' home opener this weekend (from Andrew Edwards). … Texas A&M might wear all-white tonight, too (from Phil). … Boston College's football equipment staff has its own Twitter account and they posted a shot of the crew getting the helmets ready. Can't miss the Under Armour logo in the foreground, though (from Andrew Muccigrosso). … Florida State will wear helmet stickers for the Kidz1stFund. … New helmets for Abilene Christian (from Phil). … "Vanderbilt marketing put out a pic to show what they are wearing [today]," says William Edge. "However on the actual new black helmets, the back bumper is black, not white. Also the star "V" on the pants is on the side, not on the front of the hip as shown in the photo. Sloppy work." … Murray State has a new helmet, complete with a cool racing stripe, and new home jerseys. The team switched logos and is wearing the alternate logo on the sleeve. This news comes from Zach Bogard, a punter for the Racers. How about that for a first-hand source? … "Here's a pic tweeted out by a player for Las Vegas' Bishop Gorman of its helmet to be worn this weekend against Anaheim, Calif.'s Servite," says Jeff Seals. "This is what they wore last week against Arizona's Brophy Prep. They're the Oregon of high school football."

Hockey News: Darin Wernig wrote a book on the history of St. Louis hockey, titled "Gateway City Puckchasers." Cool stuff! The book will be on sale in late November but you can preorder here. … "The Spokane Chiefs of the Western Hockey League posted on its Facebook page today the players' head-and-shoulders photos for the upcoming season," says Mike McLaughlin. "Some of the new, official photos show CCM branding on the sweaters while some don't have any front branding. Interestingly enough, in pictures from training camp earlier this month the sweaters have Reebok wordmark branding (some on the front, some on the back)."

NBA News: A shop in Hoboken, New Jersey, specializes in selling outdated Knicks and Rangers apparel (from Phil). Very interesting. Related: I just bought a LeBron Noche Latina "El Heat" shirt-jersey on clearance. … Lammert Wijnsma made some awesome personal logos for Nerlens Noel and Andrew Wiggins. … Wiggins took some photos in his new T-Wolves uni the other day (from Phil). … Brinke reports that Chris Paul's new Jordan shoes have a Chevron logo on the bottoms, in honor of Paul's grandfather. This reminds me of my favorite SportsCenter piece ever, and the reason I've been a CP3 fan since 2002. Yes, it's dusty in here.

Soccer News: Watford's new away kit is a throwback to what the club wore in 1914 (from Graham Clayton). … During the Steaua-Ludogorets UEFA Champions League match today, Ludogorets goalkeeper Vladislav Stoyanov was redcarded in the last minute of extra time. As Ludogorets had no substitutes left, they were forced to use defender Cosmin Moti for the last minute and then the shootout. As goalkeepers have to wear a separate-colored jersey, but Moti did not have his own, he had to borrow one from substitute goalkeeper Ivan Cvorovic, which of course had Cvorovic's NOB (thanks to Gregory Koch).

Grab Bag: A study found that tennis outfits impact on-court results (from Phil). … Fashion retailing company Zara scrapped selling kids shirts that looked like concentration camp uniforms (from Brinke). … The captains from teams in the 2014-15 Aviva Premiership — England's top pro rugby union league — have great socks (from Scott Sidor). … Here's an NFL Films video of the original National Lacrosse League from 1975. "Wood sticks, short shorts, modified helmets," says Chase Martin. … Jeremy Brahm found a bunch of Korean cartoons for different sports. "I think that it is from the Korean Olympic Committee and it has all of the sports with a graphic," he says. … The Carlton Blues wore their throwback jumper a few AFL matches this season to celebrate 140 years of Aussie Rules football. The fans liked the look so much that the club is considering reviving the historic guernsey and logo (from Leo Strawn, Jr.). … I was on Reddit last night and I came across this great short tale about a Samburu tribesman in a Nike commercial.
Everyone have a great Thursday. Catch you tomorrow.
Are you ready for some football?
Peace.
.. … ..
"Boise State claims its trademark covers all non-green football fields… I would love to see someone install a red or yellow field without seeking Boise State's permission. Something tells me Boise's trademark doesn't extend quite as far as they want people to think it does."
–BvK1126