By Phil Hecken, with Aaron Johnson
. . . . .
This article has literally been over a year in the making, with Aaron Johnson first approaching me last summer to do a World Football League piece. It's finally coming to fruition today! I've always had a great interest in the WFL; in fact, one of my first ever articles on Uni Watch was on the Southern California Sun. It's a league a vaguely remember (I was 8 and 9 at the time), but it always fascinated me since it was my first experience with a pro league that wasn't the NFL (I wasn't really old enough to remember the NFL & AFL as two distinct entities). It was a league fraught with too much difficulty and peril to document here, lasting only one full and one partial season. And while there is a lot of information out there about the WFL, one of the more frustrating things I've found over the years are the lack of color photographs of games and uniforms. Compared to today's hyper-information age, 1974/75 was like the stone age.
That being said, I have attempted to find at least a few color photographs or images of each uniform worn by the teams in the league. I'll also point you to the wonderful work of the lads at the Gridiron Uniform Database, who've put together the World Football League Database, documenting (as best as possible) all the uniforms worn by the teams in the WFL. Each of the "year" designations before each team come from the GUD's WFL site. Thanks, guys!
All of this will be leading up to A NEW UNIFORM DESIGN CONTEST, but those details will come shortly — so designers — pay close attention, because you're going to have another opportunity to show your chops on Uni Watch. But first, let me now turn this over to Aaron, who'll set up the teams and uniforms of the WFL:
40 years ago the World Football League kicked off. Some of you may be familiar with the short-lived league while others may be hearing of it for the first time.
In July of 1974, 12 kicked off the inaugural WFL season and it was the start of a wild ride — two teams moved mid-season, two teams didn't make it through the season, and due to financial reasons many players weren't paid! Despite all the turmoil, the league was able to put things together in time to kick off the 1975 season — but ultimately financial reasons forced the league to fold mid-season.
On the field the WFL went with yellow footballs and flashy uniforms. At the time they were very unique; most notably the Southern California Sun and Portland Thunder. The league also wanted to experiment with color-coded pants based on the player's position but that never took off. Finding color images of each team is a bit challenging, but here's a look back at each teams uniforms.
Some of the images below can viewed at larger size. Many are full size. Hover your mouse over each picture to determine if a photo can be enlarged.
. . . . .
Southern California Sun (1974) (1975)

The Southern California Sun were perhaps the most colorful of the WFL squads, wearing a bright magenta jersey over orange pants at home, and white jersey over orange on the road. Their white helmets had a blazing magenta sun surrounded by orange rays, with a magenta/orange/magenta stripe pattern. Socks were white with alternating orange/white stripes, with magenta tops.
_______________________________
Detroit Wheels (1974)

The Detroit Wheels represented the motor city wearing black or white jerseys over yellow pants. Their yellow helmets had a wheel that was in the center of a lowercase "d." They also alternated between grey or yellow facemasks. Socks were red at the top and white at the bottom. At one point this short lived franchise was even lucky to have uniforms"¦ the team had such financial problems one time they couldn't afford to get their uniforms back from the cleaners!
_______________________________
Houston Texans (1974) / Shreveport Steamer (1974 & 1975)

The Houston Texans played the first half of their season in Houston before they moved to Louisiana and were renamed the Shreveport Steamer. Each wore green or white jerseys with gold pants. In Houston they wore a yellow helmet with the state of Texas with a lower case "h" on the right side of the state"¦ each with a serious green drop shadow. In Shreveport they had two helmets. The first was a green "S" on a yellow helmet, and the other was a boat sailing in the water surrounded by the shape of a football. Socks were white with alternating green/yellow stripes.
_______________________________
New York Stars (1974) / Charlotte Stars (1974) / Charlotte Hornets (1974 & 1975)

The Charlotte Hornets franchise started out as the New York Stars and when the team moved they kept the teams colors. In New York the franchise wore yellow or white jerseys over black pants. Their helmet was black with a yellow star with an "NY" in it.
In Charlotte the team started with yellow jerseys over black as well before changing to black or white jerseys over yellow pants. Their helmets were also a work in progress. They started off with a Chicago Bears style "C" over the old NY Stars logo, changed it to a white "C" before finally putting an image of a hornet on it. Socks were white with a single black stripe around the top.
_______________________________
Memphis Southmen (1974) (1975)

The Memphis Southmen wore burnt orange jerseys over white pants with brown trim at home and white jerseys over white pants on the road. They had a white helmet with a growling bear in front of a sun. Because of the bear on the helmet many fans started to refer to the team as the "Grizzlies." They wore white socks with alternating burnt orange/brown stripes.
One of the more famous images from the WFL is of Larry Csonka, Jim Kiick and Paul Warfield on the cover of Sports Illustrated wearing their Southmen uniforms. There's also another memorable image out there of a couple members of the Southmen wearing different color pants. This was an experiment by the WFL to use color-coded pants by position so fans could always see where a certain player at a certain position was on the field. Needless to say"¦ this plan never took off.
_______________________________
Birmingham Americans (1974)

The Birmingham Americans wore red, white and blue of course! The jerseys were blue or white with white pants (each had red trim). The white helmet had an "A" on it with a star in the middle of it with a blue and red stripe pattern. Their socks were white with a blue stripe and red stripe pattern as well. The Americans won the one and only "World Bowl""¦ but when they returned to the locker room they were not greeted with champagne. Rather, the sheriffs department was waiting for them to confiscate all their uniforms and equipment to make up for the team's financial difficulties.
_______________________________
Birmingham Vulcans (1975)

In 1975, under new ownership the WFL returned to Birmingham, this time dubbed the Vulcans. The Vulcans went with very similar uniforms with the same blue or white jersey over white pants. The white helmet had a blue "V" with a football shape inside of it and a red flame coming out of the top. The socks remained red, white and blue with more blue near the top.
_______________________________
Jacksonville Sharks (1974)

The Jacksonville Sharks wore a black jersey with white and silver numbers over silver pants. Their helmet was silver with a black shark. Socks were white with black stripes at the top. It is said the Jacksonville Sharks based their color scheme off the Oakland Raiders.
_______________________________
Jacksonville Express (1975)

Despite the Sharks franchise being removed from the league in 1974, the Jacksonville Express joined the WFL in 1975. The team wore black jerseys over gold pants. Their helmet had a train with the word "Express" in place of the wheels on the gold helmet. Socks were white with thin alternating red/black/red stripes near the top.
_______________________________
Chicago Fire (1974)

The Chicago Fire wore red jerseys with white and black numbers/stripes around their sleeves over white pants with red and black stripes down the side. For their helmets they put a red flame outlined with black and white stripes over a red helmet. The socks were white with red and black stripes at the top.
_______________________________
Chicago Winds (1975)

When the WFL returned in 1975 Chicago got a new team"¦ and what better name for the "Windy City" than the Chicago Winds! At home the Winds donned green jerseys with white pants and on the road white jerseys over white pants. The helmets were white with a simple green "W" on them. Socks were also white with a single green stripe hear the top. Fans didn't have long to see this team in action as the WFL kicked the team out of the league after five regular season games.
_______________________________
The Hawaiians played in Honolulu but left their "location" out of the official team name. The team's colors were red, gold and brown. They wore a brown jersey over white pants. Their helmet was gold with a person wearing a helmet on it. Socks were brown near the top and white at the bottom.
_______________________________
Philadelphia Bell (1974) (1975)

The Philadelphia Bell, much like the original Philadelphia Eagles, wore blue and gold. hey wore blue jerseys over gold pants at home and white jerseys over gold pants at home. The helmet was yellow with a blue image of the Liberty Bell on it. They wore white socks with the upper portion of them blue.
_______________________________
Portland Storm (1974)

You couldn't miss the Portland Storm on the field! They wore a lime green jerseys over blue pants. Their white helmets had the blue and lime green in the shape of a football with an "S" carved out in the middle. Socks were white with a lime green stripe near the top. Their colors were very similar to the current Seattle Seahawks colors.
_______________________________
Portland Thunder (1975)

The following season Portland was able to secure another franchise with new ownership. The team was named the "Thunder" and they darkened their colors to green and navy. The Thunder wore green jerseys over navy pants. They kept the concept of having a football on the side of their helmet but put a "T" in the middle of it shaped as a lightning bolt. Socks were white.
_______________________________
Florida Blazers (1974)

<
The Florida Blazers were the runners up in the one and only "World Bowl." They wore red jerseys over navy pants. Their helmet was navy blue with Perhaps their logo could best be described as a comet's tail. Their socks were plain white.
_______________________________
San Antonio Wings (1975)

For the 1975 season the Florida Blazers were purchased and moved to San Antonio and re-named the "Wings." The Wings wore Blue jerseys over silver pants at home and white jerseys over silver pants on the road. Their helmet had blue wings over the front/sides of their helmets. They went with plain white socks.
. . . . .
OK, and *whew*. If that's not enough photos for you, you can check out my WFL album here. Big thanks to Aaron for the writeups for all those teams.
Hard to believe it's been 40 years since this league was founded.
Now, everyone — if you're still with us — pay attention to all of the teams just listed and shown above, because on Thursday, we'll be announcing a WFL Uniform Design Contest. You might be able to figure out where we're about to go with this, but we'll hold off on the official rules and announcement until then. Until then, especially those of you who weren't alive when the WFL played, what are your thoughts on the unis and helmets?
Special thanks go out to the following for some of the photos used in this article: Richie Franklin, Greg Allred, and Chris Gmyrek!
Click Any Images To Enlarge
Yesterday, the Arizona State University Sun Devils released (another) alternate uniform, this one named "Desert Fuel."
ASU will wear a the above helmet with an "all-anthracite uniform." According to the school, the copper will be worn "to honor the state's heritage as a top copper producer."
The date and opponent, according to the team, are as yet unknown, but it's believed to be for the November 8 matchup against Notre Dame.
Here's a quick look at the uniforms, then the requisite hype video, finally followed by a slideshow.
OK. As a uniform (completely disregarding actual school colors and tradition), I actually like this quite a bit — it's "anthracite" (which is better than black), I don't mind the gradient numbers (since they are legible), and that helmet is actually pretty sweet. On Paul's "Good or Stupid" scale, as a straight uniform — it's "Good." But it's one of like 4 or 5 different uniforms the Devils already have, none of it is in school colors, and it's unnecessary. Viewed from that perspective, it's Stupid. Let's call it Stupid and move on.
"But I thought gradient numbers were banned?" you might say. We've seen several teams now introduce uniforms with gradient numbers, and as near as I can tell, the gradients are banned only if they are in the same color(s) as the uniform. Since this uniform is dark gray, and the numbers go from white to copper, it would appear these are acceptable. Hopefully gradient numbers will soon go the way of matte and metallic helmets — which is (hopefully) out of football soon. But for now, they're here to stay, and they are officially a thing.
OK, below is the hype video There seem to be issues with the hype video, so we'll just have the slideshow. Let's hear your thoughts in the comments.
If you can't see the slideshow,
click here to see the album
.
Collector's Corner
By Brinke Guthrie
Still have somewhat of a Robin Williams malaise- this might be because although his talent belonged to the entire world, here in the Bay Area we knew him as a local guy. I never saw him around here — we're a 43 minute BART ride outside The City — but you could regularly read about him popping up here and there, just a normal guy.
Here's a well-done portrait for sale on Etsy — the seller says a portion of the proceeds will go to the Depression Alliance.
————–
• Look at these 1950s high-tops from Keds. Still look like they're in pretty good shape!
• Check out this 1961 Rawlings football ad!
• Figured that some of the 49ers season ticket swag would make it to eBay, and I was right. The whole deal is here, or you can go for just the bag.
• Nice looking 1960s Kansas City Chiefs copper wall plaque.
• Couldn't the Bucs go back to their 1970s Creamsicle look (as shown on this Mobil promo glass.) Please?
• Staying with glassware for a moment, we've got a pair of Packers single-bar milk glasses, and a 1950s-1960s Cleveland Barons (AHL) drinking glass.
• The way the SF Giants have played, you won't be seeing them in the Fall Classic, but maybe the A's will be there, as they both were in 1989- depicted on this 1989 Battle Of The Bay mug.
• Check out this 1989 MLB magnetic standings board– must have been aimed at Cubs fans, given the prominence of their logo.
• Staying with the Cubbies, this jacket from 1990 has a fairly busy design, am I right?
• Note on this early 1970s Miami Dolphins pennant, they were the "World Champions," not "Super Bowl Champions."
• We've featured these before on CC: take a look at this 1970 Dick Butkus mini-poster. No logo showing, though.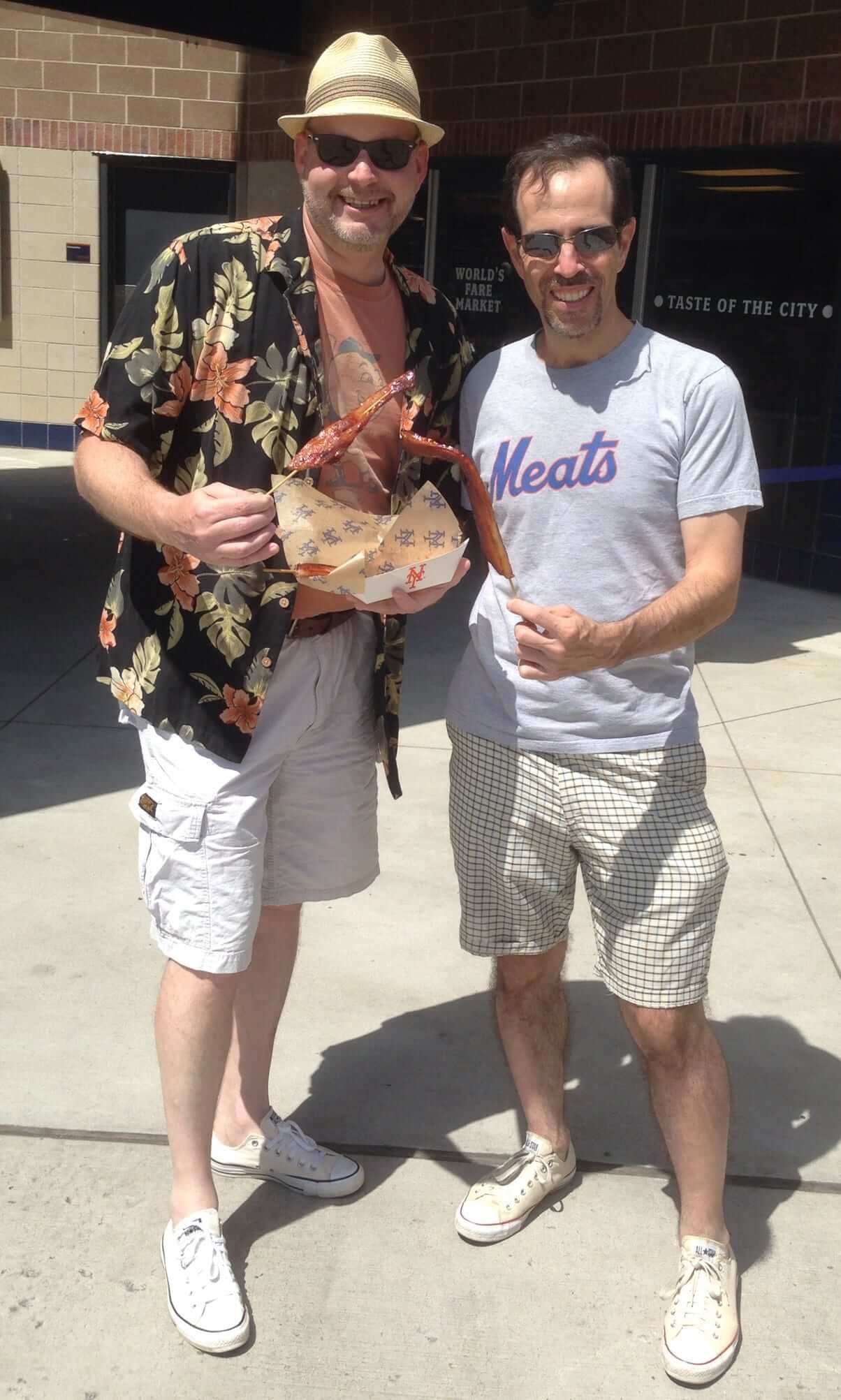 Click to enlarge

What Paul and Phil did last night yesterday: Paul here. It was a lovely afternoon for a ballgame yesterday, so Phil and I checked out the Mets/Cubs matinee. The Mets can't hit their way out of a soggy paper bag these days, plus they were wearing their godawful G.I. Joe costumes, but we didn't mind because, as you can see above, we were partaking of a very special treat that recently became available at the House of Wilpon: bacon on a stick.
They start with this thick-cut bacon, similar to what's served at a high-end NYC steakhouse. They thread it onto a skewer, bake it, griddle it, and then coat it with a maple/Sriracha glaze. You can see the process (sort of in reverse sequence, sorry) in this video I shot:
Gotta be honest: It was good but not special, and certainly not life-altering. More of a fun novelty than a delicacy. But hey, I'm all for fun novelties (especially when Phil's buying). And at least it gave me a good excuse to wear the Meats shirt to the ballpark.
As long as I have you here:
• Remember when I showed you some Vikings prototypes last month? As I said at the time, there's more where that came from, and I'll be sharing all of it with you in this week's ESPN column, which should be running on Thursday.
• Speaking of ESPN, my annual college football season preview will be running next Monday, with the NFL preview running two days after that. Block out some time now!
• This is the part where I remind you to order a Uni Watch 15th-anniversary patch already.
• Finally, unless you follow the news of the media world, you may have missed the revelation that Sports Illustrated grades its writers on, among other things, whether they "produce content that [is] beneficial to advertiser reltationship." Not altogether surprising, perhaps, but still pretty scummy.
Today's Ticker was mostly compiled and written by Garrett McGrath

Baseball News: Former President and Nationals Presidents Race participant Teddy Roosevelt showed off a picture of the Nats workout room with opposing players' framed home jerseys (from Ben Hendel). … Great historic photo of Hank Aaron when he worked as a hitting coach in Korea for the Samsung Lions (from Jonathan Daniel). … Adam Wainwright played a good prank on his former minor-league teammate/buddy Blaine Boyer, now with the Padres, Sunday [8/17/14]. Submitter Elena Elms notes "He got Boyer's dress shirt for getaway day and had a Cardinals clubhouse attendant fix it up with Wainwright's own NOB, even the "50" on the front. Boyer was a good sport and modeled it." … A guy who goes by D.J. Chicken Skratch (but signed his e-mail as "Phil" — definitely not me), writes, "The "whole missing patch on the sleeve" got me all worked up! I did some research and found this article on the Braves page that says they put the patch on AFTER they won the WS against the Philadelphia Athletics. So I guess the throwback is accurate, in that regard, after all." Mystery not quite solved, however, as moments after that e-mail, a second reply came in: "Darn, I may have read the article wording wrong. It states that there WAS an Indian head on the sleeve added. After the WS, it was added on BOTH home and road–and so that suggests that the road pinstripe uniform did not have the Indian head, while the home one already did. Great, now I'm back to being irritated at the inaccuracy of this throwback." … Last night, the Pirates mowed a "21" in the outfield honoring what would have been Roberto Clemente's 80th birthday. … Ferguson, MO is probably one of the least likely spots you'd find a Mets jersey, but there we are. Of course it's the ugly, drop-shadow version.

NFL News: Frank Gore wore really, really short pants in his preseason game on Sunday (from Lendel Martin). … Phil Rivers looks very stylish in his cut-off tee, shorts, and Crocs with socks combination (from Brady Phelps). … Here is a look at the 1951 Green Bay Packers media guide cover (thanks, Phil). … Washington football quarterback Kirk Cousins was wearing a repurposed jersey last night against the Cleveland Manziels (h/t Chris F). Here's another look (via Coach Nims). … Jabaal Sheard of the Browns was wearing a sailors hat on the sidelines during Monday Night Football last night (from Daniel Monroe). … Also spotted during last evening's game was Johnny Manziel showing his QB rating. So I thought it might be funny if someone updated the Manzielf. Nick Pants obliged. And then Rob Ullman did him one better. … A few of you have sent in CFL news — don't worry, we're on top of it — stay tuned for a full post on the new third unis tomorrow!

College Football/CFL News: It seems the USF Bulls won't be going traditional NOB this year, instead wearing "THE TEAM", as the "work on changing the culture" of the program. … The Nicholls Colonels have a new helmet (thanks to Chris Mycoskie). … Not sure what this OSU Buckeyes tweet is all about. Be afraid. Be very, very afraid. … That post led to this frightening response (I can't imagine OSU would go BFBS, but you never, never know).

Soccer News: Andre Ayew, a Ghana star on the French Olympique Marseille team, had to leave his season opener because a head wound caused him to bleed all over his two sets of kits, destroying the only two unis his team had with his number 10 on them. Due to the rule that you have to finish the match with the same number as you started, Ayew had to be pulled (from Matt Solly). … UNC Men's soccer honored their former captain in a game with Carolina Railhawks. Check out the number on the jerseys (from James Gilbert).

NBA News: The Memphis Grizzlies President of Business Operations, Jason Wexler, confirmed that the team is considering a new alternate uniform starting in the 2015-2016 season.

Grab Bag: In light of what is happening in Missouri, The Atlantic has posted a history of police uniforms and their psychological effects on citizens (from Laurence Holland).
OK, that'll do it for this fine Tuesday. No trolling today — you guys had your fun yesterday, but the party is over today. K? Thanks.
Big thanks to Aaron for his WFL writeups, Brinke for the CC, and Paul for the great day at Shea. Everyone have a great day today.
Follow me on Twitter @PhilHecken.
Peace.
.. … ..
"Tampa's (Buccaneers) new number font isn't great, but it is not that bad either. Ravens and Broncos are worse..jus saying."
–Rydell