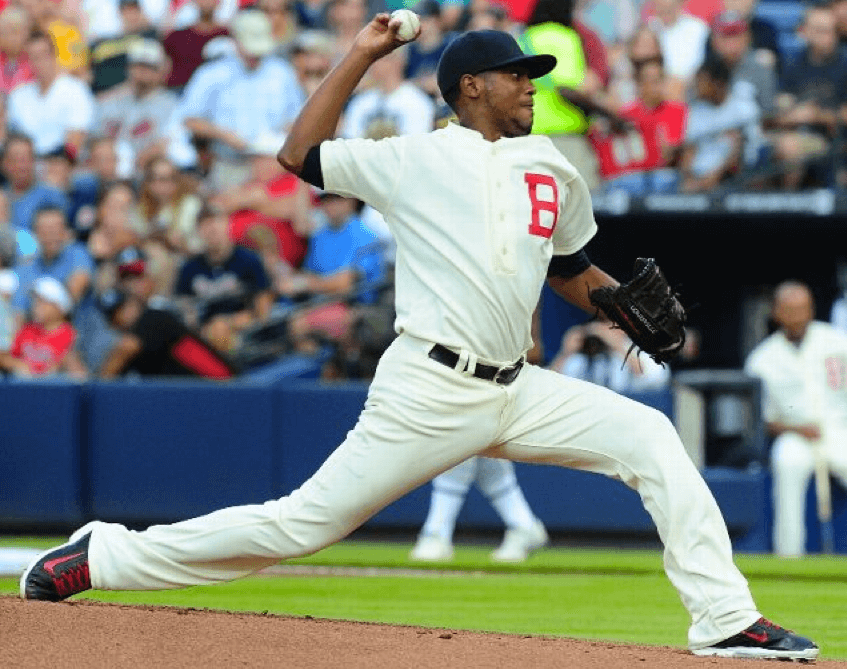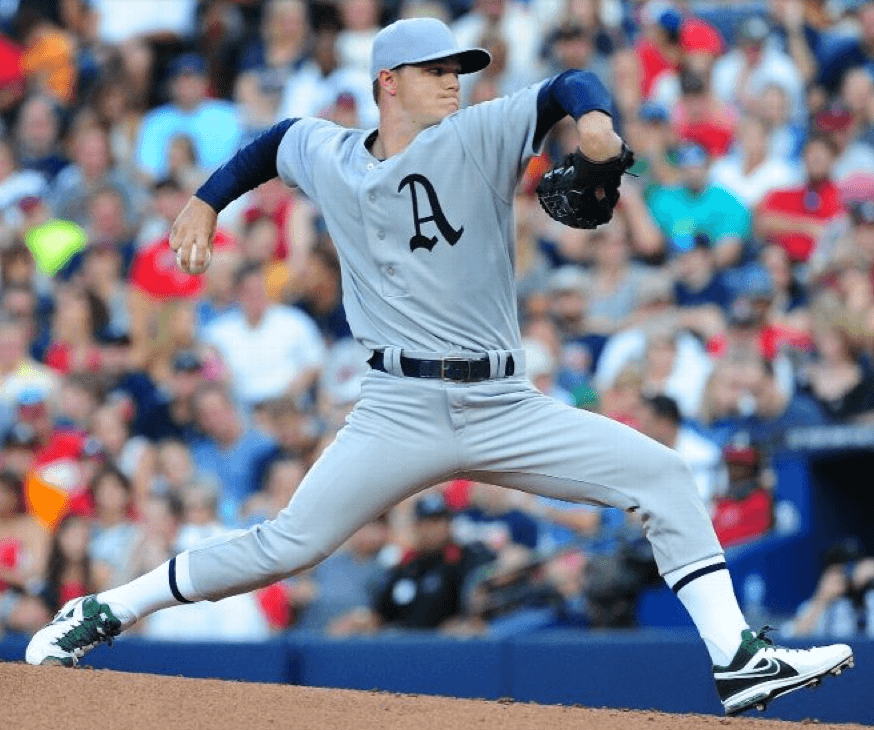 Click to enlarge
Paul here, still pinch-hitting this weekend. The Braves and A's wore turned back the clock 100 years last night, as both teams wore 1914 throwbacks. How'd they do? First let's take a look at the original 1914 designs that the throwbacks were based on (keeping in mind that the teams were known as the Philadelphia Athletics and Boston Braves back then):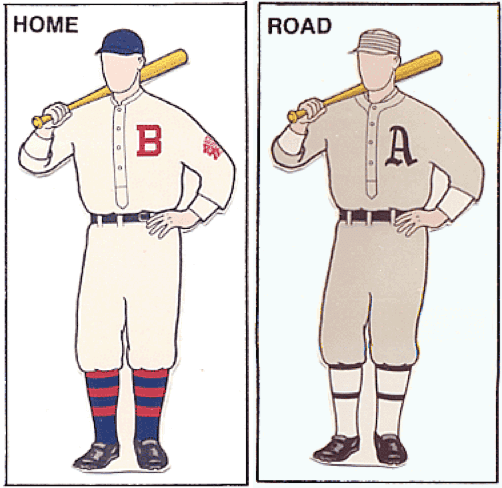 First let's list what they got right: As you can see from the photos at the top of this page, both teams wore period-appropriate four-button henley pullover jerseys, the Braves wore plain navy caps, and the A's went high-cuffed.
But there were also some inaccuracies and disappointments. For starters, the A's just wore plain gray caps instead of striped pillbox caps (here's an original game-worn specimen). Also, the Braves inexplicably went low-cuffed: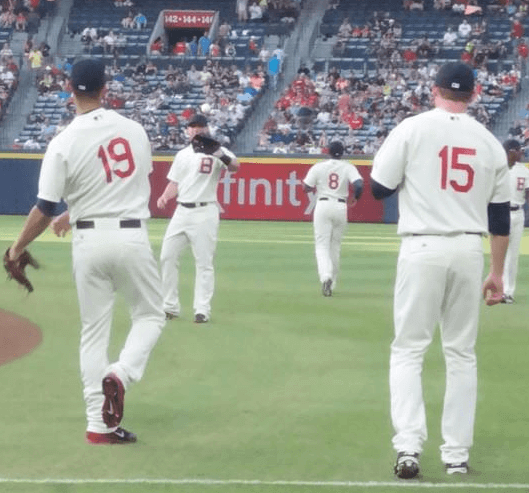 At one point I saw a Braves player pull up his pant leg to readjust something, and he wasn't even wearing red-striped throwback socks — he just had the Braves' standard navy socks. So what we had here was the odd spectacle of a throwback game in which the road team put more effort into getting the proper look than the home team did. Kudos to A's equipment manager Steve Vucinich for getting his team to show their hosiery: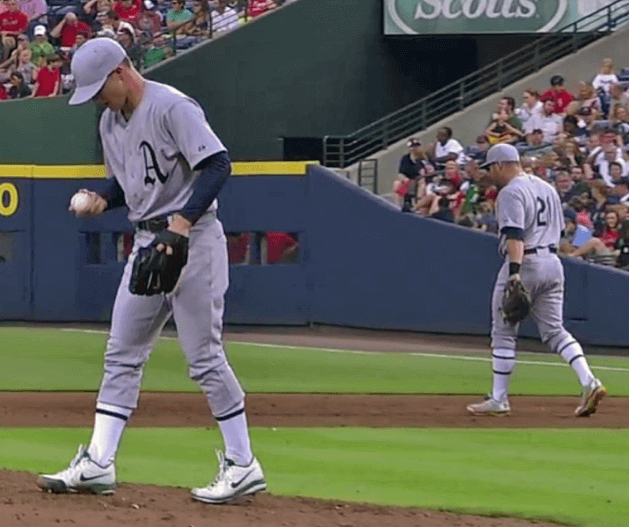 Unfortunately, both teams wore their regular batting helmets: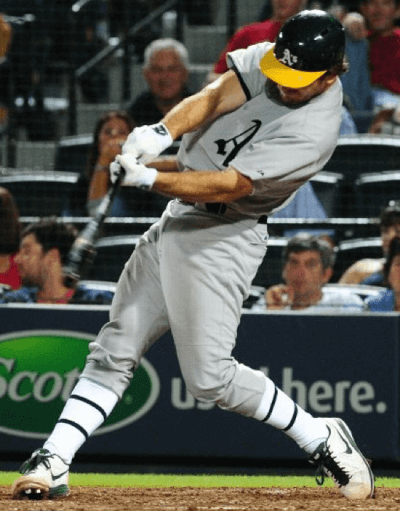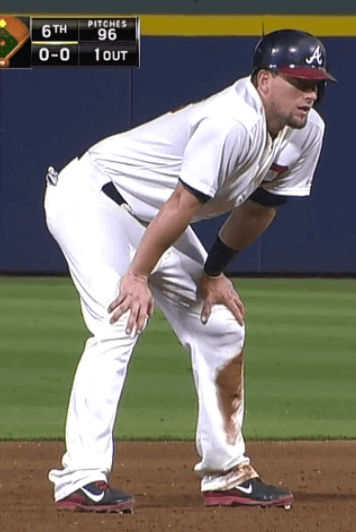 But the most intriguing historical inaccuracy involved the Braves' left sleeve. Back in 1914, they wore an Indian head sleeve patch. Last night, though, it was nowhere to be found: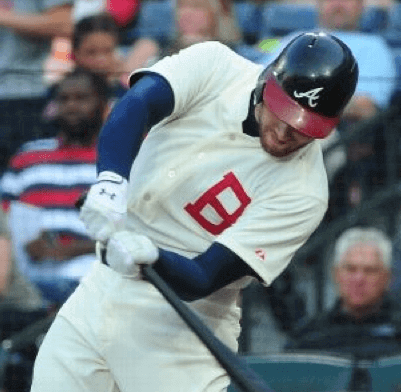 You might think this reflects some sort of cultural sensitivity (or just being gun-shy) on the Braves' part. But remember, they did wear a period-appropriate Indian head patch when they wore 1969 throwbacks in Chicago last month. Seems like a surprising inconsistency.
On the plus side, the Braves' team photographer got into the retro spirit with a vintage camera: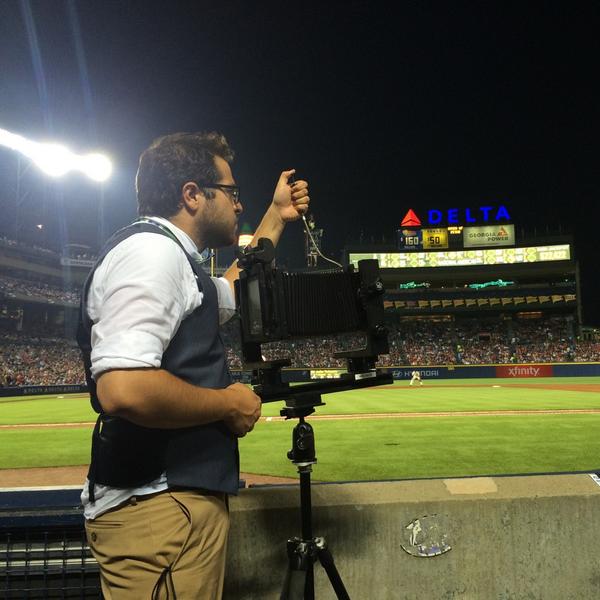 Braves first baseman Freddie Freeman isn't a fan of the throwback scene. He offered his comments after the game, which you can read toward the end of this article.
+ + + + +
Eagles update: As I wrote yesterday, the Eagles can't wear their green jerseys in the preseason or in the early weeks of the regular season because Nike is having trouble the team's shade of midnight green. I spent part of yesterday trying to learn more about this.
First I contacted an Eagles spokesman. In the interests of transparency, here are the questions I asked him via email:
1) Can you confirm [the basic storyline that the green jerseys aren't yet available]?

2) If the Eagles can't wear green when the season starts, will they wear black for home games, or will they wear white at home?

3) If the Eagles plan to wear black at home, will they seek (or have they already received) a waiver from the NFL rule that normally restricts teams to wearing an alternate jersey no more than twice during a given season?

4) When did the team become aware that the green jerseys wouldn't be available?

5) Has Nike indicated when the green jerseys will be ready?

6) Can you explain what's so difficult about midnight green? I realize it's a "custom color," but many NFL teams have custom colors. What's so challenging about this particular hue?

7) The black jersey has green trim on the collar and sleeves, and the white jersey has green numbers. Are those elements appearing in the proper shade of midnight green, or is Nike having difficulty with those elements as well?
The spokesman wrote back to me a few minutes later and provided the following statement, which he said had also been issued to reporters prior to Friday night's preseason game:
The Philadelphia Eagles have upgraded their uniforms for the 2014 season by taking advantage of the NFL Nike Elite 51 fabrication. As a result of this upgrade, the Eagles will have the Elite 51 technology for all three of their jerseys (White, Midnight Green and the alternate Black).

The Eagles will use their white and black jerseys throughout the early portion of the season, including tonight's game at New England in which they will wear their black jerseys and white pants. The Midnight Green jerseys require extra time to produce since it is a custom color and will not debut until later in the 2014 season.

According to Nike, the Elite 51 uniform chassis offers a fully integrated uniform system rooted in body-led design. The NFL Nike Elite 51 uniform chassis is built for a body-contoured fit resulting in zero distractions to help amplify speed.
Obviously, that didn't directly address any of my questions, so I wrote back: "Thanks. But can you address any of my other questions — i.e., when will the green jerseys be ready, and have the Eagles decided whether to wear black or white for home games in the interim, and so on?"
His response: "We typically wear white jerseys at home early in the season anyway."
My response: "So is that officially the plan? Also, sorry to be pain, but has Nike indicated when the green jerseys will be ready? When did the team become aware that the green jerseys wouldn't be available in time for the start of the season? What is so challenging about reproducing the Eagles' shade of green?"
His response: Silence.
I find it tremendously frustrating when publicists behave this way. If you can't address my specific queries, just say, "We can't offer any further details at this time." Dodging or ignoring my questions puts me in the position of having to ask them again and again, which casts me in the role of a pest ("Sorry to be a pain, but…") when in fact I'm just doing my job. Sigh.
I also posed a similar set of questions to Nike. No response yet. Granted, it's still the weekend — maybe they'll respond on Monday. Stay tuned. (Meanwhile, reader Dan Fuller has written a good account of why colors like midnight green present production challenges — recommended.)
+ + + + +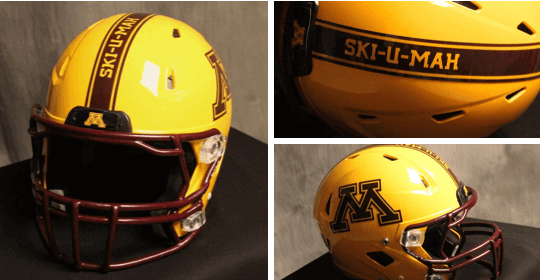 Click to see full photo gallery
New helmets for the Gophers: Minnesota unveiled a new gold alternate helmet yesterday. It will be worn for a few games in the upcoming season. For those unfamiliar with the school's traditional rallying cry, "Ski-U-Mah" dates back to 1884. Further info on it can be found here. (My thanks to Phil for letting me know about the helmet.)
+ + + + +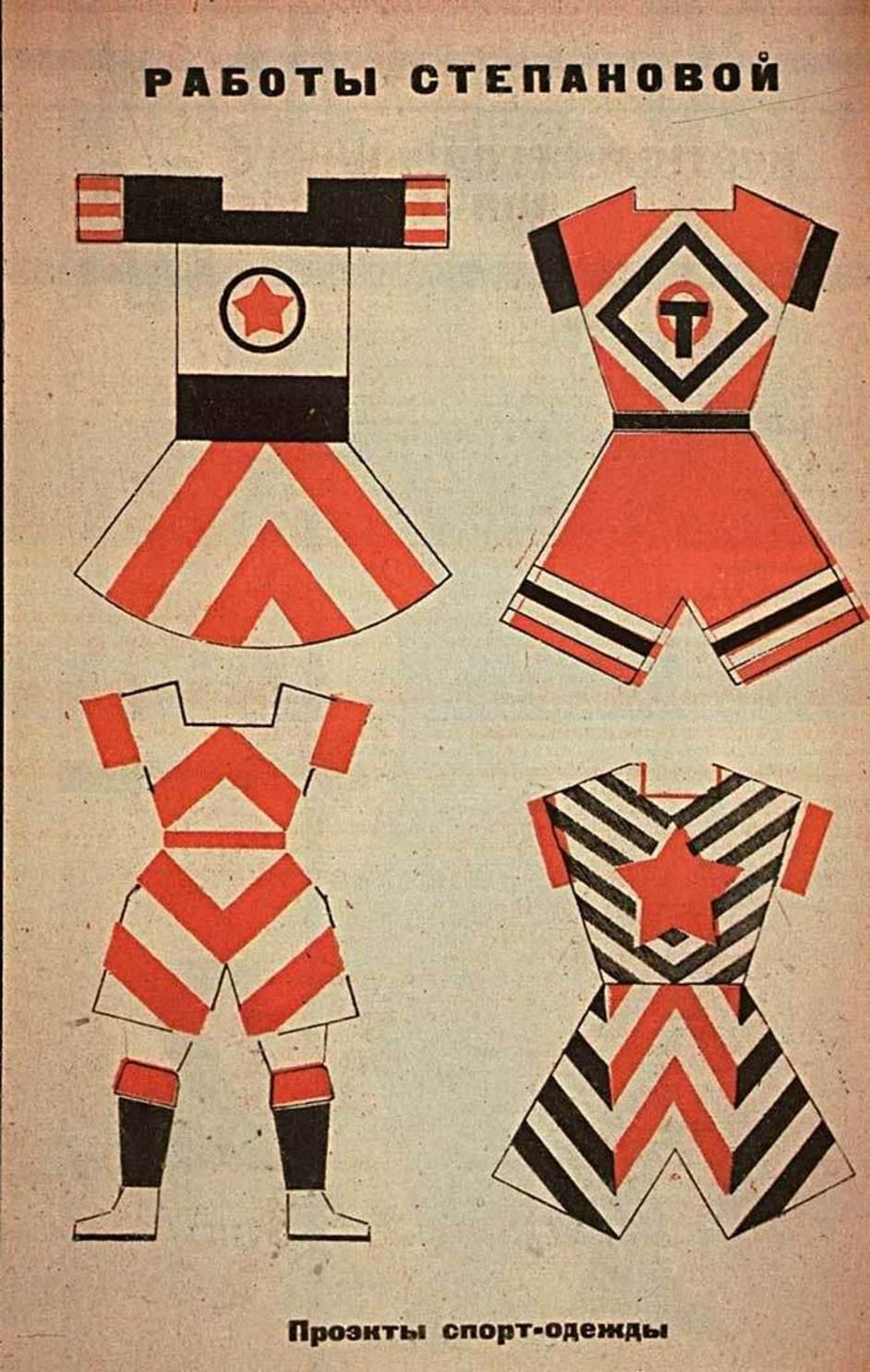 Click to enlarge
The unisex uniforms shown above were designed in 1928 by the Russian artist Varvara Stepanova. She was married to the great artist/designer Alexander Rodchenko and shared his Constructivist aesthetic. Further details on these uniforms can be found here. (Big thanks to my pal Laura Forde for bringing this one to my attention.)
+ + + + +
Friendly reminder: In case you missed it this past week, the Uni Watch 15th-anniversary patches are now in stock and available for ordering. If you've been thinking about getting one, there's no time like the present. Thanks.
+ + + + +

Baseball News: Cubs OF Chris Coghlan was missing his batting helmet logo last night (thanks, Phil). "¦ Bit of a fuck-up on the Tigers' Miguel Cabrera giveaway bobblehead (from David Murray). … Love the little illustrations on this 1941 Phillies program cover (from Bruce Menard). "¦ Brewers 1B Mark Reynolds lost the "a" from his "Milwaukee" script last night (from Matt Harris). … Boyz II Men wore Mets jerseys while performing a postgame concert at Citi Field last night.

NFL News: Here's a story on the evolution of the Levi's Stadium inaugural-season logo (thanks, Brinke). … "I just learned that Southland Athletic of Terrell, Texas, closed their doors for good on Aug. 1 after 68 years in business," writes Terry Proctor. "Their claim to fame was that they made the Dallas Cowboys' uniforms from 1960-1981. And as far as I can tell they also made the original brown and gold uniforms for the Broncos. Sad day for the industry. They were one of the last independents to shut down. Impeccable quality and American-made." There's a video showing their factory in operation earlier this year here. "¦ Sometimes something looks weird at first and then you get used to it. And then, on the other hand there's the Bucs' number font. "¦ Jared VanderWeele points out that Packers RB Michael Hill was missing his TV numbers last night. That prompted Phil to point out that Hill's teammate Kevin Dorsey had the same problem last week. "¦ Vikings LB Gerald Hodges had some problems with his jersey last night (from Chris Hortness).

College Football News: Black jerseys appear to be a good luck charm for Oklahoma State (thanks, Phil). … Pitt is using a series of retro program cover-style illustrations for its season tickets (Phil again). "¦ New uniforms, including a mono-red option, for Northern Illinois (Phil yet again).

Grab Bag: Here's a slideshow of the worst uniforms in Aussie football history (from Coachie Ballgames). "¦ Here's something you don't often see: a center-ice hockey logo that's oriented to face one of the ends instead of facing the sides (from David Raglin). … Soccer news: Interesting NOB for Swansea City's Ki Sung-Yueng (thanks, Phil).