By Morris Levin
In Williamsport, Pennsylvania this afternoon at 3:00 PM, the Taney Youth Baseball Association all star team meets South Nashville in round one of the 2014 Little League World Series. This is kind of a big deal in my neighborhood near Philadelphia's Italian Market, where Taney is the area little league. Neighbors plan to leave work early to watch the game together at Milkboy at 10th and Chestnut Streets, and New Wave at 3rd and Catherine Streets.
Unfortunately for the communities from which these teams come, the game appears on Little League's site, as Mid-Atlantic at Southeast.
The Taney team entered in the competition has a name, the Taney Dragons. They wear navy blue and white uniforms, and are taught to wear them properly. Taney wore their navy and white when they became Little League Pennsylvania Champions in Lower Perkiomen. Here they are as Mid-Atlantic Regional Champs in Bristol, Connecticut.
As if it was an honorific, Little League renames each team in its corporate communications during the World Series with a generic regional title. On Thursday, Little League summarized the afternoon's match-up where Great Lakes beat Northwest: "A great effort by Pierce Jones carried Great Lakes to a 12-2 win in five innings over Northwest on Thursday at Lamade." Great Lakes does have a real name, Jackie Robinson West, and had its own style until it reached Williamsport.
Russell Athletic pays Little League Baseball to advertise at the LLWS and be designated the official uniform supplier. Russell updates its basic youth baseball jersey and presents it in sixteen color combinations. The company introduces them at the LLWS after which it can begin arrangements to sell the patterns to leagues and coaches for the 2015 season. In this sense, the players, coaches, and umpires in the Little League World Series are mannequins for Russell's 2015 sales efforts.
In Williamsport, Mid-Atlantic Taney has been outfitted as Russell's take on West Ham United supporters whitewashing any sense of Taney's neighborhood identity in service of this commercial campaign.
I am not necessarily anti-jersey advertising in youth athletics. Some of the greatest youth athletic clubs of all time have worn advertisements. I wore local company's names on the back of my youth baseball shirts.
Philadelphia is a city of neighborhoods. Many national stories about the Taney team describe them as from "center city". This has caused a bit of consternation among those of us who live south of South Street.
The Taney Recreation Center is at 26th and Pine Streets. Center City is Philadelphia's downtown area which was the city of Philadelphia's borders prior to the 1854 Act of Consolidation. South Street was the city's southern border, and divided the City of Philadelphia from the Southwark District along the Delaware River, and the Moyamensing District along the Schuylkill River.
Taney Rec Center is in Center City. However one of the hearts of the Taney athletic program is Steve Bandura and the programs he runs at the Marian Anderson Recreation Center at 17th and Fitzwater Streets. Marian Anderson is in the historic African-American neighborhood where Marian Anderson was born in 1897. Steve's program runs baseball, basketball, soccer, and other athletic programs. More so, he teaches his athletes about history. He called one team the Monarchs after the successful Negro League franchise Kansas City Monarchs. One of the traveling teams has been the Philadelphia Stars which he dressed in the Negro National League's 1938 cap, and 1942 home uniform. They visit Cypress Hills Cemetery and pay their respects to the memory of Jackie Robinson. (Again- see how well they wear their classic uniforms!)
This is a public relations and sales opportunity for Russell Athletic. Teams and players delighted in the new uniforms and equipment.
But Little League is about geography and these are neighborhoods and communities who are proud to see their neighborhood on the big stage. I appreciate many aspects of living in the country's Mid-Atlantic region, but I would not identify with the region as a definitional quality of my self-construct. Taney is part of the background aesthetic of my neighborhood. Boys and girls wear their Taney little league t-shirts around in whatever color their team happens to be that season. This is from five years in t-ball up to 15 year olds. Taney is part of my neighborhood. What is missed in Williamsport is the very variance between all of our neighborhoods and what defines each as home.
SEPTA's route 47 bus goes by my house. As I walked to Shot Tower Coffee yesterday morning, a boy eight or nine years old was waiting at the stop with his mom. He had on his backpack and was ready for the summer day. Propped on his head was the navy blue Taney baseball cap with the full-block white T. You can buy one here "" the money goes direct to the Taney Youth Baseball Association.
Update on Bill Henderson Call for Assistance
Bill Henderson reports an incredible outpouring of response after I wrote here last week of his desire for assistance in researching the next edition of the MLB Game Worn Jersey Guide. Bill has personally written back to each of the individuals who have responded, and asks me to pass along here the message that he is in the process of trying to divide up the work in a way that makes sense. "So many people contribute facts and photos to me on an ongoing basis that one of the biggest challenges is coordinating and fact checking all of the input, by team and date, to make sure we have a complete picture," he says.
Over the coming weeks, Bill is going to start laying out the scope of the future seventh edition, and will be back in touch with this who have volunteered to help. He is grateful for the support!
________________
Morris Levin is the proprietor of the business consulting practice Elysian Fields LLC in Philadelphia. He is not compensated for the editing of the Guide and has been reimbursed for postage expenses. Morris pinch-hits for Phil on Fridays when Phil pinch-hits for Paul in August. Morris' favorite jersey is his 1987 Phillies #42 Don Carman batting practice jersey, and favorite uniform the 1950 to 1969 Phillies home set.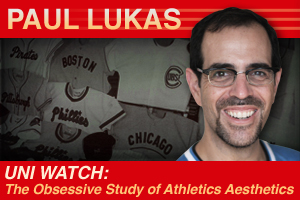 And now a few words from Paul: In case you missed it yesterday, my latest ESPN column gives you the chance to vote on which is better — white uni or colored uni — for all 30 NHL teams.
And as long as I have you here:
• The winners of the raffle for the three copies of the "Compendium of Baseball Uniforms" print from Pop Chart Lab are Dan Herr, Andrew Schall, and Jim Frick. Congrats to them!
• If you haven't already ordered your Uni Watch 15th-anniversary patch, get 'em now before I sell out!
•  At some point today — probably in the afternoon — I'm going to have an article posted on a new design site called reForm. I'll have more details about this next week, but if you're curious you can go to the reForm home page and see if my article has been posted yet (once it's up, it'll be at the top of the page).

U.W.F.F.L. Spring League
UWFFL Developmental League – Weekday Edition
By Rob Holecko
A short but sweet UWFFL update — two semifinal games on tap as the Spring/Summer Developmental League takes one more step towards crowning a champion.
The St. John's Stingers, now 8-0-1 after defeating Cheyenne in the quarterfinals last week, head down to South Carolina to take on the Greenville Pointers. The Pointers are 9-0 and defeated Missouri in their quarterfinal last week.
. . . . .
. . . . .
In the other semifinal, the Wild Card Charleston Navigators, now 9-1, are fresh off the upset of the Yellowknife Lumberjacks in the last round, and they head over to Little Rock, Arkansas, to take on the 9-0 Diamondbacks.
. . . . .
. . . . .
The winners will face off next week in the first UWFFL D-League Championship, while also going on this week we also have some preseason rivalry games, as well as three regular season minor league games to kickoff the Fall Season. So head over to uwfantasyfootballleague.com and vote on some more football games, and we'll see you next week.
'skins Watch: "Here's a Redskins-inspired "˜Rednecks' T-shirt" as reported in the WaPo (submitted by Tommy Turner). … The Washington Redskins visited Zuni Pueblo, but they wanted Native-made artwork and crafts, particularly stuff that promotes the Redskins team brand — not "Drunk Artists" (submitted by Paul). … Finally, Tom Currie writes, "The attached photo is pretty crappy but it looks like the NFL network is using the Washington logo with the r logo instead of the head a significant amount. The top left logo looks to be the r logo as was the logo they used for transitioning to replays and a few other places. Was there a reason for this besides the offensive nature of the logo?"
Uni Watch News Ticker:

Baseball News: Following up on yesterday's lede, Todd Radom sends this picture, "taken the day that Seattle Pilots officially became Brewers, 04/01/1970 — talk about team overlap." … Here's another great old photo from Bruce Menard, 110 Yrs Ago Yesterday (the Boston Americans [Red Sox] vs Chicago White Sox at South Side Park 8/14/1904). … Very nice vintage 1960s Houston Astrodome ashtray on eBay (from Jonathan Daniel). Also from Jonathan: If an Astrodome ashtray isn't your speed, how about one from the Orioles?. Finally, check out this beautiful rare 1972 Orioles pin. … Check out the Iron Pigs upcoming "Pirate & Princess Night" jerseys they'll wear on Saturday, August 16th (via MiLB Promos). Arrrrrr! … Ugh: The University of Northwestern Ohio has a red turf infield (h/t to Ryan Altenbach). … From This Week in Baseball from June of 1978, Jonathan Daniel sends this clip of the White Sox wearing green bowler hats on field presumably during warmups. "I did a quick search but couldn't find any more info." … Yesterday, Kenley Jansen was wearing (borrowing) Clayton Kershaw's helmet (via Cody Pullan). … Reader Trés Lawless was watching the American Legion World Series, featuring Lakeville North, NE's pinstriped, chest and cap lettered, and stirrup unis. Also, Brooklawn (NJ)'s unis had a 'POP' patch with a '13' in the 'O'. … Stetson Pevear writes, "I went to the Braves vs Dodgers today and stopped by the museum. They had some great jersey relics including an original zipper jersey. I also found out they once had a satin jersey back in the 40s. I thought squatchee stickers on helmets were relatively new, but here is one on a 1992 Javy Lopez catcher's helmet." … Matthew McDonnough went to a Yakult Swallows vs. Hiroshima Toyo Carp game in Hiroshima earlier this week. One is a 3-digit uni number on the BP pitcher; the other is the little bit of flair/flare on the legs of the Swallows' pants (meant to look like the tail of a swallow, perhaps?). … Michael Taylor of the Nats cut out the back of his BP cap to show off his high-top (from Yusuke Toyoda).

NFL News: More uni rankings, this time from CSN Washington who've ranked all 32 teams from worst uni to best. I disagree with their #1, but they got the worst one correct (h/t to TommyTheCPA). … Here is a really fantastic article on helmet choices faced by Lamar Hunt and the Texans/Chiefs in their early years. Highly recommended reading. … The Saints no longer have the shield on practice jerseys. (2013 and 2014). Thanks to Thomas Marcotte. … An E-mailer who goes by "Birdsfan" writes, "It should be noted that, in addition to abandoning the 'dazzle yoke' material on the former style/no change Elite 51 jerseys, the Eagles have adopted kiss cut numbers on the new style nikelace/Flywire jerseys. See detail on tv numbers here. Until this season, the Eagles used 'traditional' three-layer tackle twill numbers as seen here." … In last evening's Bears/Jaguars game, Jordan Palmer was wearing his wedding band; (here's another, better picture), with thanks to Jen Hayden. … Chip Kelly apparently likes his players wearing white socks during practice and LeSean McCoy likes wearing black socks (from Yusuke Toyoda).

College Football News: Reader Preston Feiler sent in some photos of the new Miami Hurricanes unis. He's not enamored with the look, especially the new orange jersey, which "have a horrible green stripe that goes across the back that wasn't noticed before." … Pitt's season tickets feature images from old programs, which is nice (h/t Dan Kardon). … Since there aren't enough uniform polls out there, here's one more: ESPN asks who does alternate uniforms the best in the Big XII? … The CMU Chippewas have gotten some much needed new unis (although I not such a fan of the "Fire Up Chips!" on the sleeves. You can read more here. … From our Notre Dame guy, Warren Junium comes this: ND helmets appear to feature serifs on the over facemask decal, which was formerly sans-serif. … Wow. ake a look at the cover of the first Fiesta Bowl game program from the 1971 game (h/t Sully).

Hockey News: From our friend over at SportsLogos.net, Chris Creamer, the Carolina Hurricanes have released their 2014-15 Jersey Schedule. Based on that, they'll wear their all-black (third) jersey 12 times during the season, all at home. … Looks like the St. Louis Blues will have a new look on August 25th (thanks to Joe Mueller).

Soccer News: Just in time for the Euro 2016 Qualifiers, Belgium has a new set of home and away kits (h/t to El Duderino from yesterday's comments).

Grab Bag: Check out this pair of muddy sneakers. No, they weren't worn in wet conditions or anything, they're actually designed to look like they're covered in mud. Just what the world needs (thanks, Paul). … Have you lost a leg, but want to support the Washington football or baseball teams? You're in luck! (thanks to Yusuke Toyoda).
And that's going to do it for this fine Friday. Thanks, as always, to Morris Levin for his Friday segment. Great stuff! Looking forward to your next installment.
Everyone have a good weekend, and I'll catch you again on Monday.
Follow me on Twitter @PhilHecken.
Peace.
.. … ..
"I've never had a better experience at a sporting event. Except for the time my brother snagged a BP home run, and a little Canadian kid bit him. He clamped down until my brother dropped the ball, then the wily Canuck scooped it up, and gave it to his mom, who deposited it in her handbag. Oh! Canada!"
— Cort McMurray