As most of you know, I don't usually get excited about soccer. But there was a small discussion in yesterday's comments regarding a topic that I found very intriguing: the uni number font on Real Madrid's new jerseys: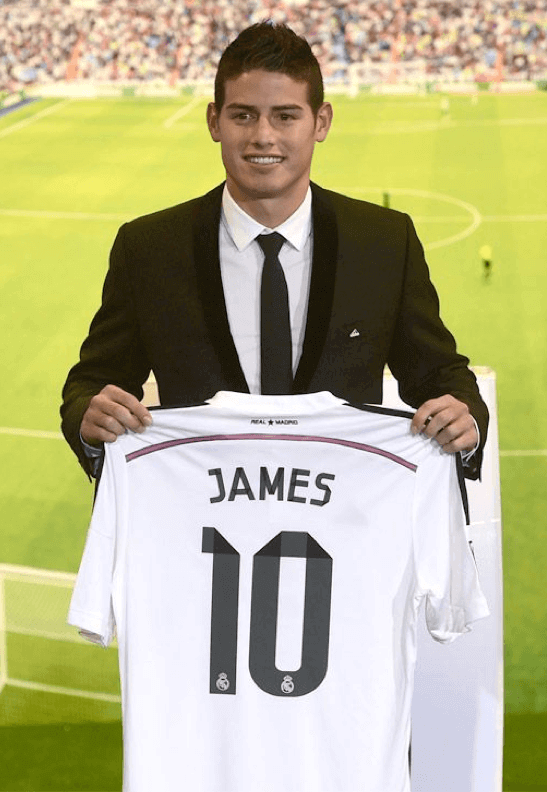 The interesting thing about the font is that the numerals look like folded paper, sort of like origami. Here are some additional examples (click to enlarge):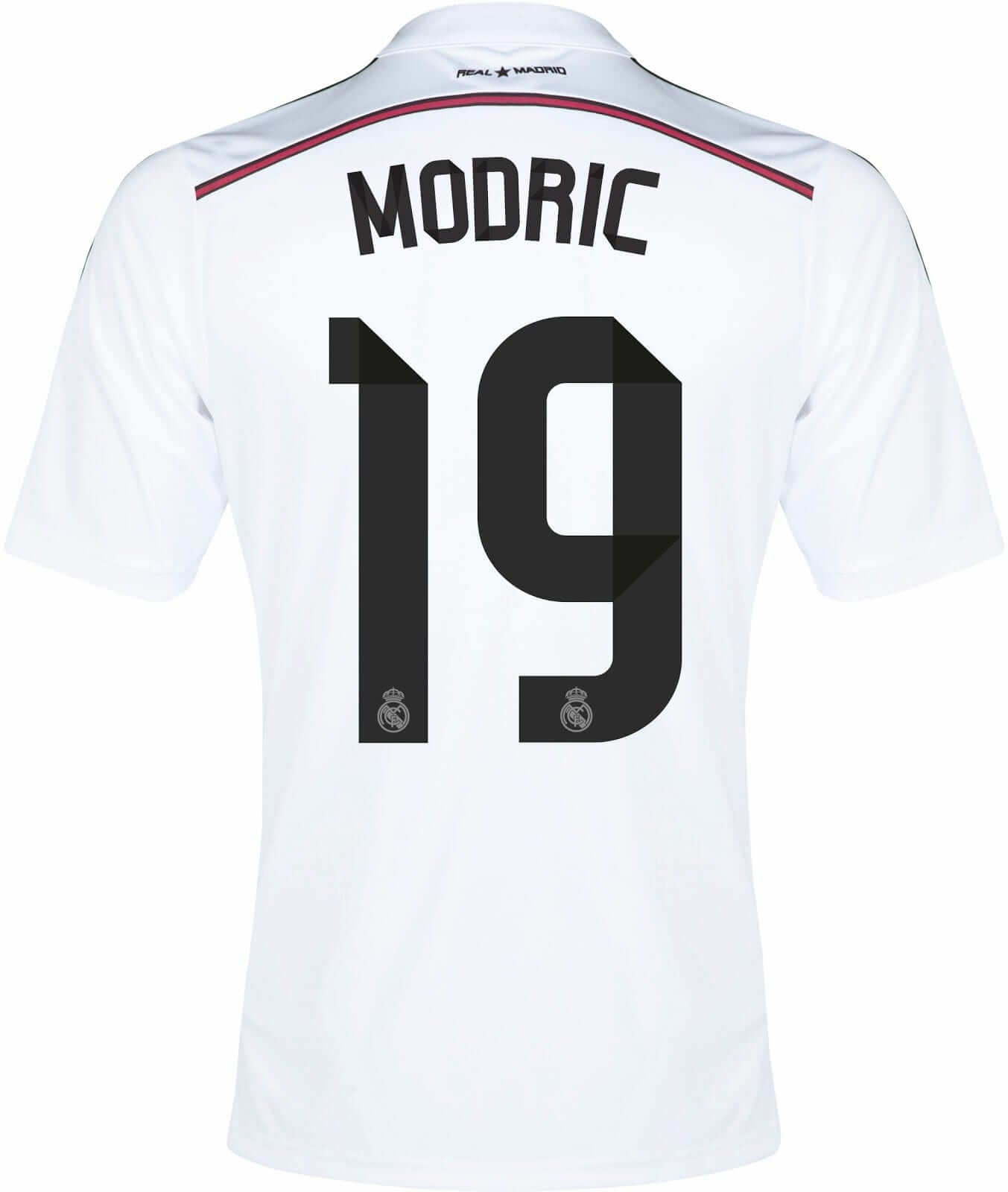 Some of the other numerals are less origami-like but still attractive. The "8," for example, doesn't feel like a single piece of paper that's been folded — it's more like a "o" overlaid with a horseshoe shape. I really, really like it: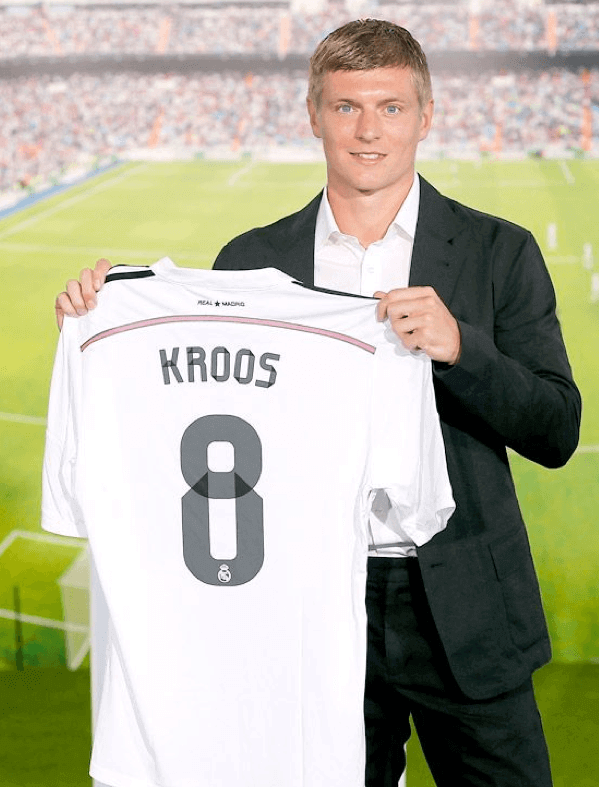 And the "3" is like a backwards "c" overlaid with a backwards "L" (click to enlarge):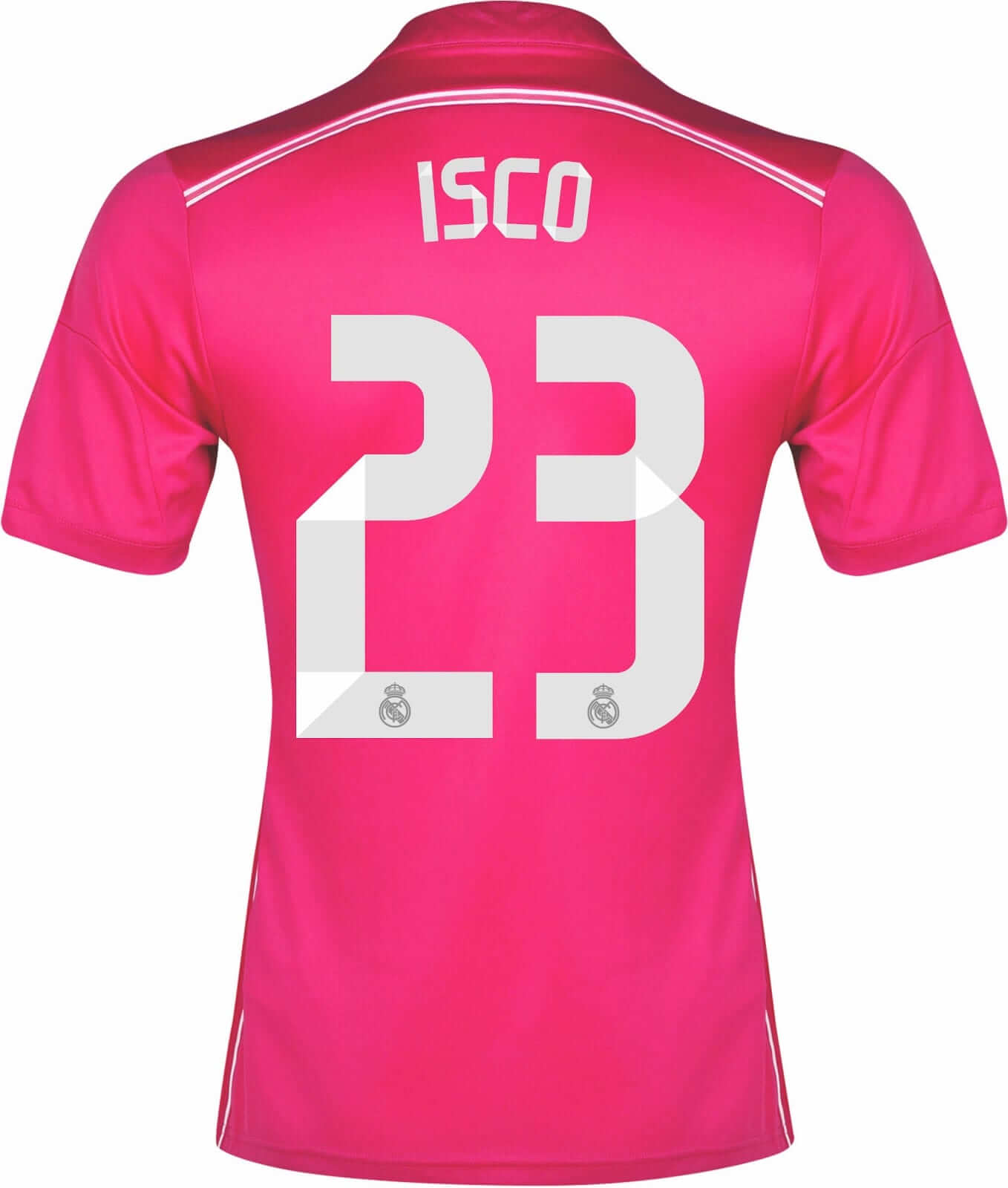 And so on. A few other thoughts on this:
• While I like the numerals a lot, I don't think the font works well at all for the NOB lettering.
• I usually don't care for custom number fonts. Why do I like this one so much? Is it strictly on the merits, or is it partially because I don't follow soccer and therefore have no emotional stake in it? Simple exercise: Would I like this font as much if it were being used by an NFL or MLB team? Hmmm — probably not. So I'll be interested in hearing whether soccer fans like this font as much as I do.
• If you like the idea of a font based on folded-paper patterns, check out this alphabet from the Danish graphic designer Kasper Pyndt. So cool! (Big thanks to my pal David Wilson for that one.)
+ + + + +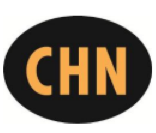 NFL Decal-o-rama: The Steelers had said they weren't going to unveil their Chuck Noll memorial decal until Opening Day, but I can tell you it's going to look like the design you see at right. I'm sure some folks will say it's too plain or whatever, but I think the design's understated dignity fits Noll's character (or at least his public persona). My only gripe is that the lettering was rendered in the Steelers' current NOB font, which was never used during Noll's career.
And as long as we're talking about NFL helmet decals: Pinktober and G.I. Joe-vember are back for another season, and all teams will once again wear USA Football's "Heads Up" logo for preseason games, just like last year.
(My thanks to Mako Mameli, without whom this section wouldn't have been possible.)
+ + + + +

Baseball News: The Mets wore brutal orange "Los Mets" jerseys last night. And if you look at that photo, you can see that they didn't even try to adjust the angle of the "Mets" script to make it flow properly with the "Los" — they just reduced its size and kept it at its normal angle. That's some lazy-ass shit right there. "¦ Love this: The Nashville Sounds forgot or lost their road caps on the way to last night's game, so they had to wear blank caps (from Barry Brite). "¦ Here's one of those old-timey "base ball" leagues where the players wear 19th-century uniforms. I especially like this guy's belt (from David Alexander Hatch). … Even better: An old-timey base ball game staged in an old Gold Rush ghost town (from Matt Sepersky). … Here's one of the ugliest Star Wars jerseys yet, for the Brooklyn Cyclones (blame Phil). … "I was sitting at the pool yesterday, reading a Pirates game program I had in my bag, and I noticed this strange little quirk in this photo from Neil Walker's introduction after has was drafted in 2004," says Rob Ullman. "The zero in the '04' on his jersey looks to be an 8 with the middle cut out!" … Can't recall if we've seen this before or not, but just in case: Here's a breakdown of all the unis in that AT&T U-verse commercial (from Steve Vibert). "¦ You know how there's a tech assistant who helps the umps when they're contacting the MLB office during a replay? Mike Guterman notes that the techie at last night's Jays/Bosox game was MLB- and Samsung-branded. When did that start? Definitely hasn't been a universal thing this season. "¦ The good news is that the Bridgeport Bluefish have decided not to wear that godawful naked-torso "military appreciation" jersey after all. The bad news is that they'll probably just use the default camouflage option (thanks, Phil). "¦ The Single-A Charleston RiverDogs used to be called the Charleston Rainbows from 1985 through 1993. They'll wear Rainbows throwbacks this Saturday to mark the start of the 2014 Charleston Pride Festival (thanks, Phil). "¦ The Big 12 logo has been added to Baylor's cap (from Coleman Mullins).

NFL News: Steelers QB Ben Roethlisberger showed support for DE Brett Keisel, whom the team has not yet re-signed, by wearing Keisel's No. 99 in practice (from Tony Shiffman). "¦ Looks like the Pats are now using Flying Elvis on their nose bumpers. Remember, the Riddell logo can no longer appear in that spot, so a lot of teams may be experimenting with new nose bumper graphics this season (from Garrett Heller). "¦ Sports Illustrated ran a Drew Brees cover story that included photos of Brees wearing a TRX T-shirt and also quoted him talking approvingly about TRX but neglected to mention that Brees is a TRX investor. … Buried at the bottom of this Browns article: "[Coach Mike] Pettine ended practice with a drill in which the offense had to gain 20 yards against the defense. In a best-of-five format, the side that prevailed won the right to wear orange jerseys Thursday." Unfortunately, there's no explanation of what's so special about wearing orange jerseys. … The Dolphins have come up with a motivational T-shirt (thanks, Brinke).

College Football News: Jell-O has come out with out with a line of college football logo molds. The Texas A&M one features a double whammy — bevels and a backwards apostrophe on the package (from David Wilson). … New helmet for Tulane (thanks, Phil). … Here's a cool display of Minnesota helmets (thanks, Phil). … Nebraska will wear an alternate uni for one game this season (thanks, Phil). … Louisiana Tech will be doing a red-out, including this new helmet design, against UTEP on Oct. 4 (Phil again). … Seriously ugly new jerseys for Cincinnati (Phil yet again). … New jersey for Arkansas State.

Pro and College Basketball News: Here's a slideshow of LeBron James wearing No. 23 at various points in his career (from Jerry Wolper). … ACC logos are being added to Virginia Tech's court (from Andrew Cosentino). "¦ As you've probably heard by now, UCLA's court might be a little damp for a bit. Details here. "¦ Here's Maryland's new B1G uniform (from Matt Shevin).

Soccer News: New third kit for Man U. "¦ New kit for Dynamo Moscow. "¦ Interesting study on how teams perform when wearing their away kits.

Grab Bag: Here's a very detailed look at the history of U.S. Navy uniforms (from Jason Nofsker). … An English cricket player has been told to stop wearing "Save Gaza" and "Free Palestine" wristbands on the pitch (thanks, Phil). … Unusual intellectual property case here in NYC, as a popular housewares shop has been told to stop selling a line of dishes featuring the NYC skyline because some of the buildings belong to the Port Authority. … There's been a mild kerfuffle over Nigerian ahtletes wearing inconsistent jerseys at the Commonwealth Games. "¦ Want to pay to have a pro golfer wear your logo at the upcoming PGA Championship at the Valhalla Golf Club in Kentucky? Here's how. "¦ You've got to be fucking kidding me: Reebok-branded bacon (blame Cavan Happel).
+ + + + +

What Paul did last night: Last night I went to a free outdoor screening of the 1976 baseball film The Bingo Long Traveling All-Stars and Motor Kings, which is about a barnstorming Negro Leagues team in 1939. I'd always heard good things about it but had never seen it. It's really more of a old-school black vaudeville movie than a baseball movie, but whatever — it has Richard Pryor, Billy Dee Williams, and James Earl Jones all making fairly pithy observations about segregation in the 1930s (Pryor spends the movie studying a Spanish phrase book so he can reinvent himself as an ersatz Cuban and crack the color barrier that way), so it's pretty damn enjoyable.
Even if you've never seen the film, you might be familiar with its famous Bingo Long uniforms, which look sort of proto-tequila sunrise:
But there are several other Negro Leagues teams whose uniforms are shown in the film, along with a House of David team and more. Unfortunately, the outdoor lighting conditions were poor, but I did manage to get some halfway-decent shots of the St. Louis Ebony Aces and the Baltimore Elite Giants:
But my favorite uni-related thing in the film was the uni number treatment for the Ebony Aces. Each jersey had a big "A" on the back, with the player's number inside the letter (click to enlarge):
Really like that design. Anyway: Good movie — worth seeing. Even more worth seeing outdoors for free on a crisp summer night.