Reader Ed Kozak recently tipped me off to some good uni-centric content in Dan Epstein's recently published book, Stars and Strikes: Baseball and America in the Bicentennial Summer of '76, which was published in late April.
Epstein is the same guy who wrote Big Hair and Plastic Grass, so I guess he's becoming something of a 1970s-baseball specialist, which isn't such a bad thing to be. His new book, as its title indicates, focuses on 1976, which is the year that White Sox owner Bill Veeck introduced the team's untucked "leisure suit" uniforms (including the now-infamous shorts option).
The book has two multi-page sections that address the Sox and their unis. Here's the first one, with one section of particular interest highlighted: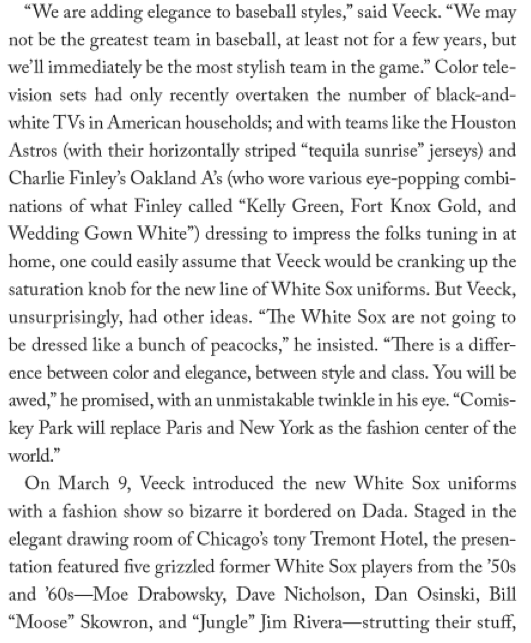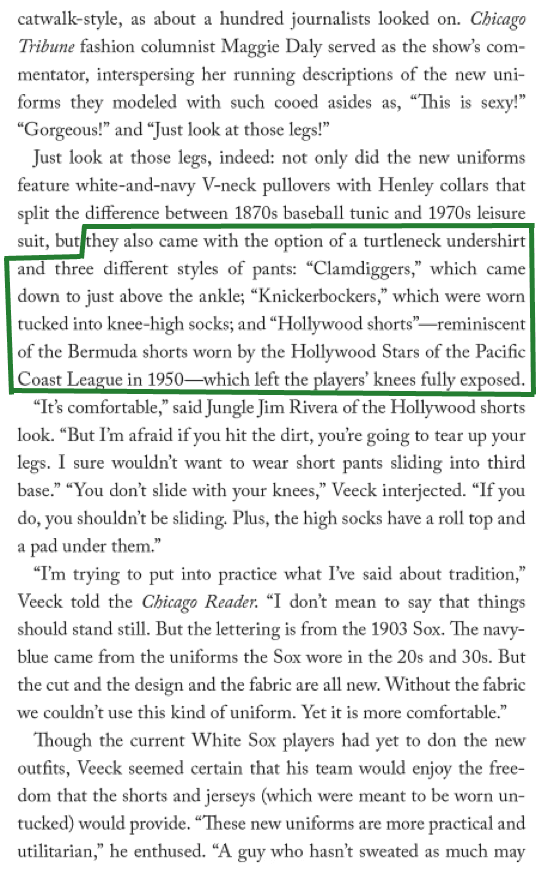 It's all fun stuff, but the highlighted bit, about the three pants options, is particularly intriguing, no? Now, it's true that White Sox players from this era wore their pants at differing lengths (as did players on all the other teams), but I don't see that as one guy wearing "clamdiggers" and another wearing "knickers" — I just see two guys with different inseam preferences. Does anyone know more about these White Sox pants?
The book also has a couple of pages devoted specifically to the shorts. Here's that section: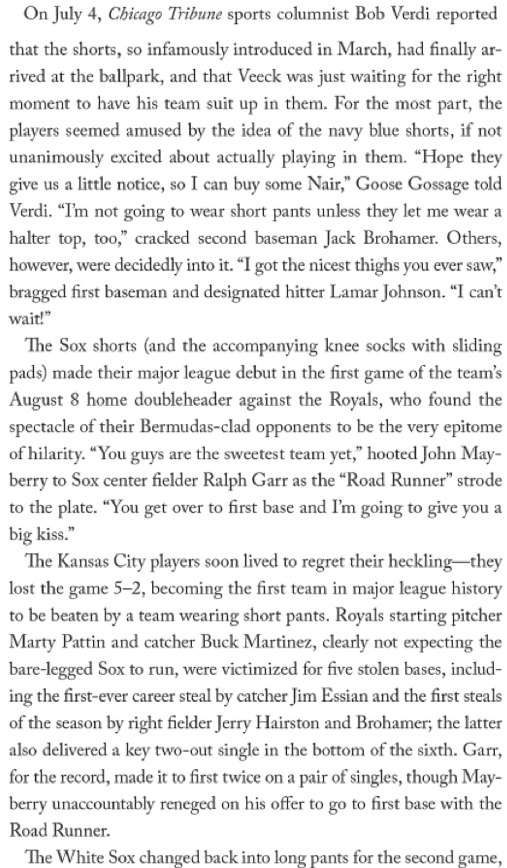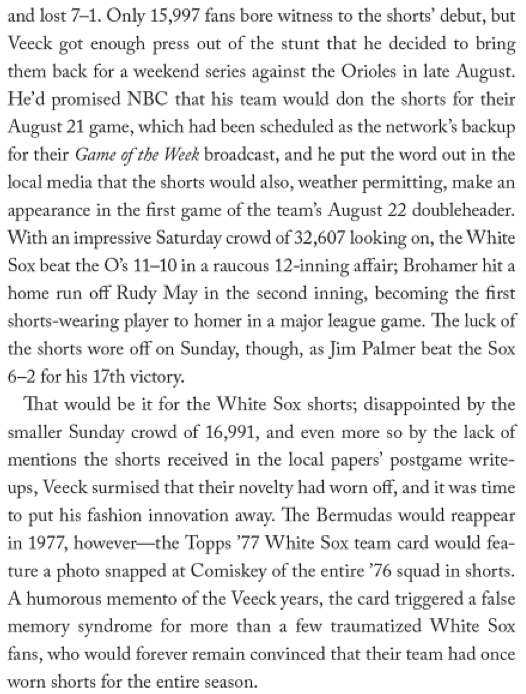 I raised an eyebrow at Lamar Johnson's quote ("I got the nicest thighs you ever saw"), because he's now the Mets' hitting coach.
Big thanks to Ed Kozak for bringing these sections of the book to my attention.
+ + + + +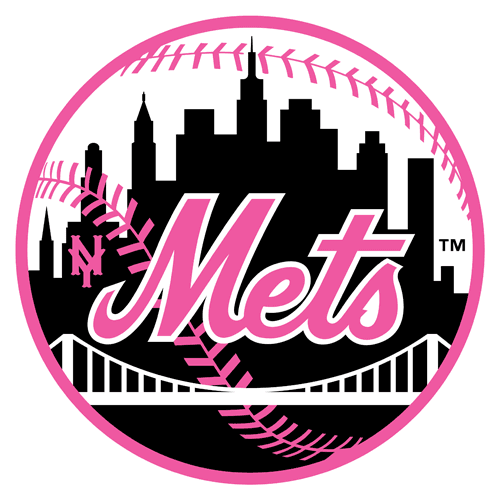 What might have been: Back in January, as you may recall uniform designer/historian Todd Radom uncovered the intriguing historical factoid that the Mets' logo was originally rendered in pink and black. Unfortunately, he couldn't figure out the reason for this unusual color scheme, and neither could anyone else.
I'm happy to report that Todd has now turned up the explanation for why the Amazin's almost ended up wearing pink and black. All I'll say here is that it involves horse racing. To get the full scoop, you'll have to read Todd's latest blog entry.
+ + + + +
Collector's Corner
By Brinke Guthrie
The NFL exhibition season begins soon, which means we'll be getting our first on-field look at the Tampa Bay Bucs' new uniforms — which, sadly, do not incorporate the classic Bucco Bruce look. If you miss Bruce, consider this varsity jacket from DeLong, a preferred Collector's Corner brand.
Here's the rest of this week's eBay haul:
• Switching sports but sticking with DeLong, check out this Chicago White Sox varsity jacket, along with this NBA All-Star Game jacket with a Nestle's patch.
• Remember this jacket template from Starter? True story: A Cincinnati radio station that I worked for did a grueling "Baby and Family Expo" indoor event north of town every year. Someone showed up wearing a UC Bearcats version of this jacket. They told me they were on sale across the way at a sporting goods box store. Got Bearcats and Bengals versions for like $20 each. Great quality with these.
• Starter's competition in the 1990s included Logo Athletic, and their main design template was the "Sharktooth," as seen on this Dolphins jacket.
• Nice-looking vintage 1960s St. Louis (football) Cardinals glass.
• This powder blue Cubbies T-shirt has a classic 1970s vibe, eh?
• The pennant itself is kinda beat up, but check out the old-school type font on this Virginia Squires ABA pennant. (They later changed to this font, which reminds me of a 1970s fast food burger chain.)
• Is it just me, or does Sweet Lou look a little silly wearing this Seattle Pilots cap?
• An Atlanta Falcons "¦ bowling ball? Sure, why not.
+ + + + +
Tick-Tock: Today's Ticker was compiled and written by Garrett McGrath.

Baseball News: The Mets wore camo last night and will be wearing the "Los Mets" jerseys tonight. … Paul asked the Padres why they didn't wear the Hall of Fame anniversary patch on Sunday. They said it was due to a logistical snag. … Great giveaway: The first 40,000 at Dodger Stadium get a Vin Scully 65th-anniversary talking microphone (thanks, Phil). … A Yankees fan returned a lost Red Sox World Series ring to its owner. … Uni Watch friend MLB Cathedrals sent in this photo from Cooperstown of the New York Giants' 1905 uniform. Bring back the collar! … Minor league craziness: The Louisville Bats had their Star Wars night on Sunday and reader Zach Scantland and son were in attendance. Thank you for sending in pictures! … In a related item, the Tennessee Smokies, Double-A affiliate of the Chicago Cubs, are having a Star Wars night on Aug. 1 (thanks, Phil). … Not to be outdone, the Fresno Grizzlies are having a Teenage Mutant Ninja Turtles night on Aug. 2 (thanks, Phil). … The West Michigan Whitecaps are wearing six different uniforms from July 29th until August 3rd (thanks, Phil). … The Midland RockHounds are going camo for "Duck Family" night.

NFL News: The Packers have opened a 21,500-square-foot pro shop at Lambeau Field. … Washington TE Jordan Reed will not be wearing any special protective helmets this season. His 2013 rookie season was shortened due to concussions. … Packers RB Eddie Lacy, however, will be wearing a SpeedFlex helmet to reduce the concussion risk. He also had a shortened 2013 season due to head injuries. … Ravens WR Steve Smith now has SrOB (thanks, Phil).

College Football News: Effective immediately, teams wearing "non-contrasting" uni numbers will be penalized one time-out per quarter. … "I was checking out pictures of Notre Dame's synthetic field turf installation," says Scott Marakovits. "It looks like the end zones only have nine stripes, instead of the traditional 10. Kinda odd." … Tulane Watch: Color change in their logo andnew unis. Here's a look at the turf being laid down at the new Yulman Stadium, too (thanks, Phil). … Louisiana Tech has added a new flag decal to their helmets for this season (thanks, Phil). … The Longhorns have installed the new Big XII logo on their field (from Coleman Mullins). … Army's head equipment manager posted a photo on Twitter that shows a lot different helmet variations (thanks, Phil). … The South Dakota State Jackrabbits will have this uniform for the upcoming season.

Hockey News: Designer Ann Frazier created a video of an animated map which shows every team and logo in the NHL by year and location dating back to 1917. Really cool stuff! … Some new roster numbers for the Ducks (thanks, Phil).

Soccer News: "I love when soccer goalies wear baseball hats," says Benton Payne. "We had that happen in Vancouver on Sunday as the FC Dallas goalie, Raul Fernandez, sported a team-colored red and blue hat (which, of course, wildly contrasted with his neon green keeper's outfit). The sun was blaring towards the away goal, but I guess the hat hurt more than it helped, as Vancouver scored a goal in the 11th minute and Fernandez went hatless the rest of the match." … English football jersey styles from 1938-39, 1968-69, and 2014-14 in an infographic (from Graham Clayton).

NBA News: The Decision Part II-A: LeBron James number decision sent the Indianapolis Adidas plant into overdrive (thanks, Paul). … Comcast Sportsnet ranked the jerseys of the NBA's 30 teams (thanks, Paul). … Is the NBA's move toward advertisements on uniforms inevitable? At least one observer thinks so, but let's hope he's wrong (thanks, Phil).

Grab Bag: The UFC is discussing a potential uniform deal where all fighters would get similar apparel that they would wear during matches. … The 2015 Preakness logo has been unveiled. "¦ "High-tech" workout apparel is selling briskly.