For all of today's photos, you can click to enlarge
The Cubs held their latest throwback game yesterday. The year on tap this time around was 1978 and, as you can see above, the team wore their infamous pinstriped powder blues. (In case you missed it, Phil had an excellent primer on this design in yesterday's entry.)
I'm a little conflicted about the Cubs' inclusion of this uniform in this season's throwback program. On the one hand, it's precisely the sort of "so bad it's good" design that makes for a great throwback uni, and I'm happy to have seen it on the field yesterday. But remember, the Cubbies' throwback program this season is a celebration of Wrigley Field's centennial, and this road uni was never worn at Wrigley, so it feels like a bit of a ringer.
Anyway: From what I could see, all of the Cubs went high-cuffed yesterday, as has been the case with all of their throwback games. Some wore stirrups and others wore solid socks:
So that's all pretty straightforward. But what about the Cubs' opponents yesterday, the Cardinals? The Cubbies were already wearing a road design, so did the Cards wear? They could have worn their own 1978 road design, setting up a delicious power blue vs. powder blue game. Or they could have worn their 1978 home whites. But instead they wore a seriously unsatisfying gray fauxback:
This design is more or less what the Cards wore in the mid-1980s — kind of a bogus move for a 1978 throwback game. (The blame for this goes to the Cubs, because they got to choose what the Cardinals would wear.)
As has been the case with many of the Cubs' throwback opponents this year, most of the Cards went low-cuffed. The only high-cuffed exceptions I saw were Kolten Wong, John Jay, and Matt Adams, the first two of whom are shown here:
Uni Watch reader Matt DeLeon attended the game. "I liked the uniforms," he says. "Definitely harkened back to the time, except that the unis were a lot tighter back then. Only quibbles would be that the front numbers looked a bit big, and the placement was not within the arched 'Chicago' lettering under the 'AG'; seemed more under the 'GO.'" Matt also got some superb photos, which I'm happy to share with you here:
One final note on this game: Most of the other MLB teams wore the Hall of Fame 75th-anniversary patch yesterday, but the Cubs and Cards were given a waiver because of the throwback thing. So they wore the patch a day early, on Saturday: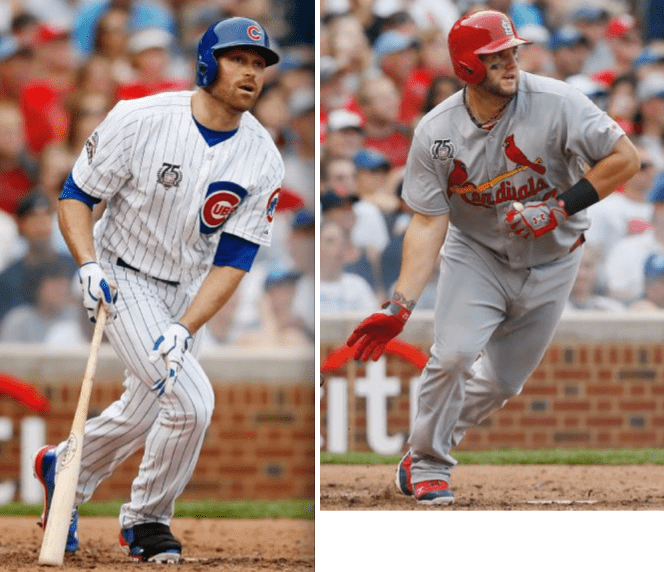 So that's another retro game game in the books. Next up on the Cubs' throwback calendar is a snoozer: the 1988 home pins, which will be worn on Aug. 10.
+ + + + +
And speaking of that Hall of Fame patch"¦: Except for the Cubbies and Cardinals (see above), almost all of the other MLB teams wore the Hall of Fame 75th-anniversary patch yesterday. Umpires, too. But there were some glitches:
• Angels first baseman Efren Navarro began yesterday's Tigers/Halos game patch-free, but someone must have noticed, because by the third inning he was sporting the patch like everyone else.
• Adrian Gonzalez of the Dodgers wore his patch below his chest insignia, instead of above.
• Giants pitcher Jake Peavy's patch was coming loose, until it finally came off and Peavy put it in his pocket.
•  Early in yesterday's A's/Rangers game, Alex Rios's patch came off when he took a big swing, so he picked it up and pocketed it (if the video below isn't working, click here):
•  For reasons that aren't clear to me, the Padres didn't wear the patch. (And no, it wasn't just that one guy, as you can see here.)
(My thanks to Matt Bunting, Chris G, Richard Paloma, and Phil for their contributions to this section.)
+ + + + +

Baseball News: One observer thinks the Bridgeport Bluefish's military-appreciation jerseys — which looked like a naked torso, not the usual camouflage — were seriously disrespectful (from Andy Chalifour). … Joakim Soria, recently traded from the Rangers to the Tigers, arrived to meet his new team carrying a Rangers equipment bag (from Brett Ballard, who also says Angels pitcher Matt Shoemaker was wearing his wedding ring on his glove hand on Saturday — no photo, alas). … The Ft. Wayne Tincaps wore Vera Bradley-designed jerseys yesterday (thanks, Phil). … If you're one of the poor souls who got stuck with that misspelled Tulowitzki giveaway jersey the other night, the Rockies have an apology and an exchange program for you. "¦ The Mets will be wearing their G.I. Joe costumes for tonight's game against the Phillies.

NFL News: You know all those people who say the 'Skins should change their logo to a redskin potato? It turns out that football and potatoes have a connection that goes way back (great find by Daniel Klempner). "¦ Here's a gallery of NFL logos redesigned as Disney characters (from Jim Walaitis).

NBA News: As you've probably heard by now, LeBron James will wear No. 23 with the Cavs. … A promotional video for Adidas's latest sneaker gimmick includes a clear view of what appears to be the Bulls' new alternate uniform. Thanks for the self-leak, Adidas!

Grab Bag: "Unlike a lot of Tour de France leaders in the recent past, whose bikes and kit get often got covered in yellow, Vincenzo Nibali has mostly avoided straying from his normal gear, even to the extent of wearing the same yellow jersey whenever possible during each stage," says Sean Clancy. "That changed for the final ride into Paris, though, when his bike was touched up with yellow graphics." … David Firestone has written a story about how a photo of Jack Jones became the basis of the NHRA trophy. … "Back in 1943 an amalgamation of Australian rules football and American football, called AUSTUS, was created so servicemen of both countries could play against each other," says Graham Clayton. "Here is an introductory booklet on the game, with the front cover showing U.S. Marine William Jost wearing the unique AUSTUS uniform." "¦ "I recently had brunch at Keke's Breakfast Cafe in Winter Park, Florida," says Jim Nedelka. "In their outside porch/waiting area, I noticed some chairs made by a company called Wildcat Construction, which appears to have 'borrowed' Kansas State's logo."
+ + + + +

What Paul did last night over the weekend: When I go to a Mets game, I don't wear a Mets jersey. When I go to see a band, I don't wear the band's T-shirt. When I go to a Uni Watch party, I don't wear Uni Watch gear.
But there's one day each year when I do wear the home team's uniform, so to speak. It happens on the last Saturday of each July, when I attend the annual chicken barbecue fundraiser at my hometown volunteer fire department. This is what passes for the big social event of the year in the very small Long Island town (pop. 3,000-ish) where I'm from, and our family always attended when I was growing up. My parents and brothers gradually lost interest over the years, and my parents sold our house and moved away back in 2004, but I keep going to the chicken barbecue each year. It's become a pilgrimage of sorts, a way for me to maintain a small connection with my spawning grounds and see how the town is doing. I usually bump into an old high school classmate or neighbor (one year I spotted our old mailman, which was really nice — always liked him). And even if I don't reconnect with anyone, which occasionally happens, it's still a good time.
Anyway: Back around 1990, give or take a year, I bought this chicken barbecue T-shirt (click to enlarge):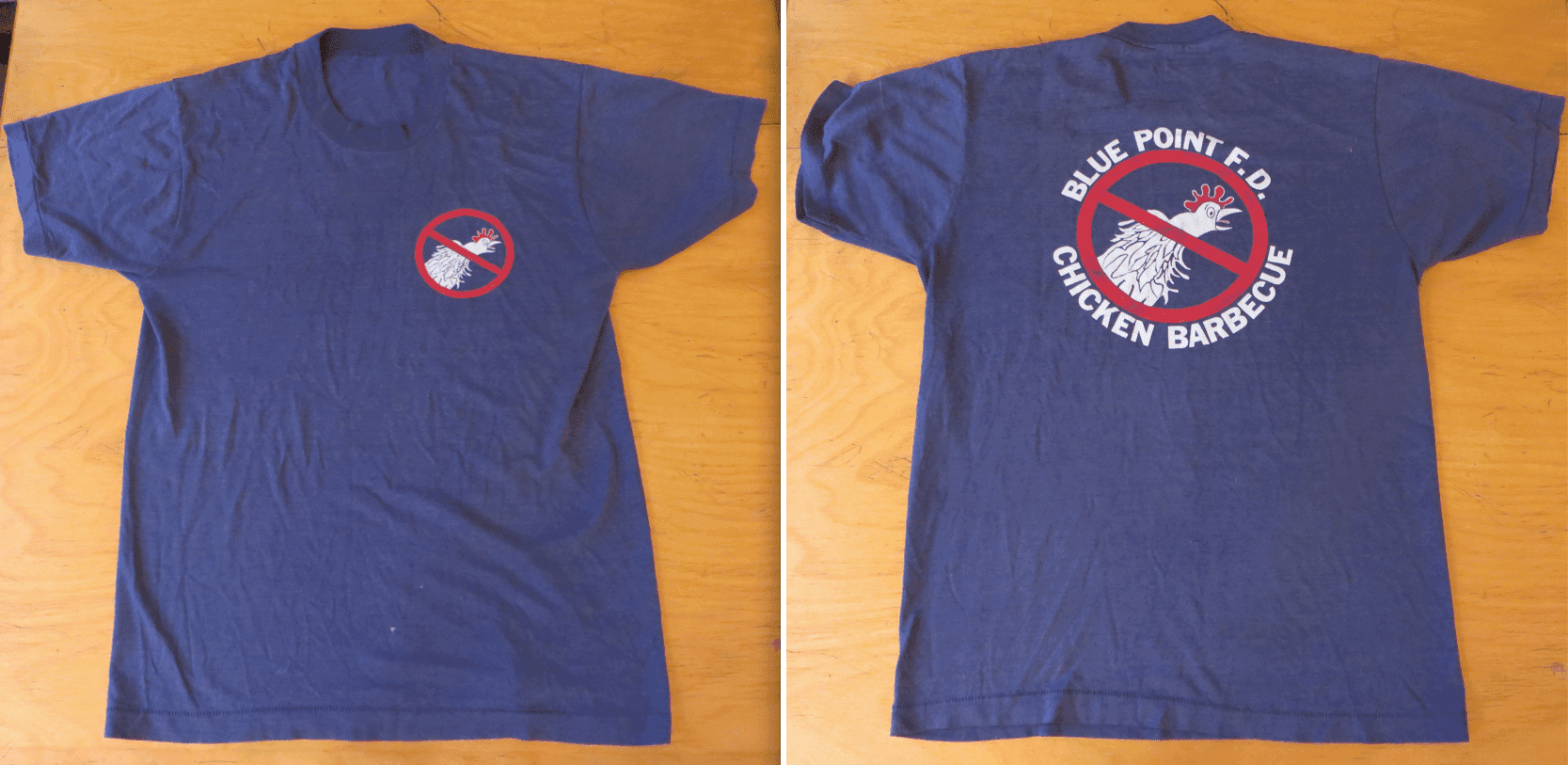 It still fits me fine, and I continue to wear it once a year, on the last Saturday of July. They only made this design for one or two years (they later switched to much less interesting designs and now no longer bother to sell T-shirts at all), so now it has sort of attained "classic" status. Each year someone will see me wearing the shirt and say, "Whoa, haven't seen that one in a long time!" I readily admit to taking an inordinate amount of pleasure in that moment. I may not have much of a hometown connection anymore, but I still have something that gives me a bit of hometown cred.
Two days ago was the last Saturday in July, so I put on the T-shirt, put the New Girl in the car, and drove out to Long Island for my annual hometown visit. As per my usual routine, I drove by our old house to see what the family that owns it now has done to it (still looks pretty much the same from the outside), went to the pond around the corner to see how the ducks were doing (big flock this year), and drove around town to see if everything is still pretty much where I left it (yes, for the most part).
Soon it was time for the chicken barbecue, which takes place in the yard behind the firehouse. It's a good deal: For $25 you get half a chicken, an ear of corn, a bowl of chowder, unlimited mussels, unlimited beer, and some sort of Entenmann's-ish dessert. There's usually a live band, dunking booths and pony rides for the kids, low-stakes gambling in the back room once the sun goes down (I lost $20 playing blackjack this year), and so on. Sure enough, we'd been there less than 10 minutes before someone commented approvingly on my shirt. And I bumped into the family that used to live next door to us (they're no longer in that house but still live in the area). Hadn't seen most of them in many years, and it was good to reconnect.
The New Girl took lots of pics at various points in the day. Here are my favorites (click to enlarge):
Footnote: We stayed overnight at a local motel, and then the next morning we drove about 20 minutes north and joined my mom for brunch at her retirement community, where I discovered that the most egregious typo of the weekend had nothing to do with Troy Tulowitzki: