Click to enlarge
Big uni-centric summit meeting last night at Katz's Deli, as SportsLogos.net honcho Chris Creamer (left) and I had a high-stakes sit-down over pastrami and pickles. We talked about the usual stuff that comes up when kingpins get together: how to carve up the territory equitably, keeping our capos in line ("That Phil, better keep an eye on him," said Chris), where the bodies are buried. That kinda stuff.
Okay, seriously: I think I first became aware of Chris's site in 1999 or 2000. I've always had a lot of respect for his work, and I did a pretty wide-ranging interview with him last year. He and I email semi-regularly (we sometimes help each other out with historical research or with breaking news items, or just compare notes on uni-related developments), but we had never met in person — or even spoken on the phone, for that matter — until last night, when he made some time for me during a family visit to NYC.
I'm happy to report that Chris is even more enjoyable in person than he is on the internet. Naturally, a lot of our talk was about the uni-verse — we compared war stories (we've both had some overzealous trolls), traded gossip, and so on. But we also talked about our families and other personal stuff. It was a really enjoyable evening, and I feel like we cemented a friendship that had been a long time in the making.
At one point Chris asked me a really interesting question (I'm paraphrasing here): "All the lousy uniforms and awful trends out there — do you ever think sites like ours are at least somewhat responsible for that?" As I explained to him, I do think our sites have contributed to a surge of interest in uniforms that has resulted in some genuinely miserable trends (camo, cookie-cutter templating, endless "special" uniform designs, etc.). But I also think we've uncovered and documented lots of important history, helped people to see sports in a different and more thoughtful way, and helped spur to an ongoing dialogue whose results are still playing out. In short, I think you have to take the good with the bad.
The most interesting part of the evening, at least for me, was when Chris said, "Everyone assumes you and I are enemies or something." That was news to me — I've always viewed SportsLogos.net as an essential resource and an ally, not as a rival or enemy. Sure, we're often competing to break the same news, but in the big picture we're fighting for the same thing. In that regard, what's good for one of us is usually good for both of us.
Thanks again, Chris — drive carefully today and get home safe.
+ + + + +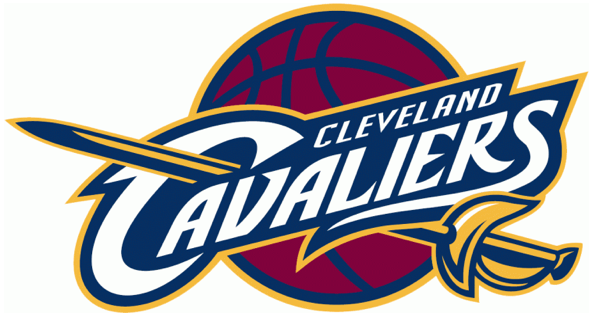 Design contest reminder: In case you missed it last week, I'm currently accepting entries for an ESPN contest to redesign the Cavaliers. The entry deadline is tomorrow, July 25. Full details here.
And speaking of ESPN: In case you missed it yesterday, my latest ESPN column is about the history of league logos on uniforms.
One thing about that ESPN column: I wrote that the NBA logo first appeared on uniforms as part of 35th-anniversary shorts patch in 1980-81. But last night reader Mike H. sent me photos showing that the logo had also appeared on shorts in 1970-71. I wonder if that was a 25th-anniversary move, even if it wasn't specifically identified as such. Anyone know more?
+ + + + +
Mike's Question of the Week
By Mike Chamernik
I have a DaJuan Wagner Cavs jersey and a Charles Rogers Lions jersey. I got them when I was 13 or 14, so I wasted good money on them.
Do you own any jerseys of terrible players? What's the worst or funniest jersey you own or have seen someone wear in public?? There even used to be a great blog dedicated to this phenomenon.
As always, post your responses in today's comments.
+ + + + +
Tick-Tock: Today's Ticker was compiled and written by Mike Chamernik.
Baseball News: This Is Why Baseball Is Great, Vol. 1: With the help of third base coach Jose Oquendo, Cards catcher Yadier Molina left some snack crackers on home plate for his brother Jose Molina, who was with the visiting Rays, before the first inning yesterday. Jose kept the crackers in his back pocket the rest of the inning (from Phil). … This Is Why Baseball Is Great, Vol. 2: The Nationals' Aaron Barrett and the Rockies' Brandon Barnes had a competition yesterday to see who could stay on the field with hat over heart longest after the national anthem. The start of the game was delayed four minutes. Further info here. … Here's another database of MLB at-bat songs (from Joseph Andersen). … Another minor league Christmas sweater jersey, this time for the Reading Fightins. They'll be wearing that tomorrow (from Phil). … The Padres made a really cool Christmas card in 1979. … Since his preferred No. 7 is retired, new Yankee Chase Headley took to Twitter to ask for uni number suggestions (from Brinke). … The Rockies went high-cuffed yesterday (from Phil). … Justin Kline was in central Florida and found a hat for Sultanes de Monterrey, a Mexican team. "The problem is, I wanted to see the rest of the uniform and found that the Sultanes dress more like the New York Yankees," he says. "I've spent chunks of the past few days trying to find the story behind this logo to no avail. To make things more difficult, there are no other logos on the cap but the New Era flag on one side, and the stickers said nothing but 'Sultans.' Are you at all familiar with the logo, or know of someone who may be?" Anyone know more? … I've been watching the HBO show Eastbound & Down because all the episodes recently went On Demand. I like the show, but I'm not sure what's a bigger stretch: Kenny Powers being allowed to use a white glove while pitching in Mexico, or KP throwing 101 mph with his throwing motion (link has some swear words). You're right, him throwing 101 is the most ridiculous thing ever aired on television.
NFL News: New Chargers CB Brandon Flowers will wear No. 26 this year (from Phil). … Reggie Wayne showed up to Colts training camp in an Indy car, and he wore a Colts racing helmet. … Eagles QB Matt Barkley found a pair of Donovan McNabb prototype cleats. … A set of Bengals schedules appear to have an autocorrect error on them. … A 1950 publication (unclear which one) listed the NFL teams and their color schemes (from Phil). … Bengals season ticket holders receive a car magnet, and Titans players deliver season tickets themselves (from Phil). … Here's a look at how the Bills move operations to Pittsford, New York, for training camp (from Brinke).
College Football News: Construction workers at LSU's Tiger Stadium wear LSU hardhats (from Nolan Jones). … New uniforms for Houston. … Arizona is back to solid-color numbers this year, going away from the gradient look (from Phil). … Small tweak to Fresno State's helmet. … SB Nation ranked the uniforms in the SEC (from Phil). … New logos and helmets for East Tennessee State (from Jason Roberts).
Hockey News: When the Nordiques moved to Colorado, they were considering the name Rocky Mountain Extreme. That's so minor league it hurts (from John Romero). … Peter Good, the man who created the Whalers' logo, revealed some early sketches for the logo in this television interview (from Stanislaw Olechowski). … The Calgary Hitman unveiled their 20th-anniversary jerseys. By the way, I had no idea Bret Hart owned a hockey team.
Soccer News: Life imitates art: The MLS All-Star game is in Portland, so the kits will have a bird on them — an apparent reference to this Portlandia skit (from Yusuke Toyoda). … The rest of these are all from Phil: New away kit for AC Milan. … Here's a slideshow with all the new Premier League kits for this year. … New kits for SuperSport. … New away kit for AS Roma.
Grab Bag: After seeing yesterday's post about silhouettes and shields, Adam Vitcavage created silhouette logos for the NFL and NHL. Both are good, but nice touch with the stars for each division in the NFL one. … New logo for Foursquare (from Brinke). … This is great: A roundup of generic and overused logos (from Brinke). … The away kit for Irish rugby club Ulster has leaked (from Eric Bangeman). … Stella McCartney will design Great Britain's official team uniform for the 2016 Olympics (from Phil). … A company called Tracksmith makes running apparel that has a retro feel to it (from Tommy Turner). … Here's what the Australian Football A-League All-Star team will wear against Juventus on August 10 (from Graham Clayton). … The man who invented the first custom-fitted mouthpiece died Sunday (from Tris Wykes). … New York's Holland Tunnel used to have a police catwalk car! So cool (thanks, Marty B). "¦ The New Jersey Turnpike Authority and a Florida pizzeria are involved in a legal dispute because the pizzeria's logo looks like the Turnpike logo (from Don Silsby).