There was a ton of uni news yesterday, and I'm about to make some additional news here myself, so we're going to have two posts today: this one, which will be all about the NBA (and will also have the Ticker and other secondary content), and another one, which will be about last night's MLB All-Star Game. The second post should be up by noon Eastern, and maybe a little sooner, so be sure to check back for it later on. is available here.
Now then, let's turn our attention NBA-ward, beginning with a Uni Watch exclusive. Here are this year's Christmas Day designs (click to slightly enlarge):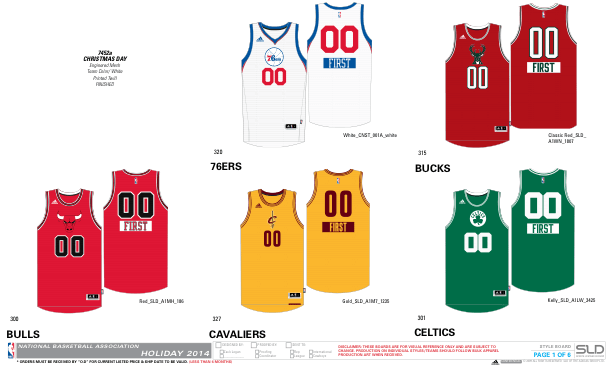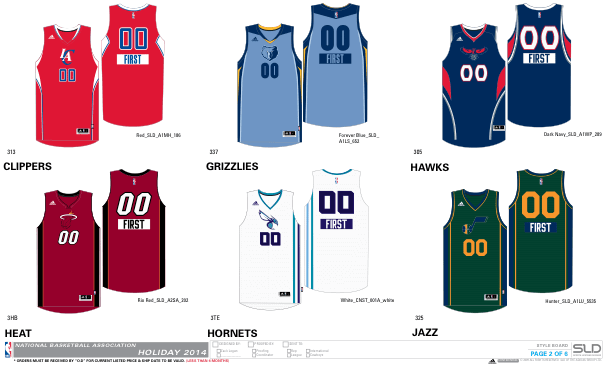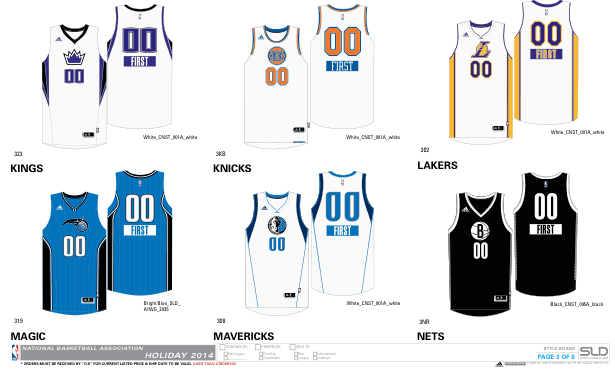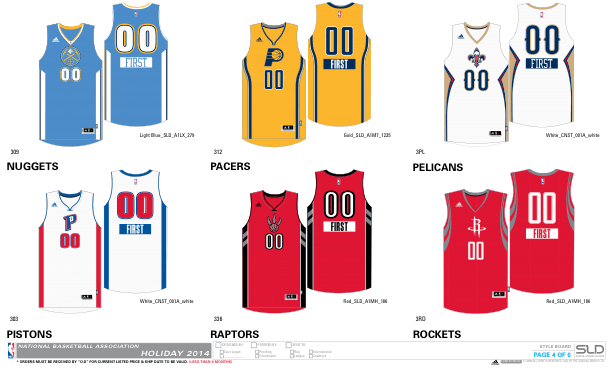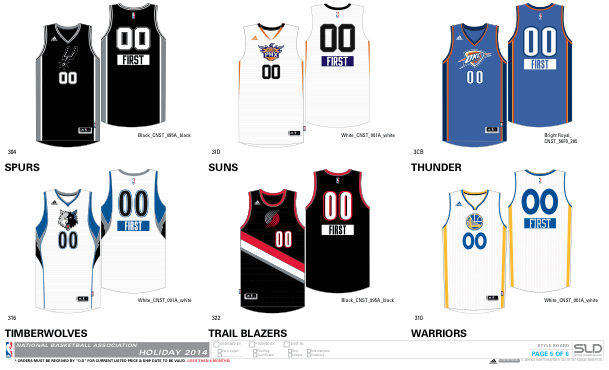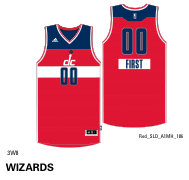 Not so bad, right? I got those about six weeks ago from a source who took them from an Adidas catalog. Today felt like the right day to share them, given all the other NBA stuff that leaked yesterday (which we'll get to in a minute).
Keep in mind that the NBA schedule wasn't yet done when these designs were created, so the league and Adidas didn't know who'd be playing on Christmas Day. But they had to have designs ready for retail orders, so they created a Christmas design for every team, even though most of them will never make it onto the court. That's standard practice — they did the same thing last year and the year before that. I'm not sure if the schedule has been finalized by now, but it certainly hasn't been publicly released, so we still don't know who'll be playing on Dec. 25 (although certain teams, like the Knicks, pretty much always play on that date).
A few notes on the designs:
• No sleeves! (Although, as you'll see in a minute, that doesn't mean the league is moving away from sleeves in the larger sense.)
• The basic template — logo centered on the chest, with the uni number centered beneath the logo — feels a lot like those college basketball designs that Nike foisted on us in early 2013. Aside from being derivative, though, it's pretty decent-looking. Of course, there's no good reason to create a separate Christmas template to begin with. But if they have to do it, this is definitely an improvement over recent years.
• The big gimmick, as you can see if you look closely at the rear-view mock-ups, is that the players' first names — not their surnames — will appear on the back of the jerseys. Yawn.
• Whatever else you can say about these, at least they won't be difficult to read (like the 2012 Xmas unis) or look like soccer jerseys (like last year's Xmas unis).
So that's my contribution to the frenzy of NBA leaks over the past 24 hours. Now let's turn our attention to the stuff that leaked yesterday.
First, some quick background: Someone apparently made an Adidas retail catalog available for download on one of the SportsLogos.net discussion boards, and several people downloaded it and then began tweeting screen shots from it yesterday afternoon. One of those people was Uni Watch reader Conrad Burry, who directed his tweets at Phil, who in turn sent them to me. Soon the images were circulating all over the uni-verse and media outlets began reporting on them. That included ESPN.com, where I wrote this straightforward news piece on the leaks.
Breaking leaks are always hectic. Now that the dust has settled, I'd like to take a closer look at each item that leaked yesterday:
1. Teams that have won a championship will have a gold mark on their back collars (for all of these images, you can click to enlarge):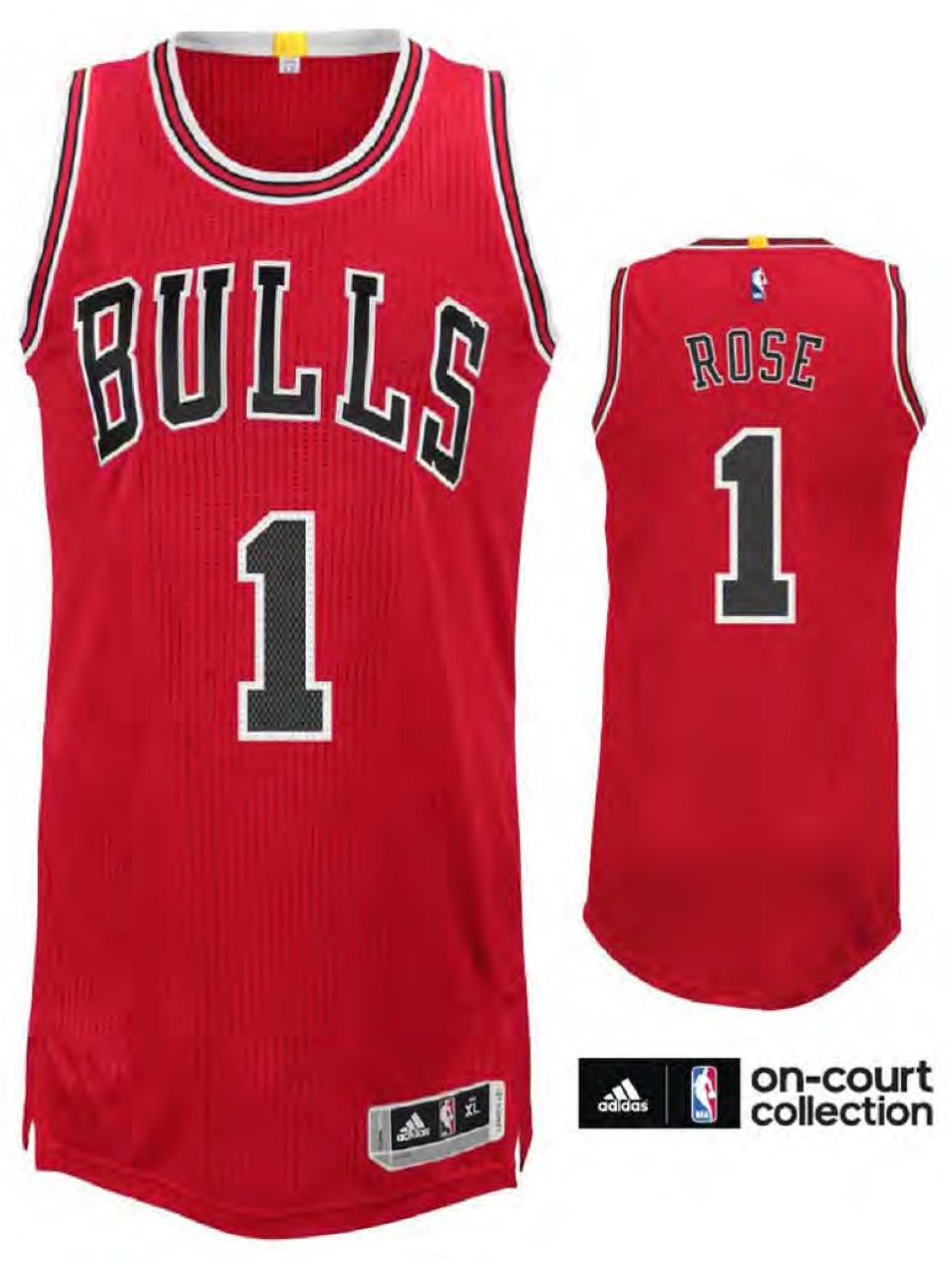 During the World Cup, several readers told me they'd like to see the Big Four leagues adopt something like the FIFA's star system to recognize championships, so I guess this will make those fans happy. But the way they're doing it boils down to a simple "Haves vs. Have-Nots" binary, so the Blazers (one title) will wear the same "badge of honor," so to speak, as the Celtics (17 titles), which seems a little weird. I can see having the current defending champ wear the gold tab, but giving it to every past champion feels like overkill to me. Turns out that multiple titles will be indicated by a tone-on-tone notation on the tab — "2x," "5x," or whatever, and the tab will also include a little depicton of the O'Brien Trophy:
A few other notes and thoughts on this:
• Some NBA jerseys have gold collars, like the Lakers' road jersey or the Rockets' alternate jersey. Seems like the championship tab won't be very visible on those uniforms.
• Will franchises get credit for titles won under previous names and/or in previous cities? According to the catalog (which I've now gotten a copy of — thanks, Phil), it appears that they're being inconsistent about this. For example, there's no gold tab shown for the Thunder, so the franchise is apparently not being credited for the championship it won as the SuperSonics in 1979. On the other hand, the Kings are shown with a gold tab, apparently in recognition for the Rochester Royals' 1951 title (same franchise). Do the Wizards get credit for the Bullets' 1978 championship? No, according to the catalog. But do the Hawks get credit for 1958, when they played in St. Louis? Yup. So it's all a bit of a mish-mash. But these are just catalog mock-ups — maybe they'll come up with a more consistent protocol once the season starts.
• If you remove the Thunder and Wizards from the mix, as noted above, 15 of the league's 30 teams will be wearing the gold tab. Personally, I don't think getting a gold star from the teacher feels quite as special if half the kids in the class are getting it.
• One thing that doesn't make sense: The catalog shows the Magic with the gold tab. I'm assuming that's a clerical glitch.
2. The Celtics are switching to "Boston" on their road jersey, just like back in the day: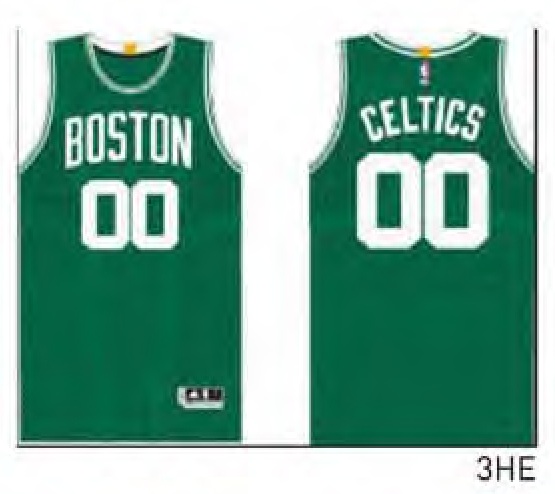 As you may recall, we'd gotten a hint of this a week or two ago, based on a green "Boston" shirsey. Personally, I'm fine with it.
3. The Hawks' shorts will have the Pac-Man logo:

We discussed this logo here on Uni Watch back in May. I'm a fan.
4. The Pacers, Kings, and Raptors will have throwbacks:

The NBA often usually likes to come up with a theme for each season's throwback program, but I can't discern any common theme to these three — can you? The big eyebrow-raiser, of course, is the Raptors design, which has now been mothballed long enough to have achieved "So bad it's good" status — perfect for a throwback. Oh, and that's a Rochester Royals design for the Kings, incidentally.
5. The Celtics and Bulls will once again have sleeved St. Paddy's Day uniforms: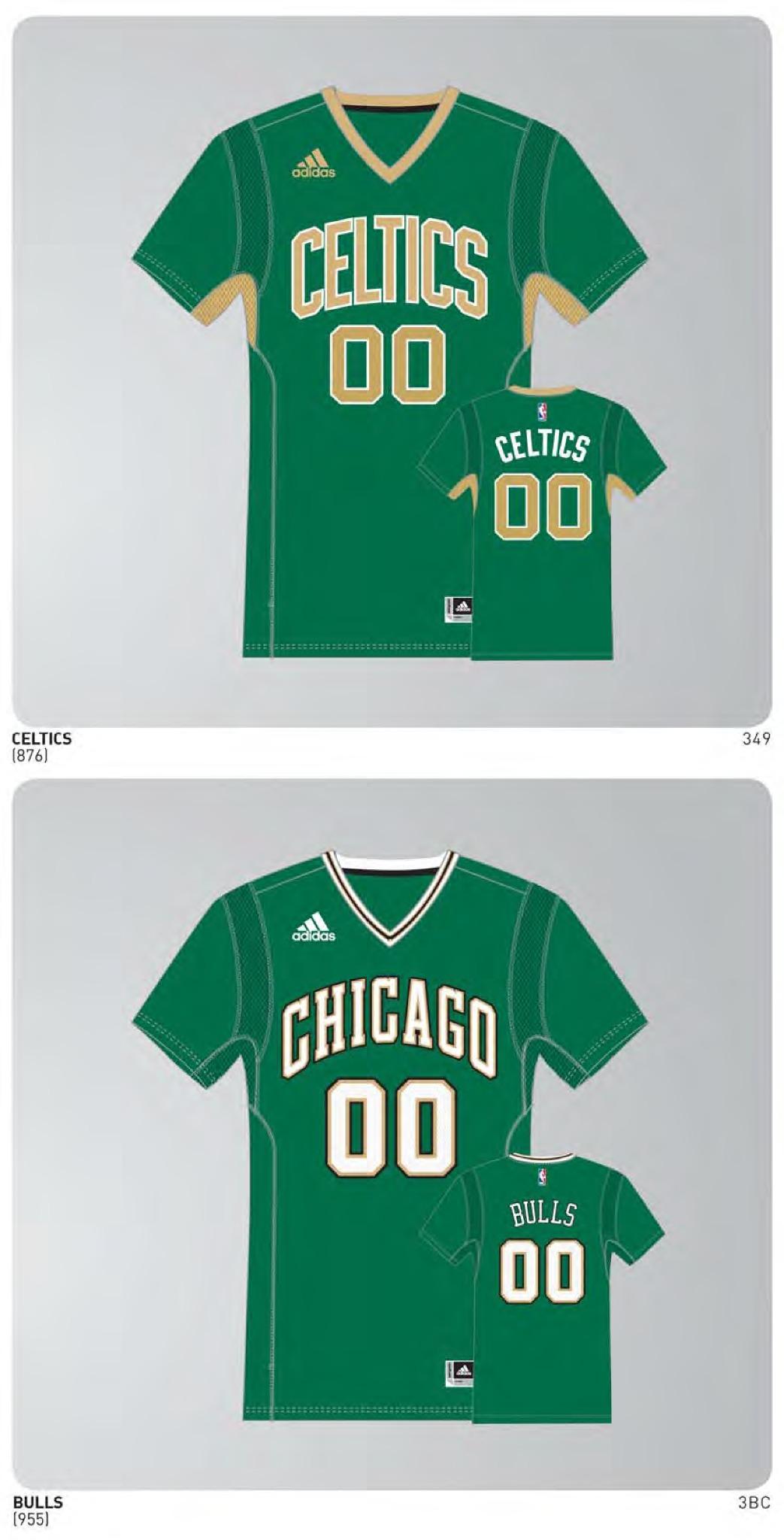 Eh, whatever — the usual slop. Very similar to last year, only now the Celtics have golden underarms. I'm sure there's an Irish Spring joke in there somewhere, right?
6. This season's edition of the Lakers' BFBS jerseys will have sleeves:

A gimmick jersey gets gimmickier — whatever. Frankly, if you had asked me whether last season's version had sleeves or not, I wouldn't have been able to remember. (For the record: It didn't.)
7. No sleeves, however, for this season's Hispanic heritage jerseys: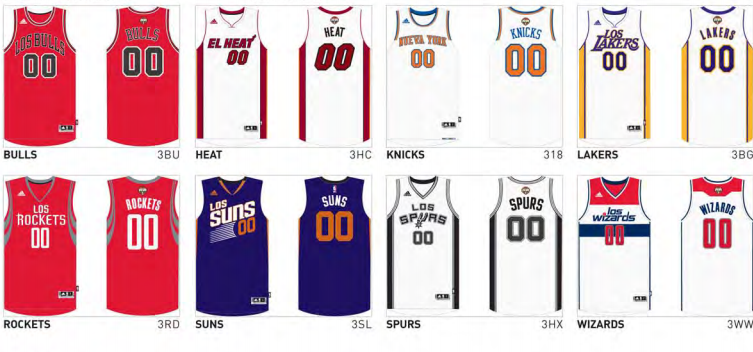 Again, these gimmicks all start to blur together after a while, but I did vaguely recall that last year's Hispanic jerseys had sleeves.
8. A bunch of alternate and "Pride" uniforms (like Detroit's "Motor City" jersey and Portland's "Rip City" jersey) are apparently in the works, but those designs aren't shown in the catalog: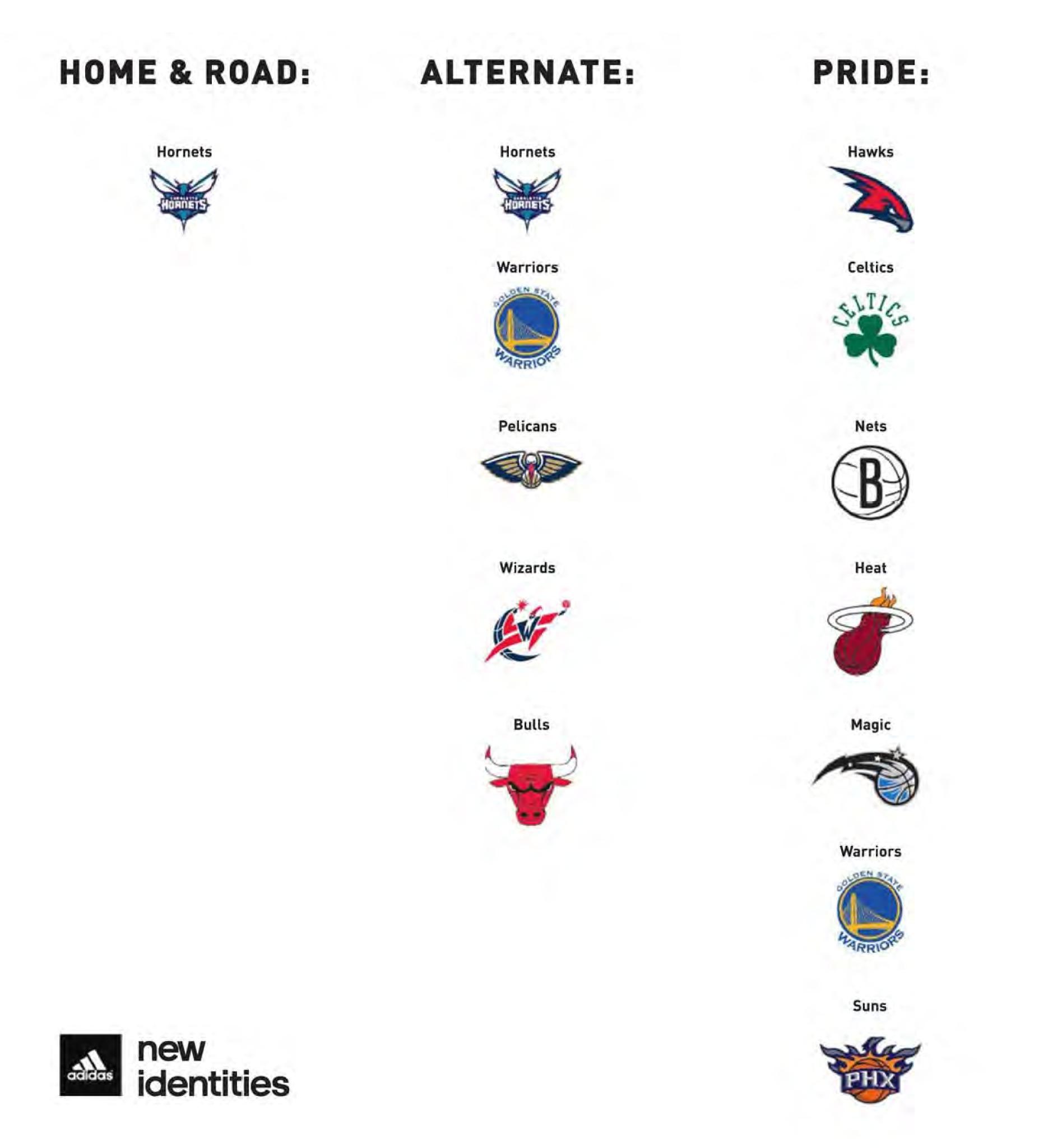 I'm assuming that the Nets design will be the black-and-white Dr. J-era uniform that was first described here on Uni Watch back in January. Several of the other teams slated for "Pride" unis were mentioned in this Uni Watch entry. So it appears that all of the pieces are falling into place.
One additional tidbit: We had already seen mock-ups of the Kings' new uniforms a few weeks ago, but here are new photos from the league meetings that show the road design on a mannequin — including the little gold tab on the back:
The funny thing is that the gold tab was also shown on those earlier mock-ups, but it's such a small detail that nobody noticed.
Whew — that's a lot of NBA news! Okay, here's the rest of this morning's entry. Remember to check back later on (or follow my Twitter feed) for today's second post, which will be about last night's MLB All-Star Game.
(Extra-special thanks to Phil for his assistance with this entry.)
+ + + + +
Awl in: There was a reporter from the Awl At last month's Uni Watch 15th-anniversary party. He interviewed me and a bunch of the other attendees, and he told me his article about the party would probably run within the next week or so. Then I never heard from him again. But yesterday my friend David Wilson told me, "Nice story in the Awl!," which is how I found out that the reporter's story had posted last Friday. So there you go.
+ + + + +

Baseball News: Check out this shot of former Dodgers OF Glenn Burke wearing a "General" batting glove. I don't remember that brand at all. "¦ This is awesome: One hundred years ago, almost to the day, a minor league in California disbanded due to a dispute over uniform colors (great find by SJ Johnson). "¦ "I am in post-production on a documentary film about the 1913 Covington Blue Sox of the Federal League (the team that was transferred to KC in June of '13, becoming the Packers)," says Cam Miller. "I wanted to share the Blue Sox jersey I made as a 'prop' for my screenings. The image on the left shows St. Louis manager Jack O' Connor and Covington Kentucky manager Sam Leever on Opening Day in Covington, May 9, 1913. The image on the right is my jersey prop. I found it interesting that the 'C' was not really a block letter — it had 45-degree angles cut on the ends." … The Indians presented Derek Jeter with this guitar last week. "I can't help but notice that '2' on the guitar is actually the old Dallas Cowboys font with that top serif, not the proper Yankees font," notes eagle-eyed Douglas Brei. … In 1988, the Pirates were wearing huge "RSC" lettering on their right sleeve as a memorial to Pittsburgh mayor Richard S. Caliguiri. The lettering was so big that it pushed that year's All-Star Game patch up onto the shoulder (from Douglas Smith). … Just what everyone's been waiting for: a Day-Glo baseball glove from Nike (blame Brinke).

Pro and College Football News: Here are some NFL/MLB logo mash-ups (thanks, Brinke). "¦ The Broncos will wear their blue alternates against the 49ers in Week 7 (thanks, Phil). … Here's a great shot from the 1964 Cotton Bowl showing Navy with SNOB.

Hockey News: "I was visiting an ice hockey camp here in northern New England on Tuesday," says Tris Wykes. "Pre-teen and teenage girls make up the roster this week, and I noticed that some of them had decorated their helmets with bows. In recent years, equipment manufacturers have cranked out pink and purple and sparkly gear for this demographic, but it's fun to see them adding their own touches as well."

Basketball News: New court design for Long Beach State. … Here are the Washington Generals — the team whose job was to lose to play the Harlem Globetrotters — wearing basketball stirrups (from William Yurasko).

Soccer News: MLS's new Orlando City team will have very purple uniforms (thanks, Phil). … Someone apparently likes German National Team's head physician, Dr. Hans-Wilhem Müller-Wolfhart, so much that he got his NOB on a jersey with a Caduceus instead of a uni number (from Alex). "¦ New kit for Blackburn Rovers. "It uses a 'Cambridge blue' that's far lighter than what we're used to," says Chris Cruz. "¦ New away uniform for FC Barcelona — and here's the home uni. "¦ New kit for West Bromwich Albion (from Andy Bronson). "¦ "I was watching Drake and Josh with my little brother and the character of Josh (played by Josh Peck) seems to be wearing an old France national team jersey," says Anthony Nuccio. "The episode in question is from 2007. Does anyone know anything about this jersey?"

Grab Bag: Wow, look at this Mobil/Pegasus auto racing driver suit (from David Firestone). "¦ Also from David: A good close-up view of that STP suit that was shown in yesterday's Ticker.