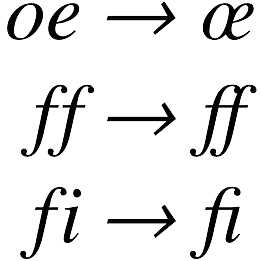 About 25 years ago, when I was working as a book editor, I was introduced to the concept of a ligature. That's the typographic term for what happens when two letters or characters are joined together in a single glyph or symbol, like in the examples shown at right (further info here).
Ligatures on NOBs — LOBs, we can call them — are rare, at least in North American sports. Has there ever been one in the NFL, NBA, NHL, or MLB? If so, I can't think of it. But several Uni Watch readers have spotted one at the World Cup. It involves the "IJ" letter combination, which in the Dutch language forms a digraph (that's a single phonetic sound) that is sometimes written as the following ligature:
That ligature appears on the Netherlands soccer player Wesley Sneijder's NOB, as you can see here: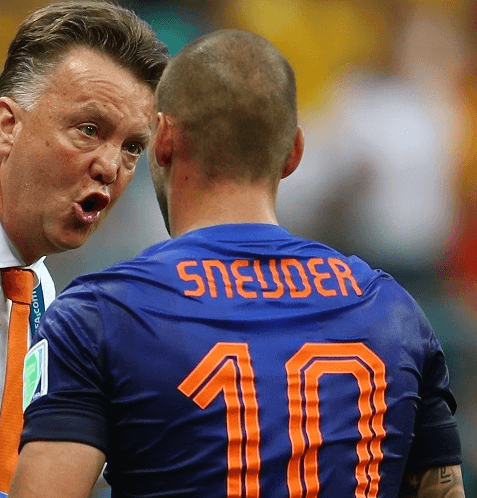 Pretty cool. Oddly, though, two of Sneijder's teammates — Stefan DeVrij and Georginio Wijnaldum — also have the "IJ" letter sequence in their names, but their NOBs show those letters as conventional characters, not as the ligature: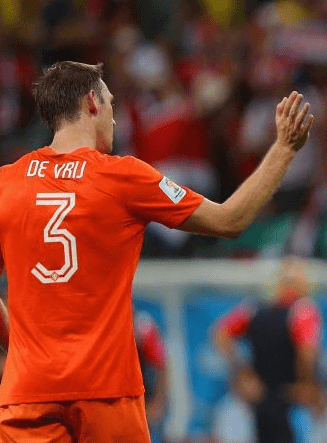 Can anyone who's fluent in Dutch tell us more about this? Is there a linguistic reason why Sneijder has the LOB and the other two players don't?
It's also worth noting that Sneijder has played on lots of teams besides the Dutch national squad. Every other rear-view photo of him that I could find, from any point of his career, shows him without the LOB (click to enlarge):

The ligature isn't the only uni-notable thing about Wesley Sneijder, incidentally. He also appears to be wearing an orange wedding band, or at least orange tape: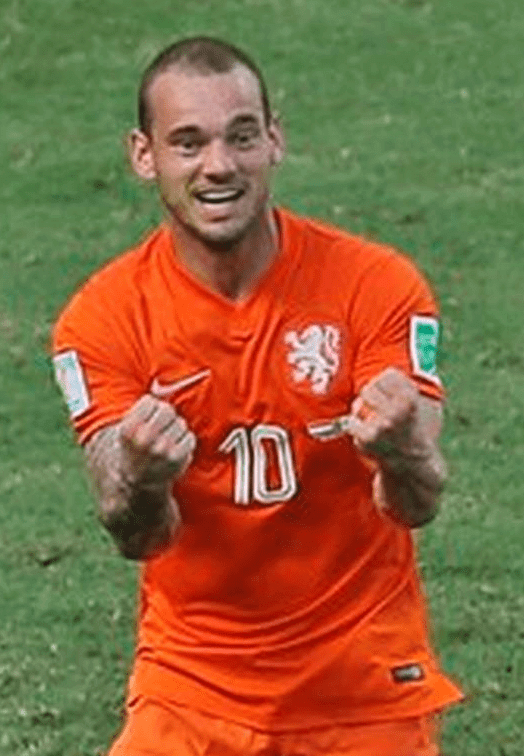 And as long as we're talking about wedding bands, Brewers reliever Will Smith appears to be wearing his wedding ring on a necklace: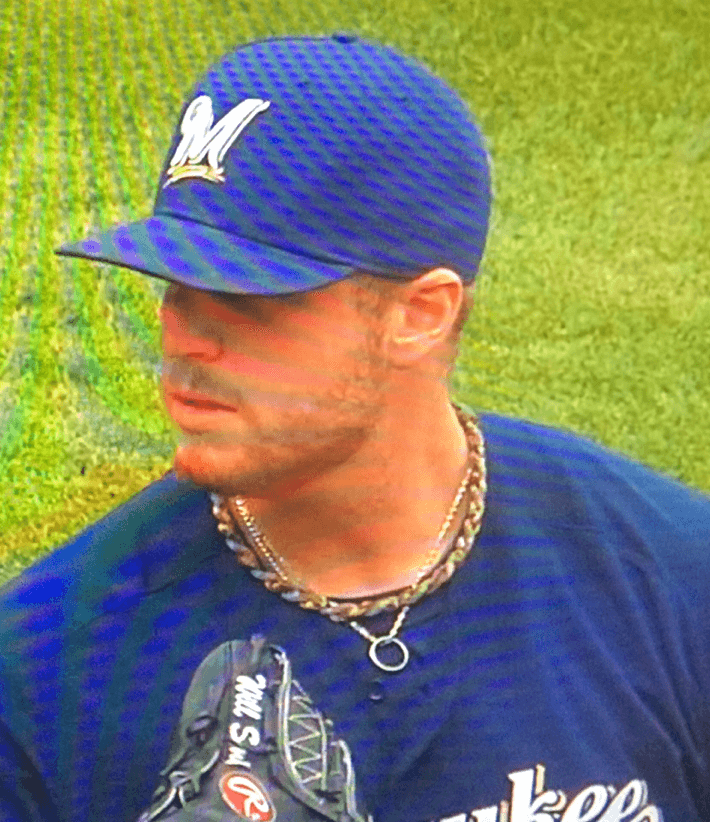 As some of you may recall, Rangers pitcher Matt Harrison used to do the same thing, although I'm not sure he still does it. (If you want to know more about athletes wearing wedding bands, check out this ESPN column I wrote back in 2011.)
(My thanks to readers Callum Johnston, Comrade Robert Marshall, Neil ODonnell, and Dan Ullsperger for their contributions to this section.)
+ + + + +
Collector's Corner
By Brinke Guthrie
I had this Bart Starr book! If you're like me, back in the day you ordered Scholastic Books at school. You'd get this form to fill out, check the boxes of the books you wanted, and then in a week or two, boxes with each student's name would show up and you'd fork over your cash. Ten books, six bucks or so. It was Amazon long before Jeff Bezos thought of it. I'd get a ton of them and read 'em all instantly. Anyway, when I got this Bart Starr title, I was immediately taken with the cover art. "Oooh, he's doing an underhanded lateral." And I remember the back of each book: "New York-Toronto-London-Auckland-Sydney-Tokyo."
Here's the rest of this week's haul:
• I also collected these MLB cardboard mini-posters, like this Padres one (with, er, Pete Rose on the front).
• Look at this 1960s Angels Stadium postcard! (My wife just pointed out she used to sit in the top deck on the left.) Look where those cars are parked — "Smash windshield/Win a new suit"?
• Cool 1970s CBS Sports Radio poster. Is that Bill Buckner at first base?
• Great early-1970s NFL poster here. All the unis look accurate for the period except for the sleeves on the Vikings player (who should be Mick Tinglehoff), and I don't think the Iggles wore the top stripes/bottom stripes look with the green on white helmet.
• Great graphics on this dramatic-looking 1984 USA Olympic hockey poster. The team was outfitted by Levi's that year, incidentally. This was before Nike got into team sports.
• A lot to like on this 1978 White Sox scorecard cover. Pumas on the A's catcher, the infamous Chisox clamdiggers, and, my favorite, the treatment on the "78" top right corner. Totally of the period.
• Speaking of scorecards, take a look at this California Angels 1968 cover design. You'd never see a team name rendered in all-lowercase lettering nowadays.
• This NFL mini-helmet/goalpost kit from the 1970s is in perfect shape. Rare to see one of these with no missing pieces.
• Nice-looking 1960s Atlanta Falcons bobblehead, although it's missing some striping on the top. We've all seen this design before, but I've not noticed them having sleeve numbers like this guy ("00") does.
•  And from reader Bruce Menard, here's a real prize: a 1970s Willie Stargell "black man's" electric razor.
+ + + + +
Culinary Corner: One of the nice things about my apartment is that it comes with a backyard, and one of the nice things about my yard is that it comes with a bunch of raspberry bushes. They were already there when I moved in 14 years ago, which is handy, because I'm not so great at planting and gardening.
Every year, like clockwork, the raspberry bushes fruit two times — once in early July and again in early to mid-October. During those two periods, I can usually pick about a pint of raspberries per day (and on some days two or three times that much) for about a 10-day span. We're in the midst of this year's early-July crop right now, so I've been out in the yard each day, picking. Here's what I came away with yesterday (click to enlarge):
The branches and stems of raspberry bushes are lined with small thorns, so I always get scratched up when I go picking. It doesn't hurt much (the thorns are almost more like stiff little hairs), but it itches, at least for me. Not sure if that's a universal thing or if I'm just mildly allergic to the thorns. Whatever — it's totally worth it, and I've come to associate the itching with the pleasure of enjoying the berries. Sort of a "No pain, no gain" kinda thing.
I've tried the berries in lots of recipes over the years — raspberry jam, raspberry cobbler, raspberry ice cream, etc. After considerable deliberation, however, I've concluded that the following preparation is the best one:
1. Dump the raspberries into a bowl.
2. Eat all of the raspberries.
That is all.
+ + + + +
Tick-Tock: Today's Ticker was compiled and written by Garrett McGrath.

Baseball News: Following up on yesterday's main entry, A's beat reporter Susan Slusser reports that Jeff Samardzija will wear a generic "National League" jersey at the All-Star Game and sit with on the NL team's bench. … Calling all rich people: Rare Babe Ruth items — including game-used size 42 baseball pants, a palm print of his right hand, and the contract that moved the Great Bambino from the Red Sox to the Yankees — are going to be auctioned on July 12 (from Tommy Turner). … Mets manager Terry Collins has no issue with Braves closer Craig Kimbrel's discolored hat brim (thanks, Paul). … In other Mets news, they wore their "Miserable Monday at Home" camo uniforms last night. … Uni Watch friend MLB Cathedrals posted a rendering of the proposed Labatt Park, a never-realized stadium for the Montreal Expos. "¦ The Dodgers have pretty much stopped wearing their primary road grays (from Jim Carlisle).

NFL News: Panthers RB DeAngelo Williams gave up his first class seat to a uniformed Marine, although many commenters think the guy may have been a fake (from Ethan Hagen). "¦ Look where they incorporated the "LA" into the design of this Rams tape measure from 1989 (from Keith Olbermann).

College Football News: The East Carolina University Pirates Equipment Staff took to Twitter to show off their new jersey font (thanks, Phil).

Hockey News: Rumors about the Blues having new uniforms have been circulating for a while now. Yesterday Icethetics provided details, and it looks like the team will be going with a back-to-basics look, although they're planning to keep their alternate jersey, at least for now (thanks, Paul).

Soccer News: Fact or fiction: Reader Chad Gilman thinks the lion's tongue in the Netherlands' World Cup jersey crest is a Nike swoosh. "It has always been a bit swooshy in the past, but it seems to be practically identical now." What does everyone else think? "¦ New kits for Man U.

NBA News: During Sunday's Heat/Nets Summer League game, Kendall Gill shared a story about Michael Jordan once shutting up a trash-talking Jim Jackson by pointing out that Jackson was wearing Jordans (from Britton Thomas).

Grab Bag: … Here's a behind-the-scenes video of the University of Oregon equipment staff. … New Era and Spike Lee are teaming up on a mini collection of red New York Yankees caps. Man, I love that 1996 World Series patch (from Tommy the CPA). … Pro cycling rider Michael Rogers of team Tinkoff-Saxo has created a vest that makes carrying water bottles easier. It is called the BAR jersey and debuted at the Tour de France (from Sean Clancy). … "I was at the 4th of July parade in Annandale, Minnesota, and noticed that the St. Francis marching band was wearing baseball uniforms, including high-cuffs for the flag line and TNOB," says Adam Northenschold. "Granted, they look more like a beer league team than one on a diamond, but I haven't seen that in a parade before." … Here's an Esquire article on how Vietnam Navy SEALs inspire fashion today (from Tommy Turner). … These NFL-NBA logo mash-ups are pretty interesting (from Peter Schultz).