Tony Gwynn, who passed away yesterday at the absurdly young age of 54, was the greatest pure hitter I ever saw. Watching him play, it always seemed like he could get a base hit almost anytime he wanted to. Of course, that wasn't true — his lifetime batting average was "only" .338, meaning he failed roughly two times out of every three — which just underscores how difficult hitting is, and how much better at it Gwynn was than all of his contemporaries.
Gwynn gained a fair amount of weight toward the end of his career. If your mental image of him is of the pudgy doughboy he evolved into, consider this: Gwynn was a great college basketball player and was picked by the Clippers in the 1981 NBA Draft. He also won five Gold Glove awards. In other words, Gwynn wasn't some one-trick pony who happened to be unusually good at the mechanics of hitting a baseball — he was a great athlete.
Have you ever heard anyone say anything negative about Gwynn? Right, me neither. He appears to have been one of those rare guys who are universally admired. One measure of that is the swiftness and breadth of the on-field tributes that came his way yesterday.
We'll start, obviously, with the Padres, who opened a series against the Mariners in Seattle last night. Even though they were on the road, they managed to get black armbands sewn onto their jerseys in time for last night's game. They also hung Gwynn's jersey in their dugout:
The Padres' opponents last night, the Mariners, had their own tribute to Gwynn: They inscribed his uniform number onto "the 5.5 hole" on the infield — the spot between shortstop and third base where Gwynn sent so many of his 3,141 hits: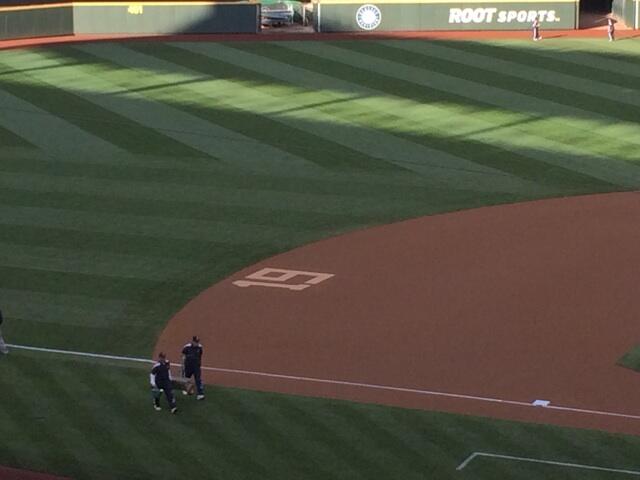 Even the fans in Seattle joined in the tribute, as you can see from these two fellows:
Meanwhile, over in Detroit, where the Tigers and Royals were playing, the Tigers saluted Gwynn by putting his initials in the 5.5 hole: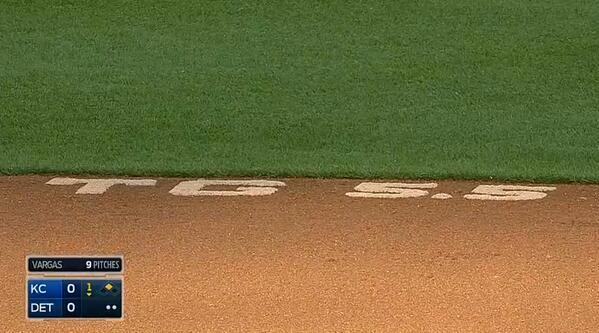 Pretty impressive to see a tribute from a team with no connection to Gwynn or to the Padres, right?
In Atlanta, where the Braves were hosting the Phillies, the Phils had a Gwynn jersey hanging in their dugout. But that wasn't for the deceased — that was Tony Gwynn Jr.'s jersey. He went on the MLB bereavement list after his dad's death yesterday:
Meanwhile, Gywnn's death may have its own positive legacy. He died from mouth cancer that was likely due to his use of chewing tobacco, and now there's already some discussion as to whether his death may lead to tobacco being banned in the bigs. (It's already outlawed in the minors.) Several Dodgers and Angels players discussed the issue yesterday, and Mets pitcher Josh Edgin says he now plans to quit, or at least try to.
Finally, Uni Watch intern Garrett McGrath points out that Gwynn defined himself in uni-centric terms during his Baseball Hall of Fame induction speech in 2007: "I wore brown, I wore the brown and gold, I wore the blue and orange. I'm proud as heck to be a San Diego Padre."
RIP, Tony — you'll be missed.
+ + + + +
Click to enlarge
NHL old-timers follow-up: Yesterday's main entry was about an amazing 1979 photo showing NHL old-timers wearing softball uniforms. I asked if readers could help identify the players in the photo, and many of you responded. Here's what people have said so far (I make no claims as to the accuracy of any of this):
First row: The guy at far left (No. 14) is Claude Provost; two guys down from him (No. 1) is Gerry McNeil; at far right (No. 11) may be Bob Turner.
The guys who are standing are sort of intermingled, so I'm going to treat them as one row, from left to right: Second from left (with the silver belt buckle) is Bernie "Boom Boom" Geoffrion; three guys father down (with the sweep of dark hair and the long sideburn) is Phil Goyette; four guys down from him (No. 9) is Maurice Richard; three more guys over (wearing the baseball glove) is Gump Worsley; directly behind Worsley (in the black hat with his face partially obscured by Worsley's head) is referee Red Storey; the next guy (with the big smile and the white turtleneck) is Dickie Moore.
Big thanks to everyone who contributed information on this.
But wait — there's more! In yesterday's post I noted how funny and cool it was that they used hockey-style jerseys for a softball game. But reader Allison Ambrous found an auction listing for one of the jerseys, and the listing says the jersey was used for old-timers hockey games. I had assumed that they made hockey-style jerseys specifically for the softball game, but maybe they just repurposed some old jerseys that these players had been using on the ice. Interesting!
And finally, as long as we're taking about the intersection of hockey and softball, check out this fantastic 1980 Canadiens softball team portrait that reader Matt Diguer posted in yesterday's comments (click to enlarge):
+ + + + +
Collector's Corner
By Brinke Guthrie
The Bengals have drafted several QBs who never made it. Before Smith, before Klingler, there was … Greg Cook. Dude had it all, and Bill Walsh said he coulda been the greatest (which is saying something), but got injured early on and never made it. There was one thing about his career I always found curious: He played in the same stadium for his college and pro career! He was a megastar at the University of Cincinnati and played on Nippert Field, which is smack in the middle of the campus. Then he got drafted by the Bengals and played for them on the same field. People forget this now, but Nippert was the Bengals' home for their first two years, prior to a 1970 move to Riverfront Stadium. Anyway, here's Cook in a 1970 Sports Illustrated poster. He passed away in 2012 at the age of 65.
Okay, enough of my Cincinnati reminiscing. Here's the rest of this week's eBay haul:
• You see those 1960s/1970s NFL helmet plaques on eBay all the time, but this is the first white/green Eagles one I've seen. Wonder why some teams are rare and others aren't?
• Check out these vintage Pistol Pete Keds sneakers — still in the box, baby. (Oops: He's wearing the three stripes of you-know-who in the photo, but Keds have just two.)
• Here's a 1960s Expos pennant with a Canadian maple leaf — no team logo!
• Great buy here — a 1960s MLB mini-helmet and bat stadium set. Fifteen bucks! Looks like one bat is missing, but so what.
• Arizona Cardinals fans will never miss kickoff with this 1970s St. Louis Cardinals wristwatch.
• Take a look at this 1969 "Pitt Steelers" glass sponsored by WTAE Radio.
• Drink your YooHoo! The New York Yankees did!
• Dave Boss Alert! First time seeing the Boston Patriots get the The Master's treatment.
• Look closely at this 1960s Cowboys mini-helmet. Even back then, I had an eye for detail: "The outline of the star is ALL WRONG." Then you look at this photo — and maybe it wasn't. Love the short-term three stripes, too.
Finally, a personal note: Is anyone going to the San Diego Comic Con July 24-27? Need a favor. Let me know.
Seen something on eBay or Etsy that you think would make good Collector's Corner fodder? Send your submissions here.
+ + + + +
Culinary Corner: Thanks to jet planes, flash freezing, and modern food-storage and animal husbandry techniques, there are relatively few seasonal foods left anymore. We can get most produce virtually year-'round; people on the east coast can enjoy fresh west coast oysters (and vicey-versey); every chicken is a spring chicken.
One exception: soft-shell crabs. Available from roughly May through September, they're a genuinely seasonal food. They also happen to be one of my very favorite things about summer, and last night I turned two of them into the best sandwich I'd eaten since, uh, the last time I made soft-shell crabs last summer.
Here's the deal: On my way home from my late-afternoon bike ride, I stopped off at my fishmonger and bought two soft-shells ($6 each) and a pound of mussels ($3). Once I got home and showered, I went to my backyard, had a beer or two while listening to an old Verlaines tape (I had donated blood earlier in the day, so the beer gave me a little more bang for the buck, so to speak), and waited for my upstairs neighbor Sam to get home from work.
Once Sam joined me, I lit some coals for our grill. When the coals were hot, I put a few ears of corn on the grill. While they were cooking, I put the mussels in a grill basket (not exactly like that one, but similar), removed the mussels' beards, put the basket on the grill, and covered the basket with an aluminum pan. After a few minutes, the musels and corn were both done. Sam and I ate the mussels as an appetizer while the corn cooled off a bit. (Sorry, I neglected to photograph the mussels portion of the meal.)
After we finished the mussels, I used a knife to strip the kernels off of one of the ears of corn and collected the kernels in a bowl. Then I sprayed the crabs on both sides with some olive oil cooking spray (for all of these photos, you can click to enlarge):
Next, I put some maybe two-thirds of a stick of butter in a small saucepan and added the juice of one lemon and some capers. I put the saucepan on the edge of the grill so the butter could melt and also started grilling the crabs, shell side down. After about a minute I began toasting a Portuguese roll:
I basted the crabs with some of the lemon-butter sauce. Brushed some of the sauce onto the roll, too. After another minute or so, I flipped the crabs and the roll:
After two or three more minutes and some more basting, I removed everything from the grill. I took the corn that I'd removed from the cob earlier and used it to create a bed of kernels on the bottom half of the roll. Then I added a crab, some more corn, the other crab, and some more corn. Then I drizzled the whole thing with a bit more of the sauce:
As for Sam, he's not really a crab guy, so he grilled some beef and sausages. I'm sure they were good, but I was very happy with my sandwich.
+ + + + +
Vacation countdown: It's been four years since I took a bona fide vacation — i.e., not a long weekend, not my annual summer blogcation when I take a break from the site but end up staying home and working on ESPN stuff, but a genuine getaway lasting at least a week. That will change this Saturday morning, when the New Girl and I fly off to Nova Scotia, where we'll spend a little more than a week. Looking forward to lots of road-tripping, hiking, whale watching, kayaking, and eating as much seafood as possible. My thanks to many of you who provided advice and travel tips when I first mentioned this trip last month. (No more tips, please — we're set.)
Phil will be in charge of the site while I'm gone. I'll have several main entries stockpiled for him to run, plus he'll have coverage of breaking news as needed. Garrett and Mike will be on Ticker duty on their usual days, and webmaster John Ekdahl will handle the Ticker for the rest of the time that I'm gone. Brinke will have Collector's Corner as usual, and Mike will have his Question of the Week. In short: Things will run reasonably close to normal.
I'm fairly determined not to wait another four years for my next vacation, so we'll go through this again soon-ish. Thanks in advance for dealing with the inevitable hiccups that will likely occur along the way.
+ + + + +
Tick-Tock: Today's Ticker was compiled and written by Garrett McGrath.
Baseball News: Phillies catcher Carlos Ruiz was still wearing his throwback helmet last night (from Tim Golden). … Question: Reader Eric Schmidt shared an article from Baseball Hall of Fame's magazine Memories and Dreams on the 1939 Baseball Centennial patch and its mysterious designer Marjori Bennett. Todd Radom confirmed a few months ago that she was a New York artist, but does anyone else have any background on who she was or any other design work she did? … Reader Paul Taylor noticed that the Baltimore Orioles are giving away 1954-style caps on Sunday, June 29, against the Rays. … The New Britain Rock Cats, a Twins farm team, wore Twins light-blue throwback jerseys (but not not throwback pants) for Father's Day (thanks, Paul).
NFL News: Yesterday, reader Allison Ambrous asked about the old English 'B' hat that AFL Bills coach Buster Ramsey was wearing in a documentary. Mako Mameli found that Ramsey's whole coaching staff was wearing that cap. In yesterday's comments, Terry Proctor surmised that it might have been a Buffalo Bisons minor league baseball cap. The Bisons were a Tigers farm team at the time and used the old English "B" to mimic the Tigers' "D." … Every NFL team could be using head impact sensors as soon as the 2015 season (from Tommy the CPA).
Soccer News: WORLD CUP FEVER! GOOAAAAAL! The New York Times has anti-fever and shared a video from a maximum security prison in Brazil, where inmates make soccer balls in exchange for reduced sentences. … The social media campaign for the US World Cup team had them sending custom jerseys with THOBs to famous athletic Americans like Aaron Rodgers, Michael Phelps, and Bill de Blasio (thanks, Phil). … Portugal's Cristiano Ronaldo traded shirts at halftime with his Real Madrid teammate and Germany star Sami Khedira (from Yusuke Toyoda). … Inventive diagram of all the different countries World Cup players could have played for given FIFA's rules for choosing a national team (from Ross Hazlett). … A look inside equipment operations for the US Men's National Team in Brazil (from Matt Dowell). … On the subject of equipment, the Toronto Star is looking into the apparel maker battle of Nike vs. Adidas vs. everyone else at the World Cup (thanks, Phil). … A Ghana player was spotted wearing a Toronto Raptors cap before the game yesterday. … The rest are from Trevor Williams. Made to be broken: Despite rules against swapping shirts, at least one Iranian player traded jerseys to with a Nigerian player. … Brazilian league soccer is normally played on taller grass, which interfered with a player's shoe contract. … A US/Mexico World Cup mashup jersey is making the rounds on eBay.
NBA News: On the most recent NBA Mean Tweets video on Jimmy Kimmel Live!, where NBA players read mean tweets about themselves, Nate Robinson is wearing a Denver Nuggets hat with the logo upside down (from Niklas Streng).
College Hoops News: On Twitter, Maryland Athletics shared how the Big Ten Conference logo will look on their hardwood (from Matt Shevin).
Grab Bag: Article on an organization called Commons 4 Kids that collects sports cards and donates them to children in need (from Jonathan Daniel).