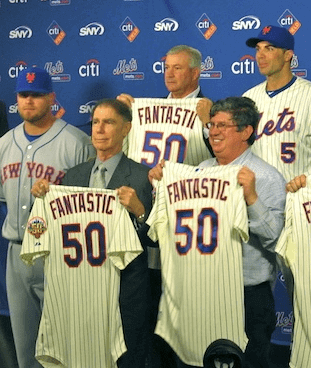 I'm turning 50 years old today. It's a big, round number, and I know I'm supposed to feel all midlife crisis-y about it or some such, but I don't. For one thing, everyone tells me I don't look like I'm anywhere near 50, and I'm pretty sure it isn't just because they're being nice. I've always looked a bit young for my age, and now I've reached the point in my life where that's a good thing.
More importantly, I don't feel 50. In fact, I'd say I feel about the same as I did when I turned 35, which isn't that surprising, because my life is pretty similar to how it was when I was 35. I eat the same, drink the same, and mostly dress the same, because I weigh the same. I have most of the same habits and routines (some of which are laughably analog for our current digital era, but I stick with them because I like them). I still see lots of movies and live bands, although not as much of either as I once did. I watch much less TV than when I was 35, but that's because I spend much more time on the computer — I traded one idiot box for another, so it's basically a wash. I still drive an old-ish compact car (not the same one I had when I was 35, but fairly similar). I still live with two cats (not the same ones, but just as lovable). I make more money now than I did when I was 35, but I don't spend much more than I did then, because my priorities, sensibilities, and practicalities are largely unchanged.
Some of this is all for the good — it's nice to be able to live pretty much the same life I had when I was younger. But there are times when I wonder if this stability indicates a lack of growth, or maybe a failure of imagination. Shouldn't I have expanded my parameters more? I often like to say that I'm an adult but not a grown-up, which is a fun quip, but does it really mean I'm just immature? Maybe. Okay, probably. Something to work on. (Go figure: Most 50-year-olds are worried about feeling too old, and here I am worrying about feeling too young.)
It turns out that the biggest difference between now and when I turned 35 is, of course, Uni Watch, which hadn't yet been born 15 years ago today. Its water was about to break, though — I already had the idea for it and was shopping it around to various media venues, but it would be another two months or so until I found a home for it. Every editor I approached at that time (including the one who eventually said yes) told me, "It's a fun idea, but do you really think there's enough there to sustain a monthly column?" Nobody suspected that Uni Watch would prove to be such a durable project, or that the uni beat could provide enough fodder for monthly weekly daily content.
So while it's nice that I'm turning 50 today, I think the more remarkable thing is that Uni Watch will be turning 15 in late May. Maybe we'll have a party for that. We might even have an anniversary patch — stay tuned.
I have lots of birthday plans, none of which involve doing even a lick of work, so I'm outta here for the day. Have a great weekend, and I'll see you next week.
+ + + + +

'Skins Watch: NPR's ombudsperson has posted a good, thoughtful piece about the 'Skins name. Bottom line: The network will continue to refer to the team by its full name, because that's the name of the team. … Joe Posnanski has amended his article from earlier this week to indicate that there was a connection between the Indians' team name and Louis Sockalexis after all, although Pos says he "still [doesn't] think the team was named Indians for him or to honor him" (from Perry Sailor).

Baseball News: Torii Hunter sure has a lot of stuff written on his glove (from John Muir). … The Dodgers played an exhibition game against the Australian national team yesterday, and the Aussies had a player with FIOB — but with the initial after the surname (from Colin Clerkin). … Lots of uni-notable aspects to this old photo of Willie McGee. First and most obviously, the mix-and-match uniform. Second, what's written under his brim? I blew up the photo and flipped it upside-down, and it appears to list his stat goals for the coming season: 100 runs, 80 RBI, 50 SB, and some other stuff I couldn't make out. But best of all, check out the dude in the background! (Big thanks to Keith Olbermann.) … Tons of old baseball program covers here (from Andy Moursund). … Good video on how the Sydney Cricket Ground was set up for this weekend's Dodgers/D-backs games (from Tim Lewis). … Interesting story about what's going to happen to the Field of Dreams field (thanks, Ek). … Typical slate of absurd promotional unis on tap this season for the Wisconsin Timber Rattlers (thanks, Phil). … The Phillies were supposed to wear green on Monday but the game got rained out. Tuesday was an off-day and Wednesday was a road game, so they finally wore the green jerseys yesterday (from Harrison Tishler). … In a related item, does anyone know if the White Sox refer to March 17 as Halfway to Halfway to St. Patrick's Day? …Remember those protective caps that pitchers were supposed to be able to test-drive during spring training? Turns out they haven't been available (thanks, Phil). … New BP caps for a slew of minor league teams (from Michael Trautman).

NFL News: Here's Steve Smith's new Ravens jersey with SrOB (from Ted Bloss). … Lots of old pro football program covers here (from Andy Moursund, who also has a set of program covers from historically black colleges). … Holy moly, look at all those wristbands! That's Elbie Watts, from a 1986 game. Also note the Spider Lockhart memorial patch being worn by Ottis Anderson (big thanks to Jeff Ash).

Hockey News: Love this Bruins-inspired pennant (thanks, Phil). … Here's a video about the LED "celebration lights" at the Canucks' arena (from Scott Lederer). … New mask designs for Blues goalie Ryan Miller and Caps goalie Jaroslav Halak (from John Muir). … Mike Fisher painted a Star Wars-themed goalie mask for a local goalie in L.A. … Anyone know why the Red Wings wore white at home last night against the Penguins? (From Aaron McHargue.)

Soccer News: Everton has extended its sponsorship deal with Chang beer (from Mark Coale). … What if European soccer teams got American logo treatments? They might look like this (thanks, Phil).

NBA News: Reprinted from yesterday's comments: Here's probably the best, most thoughtful analysis I've seen on the issue of ads on NBA jerseys. … Imagine if each NBA team was a corporate brand (thanks, Phil).

College Hoops News: A UVA hoops fan managed to get down on the court when he noticed that all members of the team's coaching staff dressed alike, so he dressed that way too (from Kevin Wright). … The other day I saw a VCU basketball ad on the side of a NYC bus. "Why the hell would VCU be running ads in the New York market?" I wondered. Turns out they're feeling pretty flush (from Tommy Turner). … Vote for your favorite Oregon basketball uni design here (thanks, Phil). … A year ago I wrote an entry about Nic Schultz, who had built a very cool logo-based DIY bracket. Here's what he's come up with this year, and here's the jpg it's based on. "I tried to put a lot of emphasis on individual weekends, so there was clear separation between the first rounds, Sweet 16 and Final Four," he says. "It's still a bit overwhelming at first glance, but then again so is keeping up with the action today and tomorrow. When you look into it and find a team, though, it's pretty easy to track and follow that team's progression." … Yesterday I posted a photo of Iowa's late-'80s uni design, which featured a faux/simulated untucked design. Now, thanks to Scott Jamison, we have a much better look at that design. Jimbo Huening provided additional views here and here, and he also points out that a replica of those shorts is sold by Uni Watch advertiser Retro College Cuts. … Here's a March Madness logo quiz (from Kurt Esposito). … Michigan State's throwbacks had off-center uni numbers earlier this season, but last night the numbers were centered. You can see the before/after versions here (from Zach Conrad). … Here's the story behind Albany's two-tone uniforms (thanks, Phil). … An NC State player was missing the "a" in his Adidas logo last night (good spot by Joseph Hiley).

Grab Bag: A player in the Kentucky high school state basketball tourney was wearing plaid shorts under this uniform the other day (from Jim Joseph). … Bizarre two-tone football helmets for Signal Mountain High in Tennessee (from Harry Akers). … Rebranding coming up next month for Illniois athletics (from Eric Lovejoy). … Eric Bangeman was watching some old USFL footage and spotted Houston kicker Tony Fritsch rotating his facemask downard prior to a kick. And yes, Tony had quite the gut in those days.