[Editor's Note: Today we have a guest entry by Marty Buccafusco, who's recently completed a truly excellent DIY project that has nothing to do with sports or uniforms but plenty to do with Uni Watch. Enjoy. "" PL]
By Marty Buccafusco
I was talking to my brother about the last Uni Watch party. His girlfriend, Penelope, overheard us but misunderstood and thought I was attending a unicorn watch party, giving her a serious case of the giggles. When Penelope's Christmas wish list mentioned "a unicorn from Marty," I was a bit confused until I remembered that little episode.
Of course, I had to do something amazing for her, so I created this Unicorn Watch Kit for her [for all of these images, you can click to enlarge]:
Here are the individual components of the kit:
1. A cross stitch of Unicorn Watch's adopted slogan, "Shun the Non-Believer," which I found on Etsy: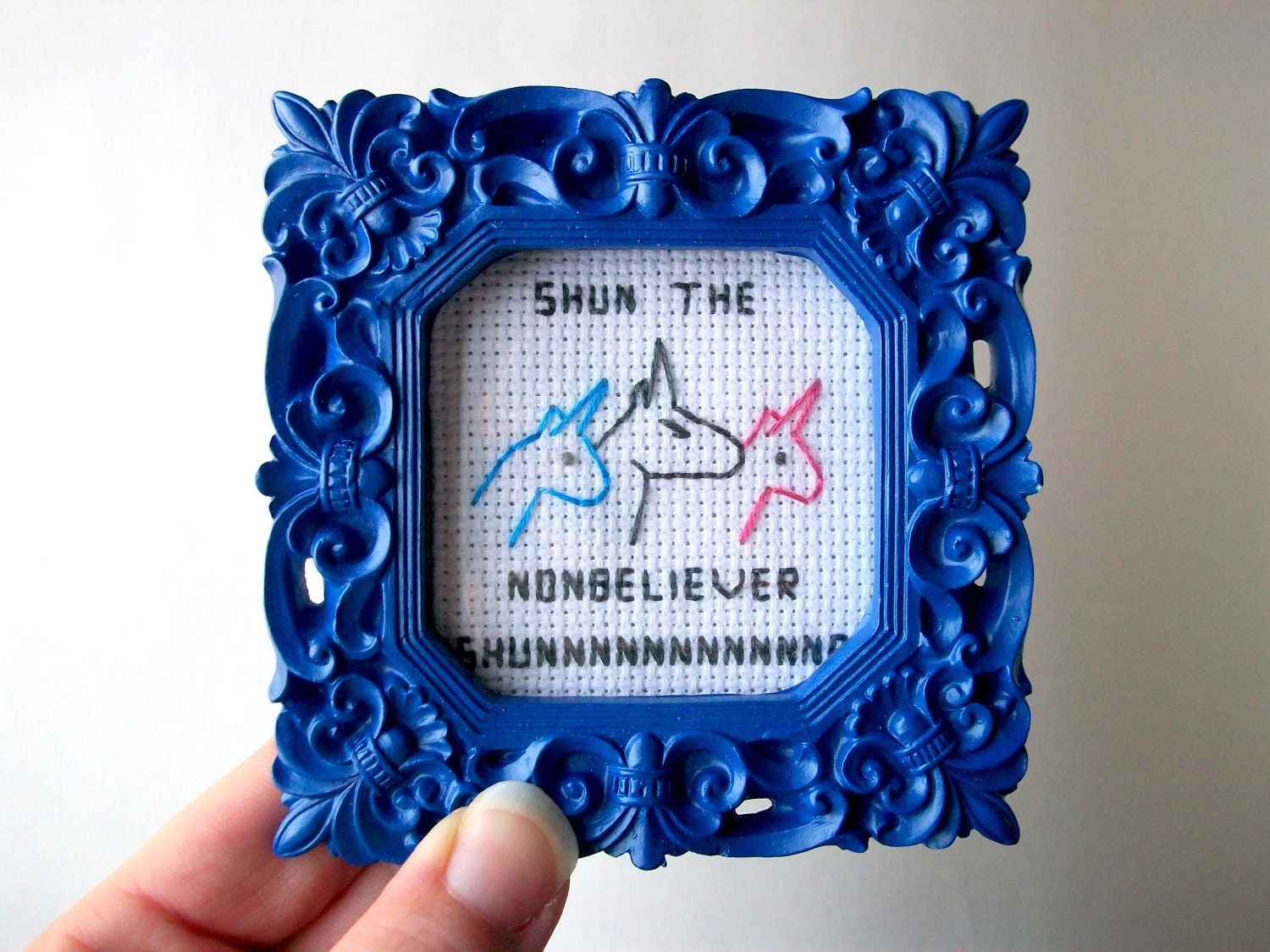 2. A Unicorn Watch spyglass (that's Penelope using it), which is really just a bedazzled ViewMaster, along with a custom reel featuring images of Penelope with variety of unicorns in magical settings:
For the custom reel, I looked into trying to DIY one but there wasn't enough time before Christmas. Instead, I found this place online and it was surprisingly simple. (This site has a kit that I'm considering investing in for future projects.)
3. A framed Magic Eye image of the Unicorn Watch logo (a unicorn head and the letters UW):
If that just looks like a plain blue field to you, here's the deal: The Magic Eye (or stereogram, as it's generically known) is one of those "hidden images" that were all the rage for like a year in the mid-'90s. Remember that Seinfeld episode where Mr. Pitt tries to see the image in the painting? Same thing. Here's an explanation from the Magic Eye website, and a better explanation from another site. I was obsessed with these things when I was kid but almost no one else was ever able to see them. Seemed like it fit the "Non-believers be shunned" element of Unicorn Watch, but when Penelope opened it, she had no idea what it was either. "Oh, what a pretty frame!" was her first response.
———
Paul here. Awesome stuff, Marty. I think I speak for everyone here when I say I want to be on your Christmas list next year. Well done!
+ + + + +
Just in time for the opening ceremonies, right on schedule: Received the following note last night:
My name is [redacted] and I work for the official NBC Olympics Store.

I read your article about the cool gear for 2014 Games and I thought it would be interesting for your fans to be able to purchase the cool Olympic gear and get the latest Olympic pins, jackets, T-shirts, [and] hoodies at the Olympics Store.

I would like to chat more about adding product links to your post or possible product review opportunities. If you end up adding a link to our Olympics store, please let me know and we will retweet your post @ShopTheTV and possibly NBC Twitter accounts. Thank you for your time and please let me know if you have any questions.
Let's skip the whole "Everything's already too retail-driven as it is" angle, which I'm sure you're as tired of hearing as I am of reciting. I'm more interested in this notion of "adding product links" to my column. Now, I already knew (and maybe you did as well) that lots of companies attempt to bribe bloggers by offering cash payments in return for links within stories. But in this case the company looking to game the system is NBC, which should really know better. And the article to which they want the links added is one of my ESPN columns — did they really think any reputable journalist or legitimate media operation would do something so obviously unethical?
Worst of all, though, they didn't even offer me any cash. Fuckers! Then again, who needs money when you can have your story retweeted on the prestigious ShopTheTV feed?
I've said it before and I'll keep saying it: Merch sales are the worst thing that ever happened to the uni-verse. Turns everyone into douchebags.
+ + + + +
PermaRec update: Ever dream of finding something valuable at a junk shop? An Arizona woman was poking around at a Goodwill and found the only known recording of a 1964 speech by Martin Luther King. Get the full scoop on Permanent Record.
ESPN alert: I have a new ESPN column today, about the Olympic hockey uniforms. Enjoy.
+ + + + +
'Skins Watch: I'm not thrilled with the Moose Jaw Warriors' current logo, but it's a lot less problematic than the old logo they're reviving for their 30th-anniversary jersey, which they'll be wearing throughout the 2014-15 season. Disappointing.
Baseball News: Yesterday I described what the A's new green alt jersey would look like but couldn't show you a visual. Then Richard Paloma sent me this, which, as it turns out, is not official — it's a mock-up that Samuel Lam did last month. I can tell you, however, that it is 100% accurate — that's exactly what the new green alt will look like. … Always interesting to see the Indians' mid-1970s coach's cap with the piping. That shot is from the infamous 10 ¢ Beer Night in 1974 (good find, Phil). … The Dodgers' new batting helmet number decals include the uni number, the MLB logo, and the team's script. Pro Helmet Decals honcho David Sulecki says the script was equipment manager Mitch Poole's idea. Seems like overkill to me. … Here's an article on what the Mets are packing for spring training (from Tommy Turner). … Here's a decent view of the Indians' new BP jerseys (from Nile Smith). … The Rockies will retire Todd Helton's number in August (thanks, Phil). … Several MLB players showed up for the Texas Longhorns baseball team's annual alumni game and wore UT caps with their MLB gear. Oh, and the "JS" patch on the cap is a memorial that's been added this year for Huston Street's late father, James Street, who played baseball and football for Texas (from Mike Barnes). … Mmmm, very tasty photo of the Say Hey Kid, Leo the Lip, and Cesar Cedeño (nice find, Phil).
NFL News: The world went mildly bonkers yesterday over that unconfirmed Reddit post about Nike being poised to make the Broncos "the Oregon of the NFL," but a Broncos spokesperson says there's nothing to the rumor. Of course, even if the rumor were 100% true, the Broncos wouldn't admit it, at least not yet. A lot of people have asked what I think of all this, and the answer is that I have no idea. Is it plausible? Sure. But lots of plausible-sounding rumors turn out to be false. Until I get better info from a legitimate source, it's all just noise. … Speaking of the Broncos, someone on eBay is selling several pairs of their vertically striped throwback socks in yellow and white (from David Firestone). … If you crossed NFL logos with some famous corporate logos, you might get something like this (from Jared Buccola).
College Football News: If you go to Oklahoma's website, you're sent to a landing page that appears to show a new road jersey and maybe a new helmet finish. Hmmmmm (from MJ B). … There's an Australian league of American football — not to be confused with Australian rules football — that includes a team called the Queensland Sundevils, whose logo is ASU's old Sparky design (from Michael Bonfanti).
Hockey News: The Norwegian goalies at the Olympics have very cool mask designs (from Alan Kreit). … The Florida Everblades (ECHL) will be wearing an Olympics-themed jersey that was designed by a local kid (thanks, Phil).
Soccer News: The L.A. Blues have changed their name to the Orange County Blues (from Tony Bruno). … "A goalkeeper in the Egyptian professional league was wearing a Simon Mingnolet Liverpool goalkeeper jersey," reports Nile Smith. "As you can see, the jersey still had the Liverbird Crest, the warrior insignia, and part of the Standard Charter logo (the club's sponsor), with the McDonald's 'M' covering the rest of it." "¦ David Beckham's new MLS team is looking for a name (from Francis Fay).
NBA News: The Hawks may (or may not) have a new logo. "¦ The Grizzlies are saluting James Johnson by giving away free neck tattoos (thanks, Mike).
Olympics News: Here's a really good PDF showing all of the Winter Olympics gold medal designs from 1924 through 2014 (big thaks to David Haberman). "¦ Good to know that all of the Olympics' major corporate sponsors have contingency plans in the event of any terrorism. … Here's yet another one of those "Olympic uniforms through the years" features, although you can simply scroll through this one — no click-click-clicking required (thanks, Phil). … Best article I've seen so far on Olympics uniforms and the companies that make them. Great info, great reporting — highly recommended.
Grab Bag: Another new football league that's doomed to failure has launched, but at least they have an interesting uni-related twist: No uni-numbering requirements for the offense. "¦ As a longtime blood donor, I like this blood-donation infographic. … Here's last week's cyclocross world championship recapped in stop-motion Lego form (from Sean Clancy). … Here are some thoughts about designing a new NYC flag for the 21st century (from Tom Mulgrew). … For reasons too complicated to explain here, but that you can read in the linked story, the Adelaide Crows — that's an Aussie football team — won't be allowed to wear its preferred jumper for an upcoming match (from Lew Strawn Jr.). … RIP, Ralph. Thanks for the memories.