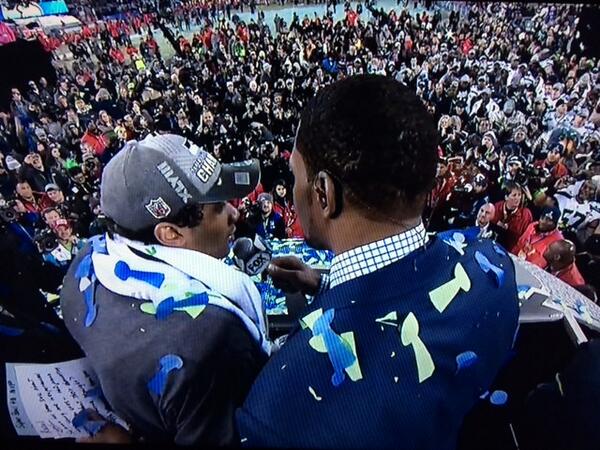 Man, the only thing worse than a blowout Super Bowl is a uni-uneventful blowout Super Bowl. The closest thing to a uni-notable moment came at the end of the game, when the NFL powers that be once again rained down confetti shaped like the Lombardi Trophy (although to me it looks more like a keyhole). "My children actually saw it and asked me to go back and take a picture for your website," says reader Chris Perrenot, who provided the screen shot you see above. "I've turned them into uni-watchers too!" Very cool.
As soon as I saw Chris's screen shot, I had a "Wait, they've done that before" flashback, so I tried to figure out when they started using trophy-shaped confetti. At first it looked like they didn't use it last year for Super Bowl XLVII, but then it turned out that they did. Similarly, at first it looked like they didn't use it for Super Bowl XLVI, but then it turned out that they did. Super Bowl XLV? At first I thought no, but then it turned out yes (and, as you can see, they hadn't yet started using team-colored confetti).
And that's when it hit me: They don't use the trophy-shaped paper for the big confetti blast at the end of the game — they use it for a separate blast during the trophy presentation. I rarely keep watching long enough to see that, so I hadn't even realized that they do a second round of confetti. Going back one more year, they don't appear to have used Lombardi-shaped confetti for the trophy presentation in Super Bowl XLIV, so it looks like that practice started in XLV.
Meanwhile, here's something that isn't Super Bowl-related but nonetheless serves as a good capper to the football season: Someone has come up with Star Wars-themed helmet concepts for all 32 NFL teams — NFC and AFC. Discuss.
+ + + + +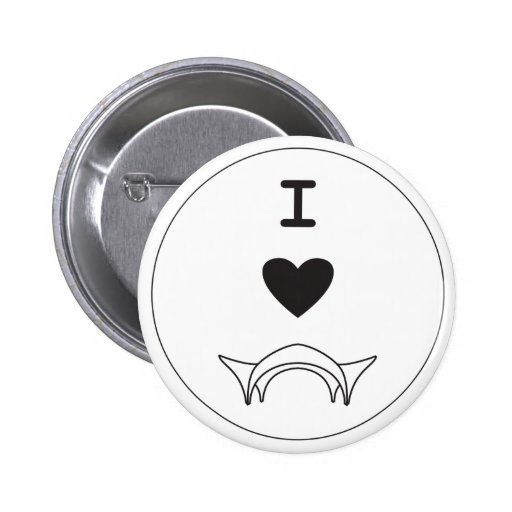 Candela update: For those who've been following the Candela Structures project (which Kirsten and I wrote about in The New York Times last May), the New York Landmarks Conservancy has completed a study that makes recommendations for how the structures can be restored and maintained. Here's hoping the city comes up with with the funds to undertake the restoration work.
+ + + + +
'Skins Watch: NFL commish Roger Goodell was holding a pre-Super Bowl press conference on Friday and was asked if he would ever call a Native American a "Redskin" to his or her face. "He pretty much deflected the question," says Coleman Mullins. "He talked on his same points as always: how it's a tradition, a name meant to honor Native Americans, and that it's simply a football team. Same old stuff." … A Christian college in Wisconsin will no longer call its teams the Crusaders. "[T]imes change and we understand that context changes," said the school's executive VP — a sentiment Roger Goodell could learn from (from David Wilson).
NFL News: The Eagles had gray facemasks in 1991, but Reggie White had a black mask for at least one game (screen shot by Brad Tucker). … Bruce Menard was looking through the latest Hunt Auctions listings and spotted some great stuff, including a 1950s Bears jacket, a 1950s Browns jacket, and — my favorite — a 1940s Lions jacket. … The dollar store near Chris Flinn's house is selling a balloon with a badly outdated Jets logo.
College Football News: Lots of silly-looking Indiana prototypes, which I figure will never make it onto the field, are floating around (thanks, Phil).
Hockey News: Throwbacks on tap next season For the Coyotes. … Groundhog Day uniforms yesterday for the Hershey Bears. (Speaking of Groundhog Day, was there any groundhog component to the Super Bowl? If so, I missed it.)
Soccer News: For Sunday's match against Liverpool, West Bromwich Albion players wore jerseys supporting the team's charitable foundation. Meanwhile, manager Pepe Mel wore a black armband in honor of Spanish manager Luis Aragones, who died on Saturday. … From last week: AS Monaco players wore T-shirts with the words "Fuerza Tigre!" in support of teammate Radamel Falcao, who tore his ACL recently. More curiously, his former teammates at Atletico Madrid wore their own tribute shirts (all this from Yusuke Toyoda).
College Hoops News: New alts debuting tonight for Villanova. SDSU wore shooting shirts designed by their student section on Saturday night. … Iowa and Illinois went color-vs.-color on Saturday (from Mark Arnold).
Grab Bag: Lots of chatter about Auburn baseball, football, and basketball uniforms in this 30-minute podcast (from Clint Richardson). … It's always a little embarrassing when someone from out of town informs me of a great NYC attraction that I wasn't aware of, but that's the case with this amazing-looking photo-badge gallery show that Jake Kirr just told me about. The New Girl and I plan to check it out on Saturday, and I for one am super-stoked.
+ + + + +
The day week the music died: Tough times last week, as three important musicians — all of whom I was privileged to meet at least once — passed away. I'd like to take a minute to salute each of them:
1. You already know about Pete Seeger, and there's little I can add to the many accolades that have been heaped upon him over the past week. He was a great artist and an even greater American, and it's hard to imagine a life more fully lived than his.
The first LP I ever owned was Seeger's "John Henry" and Other Folk Favorites, which I received from my brother Henry as a Christmas present when I was in third grade. The following summer (or maybe the summer after that, I'm no longer sure), our family got to go on Seeger's sloop, the Clearwater, which was the symbol of his efforts to clean up the heavily polluted Hudson River. Seeger was there on board, and I got to say hello to him very briefly. I don't remember much about the encounter, but I recall being very aware that this was the first famous person I'd ever met. As I later learned, he was much more humble and unassuming than most other famous people.
I mourn Seeger's death, but it's a good, happy mourning. He lived to be 94, so he didn't get cheated and neither did we. I'm pretty certain he made the most of every day, and we can best honor his memory by trying to do the same. R.I.P.
2. On Thursday night the New Girl and were driving home from seeing some music and had the radio tuned to WFMU. The DJ was talking about the Mighty Hannibal, the fine 1960s and '70s soul singer whose career had been revived over the past decade or so by Norton Records and other admirers. I was happy to hear a discussion of Hannibal, but then I noticed the DJ kept referring to him in the past tense. "Shit," I said, "did Hannibal just die?" The New Girl did a quick iPhone search and found that Hannibal had indeed passed away just a few hours earlier.
Hannibal was from Atlanta, and that's where the early phases of his career were based, but he had made his home here in New York — first in Harlem and then in the Bronx — for many years. In the late 1990s he was befriended by local soul DJ Matt Weingarden (known here in NYC as DJ Mr. Fine Wine), who's one of my best friends. Matt soon become something of a caretaker for Hannibal, especially after Hannibal lost his eyesight due to glaucoma. I saw him perform quite a bit during this stretch and, thanks to my connection to Matt, got to speak with him several times. He was a fascinating character with lots of amazing stories to tell.
Hannibal was no angel. Earlier in his life he had worked as a pimp (an activity I once heard him nudge-nudgingly describe to an interviewer as "assisting young ladies in their professional endeavors"), served prison time for tax evasion, and had serious addiction problems. But he had overcome all of that and, in my encounters with him, seemed like a very decent guy. He wasn't a top-shelf, A-list soul artist, but he was a solid pro who, like most black singers of his generation, brought an irresistible gospel inflection to most of his work. He kept right on performing after he lost his vision, although he'd often start rotating to one side without realizing it while he sang, so he'd end up facing stage-left, at which point one of his backup singers would come over and gently reorient him toward the front.
Hannibal was 74. That's not very old, but I think his death was likely a case of the mileage, not the years. I'll miss him. R.I.P.
3. When I moved to New York in 1987, I often hung out at the now-defunct Mars Bar in the East Village, in part because their jukebox had several songs that I didn't know where to hear anyplace else (this was before pretty much everything ever recorded was available on YouTube and Spotify). One of those songs was "Son of Sam," the tremendous 1977 single by the local art-punk band Chain Gang, which I never got tired of hearing. A year or so after I arrived in town, Chain Gang emerged from a lengthy period of inactivity and began playing live shows, which I always made sure to see. I was particularly entranced by their frontman, this charismatic little bundle of energy named Ricky Luanda, whose stage persona seemed like equal parts street urchin, squatter, drug dealer, rock star, and avant garde artist. I eventually came to view him as the poet laureate of what I called the Lower East Side "scumderground" (a scene that no longer exists and is hard even to conceive of in the post-Giuliani and post-Bloomberg iteration of New York, but that's another story for another day).
Chain Gang eventually stopped playing again. Much later, I think in 2008, I was at a party and found myself being introduced to Ricky Luanda, who by that time had become an experimental filmmaker. I told him how much I loved Chain Gang and how I'd always found him to be a riveting performer. He was very gracious about my fan-boy blatherings and turned out to be a peach of a guy. I ended up yakking for much of the evening with him and his lovely wife, Randi, and then the three of us sat together later that night during a performance by the local burlesque artist Julie Atlas Muz (I recall Ricky cheering particularly hard when Julie did a creepy striptease routine to the tune of Screamin' Jay Hawkins's "I Put a Spell on You"). After that I continued to bump into Ricky and Randi once or twice a year at various events, most recently last November.
The news came over the weekend that Ricky Luanda had died. Turns out he'd been fighting esophageal cancer, which I hadn't even realized (and feel foolish for not having known when I saw him a few months ago). His death is hitting me harder than Seeger's or Hannibal's, in part because Ricky always struck me as a survivor, as someone who was indestructible. Nothing I've written here even hints at how special he was — he was a New York original, and it's very disappointing to know that most New Yorkers (to say nothing of those outside the city) had no idea who he was. I mourn not only his loss but the loss of the bohemian life he represented — a life that's now largely unsustainable in New York. R.I.P.