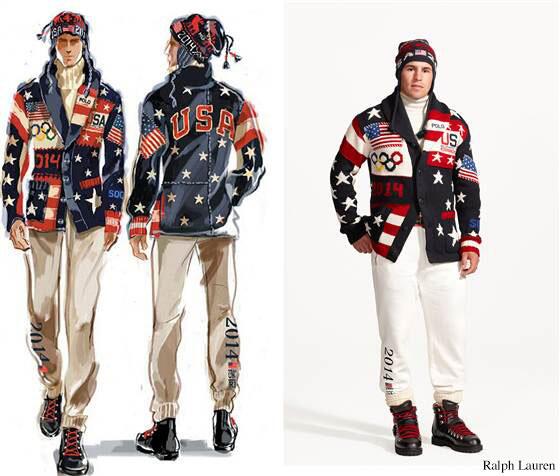 Ralph Lauren released Team USA's outfits for the Sochi opening ceremonies yesterday (see above), and I for one do not feel like my country is being honored. Additional photos, info, and — of course — retail prices can be found here. What a mess.
Meanwhile, check out what the German team will be wearing:
Germany's Olympic outfits for Sochi. pic.twitter.com/sIsxTIDjOO

— Steve Wilson (@stevewilsonap) October 2, 2013
Some folks are interpreting the rainbow design as a protest against Russia's anti-gay laws. But according to this article, that interpretation is wrong:
The uniforms were created by German designer Willy Bogner, in cooperation with Adidas and the shoe company Sioux. Bogner claims they were an homage to the aesthetics of the 1972 Munich Summer Games and said he wanted to create a "celebratory design, inspired by the great atmosphere of the times."
That's the oddest explanation of all because, as reader Eric Trager points out, the "great atmosphere" at the 1972 Munich Games wasn't all that great.
Can't anyone out there design some good opening ceremony attire? Yes, as it turns out — Canada.
Finally, in case you missed it yesterday: My latest ESPN column provides a preview of some other things to watch for at the Olympics.
+ + + + +
FNOB update: For a while now I've been aware of only two FNOBs in MLB history: Ron Jackson and Carl Taylor. But we're about to double that total!
First up is Claudell Washington, from the 1974 A's:
Doug McWilliams, a former Topps photographer, took that photo and remembers the details: "He added his first name because track athlete Herb Washington was also on the team. Herb didn't have his first name added. They were both on the team in 1975, but I don't recall if Claudell continued wearing his first name."
A few hours after Doug sent in that photo, I heard from Jeff Scott, who provided visual evidence of Cardinals infielder Julio Gonzalez going FNOB in 1982, as you can see in this World Series clubhouse celebration shot:
"I pulled out a 1982 Cardinals media guide and found that there also was a Jose Gonzalez in the Cardinals' camp that spring," says Jeff. "He ultimately made it to the majors in 1984. Interestingly, he changed his surname to Uribe when he was traded to the Giants after the '84 season because, apparently, there were 'too many Gonzalezes in baseball.' I suppose we can assume he also had a FNOB jersey during spring training 1982, although we'd need photo confirmation to be sure. Anyway, at least ths explains why Julio had FNOB."
It's not surprising that FNOBs are so plentiful in football (because the rosters are so large) and so rare in basketball (because the rosters are so small), but I'm surprised we've seen so few of them on the baseball diamond. Big thanks to Doug and Jeff for adding these two to the historical record.
+ + + + +
Research question: Got a note the other day from Tommy Lamme, as follows: "When I played basketball back in the '80s, we had a home uni number (usually even) and an away uni number (usually odd and consecutive with the home number — 12 at home and 13 on the road, for example). I know the Houston Cougars also did that. Why did teams do it that way, and why did that style of numbering change?"
This has come up a few times — I know lots of high school and college teams did this. But I'm not clear on why, or why they stopped. Little help..?
+ + + + +
Baseball News: The cap logos that will be shown on the plaques of the six new Hall of Fame inductees are spelled out in the fourth graf of this story. Fascinating to see that two of them — Greg Maddux and Tony LaRussa — will have no logo at all. … Our friends at Grey Flannel Auctions are currently selling a 1919 Yankees jersey worn by Home Run Baker. "It is the earliest known jersey of any Yankee Hall of Famer and one of the earliest Yankees shirts to exist, period," says Grey Flannel's Michael Russek. "Photo-matched, sun collar, 3/4 sleeves, and unique placement of the 'Y' in 'NEW YORK,' which is horizontally centered on the button placket." … Speaking of old baseball jerseys, I recently came across two spectacular vintage flannels on eBay — look here and here. Both are too rich for my blood, alas. … The Cubs are offering a 10-game ticket plan based on their throwback games. Is this the first-ever uni-based ticket plan? (From Jamie Uthe.) … Paul Bielewicz's sister made a spectacular Rochester Red Wings jersey cake for Paul's son's first birthday. Great work, but one quibble: Based on that photo, the real jersey had set-in sleeves, while the cake had raglan. … The Red Sox will not have beards in 2014. … New college uni for Cincinnati (thanks, Phil). … Brutal new "anthracite" uni for TCU (from Mark Louis Rybczyk). … Oregon State's new white uni is pretty sweet, although the swoosh placement on the pants is really annoying.
NFL News: Here's Peyton Manning's Super Bowl jersey (from Aaron McHargue). … Check it out: Seahawks jersey cookies (from John Kimmerlein). … Reprinted from yesterday's comment: The Chargers are saluting the U.S. Olympic team — but are doing so with an outdated 2012 jersey. … The invitation to some pre-Super Bowl party in New Jersey — apparently not NFL-licensed — features amusingly inaccurate Seattle and Denver helmet icons (from Robert Silverman). "¦ A Virginia company has won an NFL grant to do further concussion research (from Tommy Turner).
College Football News: UCF is selling off its black helmets (thanks, Phil). … Virginia Tech's Black Friday game is more than 10 months away, but there are already dueling Twitter accounts lobbying for the Hokies to wear black and wear maroon (from Steve H.).
Hockey News: "Looks like the Toledo Walleye are putting together a minor league mini-Winter Classic for December 2014, to be played at the Toledo Mud Hens' ballpark," says R. Scott Rogers. "Here's the fantastic fauxback jersey the Walleye will wear." … William Jones notes that the font used for the word "Game" in the Blue Jackets' 1000th-game logo is suddenly all over the place. "I've seen it in TV commercials, at food stores, and even on a billboard near my house," he says. "I'm driving my fiancé crazy because every time I see it, I say, 'There's that damn font again!' Do you know what it's called?" No, I don't. Anyone..? … Oh, great — Notre Dame's fighting leprechaun has gone GI Joe (blame Phil). "¦ The Rio Grande Valley Killer Bees (NAHL) forgot to bring their jerseys for last night's game against the Corpus Christi IceRays, so they wore the IceRays' road jerseys — but also wore their own socks, which they did remember to bring. "I covered hockey for a long time, and never saw that happen before," says Greg Rajan.
Soccer News: DC United will unveil their new kit on Feb. 15 (from Brian Bittner). … New set of crests for Dallas Baptist University. … "Napoli apparently decided their camo third jersey wasn't ugly enough, so they released this crime against eyeballs," says Yusuke Toyoda. Also in ugly soccer unis, Shamrock Rovers' goalie jersey has a friendly 'Unleash Hell' message on the inside." … Several Colombian teams have unveiled new kits, including Millonarios, Atlético Nacional, Deportivo Cali, DIM, Alianza Petrolera, and Patriotas, with Independiente Santa Fe and America de Cali still to come (all of these from Fernando Cardenas).
NBA News: The Nets' long-rumored "Dodgers-themed" alternate uni has been released. But shouldn't the number be red, instead of blue? … First the Kings became the first pro sports team to accept Bitcoin, and now they're the first to use Google Glass. Key passage: "On Jan. 24, the Sacramento Kings of the NBA will become the first professional sports team ever to record and stream a live game using Google Glass. While players won't actually wear Google Glass on the court, team members, cheerleaders, announcers, and even the mascot will from the sidelines" (from Tom Mulgrew).
College Hoops News: The uni-centric Marquette basketball documentary Untucked has debuted at the Sundance Film Festival (thanks, Phil). … Speaking of Marquette, they'll be wearing a "Coaches Against Cancer" uni this Saturday — woof! (From John Okray.) "¦ When you have the Blue Raiders against the Golden Hurricane, it makes sense that they'd go color vs. color, as Tulsa and Middle Tennessee State did last night (from Yogi Combs).
Grab Bag: You know the old visual cliché of a poor person wearing a barrel held up by suspenders? Here's a good piece that explains the origins of that look (from Cary O'Reilly). … About a year ago I did an ESPN piece on Madison High School's bizarre polka-dotted basketball uniforms. Now Tommy Allred has sent in a scan from an old Madison High yearbook. As you can see, there are good shots of the polka dot unis, but that was just the road uni. Check out the home uni at lower-right — vertically striped shorts and vertically striped socks! … Not sports-related, but an interesting article on old Atrari video game box art (from Matthew Edwards). … As you may have heard, arrests were finally made yesterday in the famous 1978 Lufthansa heist (as depicted in Goodfellas). One of the FBI agents who perp-walked the main suspect was showing some serious Under Armour logo creep. … Vans is putting out a line of Beatles/Yellow Submarine sneakers (thanks, Brinke). … Rafael Nadal's sneakers at the Aussie Open include a little icon denoting for his 2009 AO title, and his racket bag has icons for all his major titles (from Chris Perrenot). "¦ I was going to put this in the NFL section, but it really belongs at the end of today's entry, so here it is: a hilarious and beautiful little cartoon that explains how football works. Not to be missed (big thanks to Mike McLaughlin):