As you may have heard yesterday, the NBA All-Star Game jerseys were unveiled yesterday. I'll get to that in a minute, but first I have two other NBA-related exclusives:
1. I recently heard from a credible source who told me that the Nets have developed a new jersey that's a lot like their classic Dr. J-era look, but rendered in their current black-and-white color scheme and with their current font. The source created a mock-up to show roughly what it looks like: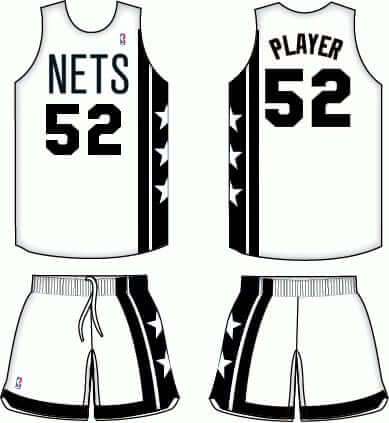 But here's the thing: Unlike that mock-up, this new jersey has sleeves. That fits perfectly with the ambiguous news we recently heard about the league going with sleeved "heritage jerseys" next season. Neither the NBA nor Adidas has been willing to say what qualifies as a "heritage jersey," but this new Nets design would appear to fit the bill.
My source isn't sure whether this new design is final, or just a prototype, or still in development. Time will tell.
2. My source has also seen what appears to be the new Charlotte Hornets uni set. Again, it's not clear what stage of development these are in — they could be prototypes. My source created a mock-up of the white uniform from memory, so this is not an exact representation, but it should give you a general idea:
As you can see, there are no pinstripes and the number font is very blocky. My source says there's also a teal version with purple lettering/trim and a purple version with teal lettering/trim, both with "Charlotte" on the chest, following the same general template as the white design.
To reiterate: While I trust my source in terms of what he saw, it's not clear whether these are final designs, prototypes, or something else.
Okay, now let's circle back to those All-Star jerseys. I've actually known about the All-Star designs since last summer, and I published a written description of them in November, but I wasn't at liberty to show you the visuals. But then reader Julien Simonin spotted the East design listed for sale on a French website. Once something's out in the open like that, it's open season, so I tweeted the design yesterday morning:
EXCLUSIVE! NBA All-Star jersey leaked on French site. I confirm it's the real deal –> https://t.co/ihX7lPzEQu pic.twitter.com/7tuvUvp3E4

— Paul Lukas (@UniWatch) January 16, 2014
The listing on the French site was soon taken down, but by then it was too late. Then, maybe 20 minutes later, Chris Creamer showed me a tweet from someone in Spain who had leaked photos of the East and West designs:
More NBA All-Star leaks, this time showing the West jersey: pic.twitter.com/rv25isyUkr

— Paul Lukas (@UniWatch) January 16, 2014
The ESPN news desk asked me to write something about the leaks, so I asked the NBA for comment. They didn't respond, so we went ahead with the story anyway. Soon after that, I heard that the NBA would be officially unveiling the designs that afternoon, in response to the leaks, and here we are.
Speaking of the leaks: It's not surprising that a retail site would accidentally post the design too soon — that stuff happens (although it's a little odd that it was a French site). But what about the Spanish guy who tweeted those other photos? How did he have access to the jerseys? A British source provided me with the explanation yesterday afternoon:
Those photos are from Foot Locker's "Approved Heat" event here in London at the O2 before the NBA's Nets/Hawks game. A number of media/bloggers/sneakerheads had been flown in from across Europe to preview Foot Locker's "Approved Heat" collection that launches in stores in February, and it seems as though they displayed the All-Star designs before they were officially released. One of the journalists in attendance who tweeted pictures got a call from Adidas people in his country who weren't happy, asking how he had seen them.
Hmmmm. When it comes to the NBA's corporate partners, it appears that the left hand didn't know what the right hand was doing. Maybe they wouldn't have so many leaks if they weren't so busy trying to buy off journalists by treating them to junkets and parading them in front of merch displays.
Finally, reader Scott Moody has come up with an interesting variation on the All-Star designs. I'll let him explain:
I started thinking about how cool it was when players wore their regular unis during the All-Star Game. But I get the idea of having a special uni. So I started thinking about what if they combined the two ideas? What if the uni was a mashup of sorts, a combination of the player's team uniform design and the All-Star game's colors? It might look like this [click to enlarge]:
Not bad, Scott — I like. Thanks for sharing.
+ + + + +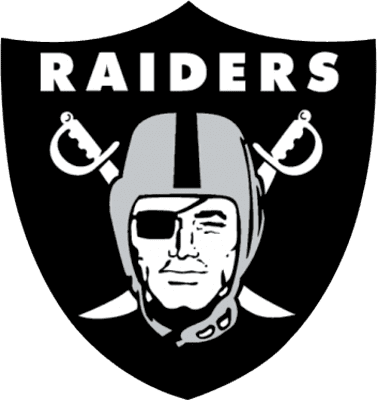 Maybe the glare is why he's wearing that eye patch: Yesterday's Ticker linked to some photos of an old Raiders helmet. That prompted the following comment from The Jeff:
This bugs me every time I see an old Raiders helmet. Look at the logo on the side — the helmet on the logo is depicted with white glare on it. But if you go to a site like SportsLogos.net, you'll see the Raiders logo being listed as unchanged since 1964. Why does this version with the glare not seem to show up in any online databases, and when did the team stop using it?
I'd never noticed this myself, so I sent a note to SportsLogos.net honcho Chris Creamer. His response:
Like you, I'd never noticed this before. Doing some quick research, I'm finding photos of the Raiders using this glare logo as their helmet decal until at least 1992, possibly later. Conversely, I'm also finding glare-free logos used on official team pocket schedules and media guides as far back as 1978. In the early '70s it looks as if all logo use had the glare.

Could be a situation where the helmet logo was slightly different from the primary logo during these years?
Interesting. If anyone out there knows more about this, please fill us in.
+ + + + +
ESPN reminder: In case you missed it yesterday afternoon, I wrote a piece about Wes Welker's new helmet.
Raffle reminder: Today's the last day to enter the raffle for the game-used Bengals jersey. For details, look here.
QBC reminder: Last call for the Queens Baseball Convention, which takes place tomorrow. Phil and I hope to see lots of you there.
+ + + + +

'Skins Watch: Was the demotion of Chief Wahoo forced upon the Indians by MLB higher-ups? At least one writer thinks so. … 'Skins CB DeAngelo Hall thinks the team should change its name (from Tommy Turner).

Baseball News: Whoa, check out the uniforms for the 1908 Reach All-American Stars — tri-colored striping on the stockings and the undersleeves! (Great find by Bruce Menard.) … Keith Olbermann sent in a shot of Kevin Mitchell going NNOB during his first game with the Giants. This wasn't so uncommon back in the day when a player got traded, especially if their new team was in the middle of a road trip. The traded player often had to wait a game or two for his NOB. The '89 Giants probably posed a particularly tricky problem, because their NOB lettering was vertically arched. … The Madison Mallards — that's a wood bat summer league team — are conducting a design contest for their alternate jersey (from Jerry Nitzh). … Reprinted from yesterday's comments: Look at that belt! I'm told that's called a "meander" pattern. … New orange alts for Tennessee.

NFL News: Former NFL player Nate Jackson has written a fantastic account of what it's like to play in cold weather, with lots of uni-related bits. Great illustration, too. "¦ Look at this: official NFL slacks — from the 1960s! (Great find by Scott M.X. Turner.) … Speaking of slacks, no more pleated khakis for Jim Harbaugh (thanks, Brinke). "¦ Yesterday we linked to those "hipster" NFL team logos. Here's a story about the guy who created them (from my pal Meteorologist Michelle).

College Football News: Some players at the East-West Shrine Game, where players routinely swap helmet logos, are apparently mocking Texas by wearing Longhorns logos horns-down (thanks, Phil).

Hockey News: The backplate of USA Olympic women's hockey goalie Jessie Vetter's mask had included her surname and the "We the People" line from the Constitution's preamble, but those are against IOC regulations, so she's had to change the design. … Key passage from this article about the Lake Placid Olympic Museum: "For years, the staff at the museum [couldn't] figure out why some of the 1932 United States Ice Hockey players had a white band around their jerseys. After searching the archives for answers and asking Olympic scholars, it wasn't until just recently we discovered that the purpose of the white bands was to differentiate between defensemen and forwards. For instance, if a forward saw a player with a white band (defensemen) ahead of him, it was a signal for the forward to stay back and temporarily fill in the defense position" (from Will Scheibler). … Check out this awesome photo of the 1936 Japanese Olympic goalie (nice find by Chris Mizzoni). … Here are the top 10 high school hockey jerseys in Fairfield County, Connecticut (from Chris Jowdy). … The ECHL has released the jerseys for Hockey Heritage Weekend (thanks, Phil). … Don Cherry uniforms for the Lloydminster Bobcats.

Soccer News: The logo for Stabaek FC — that's a Norwegian team — includes what appears to be a fraction. "I asked on Twitter for the story behind that," says Brad Beatty. "Someone explained that it's not a fraction — it's the date and year that the team was founded. I'm familiar with the European custom of writing the date as date/month/year but I've never seen it expressed as a fraction like this before. Not sure if that's Scandanavian-specific or a larger custom, but either way it's first time I've ever seen a fraction on a sports logo." … Colombia's second jersey has leaked. "I know most of your readers don't read Spanish," says Fernando Cardenas, "so I want to point out the first sentence goes, 'Adidas' head of leaking stuff has leaked new pictures…' I just thought that was genius." … New kits for Italy and AC Milan (from Trevor Williams). "¦ Australia will wear white socks at the World Cup (from Yusuke Toyoda). "¦ Also from Yusuke: Hull City's owner has threatened to quit if he's not allowed to change the team's name to the Hull Tigers. "¦ And one more from Yusuke: The MLS Superdraft was yesterday, which means there were a lot of people wearing colorful scarves over their suits.

NBA News: Pleasantly surprised to see that the Nets and Hawks just wore their regular uniforms for yesterday's game in London. No patches, no sleeves, etc. … What's going on here? Practice photo, perhaps? (From Matt Wade.) … The Kings have become the first pro sports team to accept Bitcoin (thanks, Phil). … How many warm-ups can one guy be wearing over his jersey? This many (from Duncan Wilson). "¦ The Suns will debut their sleeved orange alts tonight.

Grab Bag: Menswear design Alexander Julian, who designed the original Charlotte Hornets uniforms, has a whole section on his company's website devoted to his sports-related designs (from Tommy Turner). … New speed skating uniforms for the U.S. Olympic team. Can't say I really understand that white patch around the crotch. … Navy is switching from Nike to Under Armour for all its athletic gear (from Kevin Whisman). … New logo for Absolut Vodka (thanks, Brinke). … Rafael Nadal is wearing "disguised" shoes at the Aussie Open (from Jerry Jubb). … Here's a look at Johns Hopkins lacrosse jerseys through the years (from Rob Turning).