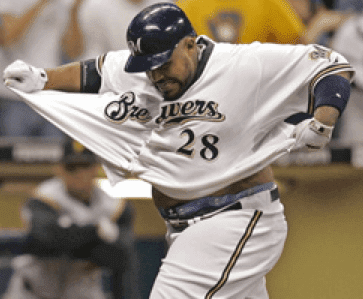 [Editor's Note: Daniel Snyder is mentioned in the first paragraph of today's entry. But don't worry, the entry is not about Snyder or his team. "" PL]
I've been thinking a lot lately about dignity. It began a month or so ago when I was emailing back and forth with a reader who accused me of trying to shame Dan Snyder into changing his team's name. "Of course I'm trying to shame him, because I think he's behaving shamefully," I explained. After taking a moment to think of the opposite of shame, I added, "If you think he's behaving with dignity, you're welcome to make that case."
It soon occurred to me that dignity is a big, unspoken element that's often hovering over our discussions of the uni-verse. When a player resorts to some sort of uni-driven "Look at me!" gimmick and we all roll our eyes, what we're really saying is "Please, have some dignity out there." When Nike or another company comes out with some absurd design and we all pull our hair out, what we're really saying is "Please, have some dignity out there." When we fret over teams and leagues pandering to cheap jingoism with their camouflage and flag designs, what we're really saying is "Please, have some dignity out there." When a team or league comes out with some transparently merch-driven uni program and claims that it's performance-based even though we all know it's just about selling more product at retail, what we're really saying is "Please, have some dignity out there." When we grimly note how many swooshes are plastered all over a college football player, what we're really saying is "Please, have some dignity out there." When we fret about the NBA wanting to sell ads on its jerseys or Barcelona selling ads on the inside of its jerseys, what we're really saying is "Please, have some dignity out there." When some of us get uptight seeing MLB players who make a point of untucking their jerseys to celebrate a win, what we're really saying is "Please, have some dignity out there."
It makes sense that dignity would be a big issue in the uni-verse, because uniforms — from the Cub Scouts to policemen, from Little Leaguers to MLBers — tend to connote and confer dignity. That's part of a uniform's function. It provides a sense of authority, legitimacy, official status. I think that's a big reason why many of us have become fascinated by uniforms to begin with. So it's no surprise that we'd be upset when we perceive something to be threatening that sense of dignity, whether it's a crazy Oregon design or a set of NBA Christmas jerseys that look like T-shirts.
But standards of dignity, like most other social standards, tend to evolve. Here's a good sports-related (but not uni-related) example: When Jets defensive lineman Mark Gastineau pioneered the sack dance in the early 1980s, his teammates made a point of walking away from him while he celebrated. They were saying, in effect, "Please, have some dignity out here." Gastineau's antics led to the NFL's "excessive celebration" rule, which essentially codified a personal foul for lack of dignity. But three decades later, almost every player in the league celebrates in some manner, often after the most routine plays (and usually in ways that make Gastineau's sack dances look tame by comparison). The excessive celebration rule is still on the books, but the threshold for invoking it has drifted upward. You now have to celebrate pretty damn excessively to be flagged. The cultural norm has changed, as cultural norms tend to do.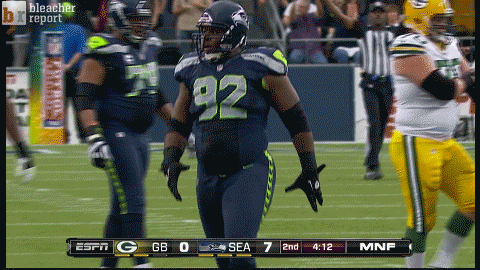 Dignity is often associated with formality, but standards of formality evolve as well. Back in the earliest days of baseball, in the mid-1800s, the most formally attired man in the crowd was often chosen to be the umpire, because it was assumed and understood that he was a man of dignity and authority and would therefore be a fair and honest arbiter. This is why some early baseball illustrations show the umpire wearing a top hat and tails, which eventually gave way to umps in dark suits and ties. Today, with the Casual Friday-ization of American life, MLB umpires wear polo shirts and khakis, and many of them have goatees, which would have been unthinkable a generation ago. I haven't yet spotted an ump with a visible tattoo, but I'm sure it's coming. When it eventually happens, my reaction will probably be something along the lines of "Please, have some dignity out there."
These examples and trends all suggest that standards of dignity tend to become more permissive, more accepting, over time. Now, when it comes to uniforms — and the culture of sports in general — I tend to be a conservative, so I'm not too happy about those more permissive standards. But there's more to life than sports. Once upon a time, it was considered shameful and undignified to have sex out of wedlock, or to be openly homosexual, or for a woman to have a career instead of having children, or to be in a bi-racial relationship. Thanks to more permissive and accepting standards, those things are now fairly routine, and I think most people would agree that we're all the better for it.
In other words: When it comes to more permissive standards of dignity, it seems to me that we have to take the good with the bad.
Of course, standards and concepts of dignity can be driven by age, or class, or race, so this stuff can get complicated. It's also worth noting that dignity and the people who try to personify it can sometimes get full of themselves, which can turn dignity and its associated protocols into ripe targets for mockery and protest. That's why first-wave punk rock (to cite a simple example) was so effective — it basically sought to strip away the dignity from established cultural totems by mocking them and critiquing them. In so doing, it created its own rules and standards of dignity, which eventually got incorporated into more mainstream standards, providing some of that cultural evolution I mentioned earlier. I imagine there are people at Nike who think that's what they're doing with their designs — taking aim at stuffy, outdated notions of aesthetic dignity and replacing them with their own. (I don't agree that that's what they're doing — I think they're just pandering to teen-agers to make a buck — but I can understand that point of view.)
I'm interested in hearing your thoughts. What do you think about all this?
+ + + + +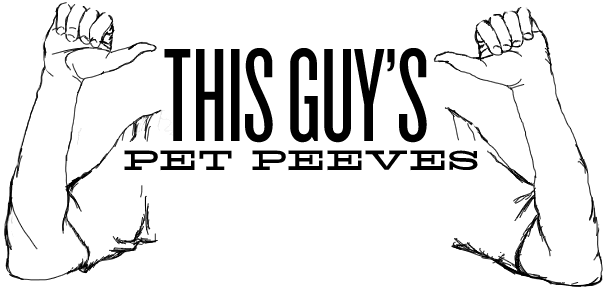 Peeves, continued: Yesterday I invited everyone to use the comments section to post their uni-related pet peeves (or rants, or gripes, or Festivus grievances, or whatever), and lots of you responded. Actually, now that I think of it, an awful lot of your peeves were basically saying, "Please, show some dignity out there."
Anyway: There were definitely some recurring themes among the peeves, and now I'm finding myself a bit curious about which ones were most popular (or, rather, unpopular). So: Anyone want to slog through yesterday's comments and tabulate the all results for our edification? If you'd like to volunteer for this admittedly unglamorous task, give me a shout. Thanks. We now have a volunteer — thanks.
+ + + + +
Raffle reminder: In case you missed it, Tuesday's entry was our annual year-end reader-appreciation raffle. Lotsa good stuff this year — check it out. Deadline for entering is next Monday.
+ + + + +
Tick-Tock: Today's Ticker was compiled and written by Mike Chamernik.

Baseball News: The Rangers put Christmas lights on their Twitter avatar (from Aaron McHargue). "¦ The Yakima Valley Pippins will be the newest team in the summer-collegiate West Coast League. "¦ The January 2014 issue of Texas Monthly lampooned the Houston sports scene, only the cover's artwork showed Astros players in outdated uniforms (from David Wilson).

NFL News: How many NFL teams are using the same wordmark today that they used in 1972? Answer at the end of Grab Bag, or you can count for yourself (thanks to Chance Michaels). "¦ A Pixar artist sketched out some NFL matchups from this season. … Passengers wearing Russell Wilson jerseys get priority boarding on Alaska Airlines flights from Seattle. … Ravens QB Joe Flacco will be wearing a knee brace for the first time in his professional career this Sunday.

Hockey News: Detroit's Jonas Gustavsson will wear this mask for the Winter Classic (from Michael Hersch). "¦ Another day, another hockey team wearing an ugly Christmas sweater-themed jersey. "¦ Tore McCarthy was Christmas shopping and found a NNOB Rick Nash jersey. … The Rochester Americans and the Lake Erie Monsters (aka the Cleveland Barons) played an outdoor game this past weekend in very nice throwbacks (from Anthony Nuccio). "¦ "Tuesday night's Islanders-Lightning game at Nassau Coliseum marked the return of Jon Cooper to Long Island," says John Muir. "Cooper, a Hofstra alum, went with the school logo tie behind the bench. I'm fairly certain this marks the first time a Hofstra grad has been part of an NHL game. Very cool."

Soccer News: Might Liverpool have new kits for next year? "Much better than the travesties on the Reds this year," says Matt Duprey. "These kind of have a retro hockey feel, which fits with Warriors' profile." "¦ On a related noted, next year's Manchester City home shirt has been leaked (from Eric Jensen).

NBA News: The Heat wore red jerseys with red lettering at home last night. "¦ "I was cruising the pages of eBay and came upon this," says Geoff Schiffrin. "Neither Phil nor myself have any idea why it exists." … Need an expensive joke gift for the NBA fan in your life? Complex rounded up the worst jerseys that are still for sale online.

Grab Bag: Lost Letterman graded college basketball's new uniforms for this season (from Chris Mahr). … Brinke sends along the most talked about logo redesigns of 2013. Not included? The Oscars, which is getting a cleaner, simpler logo and typeface. "¦ If there's something you need to do today, make it reading the entire US Naval Academy Uniform Regulations Handbook. "389 pages of what to wear in which location and event, complete with pictures," says Rex Henry. "I bet Nike has one of these detailing what their teams wear on the field and sidelines." "¦ USA Today summed up the spatting issue in college football (from Phil). "¦ The Canadian skeleton team has some wild helmet designs for the Winter Olympics. "¦ Great Britain is changing its currency from paper to plastic (from Tom Mulgrew) "¦ The Marines have new hairstyle regulations. "¦ By my count, seven teams have the same wordmark they did in 1972 — the Bills, Packers, Cowboys, Colts, Bears, 'Skins and Saints (New Orleans's 1972 version has a dotted "I," but otherwise they're identical).