For the past dozen years or so, MLB has staged season-opening overseas series on a quadrennial cycle. They began in 2000 with the Mets and Cubs and then followed up in 2004 (Yanks/Rays), 2008 (A's/Bosox), and 2012 (A's/Mariners). So the assumption — okay, my assumption — was that the next overseas series would be in 2016.
Nope. As you may have seen, MLB's 2014 schedule was released yesterday, and it calls for the Dodgers and Diamondbacks to open the season with two games in Sydney, Australia. These will be the first MLB games ever played in the Southern Hemisphere (all the other overseas series were in Japan), and the dates — March 22 and 23 — are right after the equinox, which means the MLB marketing folks could have had some fun by dubbing this the "first Fall Classic of 2014" or some such. But that's apparently not in the cards, at least judging by the logo they released yesterday (click to enlarge):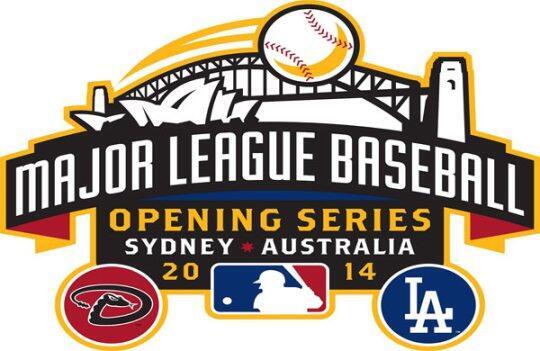 Not bad, right? The bridge is the Sydney Harbour Bridge, and the thing next to it is the Sydney Opera House, which is almost certainly the first (and probably last) opera house to be featured on an MLB logo design.
All previous overseas season openers have entailed corporate jersey and helmet advertising, and that will presumably be the case again with this two-game Aussie series. Meanwhile, anyone know if they plan to stick with the four-year cycle and do another Japanese series in 2016?
Meanwhile, as long as we're talking about MLB, here are a few other news tidbits:
• It happens at least once every season: a ball ends up inside an MLB player's jersey. At least this time it was a foul ball, not a ball in play.
• Delta Airlines has a Mariano Rivera-themed plane. Wrong number font, though!
• MLB umps are wearing "FP" memorial patches for Frank Pulli, who passed away two weeks ago.
•  The Mets will wear first responder caps before tonight's game and then, like all other MLB teams, will do the annual 9/11 pandering thing. If you look at the fine print of that last link, you'll see that net proceeds from cap sales are going to various Sept. 11 memorials, which is nice. You'll also see that the flag-emblazoned caps are made in China, which is the kind of irony that net proceeds can't buy.
(My thanks to Jason Werth and Phil for their contributions to this section.)
+ + + + +
Membership update: We have two slots open on the current batch of membership cards (a batch that includes Bill Solich's clever Browns-themed card, shown at right). So the next two people who sign up will receive their cards very quickly, with very little waiting time.
As always, you can sign up for your own custom-designed membership card here, and you can see all the cards we've designed so far here.
+ + + + +
'Skins Watch: The next 'Skins game is at Lambeau Field in Green Bay, where there will be a protest of the team's name and logo. Expect to see a lot more of this as the season progresses, turning the 'Skins road schedule into a traveling show of protest and activism. Imagine what would happen — what will happen — if they make it to the Super Bowl. The protests will become the main story of the lead-up to the big game. … Grantland writer Charles P. Pierce referred to the 'Skins as "the Heedless Insults" in his story on Monday night's Philly/Washington game (from Carlos Ahmed Jalife Ruz). … Haven't seen the video or found other confirmation, but several readers tell me that SportsCenter morning anchor Neil Everett referred to the 'Skins as "the Washington football team" yesterday.
NFL News: Robert Griffin III was told to cover up his knee brace on Monday night (from Kyle Allebach). … Anquan Boldin, now with the 49ers, is still wearing his Ravens shoulder pads (from Carlos Borge). "¦ Bit of a typo by the Chargers on Monday night. "¦ Reprinted from last night's comments: Eric Berry of the Chiefs wore a sock on his left arm on Sunday (from Lee Wilds).
College Football News: New merit decals for USF (thanks, Phil). … Arizona State is going with blackout uniforms and a firefighters memorial decal this Saturday (from Marc Altieri). … It's a little hard to see, but Miami's helmets now have an outline of the state of Florida with a star marking Miami's location. Is that new for this year? (Good spot by Josh Harris.) … UGA RB Todd Gurley's request for a Roman numeral on his jersey last year was turned down by UGA's director of equipment. So he asked again this year, and this time his request was approved (from Britton Thomas). … Good — or, if you prefer, godawful — gallery of flag-desecration helmets here (from Drew Roberts). … Iowa State will be wearing its totally gorgeous throwbacks this weekend. And you know what would go really well with those uniforms? This awesome stadium blanket. Okay, so it isn't cold enough yet for a stadium blanket, but that works out fine, since the blankets won't be ready to ship until October. Anyway, great item! … Richmond had some helmet issues last weekend (from Tommy Turner). … Just when you thought you'd seen every conceivable commemorative decal and patch, Maryland comes up with a "Final season in the ACC" decal (from MJ Kurs-Lasky). … Repeated from last night's comments: Yesterday I mentioned that UNC-Charlotte is wearing a Conference USA patch even though they aren't yet officially part of the conference. Turns out the same can be said for Old Dominion, which is officially independent and will join C-USA next season (from Ryan Rudman).
Hockey News: New mask for Sergei Bobrovsky (thanks, Phil). … In case you didn't know that the Barclays Center is in Brooklyn, well, now you do (from Benjamin Antell).
College Hoops News: New unis for Colorado (thanks, Phil).
Soccer News: Last graf of this article suggests that FC Dallas might wear a Dallas Tornadoes throwback in 2015 (from Markus Kamp). … "Was watching an ESPN promo with DeMarcus Beasley before Tuesday's Mexico v. USA game and noticed his club team, Puebla, was wearing actual orange ribbons (not ribbon patches) on their unis," says John Childers. "Couldn't find out what for." "¦ Speaking of the USA/Mexico match, here's what the ball looked like (from Warren Junium).
Grab Bag: Nike is being added to the Dow Jones Industrial Average (from Brian Wulf). … Davidson Day High School in North Carolina wore flag-desecration uniforms the other day (from Colby Brock). … The NYC Police Department has its own football team, and they seem to have a really unusual helmet shell design. No word on whether they stop and frisk opposing players (from Coleman Mullins). … In a vaguely related item, here's an absolutely amazing infographical site that tracks all the NYPD's stop-and-frisks from 2012. Click around — the interface is very simple but very pleasing. "¦ James Madison High School in Virginia uses the old Atlanta Falcons logo (from Kevin Corcoran). "¦ Key passage in this article about the upcoming winter Olympics (brought to my attention by Phil): "But the I.O.C. has not answered such questions as: Will athletes face expulsion if they demonstrate on the medal stand, or wear T-shirts or rainbow pins or patches on their uniforms [in protest of the Russian antigay law]? What if someone wears rainbow-colored nail polish, symbolizing the gay pride flag, as a Swedish high jumper did at last month's track and field world championships in Moscow?" Later in the same article: "At the track and field championships last month, the Swedish female athlete who wore rainbow nail polish said she was asked by officials not to do it again." And this: "Asked whether an athlete in Sochi should be disqualified for wearing a rainbow pin, Anita DeFrantz of the United States, a longtime I.O.C. delegate who rejoined the committee's executive board Tuesday, said: 'That sounds like it's moving too far. Sometimes, somebody just being alive is a protest against something, so I think we have to be careful regarding what is or is not allowed.'"